A teen suspected of shooting two people dead at an upscale shopping mall in Thailand has been charged with six counts including premeditated murder, police told CNN Wednesday.
The 14-year-old boy was arrested on Tuesday shortly after the shooting rampage at the busy Siam Paragon mall in central Bangkok's bustling commercial and tourist district.
A Chinese citizen and a Myanmar national were killed in the shooting and five others – three Thai citizens, a Chinese national and a Laos national – were injured with "varying degrees of severity," Ministry of Foreign Affairs spokesperson Kanchana Patarachoke said Wednesday.
Police Major General Nakarin Sukhonthawit said the suspect was taken from Pathum Wan police station, where he was being held, to a juvenile court in Bangkok on Wednesday to hear the charges.
They include "premeditated murder, attempted murder, possessing a firearm without permission, carrying a firearm into a public area without permission and shooting in a public area without permission," Nakarin said.
The suspect is reported to have mental health issues and Nakarin added a "doctor said he is not in a state to be interrogated today."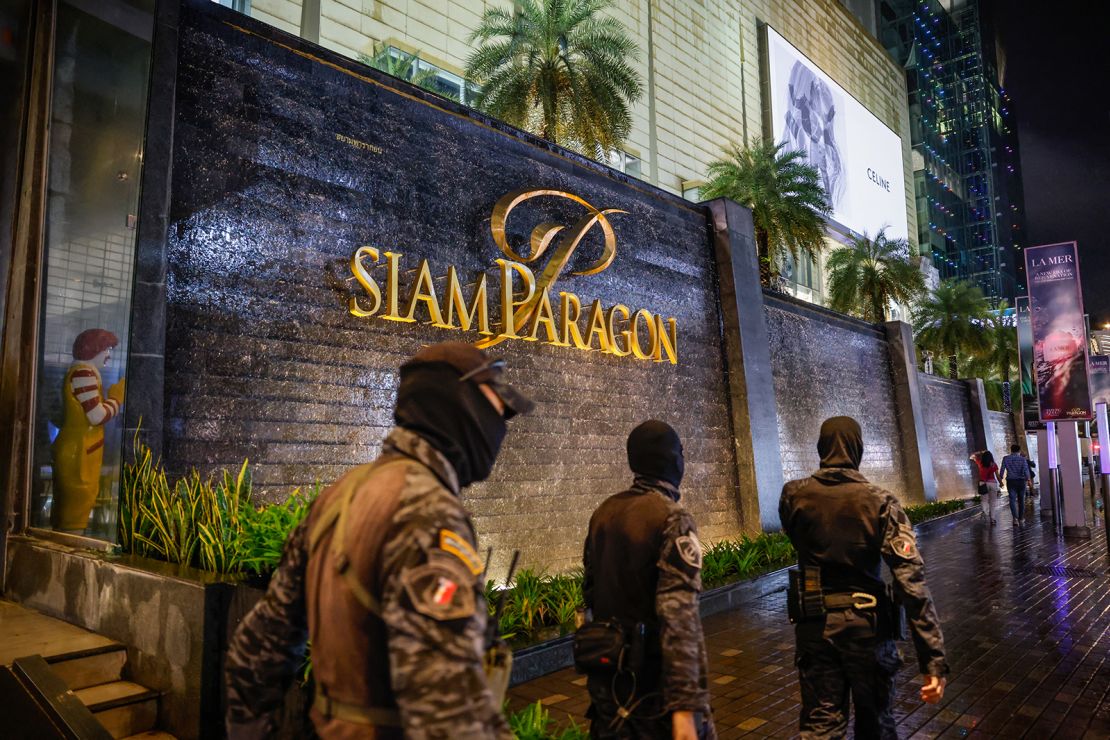 It is still unclear where the suspect obtained the weapon used in the shooting or what his motive was, but Nakarin said he had used a modified gun that was bought online.
"These kind of modified guns are widely available on the internet, we are investigating where he purchased this gun," he said.
Thai Police General Torsak Sukvimol told reporters Tuesday the suspect "surrendered himself" after the shooting and still had ammunition when he was apprehended.
"Any of his personal issues, we can't talk about that much since he's still a youth," the police chief said of the suspect, adding "he has mental issues" for which he had been treated at Rajavithi Hospital.
Video from the scene shows crowds of terrified shoppers running out of the luxury mall after gunshots rang out.
'I didn't want to use force'
Police Captain Thanamorn Noonart said he was the first officer to encounter the suspect inside the shopping mall and told Thai media Wednesday the teen threw his gun away once he saw the officers' rifles.
Thanamorn said he was prepared for such an incident and had received active shooter training following a deadly mass shooting in the northeastern city of Nakhon Ratchasima in 2020, which also targeted a mall.
The suspect was on the phone with a radio center that was "persuading him to surrender and give up the weapon," Thanamorn said from outside Bangkok's Pathum Wan police station.
"I received initial information that he was a juvenile so I thought I didn't want use force against him," the officer added.
Seeing the police team, the suspect indicated on the phone that he wanted to fight saying, "it's too late because there were many people carrying guns," according to Thanamorn.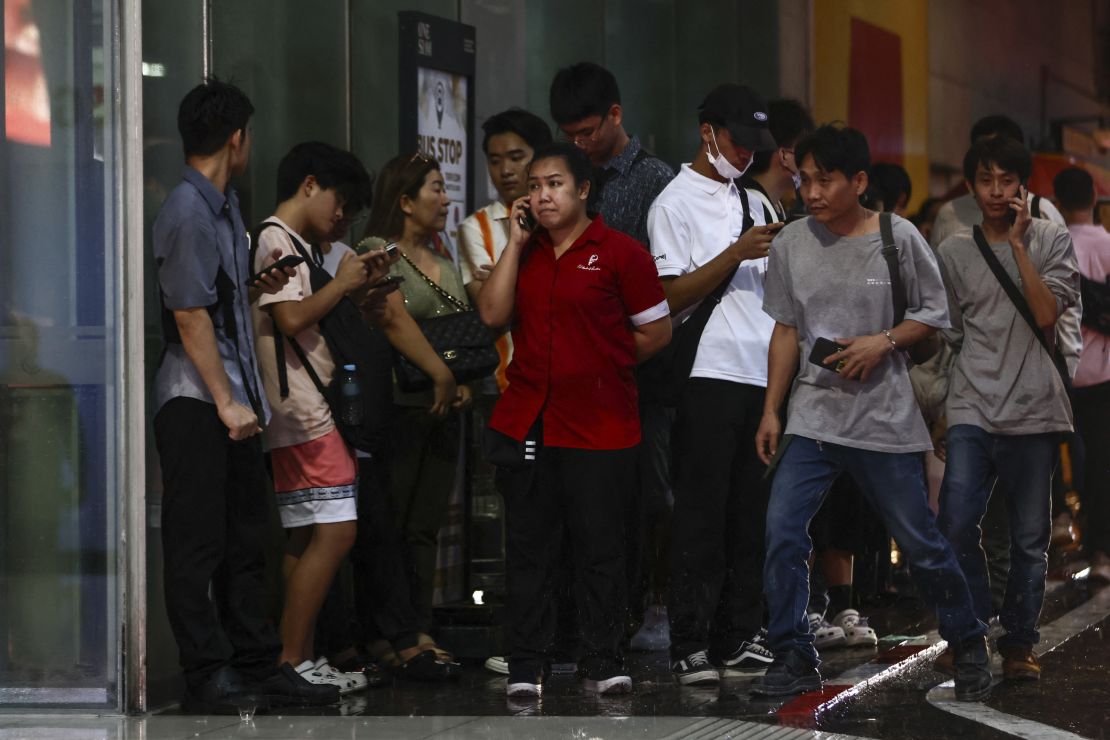 Thanamorn said he brandished his rifle as police thought there was a good chance the suspect would fight back.
"I had to show my capacity by showing off my rifle so he knew that my capacity was higher than his," he said. Not long after, the suspect surrendered and police were able to apprehend him, he added.
Video from inside the shopping center appears to show the suspect on his knees with his hands raised in the air. Two police officers then can be seen smashing a glass door before entering a store and apprehending him.
The suspect was arrested just under an hour after the shooting started around 4:20 p.m. local time (5:20 a.m. ET) and taken to a nearby hospital after being interrogated by police, Thai Police General Torsak told reporters Tuesday.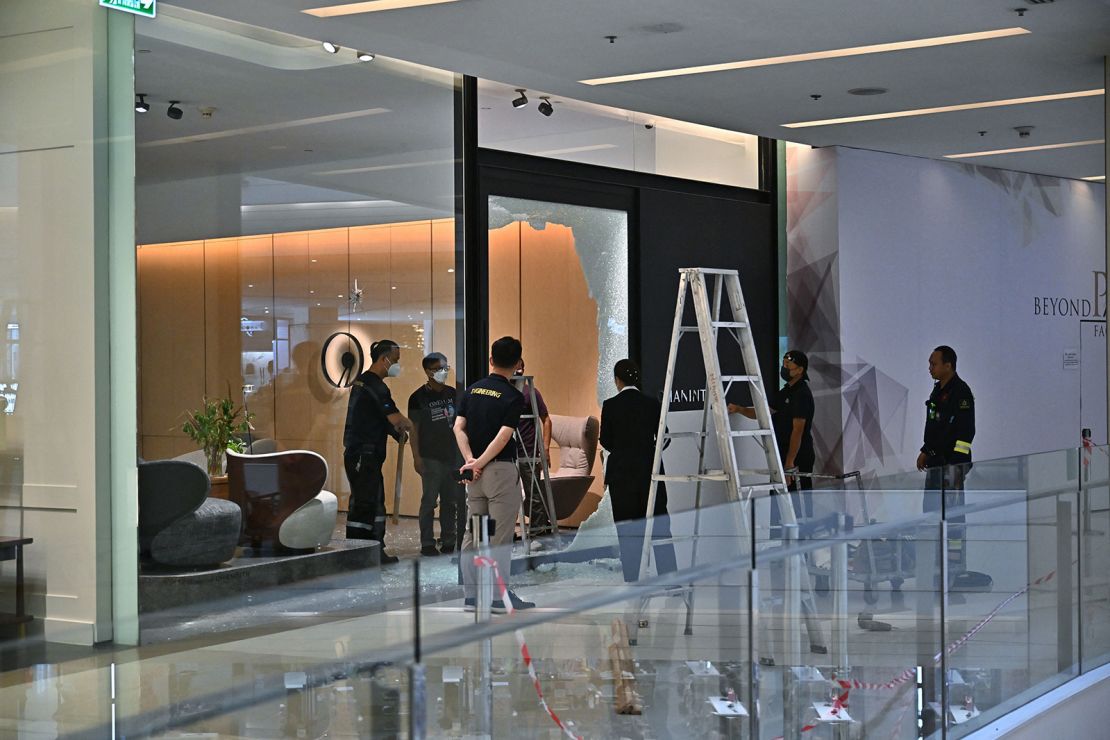 A difficult time for tourism
The shooting comes at a delicate time for Thailand as it tries to woo back tourists and revive the country's economy following pandemic restrictions.
Last week, Thailand announced a visa-free policy for Chinese and Kazakh tourists, signaling the recovery of its vital tourism industry is a top priority. The policy came just in time for China's "Golden Week" holiday period when many Chinese nationals traditionally travel.
China was once the largest source of tourists to Thailand, with almost 11 million visitors heading to the Southeast Asia nation in 2019, accounting for more than a fourth of international arrivals before the Covid-19 pandemic tanked the global tourist market.
By contrast, only 2.2 million Chinese travelers arrived between January and September 10 this year, according to data from the Tourism Authority of Thailand.
And the shooting of Chinese victims in downtown Bangkok may make some tourists think twice about traveling to Thailand.
Already, social media users in China had reportedly expressed fears of visiting the country, because of rumors that claimed travelers could be kidnapped and sent across the border to work in scam call centers in Myanmar or Cambodia. Meanwhile, a hashtag that translates to "why people are unwilling to travel to Thailand" earned 420 million views on social platform Weibo last month.
The Bangkok mall where the fatal shooting took place is in the busy shopping and entertainment heart of the capital that's popular with tourists, including Chinese nationals.
Nearby is the Erawan Shrine, which was targeted in a bombing that killed 20 people in 2015.
Thai Prime Minister Srettha Thavisin expressed his "deepest condolences" to the relatives of those who died in the shooting and said he had spoken with China's ambassador to Thailand.
"I called the Chinese ambassador and apologized for the unfortunate incident. And I have reassured him that the Thai government is doing all we can," Srettha told reporters Wednesday.
"His excellency was kind enough to give me support and understanding, he is certain that it will not affect the confidence of the Chinese government and Chinese tourists."