When hip-hop-obsessed American soldiers showed their Korean counterparts how to land headspins and windmills at US military bases in the 1980s, they probably didn't anticipate breakdancing's eventual explosion in the country.
Upon reaching Korea's shores, it was Korean-American hip-hop promoter John Jay Chon who, having handed out VHS tapes of tutorials and competitions to Seoul's underground dance and club scenes, was widely credited for igniting the boom.
Breakdancing entered the Korean mainstream in the 1990s through K-pop trailblazers Seo Taiji & Boys' mesmeric music videos, a modern phenomenon seemingly at odds with the country's conservative culture at the time.
Then came the noughties, widely seen as the country's breakdancing "golden years," when Korean crews won multiple titles at Battle of the Year, one of the top international b-boy competitions.
As the first generation of K-pop – which similarly incorporated US hip-hop conventions – took over South Korea on its way to global domination, the country's tourism board began investing millions of dollars into breakdancing competitions, likely hoping it would lead to a similar K-wave.
The baggy jeans, boomboxes and tattoos that had once captured pop culture in the United States – breakdancing even featured at President Ronald Reagan's inauguration in 1985 – experienced a similar lull in mainstream Korea by the mid-2010s.
But it never went away – and is now in a resurgence that will next year take Korean b-boys and b-girls to the Olympics.
From Asian Games to the Olympics
This weekend, breakdancing – or "breaking" as it is known in official competitions – will make its debut at the Asian Games in Hangzhou, China, ahead of its hotly anticipated introduction to the Summer Games in Paris next year.
Breaking, started by Black and Latino youths in the Bronx in the 1970s, is an assortment of dance styles such as "locking," "popping," and "uprocking," blended into one physically demanding expression. Those in the industry prefer not to restrict breaking to a single category such as an art-form or sport, but refer to it as a "culture."
Rules and judging in a new-era sporting setting are still in their infancy. In Hangzhou, two medals will be awarded in the men's and women's categories.
Asia's best b-boys and b-girls will take turns to perform routines in one-on-one battles and are judged on six categories, according to organizers: perfomativity, musicality, personality, creativity, variety and technique.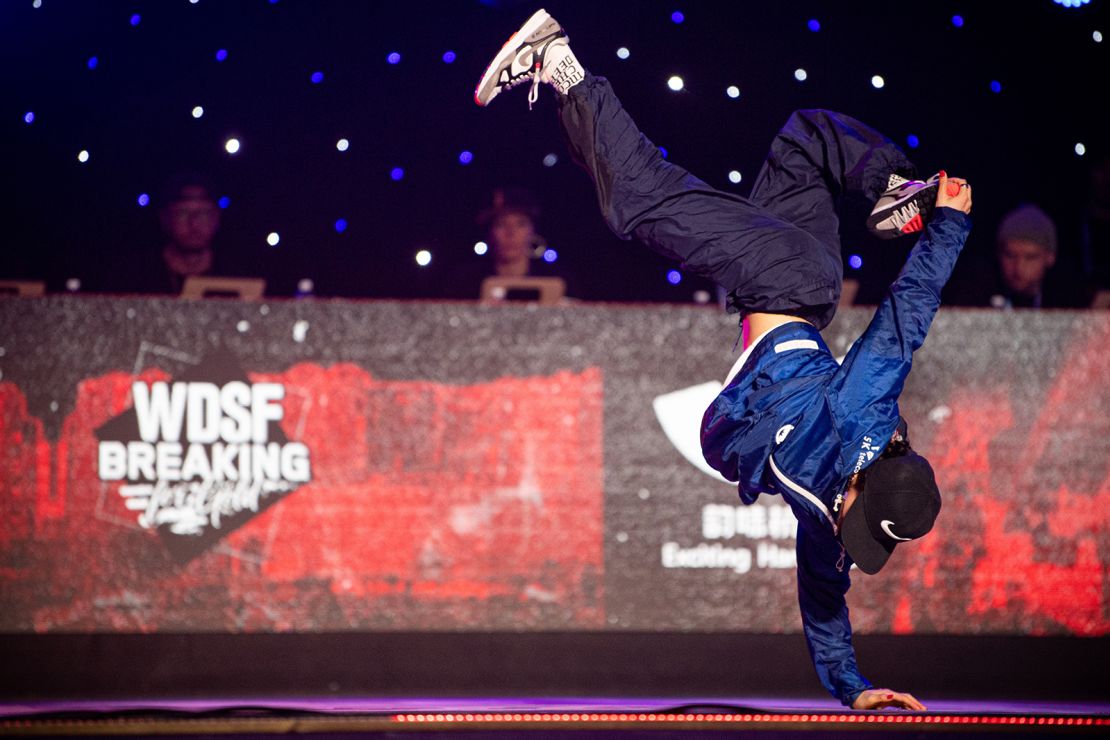 Though there is no official ranking by governing body World DanceSport Federation (WDSF), South Korea has long been among the world's best.
Kim Heon-woo, also known as B-boy Wing, leads Team Korea's breaking team in Hangzhou. The veteran, from the legendary Jinjo Crew, is a multiple world champion and Asian Games gold medal contender.
Kim is hoping for a "good result" at the Games, in what is South Korea's largest delegation in history at the quadrennial event. There is added motivation after the country's emphatic success in fellow Asian Games debutant, esports.
"There have been ups and downs but we always believed that the chance would come one day. We've worked hard for it," Kim, who has been breaking for more than two decades, told CNN.
Breaking had seen a glimmer of a return to its glory days through its exposure on popular dance survival TV reality show "Street Woman Fighter"in 2021 and "Street Man Fighter" in 2022, which Kim starred in.
"You can see the value of breaking as a sport. I think this is an important beginning to the future," Kim said.
"Hip-hop and breaking began in the US. Now each country is developing new types of dances to suit their own characteristics. There's still some unfamiliarity with each other, but there is more recognition and interest in our dances."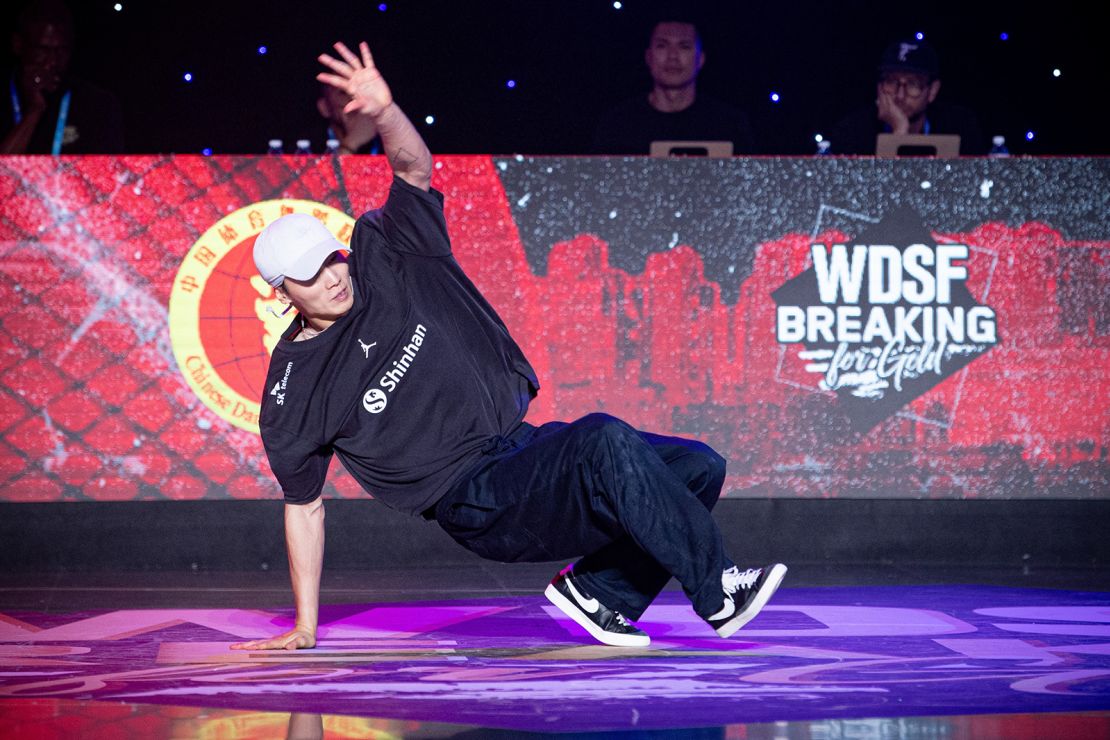 B-boys' 'last dance'
While Kim has an eye on Paris 2024, the Asian Games is undeniably a milestone for what is probably the last batch of first-generation Korean breakers.
"It's their last dance, essentially," said Kwon Jang-ho, a Seoul-based journalist who is producing a documentary on the history of breaking in Korea.
Kwon, who started breaking in the United Kingdom in the early 2000s before discovering the fledgling Korean scene in his university gap year, had witnessed its "domination for about 10 years."
"Korea pretty much won everything you could think of in terms of global titles. There was never really a single country that had dominated a scene like it had at the time. It was crazy to see. But since then, no real 'new generation' has emerged," he said.
"With the Asian Games and Olympics coming up, it's kind of like the last redemption of the golden generation," Kwon added, saying he hoped for a "revival" of the scene post-Games.
"It would be quite the statement to say, 'hey look, we're still around. We're still at the top of Asia'. It was kind of past its heyday, but these guys are essentially trying for one last big moment of glory – to inspire more generations, and not just in Korea," he said.
That breaking has transcended into the sports realm can only mean good things, said Chen Po Chun, or Bboy Bojin, the Asian Games' breaking chair and WDSF's head of breaking division.
"The world we're living in now is moving so fast. The result may not be to the liking of everyone involved, but it's about learning," said Chen, who has been breaking for 30 years.
"South Korea is really important, alongside Japan, and even China now. All of these countries have contributed to different eras and have put impressive energy into breaking. We should be grateful, blessed and appreciative to have what it is we have now.
"At the Asian Games, we will see all of this. Legends, young stars, super athletes, nobodies turning into somebodies, all battling it out. It's a good example for other Asian countries; breaking will keep leveling up and make more people fall in love."