A 10-year-old boy who was killed by Russia's strike on the city of Kharkiv on Friday was apparently asleep when missiles hit residential buildings, Ukrainian officials said.
A picture purporting to show the boy's body lying in the middle of the rubble was posted on social media by the Ukrainian Defense Ministry.
It appeared to show his body wrapped in a blue blanket covered by dust, surrounded by pieces of debris, as several rescuers stand nearby.
"A child's body wrapped in a blanket. He was murdered this morning in Kharkiv by a Russian missile. The boy was apparently sleeping," the ministry said.
"The Iskander is a Russian ballistic missile that can reach Kharkiv, Ukraine's border city, in just a few seconds," it added.
CNN has not independently verified the photo.
The boy's 68-year-old grandmother was also killed while his 11-month-old younger brother was among 30 others who were injured in the attacks, according to Kharkiv's regional state administration chief Oleh Syniehubov.
Ukrainian President Volodymyr Zelensky said in his evening address Friday that the boys' parents and 11-month-old brother were all being treated in hospital.
"My condolences to all those whose loved ones have been killed by Russia," he said.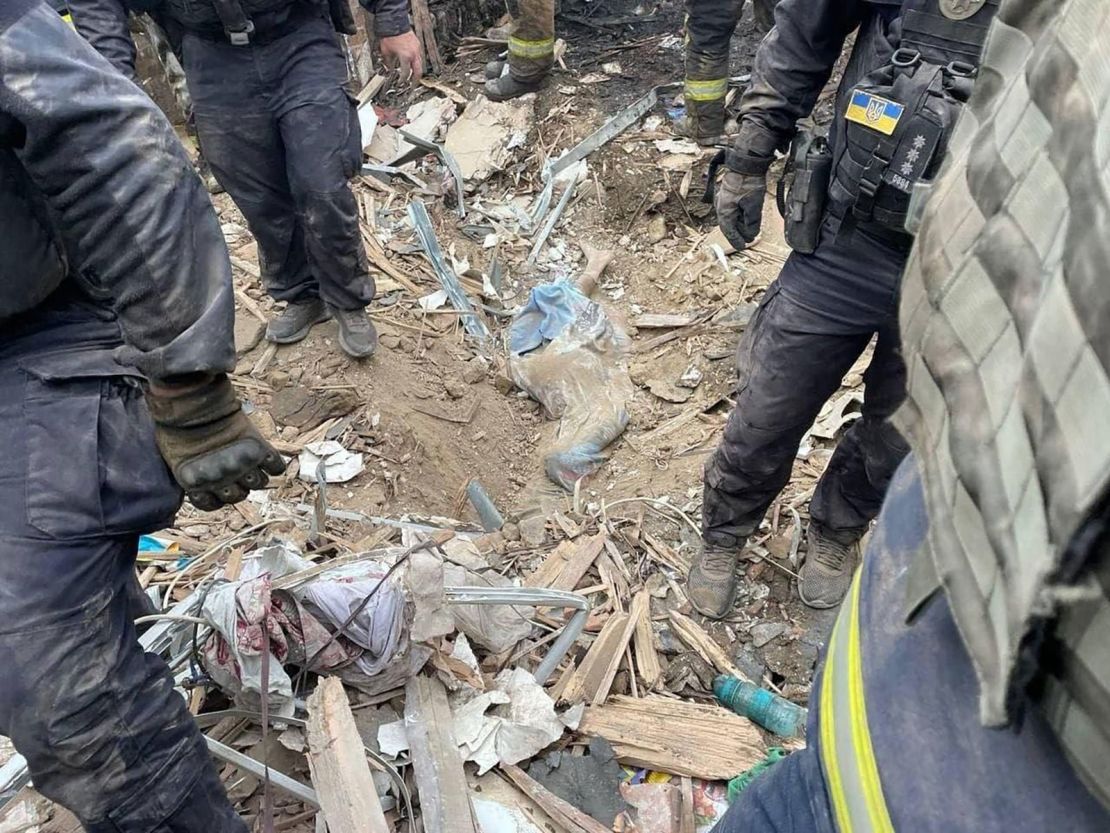 The 10-year-old is among the more than 500 children who have been killed in Ukraine as a result of Russia's full-scale invasion. As of the morning of October 6, 505 children have been killed and more than 1,129 have been injured with various degrees of severity, according to Ukraine's Prosecutor General's Office.
Friday's attack on Kharkiv comes a day after a devastating Russian missile strike on the village of Hroza on Thursday, in which another child was killed, along with at least 51 more people. Two children and two adults are still missing in Hroza following the attack.
"Hard to believe that people can do such things. Russians attacked Hroza village in Kharkiv region, a grocery store and a cafe," Ukraine's First Lady Olena Zelenska said after the Hroza strikes. "This attack is cruel and has no sense, like the war unleashed by RF [the Russian Federation]," she said.
The Ukrainian Foreign Minister Dmitro Kuleba said Friday that the strikes on Kharkiv and Hroza were "atrocities (that) prove global support for Ukraine must be sustained and increased."
"Weakening it would only result in more war crimes like this," he added.
Russia maintains it does not strike civilian targets.