At some point during any election campaign, virtually anywhere in the democratic world, voters can expect to be told that their country is at a crossroads.
But rarely has the age-old electoral cliche been truer than right now in Poland.
The European Union's fifth-most populous nation will vote in a pivotal election on Sunday October 15, the results of which will reverberate westwards through the EU, eastwards into war-torn Ukraine, and across the Atlantic, where the White House will be watching closely.
Next weekend's vote could see the ruling, populist Law and Justice party (known by its Polish acronym, PiS), clinch an unprecedented third consecutive term – which its critics say could complete an illiberal overhaul of the country's institutions.
But the election is perilously tight; a united opposition coalition is in striking distance of taking power, while an ambiguous result could open a door for the far right to capitalize on.
Here's what you need to know.
What's happening?
Poland is voting on October 15 to elect its new parliament, and PiS – which currently governs with the support of some smaller populist parties – is hoping to win a third consecutive term and form the country's next government. It is opposed by a coalition of centrist parties led by Donald Tusk, Poland's former prime minister and the ex-president of the European Council.
With just days remaining in the campaign, a number of outcomes remain possible.
Polls put PiS ahead of Tusk's Civic Coalition, but by a narrow margin, suggesting it's unlikely that any group will win an outright majority in the Sejm – Poland's lower house. That outcome would fire the starting gun on several days of post-vote negotiations, with the leading party attempting to find a coalition that would allow it to govern.
There has been speculation about whether the Confederation – a smaller, far-right party – would enter such a pact with PiS if the election results make them kingmakers. Confederation leaders have insisted they are not interested in doing any deals.
A bitter campaign
Personal feuds and attacks have long been features of Polish politics. But by any standards, this year's campaign has been vicious.
PiS, which has been accused of scapegoating migrants and LGBTQ people to stoke divisions ahead of previous elections, has relentlessly sought to paint Tusk as a stooge of Brussels and Berlin. A controversial probe the government announced earlier this year into "Russian influence" was criticized at home and abroad as an attempt to target the opposition leader.
Public media, which is largely controlled by PiS, has mirrored many of those talking points. Tusk has attempted to fight back, describing his run as a last chance to save Poland from the grips of corruption and authoritarianism.
"The discourse is quite hysterical – that this would be the end of Poland," Jacek Kucharczyk, the president of the Executive Board at Warsaw's Institute of Public Affairs, told CNN.
'Never insult Poles again': Prime minister fires back at Zelensky
"On both sides, you have this clash of good and evil, but the good and evil are described differently – on one hand you have democracy, and rule of law, and Western values, and on the other hand you have nationalism, Catholicism, and sovereignty," Kucharczyk said.
Stubbornly high inflation and cost-of-living struggles have dominated voters' concerns in recent months, and security issues have been similarly prominent during the campaign. Reports last month that Polish officials have been involved in an alleged cash-for-visas scandal has damaged efforts by PiS lawmakers to present themselves as tough on border security.
'A massive transformation' of Poland
The illiberal turn Poland has taken during PiS's eight-year rule has caused the country – once seen as the exemplar post-Soviet democracy – to lose friends in the West, raising tensions ahead of next week's vote.
Critics of the government insist that a third term would allow it to complete a full crackdown on judicial independence, media freedom, democratic institutions and the rights of women and minorities.
"(The election) is perceived as the last chance to reverse the process of democratic backsliding, through democratic means," Kucharczyk told CNN. "The concern here is that if PiS remains in power for another four years, they will close the gaps in the authoritarian system that they've been building for the last eight years."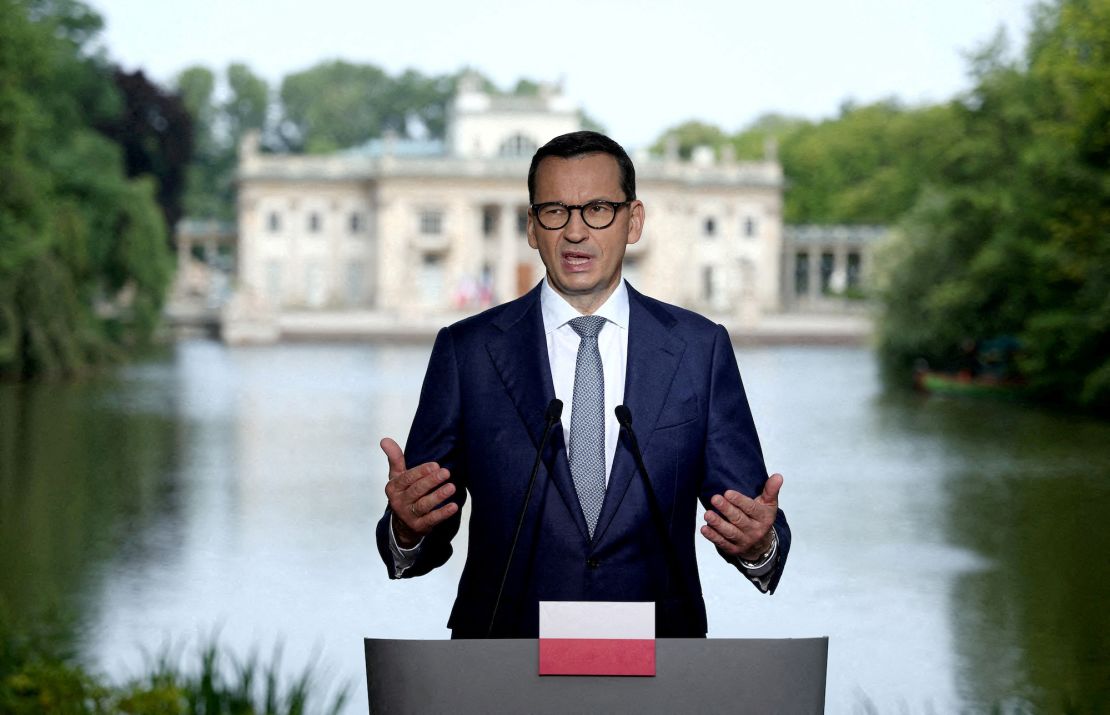 The ruling party's efforts have included a significant overhaul of the judiciary, which has given the government increased power in choosing who fills key positions. In June, the EU's top court ruled that Poland's judicial reforms were in breach of the bloc's laws and ordered it to make changes or face steep fines.
"It has been a massive institutional transformation," Piotr Buras, head of the European Council on Foreign Relations (ECFR) in Warsaw, told CNN. "This is quite a deep transformation towards an illiberal regime under the cover of democratic procedures."
PiS has argued that its reforms were needed to modernize Poland's institutions and rid the judiciary of Communist-era appointees. But the party's critics suggest that it is attempting to follow the path of Hungary, whose growing authoritarianism has equally attracted the ire of Brussels.
"What we may witness after this election is something truly unprecedented in the history of European democracy, which would be an attempt to roll back liberalism," Buras said.
Competing visions for Europe
"There was this time that Poland was the best pupil in the class, in terms of the EU," Kucharczyk said, referring to the post-Soviet era in which Warsaw quickly became a thriving young, free-market democracy.
But things have changed in the past decade. Poland has been mired in a long-running battle with the EU. Brussels has withheld funding and sued Warsaw over its efforts to weaken the rule of law and judicial independence, while Poland's government has shown a willingness to attack the institution in return – often while trumpeting Polish sovereignty as a more important priority than international cooperation.
"(The ruling party) are increasingly hostile to the EU, and they have increasingly bad relations with almost all of their neighbors, especially Germany," Dariusz Stola, a historian at the Institute of Political Studies of the Polish Academy of Sciences, told CNN.
Nonetheless, Poland remains in a powerful position in Europe, and this month's vote could dramatically flip those dynamics. Membership of the EU – which Poland joined in 2004 – remains overwhelmingly popular among Poles, and in Tusk, the opposition has chosen a towering figure in recent European politics to fight its campaign.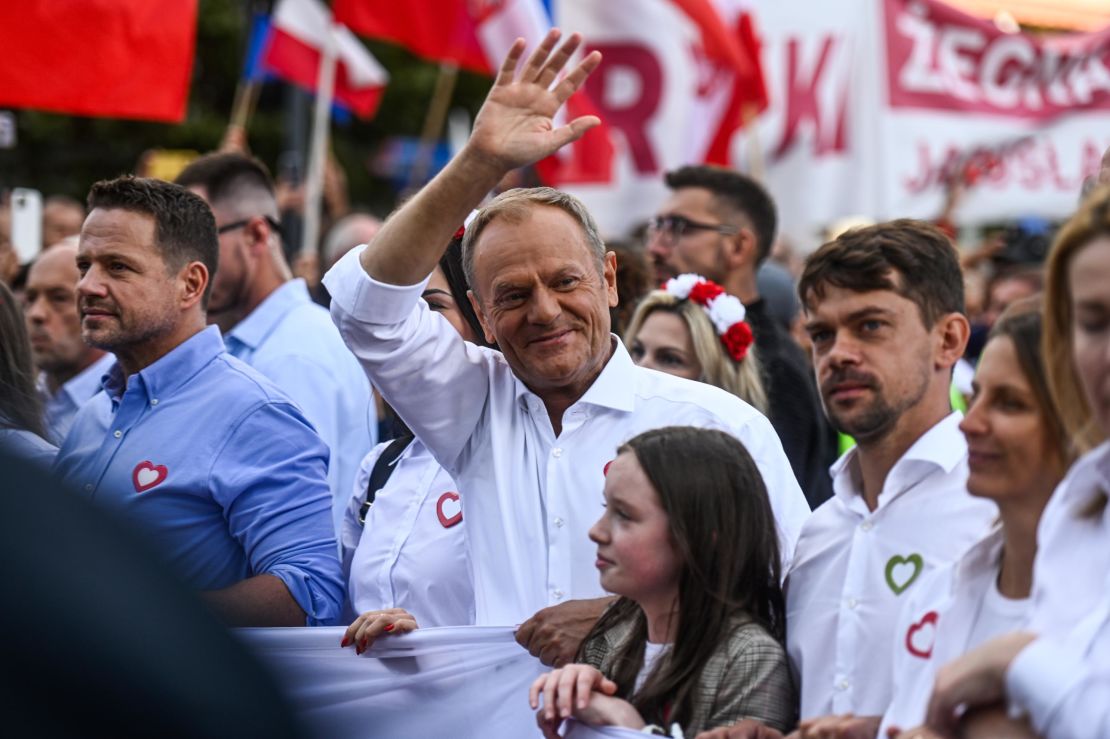 Poland also gained a groundswell of unexpected goodwill in Europe through its response to Russia's full-scale invasion of Ukraine last year. Moscow's aggression seemingly vindicated decades of Polish warnings about Russia's motives and European reliance on Russian energy that, until February 2022, were usually brushed off in the West as antiquated grievances of a bygone era.
This month's election will go some way towards determining whether Warsaw seeks to patch up its relationship with Brussels and pursue a leading role in responding to Russia, or whether a long-running dispute between the two sides deepens.
"Poland is a major player in Europe; it borders Ukraine, it has a major land army, substantial military spending, and is the key hub for supporting Ukraine," Stola said. "What happens in Poland will be very consequential for all of Europe in the coming years."
Kyiv and Washington watch on
Poland's election will be watched not just to its west, but to its east – as a more contentious tone creeps into Warsaw's once-steadfast relationship with Kyiv.
"Support for Ukraine has been the source of Poland's moral superiority in foreign policy for the last year and a half," Buras said. "Now there are very serious cracks in this image."
The Polish government has increasingly targeted Ukraine with robust rhetoric – particularly over the imports of Ukrainian grain that it says would undercut Polish farmers, but also on the supply of Western weapons and Kyiv's attempts to join NATO and the EU.
Historical grievances over a World War II-era massacre by Ukrainian nationalists have also been resurfaced this year, reinforcing tensions that were buried in the months following Russia's invasion.