Shay Franco-Clausen said she has been waiting a long time for someone like Laphonza Butler to rise to one of the highest positions in US government.
As a California native and a gay Afro-Latina woman, Franco-Clausen said she is happy to see someone who understands the struggles of her communities take up the mantle from the late Sen. Dianne Feinstein.
"It's about time," Franco-Clausen, co-chair of the National Black Justice Coalition's Good Trouble Network, an initiative that aims to advance policies that benefit the Black LGBTQ+ community, told CNN.
"Someone like Senator Butler is going to make space at the table for others."
Last week, Butler made history by becoming the first known Black lesbian woman appointed to Congress. She is currently the only Black woman serving in the Senate, and the third ever to serve in the chamber.
As if to underscore the historic nature of the moment, Vice President Kamala Harris – who herself served as the country's second Black female senator until she resigned to become the first female vice president of the US – administered the oath of office to Butler as she stood next to her wife.
Butler herself has not centered her race or sexuality in public statements about her appointment to fill Feinstein's seat. But Franco-Clausen said she hopes the California senator will usher in a new era of representation.
"She's the only one. She's the first." Franco-Clausen said. "I'm very excited because her being the first means that I can be there too. That's what it says to little Black girls that are queer identifying or non-binary. She has created a space as the first to open up to say that we can be there."
From union leader to lawmaker
Feinstein was the longest-serving female senator in US history. She died last month at 90.
A leading figure in California politics for decades, Feinstein's career included many historic firsts: She was the first female chair of the San Francisco Board of Supervisors, the first woman to sit on the Senate Judiciary Committee, and the first chairwoman of both the Senate Rules and Administration Committee and the Senate Intelligence Committee.
In appointing Butler to fill her seat, California Gov. Gavin Newsom, a Democrat, fulfilled a promise to nominate a Black woman to replace the late senator.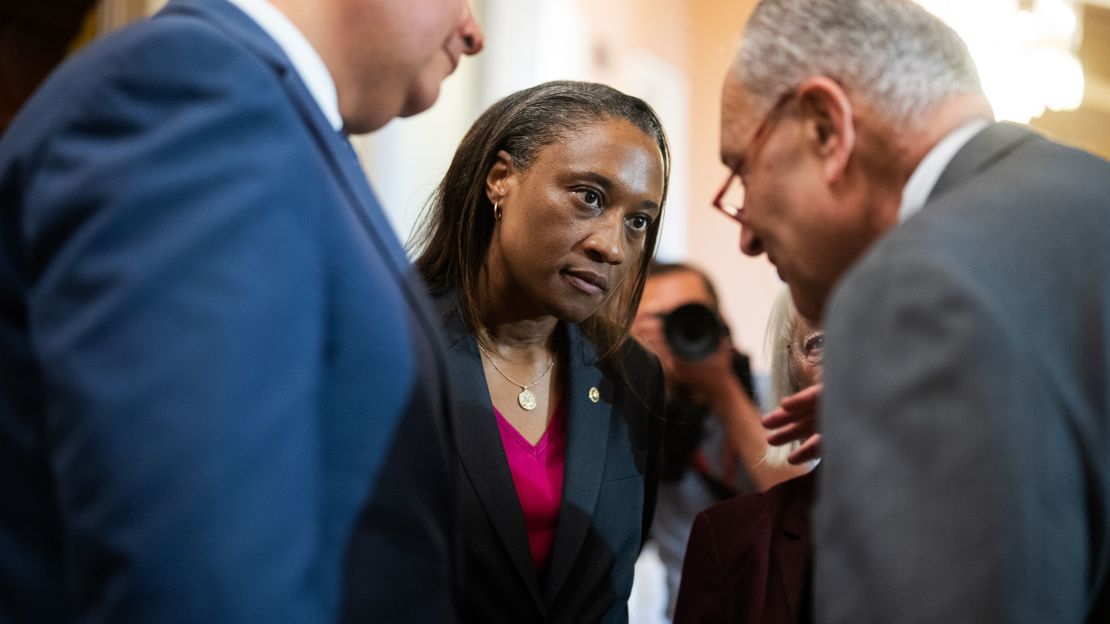 "As we mourn the enormous loss of Senator Feinstein … Laphonza will carry the baton left by Senator Feinstein, continue to break glass ceilings, and fight for all Californians in Washington, D.C.," he said in a statement announcing her appointment.
Butler vowed to honor the late senator as she stepped into her role.
"Sen. Dianne Feinstein's leadership and legacy are immeasurable," Butler said in a statement. "I will do my best to honor her by devoting my time and energy to serving the people of California and the people of this great nation."
But for all the excitement surrounding her appointment, Butler has not announced if she will officially run for the seat.
California will hold two Senate elections in November 2024: a special election for the remaining months of Feinstein's term until January 2025 and another for a full six-year term.
The field of candidates vying for Butler's seat so far includes Democratic Reps. Adam Schiff, Katie Porter and Barbara Lee, a former chair of the Congressional Black Caucus and a member of House Democratic leadership.
Like Feinstein, Butler has also been a trailblazer throughout her career.
A Mississippi native, Butler attended Jackson State University and was a member of the University of California Board of Regents, according to EMILY'S List, a political advocacy group dedicated to electing Democratic women who support abortion rights. In 2021, Butler made history by becoming the first woman of color to lead the organization.
She has also served as a board member of the National Children's Defense Fund.
Butler was an adviser on Hillary Clinton's 2016 presidential campaign and also served as a senior adviser on then-Sen. Kamala Harris' 2020 presidential campaign.
But it was her work as president of California's largest labor union, the Service Employees International Union (SEIU) Local 2015, that sets her apart, according to the governor's office.
The union represents nearly 450,000 nursing home and long-term care workers in the state. Franco-Clausen said that experience will only help Butler in the Senate.
"We have a Black queer identified person who's a mother, who's worked with health care workers, so she understands the issues around medical (care) for women of color … (she) is really going to hold all of our other legislators to a different standard," she said.
Arnulfo De La Cruz is the current president of SEIU Local 2015 and said he worked with Butler at SEIU for over a decade. He described her as a "fierce negotiator" and said union members are hopeful her work on advocating for caregivers will continue as a legislator.
"Laphonza had a way to bring people together that maybe historically weren't coming together to build power to find solutions," he said, adding she was the primary negotiator behind the fight to raise California's minimum wage to $15. "In multiple places throughout California, Laphonza was on the front lines fighting so that caregivers could be seen … This is a workforce that historically has been undervalued."
Progress for Black women and LGBTQ representation in Congress
While Black women have made historic gains in state and federal office, many see Butler's rise to the US Senate as a continuation of progress and a historic opportunity to increase Black women's representation in Congress.
Since Shirley Chisholm broke barriers as the first Black woman elected to Congress in 1968, Black women have served as voting members of Congress from 23 states, according to the Center for American Women and Politics.
Among Democrats, 52 Black women have served in the House and three have served in the Senate. Only one Black woman has served as a Republican in Congress. There are 13 LGBTQ+ elected officials in Congress, according to the LGBTQ+ Victory Institute.
Melanie Campbell, president and CEO of the National Coalition on Black Civic Participation, told CNN Butler's appointment expands "Black political power at the highest legislative level in our nation."
"It also means we will have a Black leader with lived experience to lift up, promote and vote for (the) federal legislative policy priorities of Black Americans, especially at a time in our history when our rights, freedom and democracy are under attack," she said.
David Johns, the executive director of the National Black Justice Coalition, said he believes Butler's presence in the Senate is reflective of the work of previous Black LGBTQ+ political leaders. The coalition is a civil rights organization with a mission to empower LGBTQ+ and same-gender loving people, including those with HIV/AIDS.
Now that she's in office, he said he hopes to see Butler advocate for the LGBTQ+ community beyond the state of California by pushing for legislation like the Equality Act, a bill that has previously stalled in Congress that would address mental health for Black and LGBTQ+ citizens.
"She is what's needed right now," he said. "It is important for her to not only take up space in that body but to be disruptive in ways that are consistent with the way in which our country is growing and talking about diversity."
CNN's Kaanita Iyer, Clare Foran, Paul LeBlanc and Edward-Isaac Dovere contributed to this report.