A teacher was killed Friday and several people injured in a knife attack at a public school in Arras, northern France, according to CNN affiliate BFMTV.
A worker at the school is in critical condition after receiving several stab wounds and a second teacher was wounded less seriously, BFMTV reported.
The suspect has been put under investigation for terrorism, the French national anti-terrorist prosecutor's office announced Friday.
Following the attack in Arras, "the national anti-terrorist prosecutor's office has opened an investigation for the following — murder in relation to a terrorist initiative; attempted murder in relation to a terrorist initiative; association of terrorist wrongdoer in preparation for crimes against people," the prosecutor's office said in a statement.
According to BFMTV, the suspect is a 20-year-old man of Chechen origin whom French authorities previously announced was under "active surveillance" ahead of the incident.
The attack occurred at the Gambetta High School around 11 a.m. local time (5 a.m. ET) Friday, BFMTV said.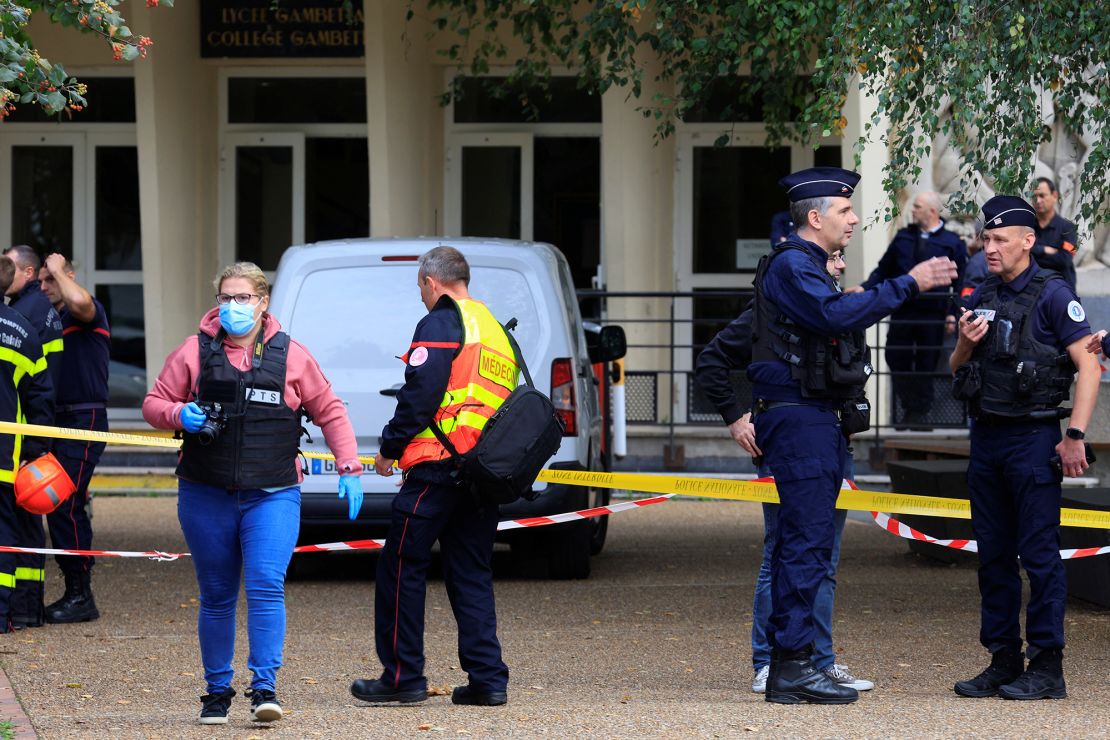 According to a post on X from French Interior Minister Gérald Darmanin, the attacker was detained by police.
According to BFMTV, the suspect cried "Allahu Akbar" during the attack. His brother was also reportedly detained.
On Friday afternoon, French President Emmanuel Macron traveled to the public school where the incident occurred, and said the attack shows "the barbarism of Islamist terrorism."
"Nearly three years after Samuel Paty was murdered, terrorism attacked a school again, in a context that we all know," he said, referring to the killing of a high school teacher in a Paris suburb in October 2020.
Macron expressed his condolences to the family of the teacher killed, adding that their bravery "saved many people."
The Arras Prosecutor will host a press conference in the "coming hours," according to Macron.
French police have posted on X asking people to avoid the area and to avoid spreading misinformation online about the incident.