Editor's Note: This story contains a graphic image.
When Palestinians in north Gaza heeded the warnings issued in the Israeli military's phone calls, text messages, and fliers advising them to head south, they thought they were fleeing to potential safety.
The Israeli Defense Forces issued the guidance Friday, telling all civilians in north Gaza to evacuate to areas south of Wadi Gaza "for your own safety and the safety of your families" as the IDF continues "to operate significantly in Gaza City and make extensive efforts to avoid harming civilians."
However, some Palestinians who followed the evacuation warnings and fled their homes in search of safety suffered the very fate they were running from: Israeli airstrikes killed them outside of the evacuation zone.
The killings underscore the reality that evacuation zones and warning alerts from the Israeli military haven't guaranteed safety for civilians in the densely populated Gaza Strip, where Palestinians have no safe place to escape Israeli bombs.
In the early hours on Friday, Aaed Al-Ajrami and his nephew, Raji, received a phone call from an Israeli military official – warning him to get everyone he knows and head southwards immediately, the nephew told CNN. Despite following the instructions and successfully fleeing south of the evacuation zone, Aaed's family was killed by an Israeli airstrike the next day.
An audio recording of the phone call obtained by CNN reveals the details of the brief conversation – which included the IDF's instructions to flee south of the evacuation zone and no guidance on how to get there. Raji said once they realized who was calling, they recorded the conversation so they could share it with other family members.
"All of you go to the South. You and all your family members. Gather all of your stuff with you and head there," the officer told them.
Aaed wanted to know what road would be safe to take and what time they should leave.
"It doesn't matter which road," the officer replied. "Do it as fast as you can. There is no time left."
Aaed heeded the warning. By sunrise on Friday, he headed south with his family and relatives to stay with friends in Deir Al Balah, a city roughly eight miles south of Wadi Gaza and outside the evacuation zone.
The next day, an Israeli airstrike in the area destroyed parts of the building where Aaed's family sought refuge – killing him and 12 other members of his family, including seven children.
His nephew Raji, 32, was staying in a different building nearby when he heard the explosion and feared the worst. He rushed to the scene after receiving a call telling him that his uncle's family members were amongst the victims.
"The destruction was massive," Raji said. "We started digging people out who were hit by the explosion, some of them were still alive … the gunpowder smell was very strong, the dust was everywhere."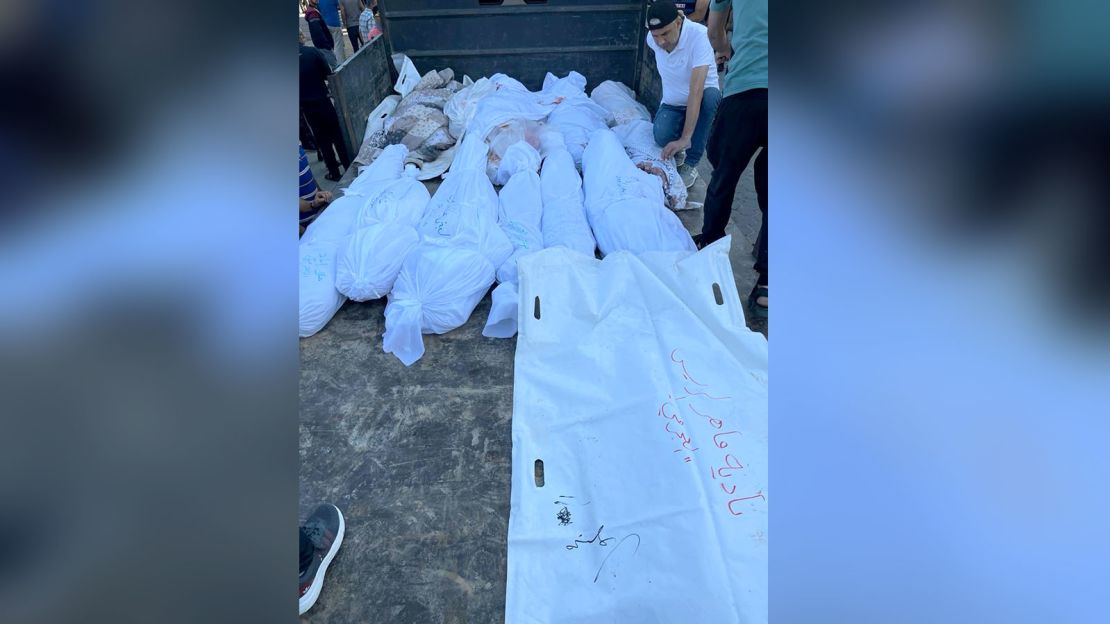 "These people all thought that they were finally safe and that nothing would happen in the area," Raji said. "You can follow the orders so that you aren't exposed to danger, but the danger will still reach you wherever you are."
In response to CNN's query about the airstrikes in Deir Al Balah and other areas outside of the evacuation zone, an IDF statement said it's "operating to dismantle Hamas military and administrative capabilities."
While an estimated 500,000 Palestinians have fled northern Gaza for the south since Friday, many others are unable to make the journey south of the evacuation zone and are stuck in northern Gaza.
Yara Alhayek, 22, told CNN that her family living in the north had nowhere to seek refuge if they headed south. "We couldn't leave because there is no safe place to go to … it's really dangerous if we leave our house, it's really dangerous if we stay in our house, so we have no idea what to do."
Israel has defended its ongoing hammering of Gaza with airstrikes as targeting Hamas headquarters and assets which are hidden within civilian buildings, claiming that what may appear as a civilian building is actually "a legitimate military target."
Independent UN experts have condemned Israel's "indiscriminate attacks against Palestinian civilians." Doctors Without Borders released an update Sunday night saying the strikes have also hit hospitals and ambulances and decried that the "indiscriminate bombing campaign in which most casualties have been civilians."
Israel's military airstrikes have killed more than 2,800 and injured 11,000 since October 7, Palestinian Prime Minister Mohammad Shtayyeh said Monday, according to the official Palestinian press agency, WAFA.
Israeli troops and military equipment have massed at the border with Gaza as Israel prepares to ramp up its response to the deadly October 7 attack by the Islamist militant group Hamas. Warplanes continued to blast Gaza over the weekend, as civilians fled southward, following Israel's evacuation instructions.
Several United Nations agencies have also warned that mass evacuation under such siege conditions will lead to disaster, and that the most vulnerable Gazans, including the elderly and pregnant, may not be able to relocate at all.
"The order to evacuate 1.1 million people from northern Gaza defies the rules of war and basic humanity," wrote Martin Griffiths, head of the UN Office for the Coordination of Humanitarian Affairs, in a statement late Friday. "Roads and homes have been reduced to rubble. There is nowhere safe to go."
Raji, who has taken in the wounded children that survived the attack, says he has to put on a strong face to support them despite being broken internally.
"I feel the injustice, these are innocent people, what did they do?"