Cornell University police are investigating a series of antisemitic threats made against the school's Jewish community in online posts over the weekend, its president announced.
"Earlier today, a series of horrendous, antisemitic messages threatening violence to our Jewish community and specifically naming 104 West — the home of the Center for Jewish Living — was posted on a website unaffiliated with Cornell," President Martha E. Pollack said in a statement Sunday.
The online messages surfaced Sunday and included threats to shoot Jewish students at the 104 West building, which houses their kosher dining hall, and messaging encouraging others to harm Jews, according to the school's student newspaper, The Cornell Daily Sun.
The threats come amid rising tensions on college campuses across the US as the war between Israel and Hamas rages on in the Middle East. At many universities, students are engaging in fervent protests as some administrators — including those at elite institutions such as Harvard and the University of Pennsylvania — grapple with how to acknowledge students' wide-ranging concerns while also fielding backlash from influential donors demanding colleges take a clearer stance on the conflict.
Antisemitic incidents in the US increased nearly 400% in the days after the October 7 attacks by Hamas, according to the Anti-Defamation League.
New York State police will increase their security on Cornell's campus following the threats, New York Gov. Kathy Hochul said Monday, calling those who made the threats, "terrorists" and warned that anyone making threats "will get no refuge."
Speaking alongside Pollack at Cornell's Center for Jewish Living, Hochul said she had talked with Cornell students in response to the threats and said state police will be "increasing our (Cornell's) security opportunities as well."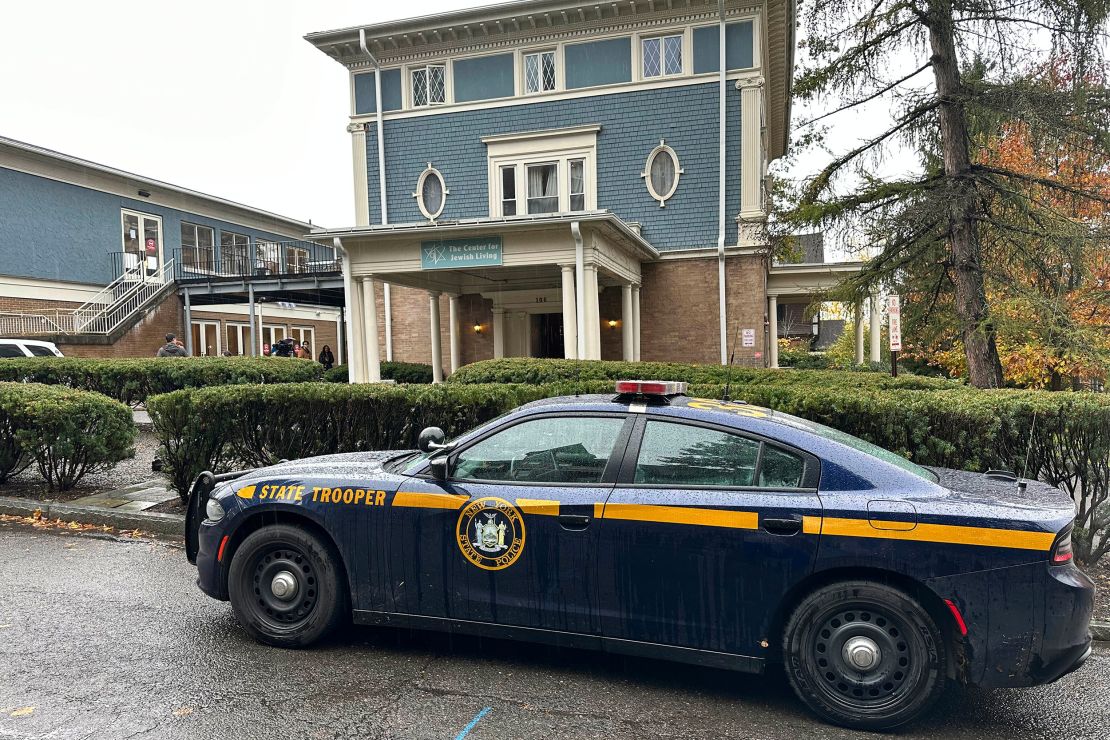 "I came here in person with one strong message: that we will not tolerate threats, or hatred or antisemitism or any kind of hatred that makes people feel vulnerable," Hochul said.
"If you're going to engage in these harmful actions, hate crimes, breaking our laws, you will be caught and you will be prosecuted to the fullest extent of the law," the governor said.
The university's police department also said it increased patrols and has "arranged additional security for our Jewish students and organizations on and off campus, and the university is in constant communication with these groups."
The Biden administration is announcing new actions Monday aimed at combating antisemitic incidents on college campuses across the country in the wake of the Hamas terror attacks on Israel.
In the Cornell incident, some of the usernames from those making the threats included the word Hamas, according to some of the posts published by the paper.
The university's police department is investigating the posts and the FBI was notified about the threats as a potential hate crime, Pollack said.
"The FBI is aware of the threats made to Cornell University's Jewish community," the agency said in a statement.
"We take all threats seriously and are working closely with Cornell and our law enforcement partners at every level to determine the credibility, share information, and take appropriate investigative action."
"We encourage members of the public to immediately report anything they consider suspicious to law enforcement," the statement added. "Nothing is more important than the safety of our communities and we will not tolerate violence motivated by hate and extremism."
There are approximately 3,000 undergraduate and 500 graduate Jewish students at Cornell, comprising 22% of the student body.
Authorities responded to 104 West — which houses the campus' kosher and multicultural dining hall — and would remain there "to ensure our students and community members are safe," the school's president wrote Sunday.
Cornell's Jewish Hillel organization warned students and staff to avoid the building Sunday evening "out of an abundance of caution."
"Evidence suggests the targeted locations were intentionally selected because of the perpetrator's bias," Cornell University Police Department said in a statement.
New York Attorney General Letitia James called the threats "horrific."
"There is no space for antisemitism or violence of any kind," she wrote on X, formerly known as Twitter, on Sunday. "Campuses must remain safe spaces for our students."
Pollack said in her statement violent threats are "absolutely intolerable" and the university is working to prioritize community safety.
The threats come just days after several sidewalks on campus were vandalized with anti-Israel graffiti, according to the university's student-run newspaper, The Cornell Review.
"We will not tolerate antisemitism at Cornell," the president wrote. "The virulence and destructiveness of antisemitism is real and deeply impacting our Jewish students, faculty and staff, as well as the entire Cornell community. This incident highlights the need to combat the forces that are dividing us and driving us toward hate. This cannot be what defines us at Cornell."
Cornell senior Zoe Bernstein, who is Jewish, told CNN she was heartbroken to read the antisemitic posts, which she said have spread fear and distress throughout the campus' Jewish community.
"This is totally unprecedented in my life and the lives of, I would say, pretty much all of my peers. … It's really, deeply troubling and upsetting," said Bernstein, who is the president of Cornellians for Israel, a campus organization that aims to provide community and educational events for students who have a connection to Israel.
Bernstein noted the threats are particularly disturbing for students like herself who are descendants of Holocaust and pogrom survivors.
Concerns about the war coupled with the rising unease on campus have begun to consume the lives of many of Bernstein's peers, she said.
"It's really, really hard to focus on anything other than all of this," she said. "I just really hope that we can soon get to a point where things just die down and we can focus on our academics again because I know students from all walks of life have really been struggling."
"My ultimate wish is that no violence will happen on this campus," she added.
Cornell is located in Ithaca, New York — about 60 miles south of Syracuse.