Russian President Vladimir Putin prides himself as the leader of what he calls a "multinational, multiconfessional" Russia. And the republic of Dagestan is in many ways a microcosm of Russia's diversity: The mountainous region is home to over 30 ethnic groups with distinct languages.
But the images of antisemitic rioters overrunning Dagestan's Makhachkala Uytash Airport have shaken Russia's Jewish community, stoked international outrage and raised serious questions about the blowback from Putin's war on Ukraine – now in the Russian leader's view directly linked to events in Gaza.
On Monday, the Kremlin leader held an extensive meeting to address the situation in Dagestan, where rioters – fired up by rumors that Jews and Israelis were aboard a Red Wings Airlines flight that landed Sunday from Tel Aviv – surged into the airport terminal and stormed the runway.
Members of the crowd outside the airport held signs that included slogans such as "We are against Jewish refugees," and "There is no place for child-killers in Dagestan."
According to Russian state news agency TASS, "those gathered oppose the Palestinian-Israeli conflict."
Authorities said at least 20 people were injured and 60 people were detained. State Department Spokesperson Matthew Miller said the incident "looked like a pogrom."
The Israeli Prime Minister's office and the Ministry of Foreign Affairs released a joint statement on Sunday following the news, saying Israel expected Russian law enforcement "to safeguard the well-being of all Israeli citizens and Jews wherever they are and to take strong action against the rioters and against the wild incitement being directed against Jews and Israelis."
In his remarks Monday, Putin called for law enforcement to take "firm, timely and precise actions to help protect constitutional order of Russia, rights and liberties of our citizens, the interethnic and inter-religious harmony."
But the Kremlin leader also directed the finger of blame away from Russia.
"The events in Makhachkala last night were inspired through social networks," Putin stated, insinuating that Ukraine and "the hands of Western intelligence agencies" had exploited emotions running high inside Dagestan over Israel's relentless military campaign against Hamas in Gaza and rising civilian casualties.
"We can only help Palestine in the fight against those who are behind this tragedy," Putin said, adding, "we, Russia, are fighting them within the framework of the Special Military Operation," the official euphemism for Russia's ongoing war in Ukraine.
Such remarks require serious unpacking.
Since the October 7 Hamas attacks, Putin has played a delicate international balancing act, putting himself forward as a potential mediator and calling for restraint on both sides – a position that has won praise from Hamas.
And in his remarks on Monday, Putin made his most pointed critique of Israel to date, saying that "horrifying events" in the Gaza Strip "cannot not be justified" and added that "your fists clench and you get tears in your eyes" when you see photos of "bloodied, dead children."
A tense region of Russia
Such images clearly stirred anger in Dagestan, a majority Muslim republic that has historically been home to a variety of Islamic religious practices.
It has a miniscule Jewish population – Judaism is one of Dagestan's long-established religions, practiced by communities of the Mountain Jews, who speak a form of Persian – but after centuries of coexistence with Muslim neighbors, that population has dwindled through emigration.
But Putin's calls to contain the Gaza crisis in recent days have riled Israel. Russia's ambassador to Israel was summoned to the Ministry of Foreign Affairs in Jerusalem to protest a visit last week to Moscow by a Hamas delegation, according to a press release from Israel's Ministry of Foreign Affairs on Sunday.
Putin, however, is playing to different audiences. Russia has a complex web of relationships in the Middle East: Putin backs Syrian President Bashar al-Assad (an enemy of Israel); he relies on Iran (another enemy of Israel) for a stockpile of drones to attack Ukraine; and he's a high-fiving friend of Saudi Crown Prince Mohammed bin Salman, another power player in the region.
He has also maintained cordial working relationships with Israeli counterparts, although his relationship with Israeli Prime Minister Benjamin Netanyahu has cooled.
But such regional dynamics obscure a bigger picture. Putin has cast himself as locked in an existential fight against the United States and the West, with Ukraine the main battleground. His rhetoric – directed against "those who are behind this tragedy" – now appears to draw a direct line between Ukraine and Gaza.
In his remarks Monday, Putin accused the US of stoking the current conflict, stating "the United States needs constant chaos in the Middle East, so they discredit those countries that are insisting on the immediate ceasefire in the Gaza Strip."
In response to Moscow, National Security Council Coordinator for Strategic Communications John Kirby said, "we've heard crickets from the Kremlin," on the airport mob.
"Nothing, no condemnation, no calling for the stoppage of hate, discrimination and bigotry," Kirby said, adding, "It's classic Russian rhetoric that when something goes like bad in your country … blame somebody else, blame it on outside influences."
Ukrainian President Volodymyr Zelensky said the Dagestan riot signals that Russia is "losing control."
Observers have also been quick to note that Putin's expressed concern over civilian casualties in Gaza rings hollow.
His military continues a ruthless war against Ukraine, a campaign that has targeted civilian infrastructure and leveled cities, and the International Criminal Court (ICC) has issued an arrest warrant for the Russian president over his country's conduct during the war.
But Putin is counting on a strategy that has already won dividends: Internationally, Moscow's diplomats have been pressing a global PR offensive that casts Russia as a staunch anticolonial power, winning support in the Global South – even as it pursues a war of conquest in Ukraine.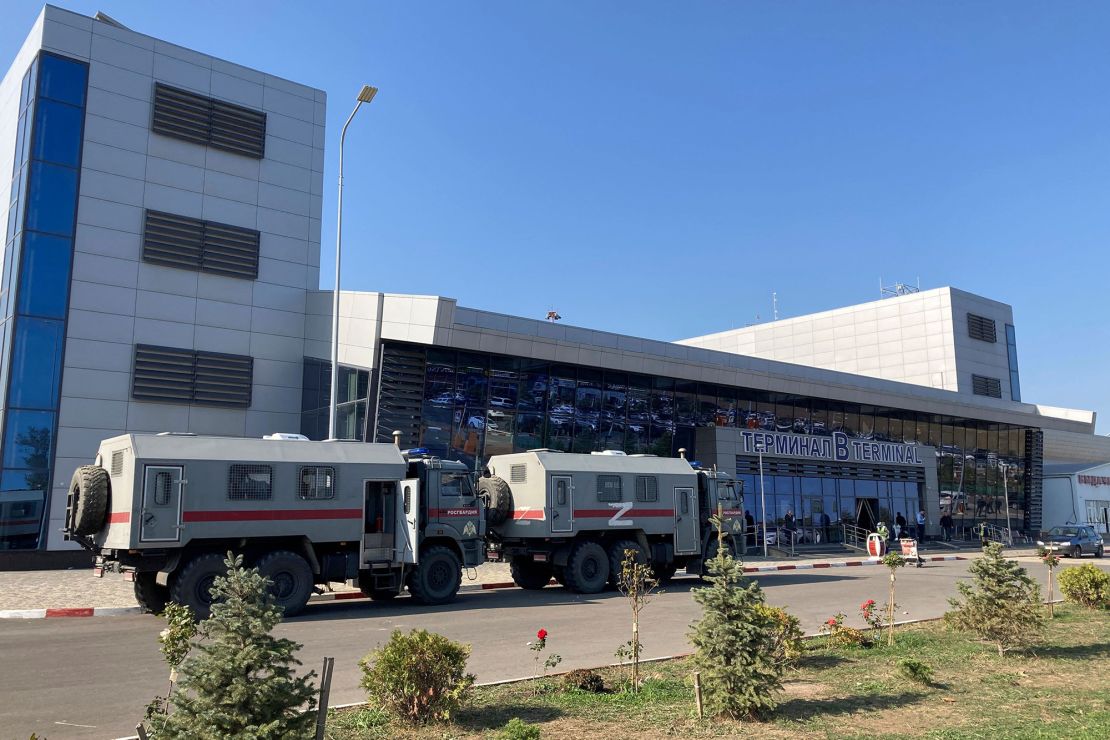 Anti-Israel rhetoric
Russian state media have echoed that narrative at home. Since the October 7 Hamas attacks on Israel, some Russian state TV commentators and politicians have ramped up their criticism of Israel, as the Gaza war conveniently distracts international attention from Ukraine.
Ukrainian Foreign Ministry spokesperson Oleh Nikolenko accused Moscow of trying to shift responsibility. "Threats to exterminate the Jews are the result of the work of Russian state propaganda, which for decades cultivated feelings of hatred towards other peoples among Russians," he noted.
But as the riots in Dagestan showed, anti-Israel rhetoric can veer quickly off script.
Earlier this month, Ramzan Kadyrov, the pro-Kremlin warlord who rules the neighboring Russian republic of Chechnya, expressed "complete support" for Palestine and floated the notion of deploying his "peacemaking" forces to resolve the conflict between Israel and Hamas.
That may seem a farfetched idea – Kadyrov has an abysmal human rights-record – but for nearly two decades, the Chechen strongman has helped Putin keep a brutal, uneasy peace in Russia's north Caucasus, a region that includes Dagestan. Kadyrov has also provided footsoldiers for Russia's war in Ukraine.
So keeping the peace in Dagestan is likely focusing minds in the Kremlin. Protests erupted last year in the republic in response to the Russian government's mobilization orders, with some activists complaining that ethnic minorities were being unfairly conscripted for service in Ukraine. The Gaza war adds one more match to the fire.
In a keenly observed commentary on Sunday's events, Harold Chambers of the independent Russia-watching site Riddle Russia pointed to Dagestan's dismal economic state and the Ukraine war as factors fuelling local grievance.
"The attempted pogrom is not just rooted in antisemitic messaging, but in systemic dynamics in the region," he wrote.
"General socioeconomic conditions in the republic continue to deteriorate. Basic necessities to live such as electricity, water, and gas are irregularly supplied, which led to sustained small protests only a few months ago. Additionally, Russia's war in Ukraine has impacted Dagestan heavily, with significant casualties. Public appeals and small actions do not regularly succeed, with the authorities sweeping them aside."
Russian investigative journalist Yevgenia Albats was equally cutting in her analysis.
"Are there anti-Semites in Makhachkala?" she wrote on X. "Yes, sure. Have they been there before? Yes, sure. What has happened now? 20 months of war, rising prices, hundreds, if not thousands of men killed, the pressure is accumulating and requires a release."
Russia's information campaign, she added, is a convenient tool, presenting "a picture for the Middle East, Iran, for the Global South: Russia is with you, Putin is the leader of the anti-American world."
Putin has for months played a risky geopolitical game, gambling on anti-Western distrust to shore up support for his war on Ukraine. But an anti-Jewish riot in the southern region of Dagestan shows how quickly that model can backfire, particularly for those trapped inside the echo of Russian state propaganda.