Israeli strikes targeting Hamas commanders and the militant group's infrastructure in the densely populated Jabalya refugee camp in northern Gaza have left catastrophic damage and killed a large number of people, according to eyewitnesses and medics in the enclave.
The devastation wrought by the strike triggered fresh outcry over spiraling civilian casualties as Gazans awoke to another communications blackout Wednesday morning. Survivors and eyewitnesses spoke of apocalyptic scenes in the aftermath of Tuesday's strike, which tore a massive crater through the middle of the crowded camp.
"I was waiting in line to buy bread when suddenly and without any prior warning seven to eight missiles fell," an eyewitness, Mohammad Ibrahim, told CNN.
"There were seven to eight huge holes in the ground, full of killed people, body parts all over the place," he said. "It felt like the end of the world."
According to a statement by the Israel Defense Forces (IDF), the initial airstrike killed several Hamas members, including Ibrahim Biari, whom it described as one of the Hamas commanders responsible for the October 7 attack on Israel, which left than 1,400 people dead and hundreds taken hostage.
The IDF claimed the Central Jabalya Battalion had taken control of civilian buildings and said collapsed tunnels were partly responsible for the scale of destruction caused by Tuesday's strike.
Hamas has claimed to have built hundreds of kilometers of tunnels underneath Gaza, which it has used to smuggle goods from Egypt and launch attacks into Israel.
Hamas however strongly denied the presence of one of its leaders in the refugee camp. Hazem Qassem, a spokesman for the militant group, accused Israel of attempting to justify what he described as a "heinous crime against safe civilians, children, and women in Jabalya camp."
A second IDF strike also hit the Falluja neighborhood of the same refugee camp on Wednesday. The massive blast destroyed several buildings, with video from the site showing a deep crater and people digging through the rubble searching for bodies.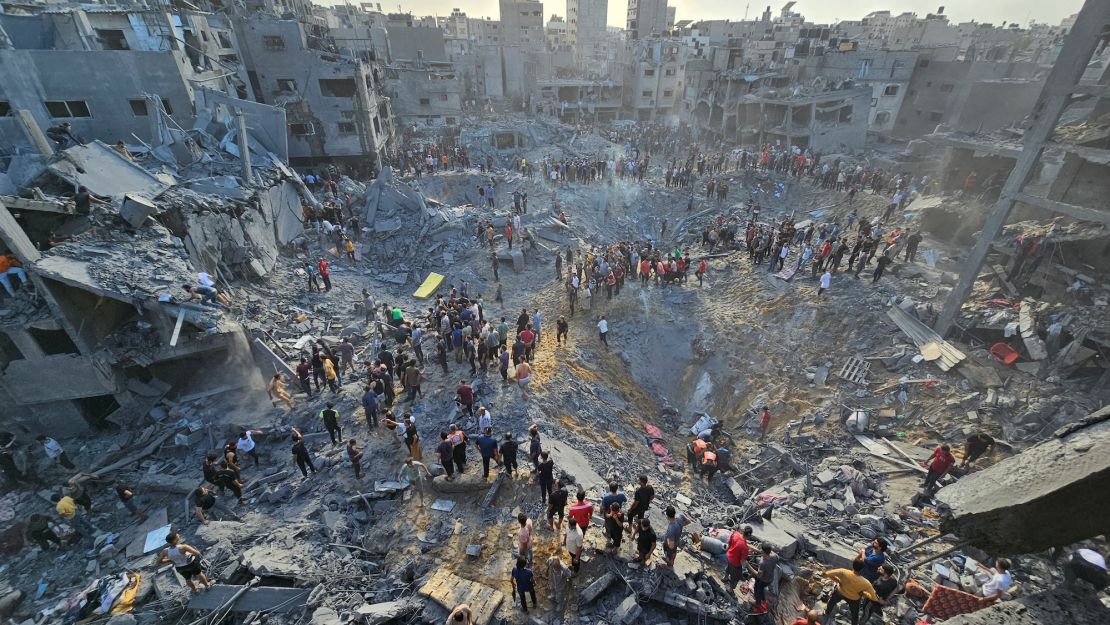 The Civil Defense in Hamas-run Gaza described it as the "second massacre" in two days. The airstrike killed at least 80 people and injured hundreds more, according to Dr. Atef Al Kahlout, the director of Gaza's Indonesian hospital. He told CNN more bodies were being dug out of the rubble, and the majority of casualties were women and children.
The IDF said the Wednesday attack targeted a Hamas command and control complex and "eliminated" Hamas terrorists.
The United Nations Human Rights Office has said that the attacks on Jabalya, which is Gaza's largest refugee camp, "could amount to war crimes" given "the high number of civilian casualties and the scale of destruction," it wrote on social media.
Israel's weeks long bombardment of Gaza has killed at least 8,700 people, according to figures released by the Palestinian Ministry of Health in Ramallah, drawn from sources in the Hamas-controlled enclave. Women, children and the elderly make up more than 70% of those killed, the ministry said on Monday.
The strikes continue amid increasingly urgent calls for ceasefire by the UN and aid organizations, and despite a UN General Assembly resolution backed by over 100 countries calling for a "sustained humanitarian truce."
Seventy United Nations aid workers have also been killed, according to the UN's Relief and Works Agency for Palestine Refugees in the Near East (UNRWA). Juliette Touma, the agency's communications director, told CNN's Becky Anderson that one colleague was killed at home "with his wife and eight children when his UN car, clearly marked as UN, was parked outside of his house."
In New York, a United Nations human rights official said he was leaving his job amid what he called a "textbook case of genocide" of Palestinians in Gaza. Craig Mokhiber, director of the UN's New York Office of the High Commissioner for Human Rights, wrote in his departure letter that he believes the US, UK and much of Europe is "complicit" in the bloodshed in Gaza, and that after witnessing what happened in Rwanda, Bosnia, and Rohingya civilians in Myanmar, the UN has repeatedly failed to stop genocide.
'Horrific scene'
Eyewitness Mohammad Al Aswad described a "horrific scene" in the aftermath of the strike on Tuesday, telling CNN that he ran to the refugee camp to check on family after hearing the missiles land.
"Children were carrying other injured children and running, with grey dust filling the air. Bodies were hanging on the rubble, many of them unrecognized. Some were bleeding and others were burnt," Al Aswad told CNN by telephone.
People in the area were hysterical, he added. "I saw women screaming and confused. They didn't know whether to cry for losing their children or run and look for them, especially since many children were playing in the neighborhood."
Images from the scene showed a huge crater among rubble and damaged buildings. Palestinians and rescue workers are seen attempting to find victims, some using their hands to scoop the detritus away.
Casualty figures from the airstrike are not yet clear and the communications blackout in the Strip has made it difficult to establish the full extent of the toll. Officials in Hamas-run Gaza, as well as medics who treated the casualties, say the attack caused "hundreds" of deaths and injuries.
Jabalya is a densely populated refugee camp established shortly after the Arab-Israeli war of 1948, when hundreds of thousands of Palestinians fled or were expelled from territory that encompassed the newly established State of Israel, and later denied return.
The camp is a crowded built-up area with houses, shops and apartment buildings jammed up against one another, the roads between them in many areas barely wide enough for a car to pass.
Speaking to CNN's Wolf Blitzer, IDF spokesperson Lt. Col. Richard Hecht accused Hamas of "hiding, as they do, behind civilians." Reminded that there are many innocent civilians in the camp, Hecht responded, "This is the tragedy of war" and urged civilians to move south.
Southern Gaza has also seen lethal airstrikes, and aid organizations have repeatedly warned that there is no safe place in the isolated enclave.
On Wednesday, two Palestinian telecoms firms announced internet and communication network disruptions in Gaza. Paltel said there was a "complete interruption of all communications and internet services in the Gaza Strip," while mobile phone services from the communications company Jawwal were also down, according to a company statement.