Editor's Note: Sign up for CNN's Meanwhile in China newsletter which explores what you need to know about the country's rise and how it impacts the world.
Young people used Halloween parades on the streets of China's richest city this week to dress up in costumes protesting the country's economic problems that were underscored by a record spike in borrowing costs for some banks.
Thousands of revellers in Shanghai dressed in their Halloween finest to celebrate the Western holiday. There were traditional getups like Batman and princesses, but the crowd — and the Chinese internet — went wild for costumes offering scathing social commentary, particularly about the state of the world's second largest economy.
Videos circulating on social media showed a man dressed as the Shanghai Composite Index, one of the world's worst performing stock markets this year, while holding a bunch of leeks.
China has more than 220 million individual investors, and a common complaint is that they're being harvested like leeks, a staple in the Chinese diet, by big companies and the government — and being played for suckers.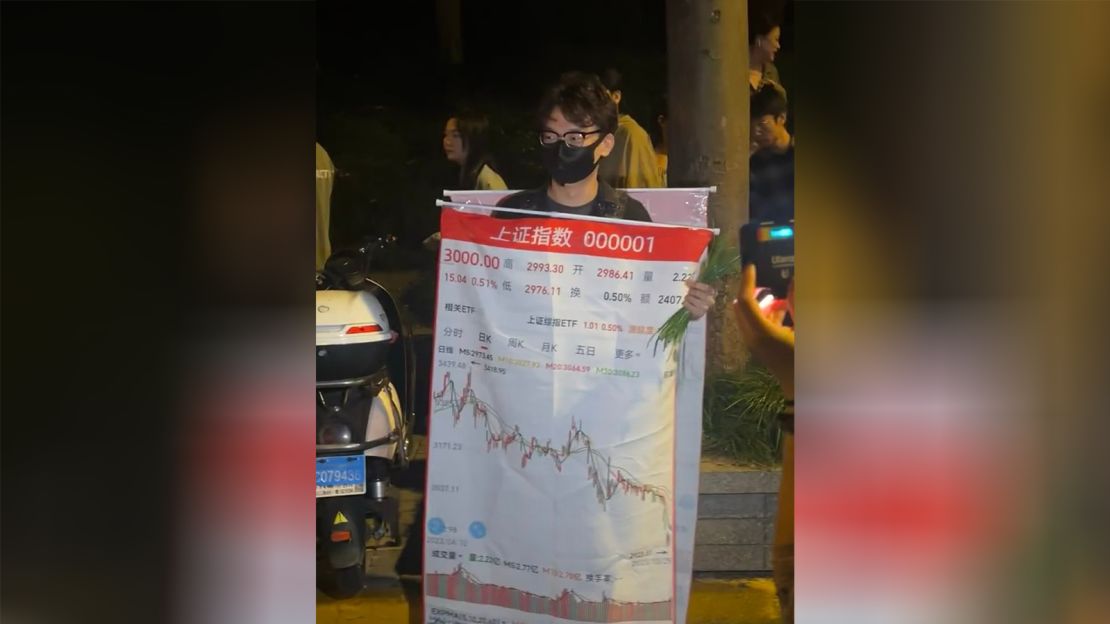 The young man, whom CNN wasn't able to identify, seemed to be venting his distress at the fact that the Shanghai Composite Index has been on a steady slump, falling more than 10% in the past seven months. The video was circulated widely on social media platforms including Weibo, Douyin, and Xiaohongshu.
"This is the scariest coser," a Weibo user commented, referring to a cosplayer — someone who dresses up as a character and also seeks to act the part.
"I don't want to see it. My heart is broken," another user said. "This is the most evil ghost in China!"
Global investors have dumped Chinese shares at an unprecedented pace in recent months. Foreign fund outflows via the Stock Connect platform hit $22.1 billion between August 7 and October 19, the largest outflow the history of the trading link between mainland markets and Hong Kong.
The Chinese economy has been dragged down by a number of challenges including a property market crisis, local government debt stress, rising US-China tension over technology and subdued global demand. Officials have tried various measures recently to boost markets and the economy, without much success.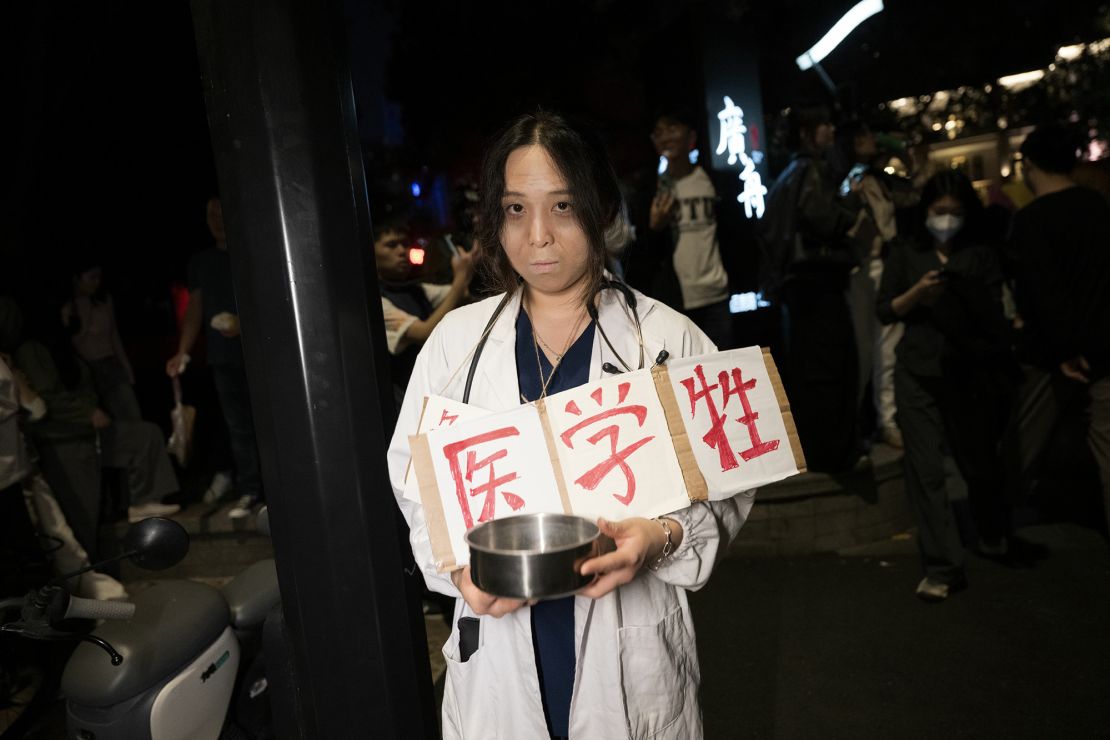 At the Halloween parade, many revellers vented their bitterness about the economy. One woman dressed up as a medical student, holding a begging bowl in her hands. Another woman wore a sign saying "liberal arts student," as she also carried a begging bowl and a sign asking for egg fried rice.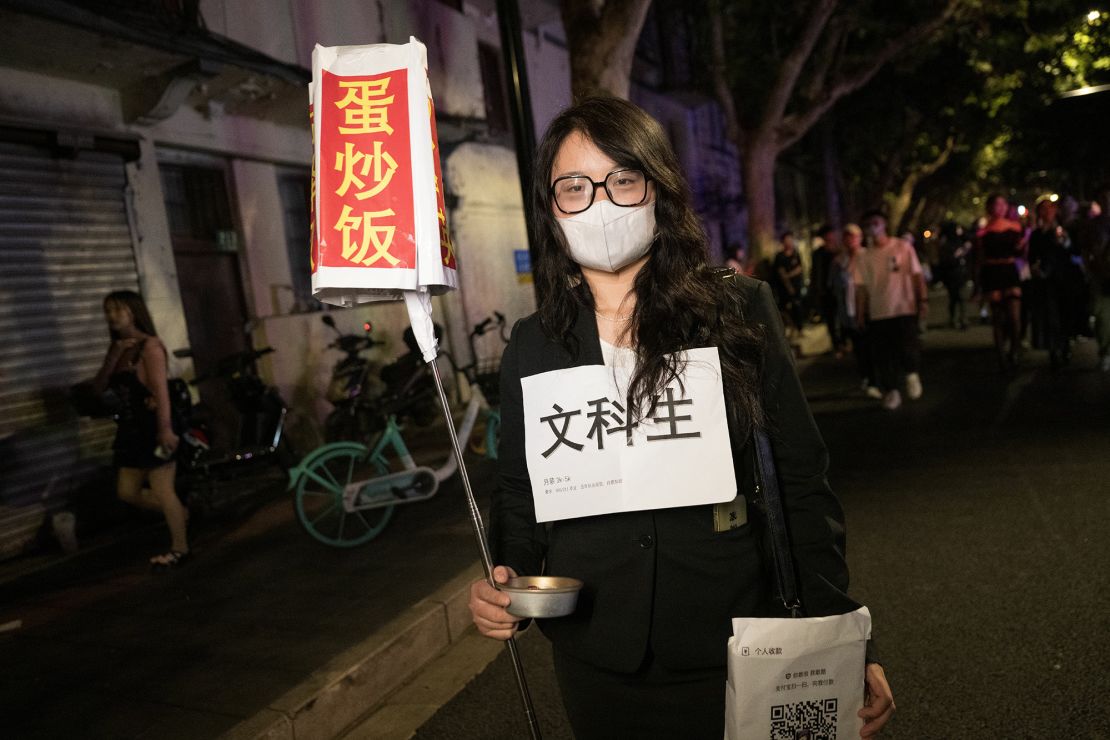 Unemployment among young people is so bad that the government has stopped publishing the data.
"I think people have suppressed their emotions for too long," Xiao Pan, a participant of the festivities in Shanghai, told CNN.
"So when they find such a window, they want to express their true selves," he said. "Halloween is an opportunity to express something without worrying about political risks."
Warning signs flashing
The Halloween celebrations coincided with another fright about the state of China's economy.
On Tuesday, overnight borrowing costs for some Chinese banks briefly hit a record high of 50%, stirring up memories of a 2013 credit crunch when short-term borrowing rates surged to 30%, sending jitters through global markets.
Yan Ziqi, chief fixed income analyst for Chinese broker Huaan Securities, said funding conditions had tightened because of a wave of government bond sales — which sucks money from markets — and tax payments due at the end of the month.
Some institutional investors then "misjudged" the situation and significantly increased the short-term rates they were charging to avoid running short of cash themselves.
Last week, China's legislature approved one trillion yuan ($137 billion) in sovereign bonds to fund rebuilding efforts after natural disasters and other infrastructure projects, some of which have already been issued. The issuance has increased the supply of governments bonds on the market, which can reduce the amount of money in circulation.
Although most borrowers were unaffacted and the average overnight rates quickly fell back to their usual level of around 2.5%, the cash crunch was a sign of how frightened investors are about potential risks in the Chinese financial system.
On Tuesday, official figures for October showed that the country's massive manufacturing sector had contracted again amid weak demand.
The services and construction industries, also saw their weakest activity last month since China lifted its Covid-19 restrictions in December 2022.
"China's economic outlook remains highly uncertain," Moody's Investors Service said in a report on Thursday.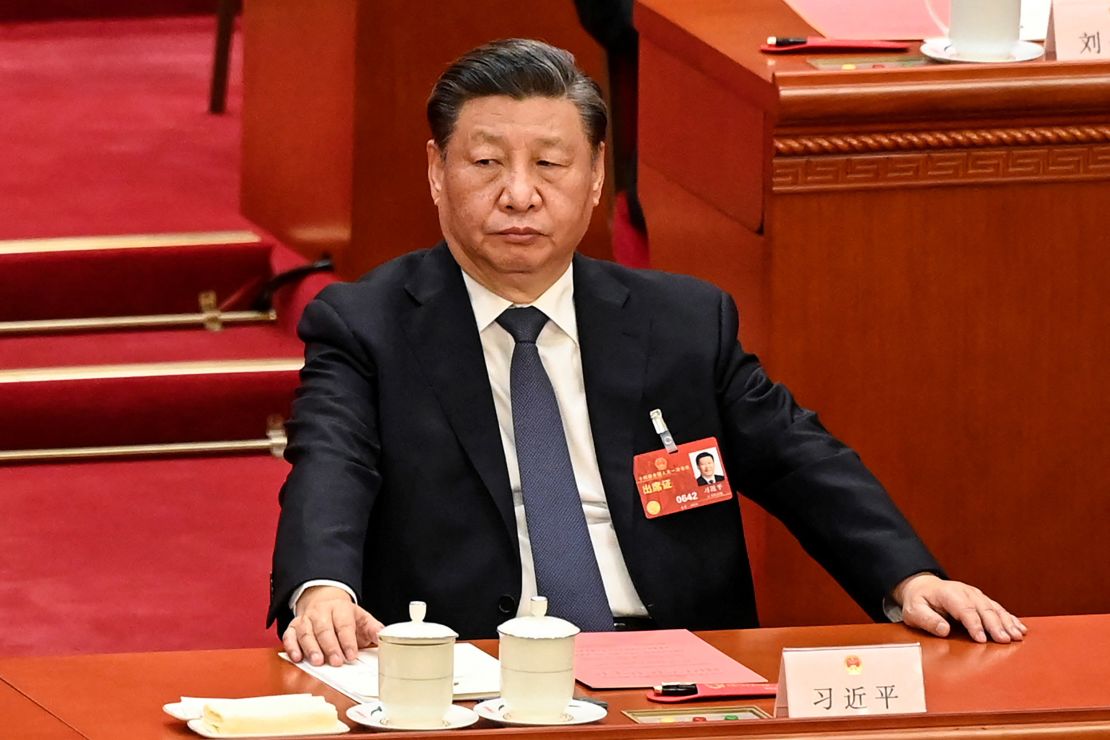 To address these challenges, President Xi Jinping hosted a key financial policy meeting this week to reiterate the need to resolve financial risks in the economy. It was the first such meeting held since 2017.
According to a read-out released on Tuesday, Xi urged the ruling Communist Party to tighten oversight of financial institutions, including providing greater credit support to struggling firms and channeling more funds to strategically important industries.
Policymakers also pledged to address the risks associated with smaller regional banks and local government financing vehicles.
"Hidden economic and financial risks are still widespread," the readout said. "Financial chaos and corruption continues to occur, and financial supervision and governance is weak."
Even China's spy agency, which is normally not involved in tackling financial risks, has pledged to "proactively" take part in protecting economic stability.
On Thursday, the Ministry of State Security vowed to crack down on those who attempted to "undermine global investor confidence in China" by spreading negative views about the Chinese economy.
"There are people who short China or talk down China. They are trying to undermine the global community's confidence in China and cause turbulence in our country's financial system," it said in a statement posted on its Wechat social media account.
"National security agencies should crack down and punish illegal and criminal activities in the financial sector that endanger national security," it added.