Perhaps the most intense rivalry in distance running currently isn't between two of the world's top athletes, although it is being played out at major marathon races across the globe.
When Ethiopian Tigst Assefa crossed the finish line of the Berlin Marathon six weeks ago in an astonishing two hours, 11 minutes, and 53 seconds – eviscerating the previous best time by more than two minutes – the bounds of possibility in women's running over 26.2 miles were suddenly being adjusted.
It was a ground-breaking victory not only for the Assefa, but also for Adidas – the company responsible for the sleek, platformed shoes on her feet.
"Tigist Assefa … we are so proud of you!" CEO Bjørn Gulden later posted on Instagram.
Fast-forward two weeks, however, and a rival brand was also toasting a world record. Enter Kelvin Kiptum, a 23-year-old Kenyan sporting orange and red-tinted Nikes laced over bright pink socks at the Chicago Marathon.
Kiptum, in just his third ever marathon, finished in a time of two hours and 35 seconds – 34 seconds faster than the old world record held by compatriot Eliud Kipchoge, who is widely considered to be the greatest distance runner of all time.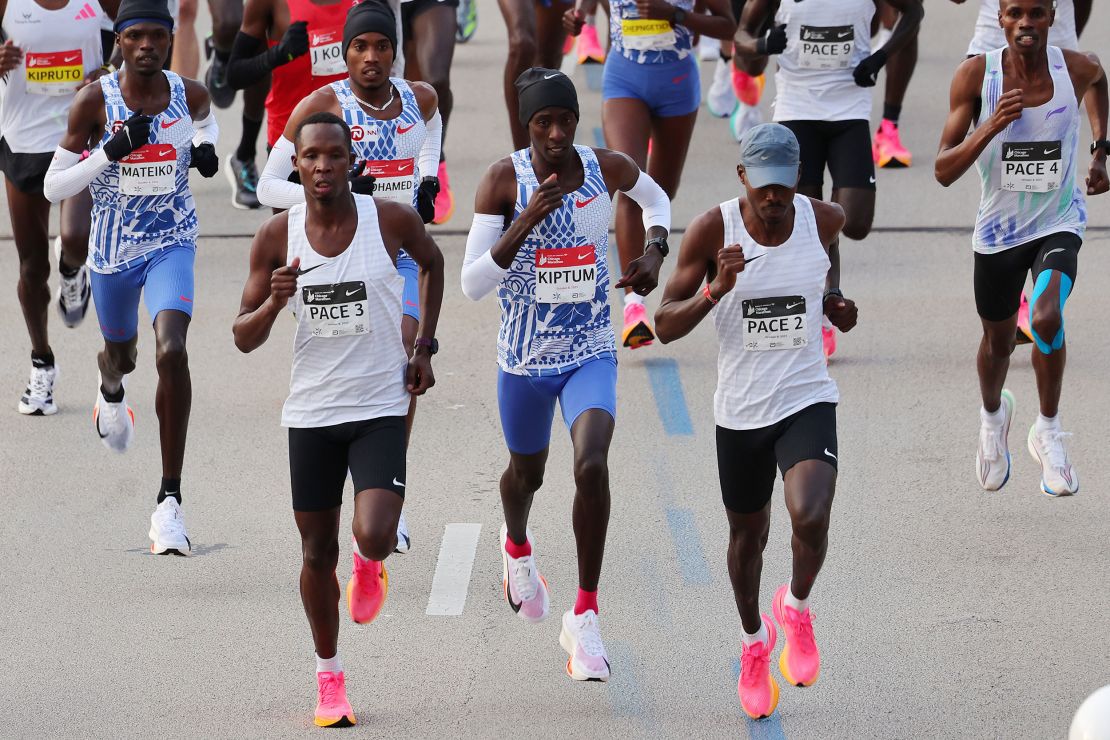 The two records in quick succession heightened the debate about how carbon-plated shoes – commonly referred to as "super shoes" – are rapidly changing the distance-running landscape. Today, they are worn by virtually all elite marathon runners, both for racing and for training, and by many casual runners, too.
Some are happy about the new technology, arguing that an influx of world records and fast times only serves to advance the sport; others, like long-time coach Peter Thompson, believe that they are an obfuscation, skewing performance and removing a sense of "natural progression" in distance running.
"The brands are not motivated by what's best for the sport," Thompson told CNN. "The brands are motivated by what's best for them, and it then becomes a brand warfare rather than competition between individuals … who's got the best materials, who's got the best architecture.
"At the moment," he added, "it's become shoe wars."
Speed over durability
Thompson, who has previously helped the likes of Nike, Reebok, and Hoka to design running shoes and track spikes, refers to the stiff, curved plates in modern running footwear as "external recoil devices" which provide "even greater propulsion."
Those plates are embedded within thick, lightweight foam soles of no more than 40 millimeters in height, according to guidelines set by governing body World Athletics, and sit below very thin, minimalist uppers.
Take Adidas' Adizero Adios Pro Evo 1, which hadn't been worn in a race prior to Assefa's world record and went on general sale for $500 around the same time. They weigh just 138 grams, have a 39-millimeter-thick heel, and provide the wearer with "greater energy return" by improving running economy, Adidas claims.
Assefa attributed her world record to "hard work over the past year," but prior to the race had hailed her shoes as "the lightest racing shoe I have ever worn."
"Running in them is an incredible experience – like nothing I've felt before," she said.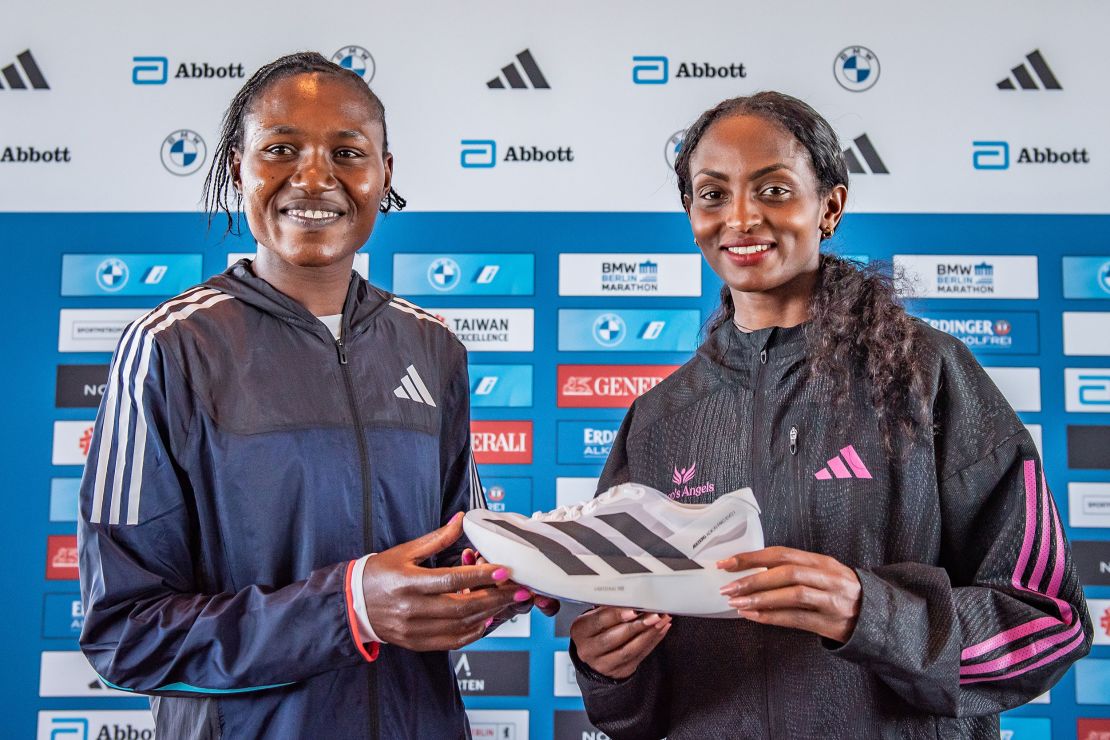 Adidas told CNN that 521 pairs of the shoe were released to coincide with the Berlin Marathon and "sold out in a matter of minutes." Another drop is set for November.
Designed only to be worn for a single marathon race plus familiarization time, the exact longevity of the shoes will depend "on the athlete wearing them and the conditions they are worn in," Adidas said.
Their relatively short shelf life has courted controversy: environmental group The Green Runners said that the shoe fosters "an acceptance that increased shoe consumption is fine," though Adidas rejected the notion that it is a single-use product.
"What we can say about these shoes is that they are designed for performance rather than durability," Thomas Allen, a sports engineer at Manchester Metropolitan University in the UK, told CNN.
"Whenever you design anything, you're making compromises in different areas. And I guess in this particular example, it's like a Formula One car – they're optimizing to go as fast as possible. They're not necessarily optimizing for durability."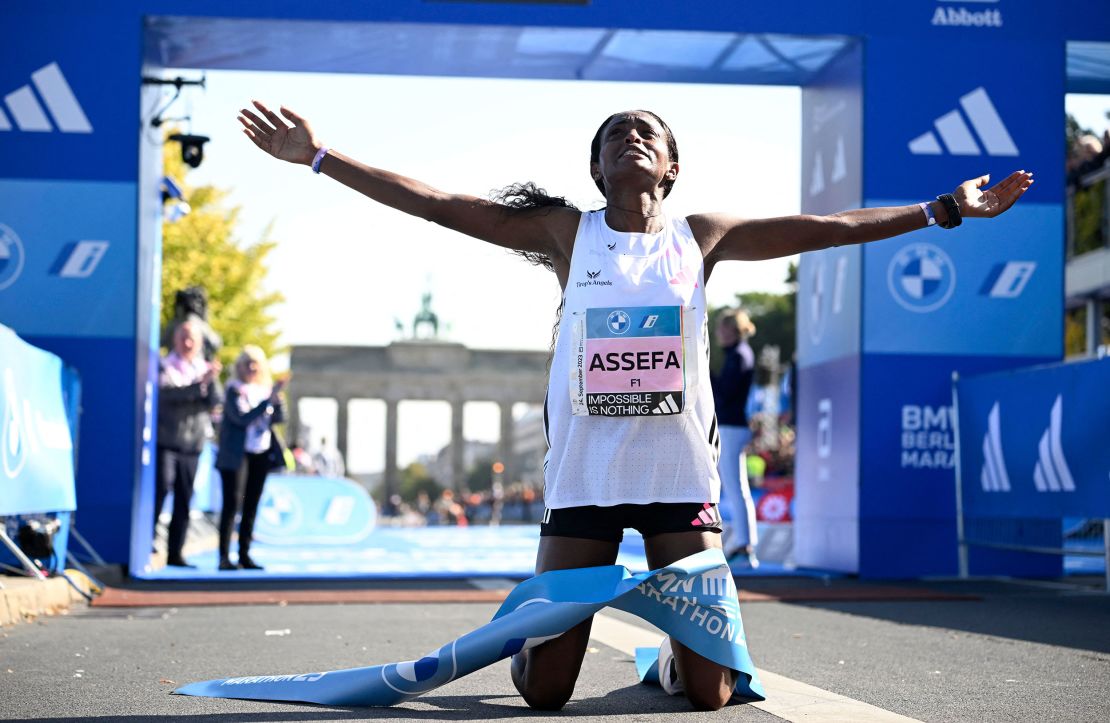 Nike, meanwhile, has been a pacesetter in the running shoes arms race ever since its Zoom Vaporfly model was worn by three athletes, including Kipchoge, in the men's marathon at the 2016 Rio Olympics.
The company's latest offering – the Alphafly 3, worn by Kiptum and women's champion Sifan Hassan in Chicago – has been called "the fastest marathon shoe in the world" by Nike. Shortly after Kiptum's record, it was announced that it would be going on general sale in January 2024.
Asked to comment on this story, Nike told CNN: "We've proven in our labs that Nike racing shoes provide measurable benefits, but it's the athletes on the roads who validate our work.
"The athlete will always be our focus and we will continue to deliver ground-breaking innovations for elite athletes and everyday runners alike."
'Plastic athletics'
It would be hard to argue that super shoes haven't made the world's fastest marathon runners even faster.
On the men's all-time list, 15 of the 20 best times in history have come since 2018, the year before a pair of Nike super shoes helped Kipchoge to run the first unofficial sub-two-hour marathon under contrived conditions. On the women's side, 17 of the 20 fastest times have come since 2018.
"I love seeing great athletes performing in wonderful ways," Tim Hutchings, a former distance runner who represented Great Britain at the 1984 Olympics, told CNN, "but there is this undercurrent of disbelief at what they are achieving because all historical context has been lost with the incoming of this generation of footwear.
"These aren't really records at all," Hutchings added, "not all-time records. They might be records in the new era, but they're not records per se … It's like plastic athletics, almost, because it's become too common.
"The currency of records has been devalued and diluted dramatically. It's become a battle of the lab guys, as much as the guys running out on the roads and on the tracks."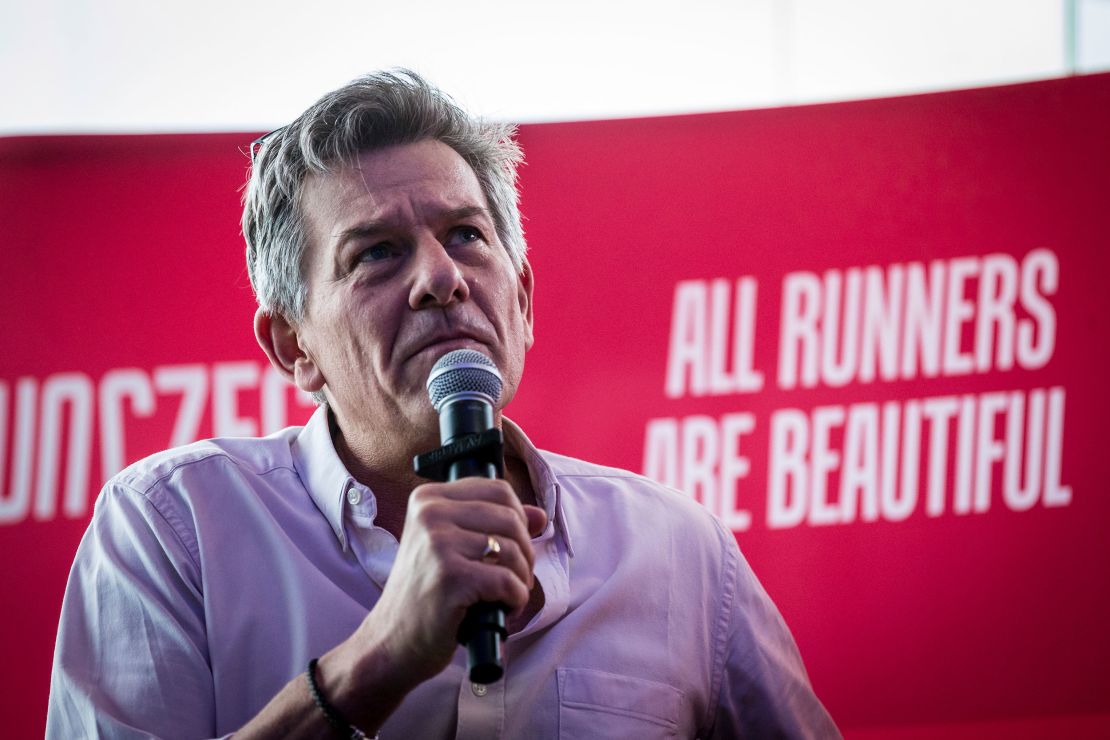 These days a prominent broadcaster at marathon races around the world, Hutchings suggests that running's record books should be updated to reflect the introduction of super shoes, essentially splitting the sport into two separate eras.
"We're still in a period of turmoil and discovery, and there is time to create a ruling, is my feeling, albeit a retrospective one," he added.
In written comments to CNN, World Athletics, the sport's global governing body, said that world records "across all our disciplines and events evolve over time."
It added: "Throughout the history of our sport, world records were always set with the best technology available at the time, it is no different today.
"Beyond technology, there are many factors which contribute to the constant improvement of athletic performances in our sport … We are in the midst of an exciting era for our sport, and we welcome the extraordinary quality of competition we are currently witnessing which is down to the coaching, training and hard work of our talented athletes."
'New stratosphere'
It is unlikely that world records will be set at this weekend's New York City Marathon, due to the undulating, challenging nature of the course, but you can guarantee that both casual and elite runners will be taking to the start line in a pair of super shoes.
While Nike was the first company to make carbon-plated footwear publicly available, most major running brands now have their own models, including Puma, New Balance, Asics, and Saucony.
One criticism often leveled against the technology is that runners respond differently to the footwear, meaning some reap a greater performance advantage from them than others.
A 2017 study, which was funded by Nike, found that a prototype shoe with a stiff, embedded plate "reduce[d] the energetic cost of running by an average of 4% compared with established marathon racing shoes" and acknowledged that there was "considerable inter-individual variation in the amount of energetic saving" the shoes offered.
"The problem with this technology is it's randomly selected," said Hutchings. "Some people really benefit from it massively, and other people I think are probably neutral responders and can hardly get any assistance from it depending on their gaits and their biomechanics."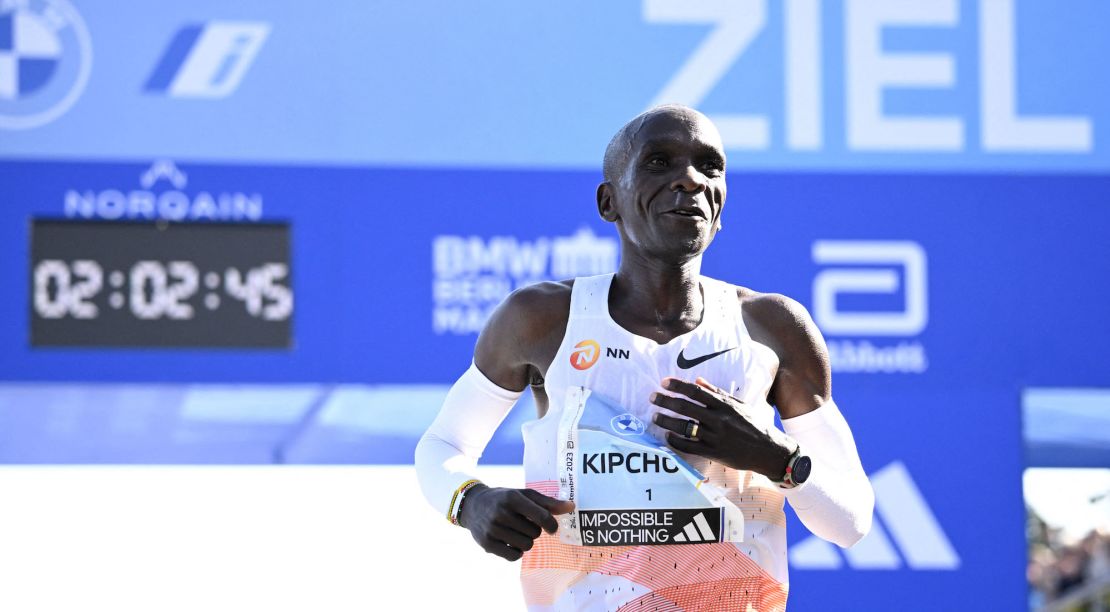 Thompson has other reservations about super shoes.
Anecdotally, he has heard about an increase in foot and calf injuries from athletes regularly wearing carbon-plated spikes on a running track, and also believes that wearing super shoes too often – either on tracks or roads – can compromise a runner's performance in the long term.
"If you train in these, what potentially could happen is that you reduce the body's ability to optimize its own biokinetic energy," said Thompson.
Biokinetic energy, a term that Thompson has introduced and defined himself, largely refers to the ways in which the joints, muscles, tendons and fascia in the body store and return energy, helping to improve running economy.
"A lot of people say, well, people recover faster from training in the super shoes and therefore they can do more training, better training," he added. "I'm not convinced of that.
"What I believe I'm seeing is that those who train all the time in super shoes will reduce their body's ability to optimize biokinetic energy production. So overall, you'll see a net decrease from where you were."
Thompson said, though, that he is a "lone voice" on how wearing super shoes for racing and training could be detrimental to a runner's overall performance.
"My recommendation is it's probably best to train in the cheapest, conventional shoes that are available and then save your super spikes and your super shoes for your races and for the occasional time trial," he said.
World Athletics told CNN that it has done "an enormous amount of work" to ensure that its shoe regulations "support innovation on the one hand, while also ensuring that shoe technology does not create unfairness or a paradigm shift in athletic performances on the other."
But Hutchings argues that the governing body should have been more stringent about regulating new shoe technology, saying: "I feel as though they have left the barn door ajar, the horse has bolted and they just cannot get it back under control."
Now, he finds himself longing for the days when little thought or discussion was dedicated to what shoes were on runners' feet.
"It has blown the sport of distance running into a new stratosphere, a new level of performance," said Hutchings, "and not in an all-round fair way."