Apparent divisions between Ukrainian President Volodymyr Zelensky and his military command are becoming increasingly public, after a bitter back-and-forth over the state of play in the war with Russia.
Igor Zhovka, the deputy head of Zelensky's office, on Saturday condemned an assessment by Ukraine's military chief that the war with Russia is at a "stalemate," deepening a feud in Kyiv which has heightened nerves about Western support for the conflict.
He was responding to an interview with military chief Valery Zaluzhny, who told The Economist on Wednesday that "we have reached the level of technology that puts us into a stalemate" and "there will most likely be no deep and beautiful breakthrough" in the war.
Zhovka told Ukrainian television that Zaluzhny's interview will have been "carefully read, noted down and conclusions drawn" by the Russians. He said he had received calls from counterparts in partner countries "in a panic" asking if the war really is at a stalemate, as described by Zaluzhny.
"Is this the effect we wanted to achieve with this article?" Zhovka said.
"Perhaps this is a very deep strategic plan, and we will achieve some success in this way. But to be honest, I am very surprised," Zhovka added.
The tensions come at a pivotal moment in the war, with Kyiv's slow-moving counter-offensive and the outbreak of violence in the Middle East sparking fears that Western financial and military aid could begin to flag.
Zelensky also disagreed with Zaluzhnyi's assessment during a press conference with EU Commission President Ursula von der Leyen on Saturday, but admitted that people are "tired" after 18 months of war in the country.
"People are tired. Everyone is tired. There are different opinions […] Everyone is human, regardless of status… But this is not a stalemate. I emphasize this once again. We have already talked about this. This is not some kind of news," Zelensky said.
"We all need to get together and resolve the issues, work more with our partners on air defense, unblock the skies, and enable our guys to take offensive actions. This is what we need to think about. Only about this. Not about where we will be tomorrow. But now," Zelensky said.
Zaluzhny also laid out in his interview his vision for what Ukraine needs to do and the kind of support needed from partners to break the deadlock.
But his overall characterization of the conflict raised eyebrows in Ukraine and made international headlines. It came as a separate interview, given by Zelensky to TIME, painted the Ukrainian president as an increasingly isolated figure.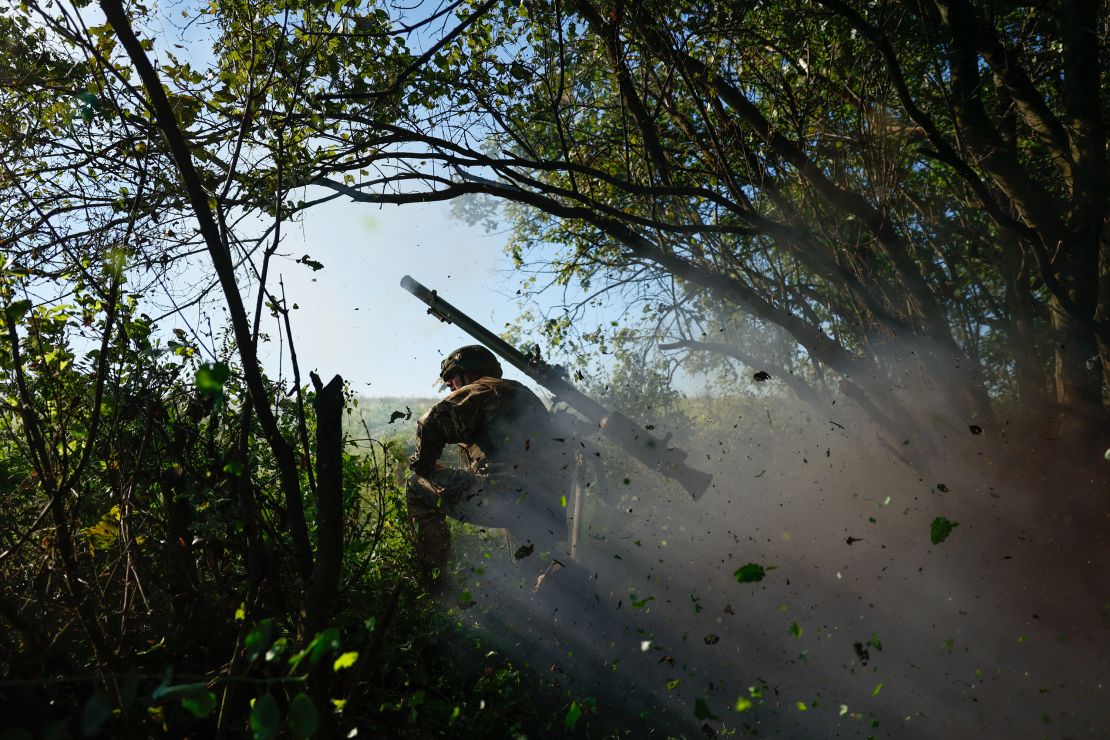 "Nobody believes in our victory like I do. Nobody," Zelensky told TIME, adding that instilling those beliefs in Ukraine's allies "takes all your power, your energy."
"Exhaustion with the war rolls along like a wave. You see it in the United States, in Europe," Zelensky was quoted as saying.
He admitted that the outbreak of war between Israel and Hamas has diverted attention from Ukraine's fight against Russia, complicating efforts to maintain international enthusiasm for his country's fight.
"Of course we lose out from the events in the Middle East. People are dying, and the world's help is needed there to save lives," Zelensky said.
He added to those comments during von der Leyen's Saturday trip to Kyiv.
"It is obvious the war in the Middle East, this conflict takes away the focus. I think it is one of the goals of the Russian Federation… It's a fact. We see the outcomes," Zelensky said.
The Ukrainian leader had previously expressed solidarity with Israel in the wake of the October 7 Hamas attacks, recommending that world leaders "go to Israel" and offer support to the "people who have been under terrorist attacks."
Ukraine is meanwhile continuing with a difficult counter-offensive against Russian forces in the south and east.
Kyiv has been able to land more successful blows through the air, and said its air force carried out successful airstrikes on a shipyard in the eastern port city of Kerch in the Russian occupied Crimean peninsula on Saturday.
Commander of the Ukrainian Air Force Mykola Oleschuk congratulated pilots involved in the strikes in a post on Telegram. A Russian appointed official said a shipyard was targeted but air defenses shot down the missiles. CNN cannot independently verify either claim.
The Crimean Bridge, also known as the Kerch Bridge, was temporarily shut down for traffic for two hours on Saturday. Russian authorities did not provide a reason for the road closure on the vital artery that connects mainland Russia to the occupied peninsula.
CNN's Tim Lister, Svitlana Vlasova, Yulia Kesaieva and Victoria Butenko contributed reporting.