Seventeen major food manufacturers earned an average grade of F for their lack of progress in reducing pesticides in the products they sell, according to a new analysis by As You Sow, a nonprofit specializing in shareholder advocacy.
"Many companies set pesticide reduction goals of 2025 and 2030 that appeal to shareholders," said Cailin Dendas, lead author for the report, "Pesticides in the Pantry: Transparency & Risk in Food Supply Chains," published Wednesday.
"Now, we're looking at the progress companies are making to achieve those goals, and finding little significant movement," said Dendas, environmental health program coordinator for the nonprofit.
"It's disheartening to see so many bad grades across the board for these major food production companies," said Jane Houlihan, research director for Healthy Babies, Bright Futures, an alliance of nonprofits, scientists and donors with a mission of reducing babies' exposures to neurotoxic chemicals.
"Studies find the highest amounts of pesticides in some of the most popular foods children eat — berries and apples, for example," said Houlihan, who was not involved in the report. "Pesticides are also found in breast milk and umbilical cord blood, meaning that exposures start before birth and continue through infancy and beyond."
Impact of pesticides on people
Long-term exposure to pesticides has been linked to cancer, asthma, anxiety, Parkinson's disease, depression, and attention deficit and hyperactivity disorder, according to the report.
"Pesticides may enter the body through the skin, eyes, lungs, and/or mouth, causing acute or chronic health problems, and can be carried home on clothing," the report stated.
Children are especially susceptible to contaminants such as pesticides, even while in the womb.
"Pesticide exposure during pregnancy may lead to an increased risk of birth defects, low birth weight, and fetal death," the American Academy of Pediatrics stated. "Exposure in childhood has been linked to attention and learning problems, as well as cancer."
Yet pesticide exposure is widespread, even for chemicals that were banned years ago by federal agencies. In the 2023 Shopper's Guide to Pesticides in Produce — a list of nonorganic produce with the most pesticides — researchers found 210 different pesticides on the 12 foods.
Kale, collard and mustard greens contained the largest number of pesticides — 103 types — while nearly 90% of blueberry and green bean samples had concerning findings, according to the analysis released in March by the Environmental Working Group, a research and advocacy nonprofit that focuses on consumer health, toxic chemicals and pollutants.
Green bean samples contained extremely high levels of acephate, an insecticide banned for use in the vegetable in 2011 by the US Environmental Protection Agency.
"One sample of non-organic green beans had acephate at a level 500 times greater than the limit set by the Environmental Protection Agency," Alexis Temkin, toxicologist at the EWG with expertise in toxic chemicals and pesticides, told CNN in a prior interview.
Blueberry samples contained acephate, phosmet and malathion — organophosphates which interfere with the normal function of the nervous system, according to the US Centers for Disease Control and Prevention.
The climate crisis and pesticides
More than 1 billion pounds of pesticides are used each year in the United States alone, while farmers worldwide spend nearly $60 billion annually on pesticides, according to the report.
Pesticide use is expected to rise as the climate crisis worsens and the planet continues to warm. Rising soil temperatures spur the degradation of pesticides, decreasing their effectiveness and requiring greater amounts of chemicals to be used to maintain crop yields, the report said.
"Superstorms from climate change are flooding fields, washing away the nutrient dense topsoil farmers are relying on to maintain consistent crop yields each year," Dendas said. "More rainfall in some regions is also carrying toxic pesticides into waterways, polluting our drinking water and generating dead zones in our oceans."
Hotter weather also increases pests' metabolisms, "leading them to increase their consumption of crops," Dendas said. At the same time, heat reduces pest resilience in crops, again spurring additional use of pesticides.
Compounding the problem, the use of pesticides, particularly neonicotinoids, are "one of the top three causes of pollinator population decline globally," the report said. Dubbed "neonics," this class of pesticide is killing bees, butterflies and birds as well as invasive species.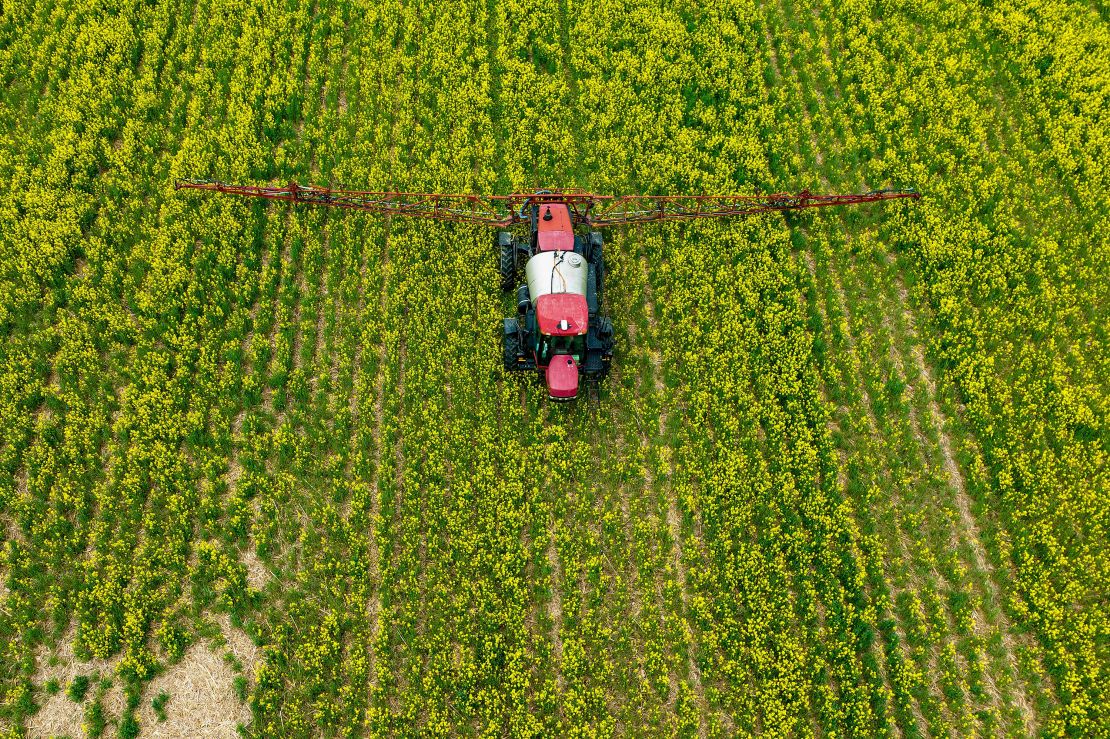 Tougher standards for 2023
The As You Sow report rated each company on 27 key elements of risk reduction, such as public transparency on pesticide use, identifying and reducing high-risk pesticides, and requiring suppliers of raw foods such as tomatoes, potatoes, wheat and corn to do pesticide risk assessments.
Scores are based on publicly available information, such as published reports, press statements and website text, as well as conversations and additional materials provided by the companies, Dendas said.
Prior analyses by As You Sow found small improvements in pesticide policies in 2019 and 2021, but manufacturer scores dropped dramatically in 2023 when the nonprofit made key performance indicators more actionable, she said. The average grade in 2021 was a D, which dropped to an F in 2023.
General Mills, which earned a B in 2021, was in this year's top spot with a C rating. Archer Daniels Midland Co., also known as ADM, and PepsiCo Inc. received a C minus; Conagra Brands Inc. and Campbell Soup Company received a D score, while Lamb Weston Holdings Inc. and Nestlé received a D minus.
The rest of the companies received an F: B&G Foods Inc., Cargill, Danone S.A., Del Monte Pacific Ltd., General Mills Inc., Kellanova, The Kraft Heinz Company, Mars Incorporated, Mondelēz International Inc., Post Holdings Inc., and The J. M. Smucker Co.
The low scores remained in spite of advances by some of the companies in areas such as developing strategy to combat pesticides, using third-party auditors to measure pesticide use by suppliers and improving data transparency.
"None of the companies has supplier standards that reduce the use of neonicotinoids or utilize drift-reduction agents if using dicamba," a type of pesticide, the report said. Exposure to dicamba can cause headaches, nausea, vomiting and dizziness.
Nor are any of the companies prioritizing the health and safety of farmworkers, who are using the chemicals in the fields and have the highest rates of exposure, the report said.
"Low wages and no benefits leave many farmworkers defenseless against the toxic health effects of pesticides in their workplaces," the report said.
Why did As You Sow turn up the heat on these companies?
"Our agricultural supply chain is broken and we no longer have the time to sit around and wait for companies to act," Dendas said. "We need these companies to adopt regenerative agriculture programs and policies to ensure long-term food production."
Regenerative agriculture uses traditional farming practices developed by Native Americans, such as avoiding or reducing soil tillage, using livestock, diversifying crops, and planting cover crops to avoid erosion.
"Science shows time and time again that farmers using regenerative agriculture practices are increasing retention of soil, preventing crop loss from storms, they're increasing the nutrient density of soil, and ultimately, creating more nutritious food," Dendas said.
Comments from companies in the report
CNN reached out to each of the companies for comment. "We respectfully don't have any comment to offer on this," said Dane Lisser, media relations at ADM, short for Archer Daniels Midland Co., which received a C minus.
Nestlé, which scored a D minus on the report, told CNN the company worked closely with "our suppliers on their measures to control pesticide use and any residues.
"Our people across our business are working hard every day to help transition to regenerative agriculture practices in our supply chain, and this includes preventative pest programs and reducing pesticide use. Globally, we are investing over $1 billion in these efforts across our supply chain," a Nestlé spokesperson said via email.
Shelby Stoolman, a spokesperson for Lamb Weston Holdings Inc., which made a D minus, provided this response via email: "The report and scorecard continue to be a good resource for benchmarking our programs and transparency with others in the food industry. The shift of questions to focus on additional transparency … and rigor around data measurement and disclosure promote ongoing dialog as we strive to improve."
CNN did not receive any additional responses from companies before publication.
Switch to organic sources, experts suggest
What can consumers do? Vote with your pocketbook, Dendas said, which will send a message to companies that are not moving quickly enough to solve the problem.
In addition, consumers can ask food companies to "release the actual test results of pesticide concentrations in their products," said EWG's Temkin.
"Food companies have not been publishing such data, instead relying on generalities," she said via email. "Reviewing company policies is an essential first step. But it needs to be reinforced with independent testing of food products for various pesticides."
Choosing organic foods is a surefire way to reduce pesticide exposure, Houlihan said.
"Organic can be more expensive, so fortunately there are nutritious foods that are very low in pesticides even when grown conventionally — watermelon, mangoes, pineapple and carrots, for example," she said. "EWG's Shopper's Guide gives lists of foods with the highest and lowest amounts of pesticides to help parents lower their families' exposures."
While organic foods are not more nutritious, the majority have little to no pesticide residue, Temkin said.
"If a person switches to an organic diet, the levels of pesticides in their urine rapidly decrease," Temkin told CNN previously. "We see it time and time again."
If organic isn't available or too pricey, "I would definitely recommend peeling and washing thoroughly with water," Temkin said. "Steer away from detergents or other advertised items. Rinsing with water will reduce pesticide levels."