A Jewish school in Montreal was targeted by gunfire for a second time in less than a week as the city deals with an uptick in antisemitic and Islamophobic crimes, officials say. 
An investigation is underway at Yeshiva Gedola, which was struck by gunfire early Sunday, Montreal police said. They found a bullet hole on the front façade of the building, along with shell casings.
"Just after the gunshots were heard, a suspicious vehicle was seen fleeing the scene quickly," police spokeswoman Constable Caroline Chèvrefils told CNN.
Chèvrefils said the hate crimes unit is investigating, speaking to witnesses and reviewing any video evidence that may emerge.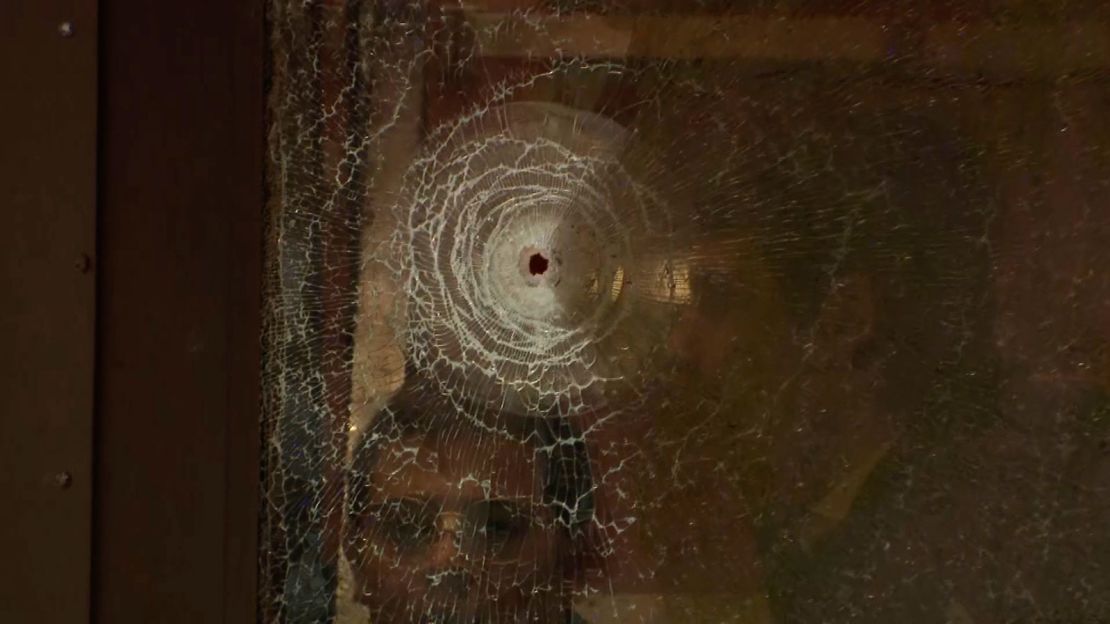 Yeshiva Gedola was also struck by gunfire last Thursday, police told CNN.
The school remains open, and educators say they are determined to return to "business as usual" despite the incidents, which they denounce as terror attacks.
"It's horrific to think that someone would even think to, as a figure of speech, to shoot a bullet into this community," Rabbi Menachem Karmel, an educational leader at Yeshiva Gedola, told CNN.
Karmel said classes have resumed for all grades amid increased security.
"Opening up the school is being done with a sense of confidence in law enforcement. We have two police cars stationed on both sides of the school since yesterday morning. They plan to be here as the situation continues to evolve," Karmel said.
An unarmed security guard was on duty at the school when the gunshots were fired but was not hurt, he said. Additional security is in place.
Last Wednesday, Talmud Torah Elementary School in Montreal was the target of another shooting, officials announced.
"Today a bullet was fired into a Jewish school in my riding," Anthony Housefather, Minister of Parliament for the riding of Mount Royal said on X, formerly known as Twitter. "No parent or student should ever be put through this."
No one was injured in that incident and no arrests have been made, Montreal police say.
Rise in hate crimes in Montreal since Hamas attack on Israel
Police have reported an overall rise in hate crimes since the Israel-Hamas war began October 7. They have been responding to an increase in both antisemitic and Islamophobic incidents.
Police reported 73 acts of hate against the Jewish community and 25 acts of hate against the Arab-Muslim community between October 7 to November 7. For comparison, Montreal police reported 72 hate incidents for all of 2022.
Someone threw a Molotov cocktail at Beth Tikvah Synagogue in Montreal overnight November 6, according to Jewish human rights organization B'nai Brith Canada.
"At this moment, the Jewish community is under attack in Montreal," Mayor Valérie Plante said at a press conference outside Yeshiva Gedola Sunday.
Police say they assisted in responding to an incident at Concordia University Wednesday where campus security intervened in a conflict between several students. The scuffle began with an argument among students with opposing views about the war in the Middle East, according to police.
In a statement last week, Concordia University said three incidents on campus involving violence or incitement to violence.
"Over the last few days, as is true of other university campuses across Canada, we at Concordia have witnessed a concerning rise in acts of intimidation and intolerant behaviour," wrote Graham Carr, president and vice chancellor. "Both Jewish and Muslim members of our community have reported provocative comments, insensitive or hostile social media posts, and expressed fears for their security on campus."
Violence and hate 'unacceptable,' Trudeau says
Leaders across the province and nationwide have condemned the rise in acts of hate in Montreal, including Prime Minister Justin Trudeau.
"For me, violence and hate, antisemitism and scenes such as the ones that we saw at Concordia University or shots fired at Jewish schools overnight, all of that is unacceptable, and it's also not who we are," Trudeau said at a press conference Thursday in Ottawa.