Ferrari Formula One driver Carlos Sainz got his hands on the inaugural "Netflix Cup", only to stare in horror as it tumbled out of them.
The Spaniard had partnered with two-time PGA Championship winner Justin Thomas to triumph in the streaming service's first ever live sporting event at Wynn Golf Club in Las Vegas on Tuesday, besting three other PGA Tour and F1 driver duos in a golf tournament.
Sainz and Thomas bested Alpine driver Pierre Gasly and Tony Finau – a late replacement for the injured Collin Morikawa – in a closest-to-the-pin battle on the final hole to clinch their spot on the winner's podium in black-and-white, checkered flag-themed suits, when disaster soon struck.
Clutching a bottle of champagne in his other hand, Sainz was chatting with the American when the cup tumbled out of his grip. The driver stood dumbfounded with his hands on his head as a giggling Finau picked up the shattered segments of the trophy at his feet.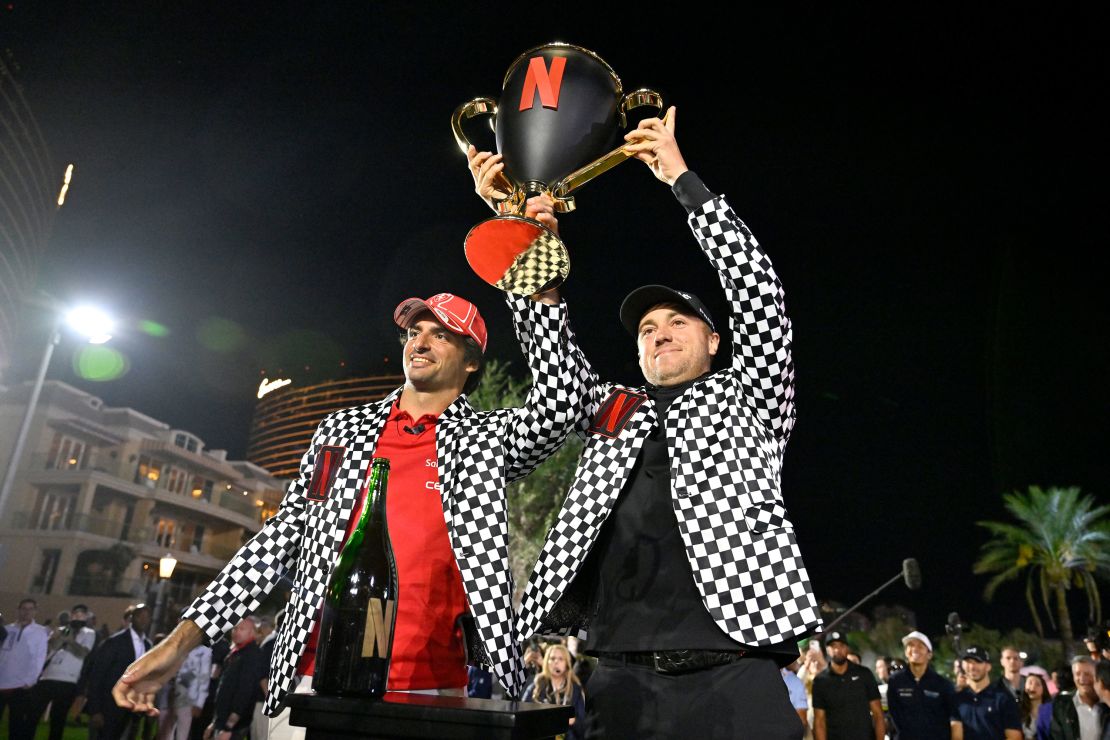 The event saw Netflix blend two of its flagship sporting docuseries, with Sainz, Gasly, McLaren's Lando Norris and Alex Albon representing "Drive to Survive," and American quartet Thomas, Finau, Rickie Fowler and Max Homa flying the flag for "Full Swing."
Fellow PGA Tour star Joel Dahmen assumed hosting duties alongside comedian Bert Kreischer, sportscaster Kay Adams and Super Bowl-winning, former NFL running back Marshawn Lynch.
"We go through experiences every week with Pro-Am's and people that play golf for fun and recreationally that think they maybe expect to be better than they are or should be," Thomas said ahead of the event.
"But these guys, they don't play golf, just like we would be atrocious at what they do.
They're going to be a lot better at golf than we would be at driving. We're here to have a good time."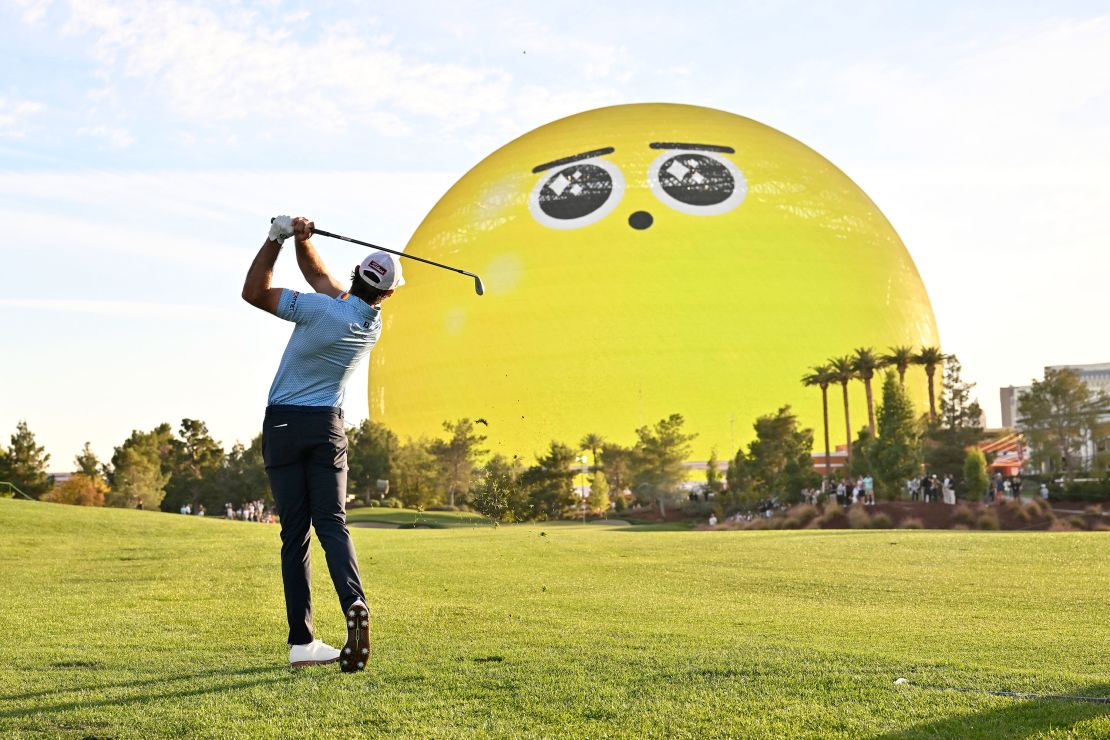 Staged ahead of the inaugural Las Vegas F1 Grand Prix on Sunday, racing was infused into the opening matchups, with teams competing to finish a hole as fast as possible – regardless of strokes. Teams steered golf carts around a designated fairway "race track" to reach their balls.
The fifth hole saw the incorporation of another of Netflix's signature shows, "Squid Game." An adaptation of the "Red Light, Green Light" South Korean children's game – brought to grisly life in a challenge from the hit drama – players had to wait for a giant animatronic doll to turn away before teeing off to avoid a penalty. A $4.56 million dollar charity donation was offered by the PGA Tour if a hole-in-one was made, though no player achieved the feat.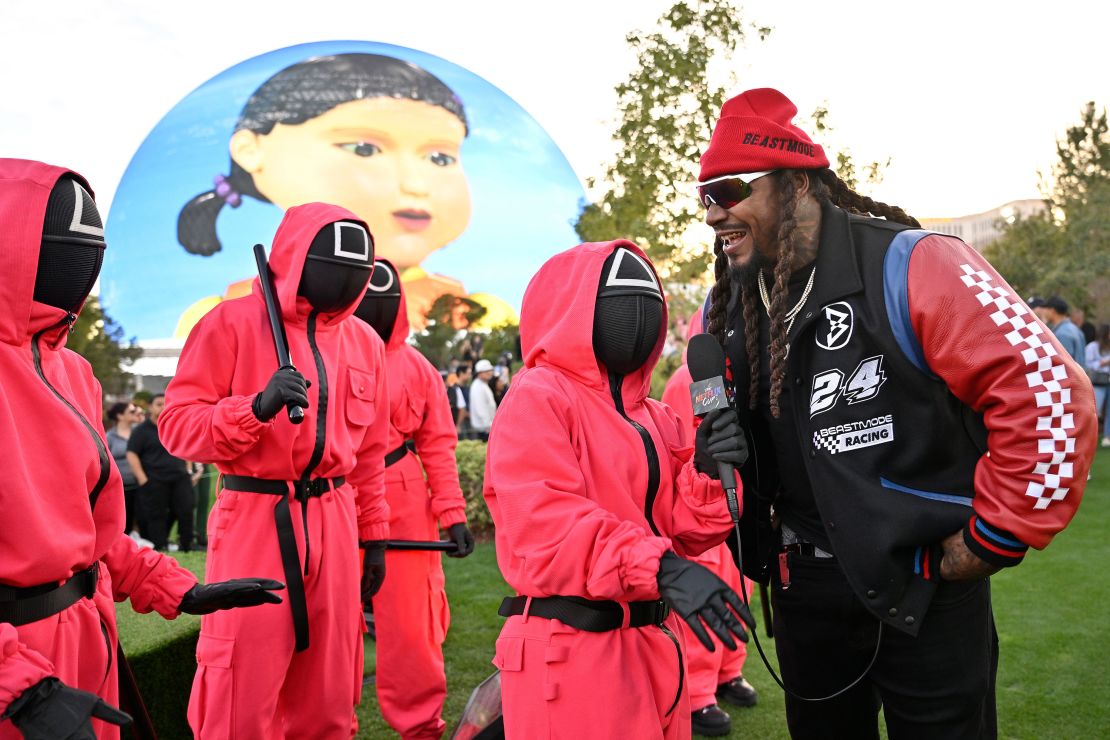 The Las Vegas $2.3 billion Sphere venue, situated in the center of the Grand Prix track, was illuminated with an image of the "Squid Game" doll during the contest.
More than 100,000 attendees are expected to attend what F1 has claimed will be the "single largest special event in Las Vegas history," though ticket prices have tumbled in the wake of Red Bull's Max Verstappen wrapping up his third successive driver's championship with six races still to go at the Qatar Grand Prix in October.