Editor's Note: Kate Andersen Brower is the author of "The Residence," "First Women," "Team Of Five" and "First In Line." She covered the Obama administration for Bloomberg News. The views expressed here are her own. Read more opinion at CNN.
President Biden and Jill Biden traveled to Plains, Georgia in April 2021 to meet with Jimmy and Rosalynn Carter — their first meeting since the recently-inaugurated Biden had taken office. But when the get-together was over, it was Rosalynn — not Jimmy — who took the lead escorting the first couple out the door of the Carters' modest ranch home.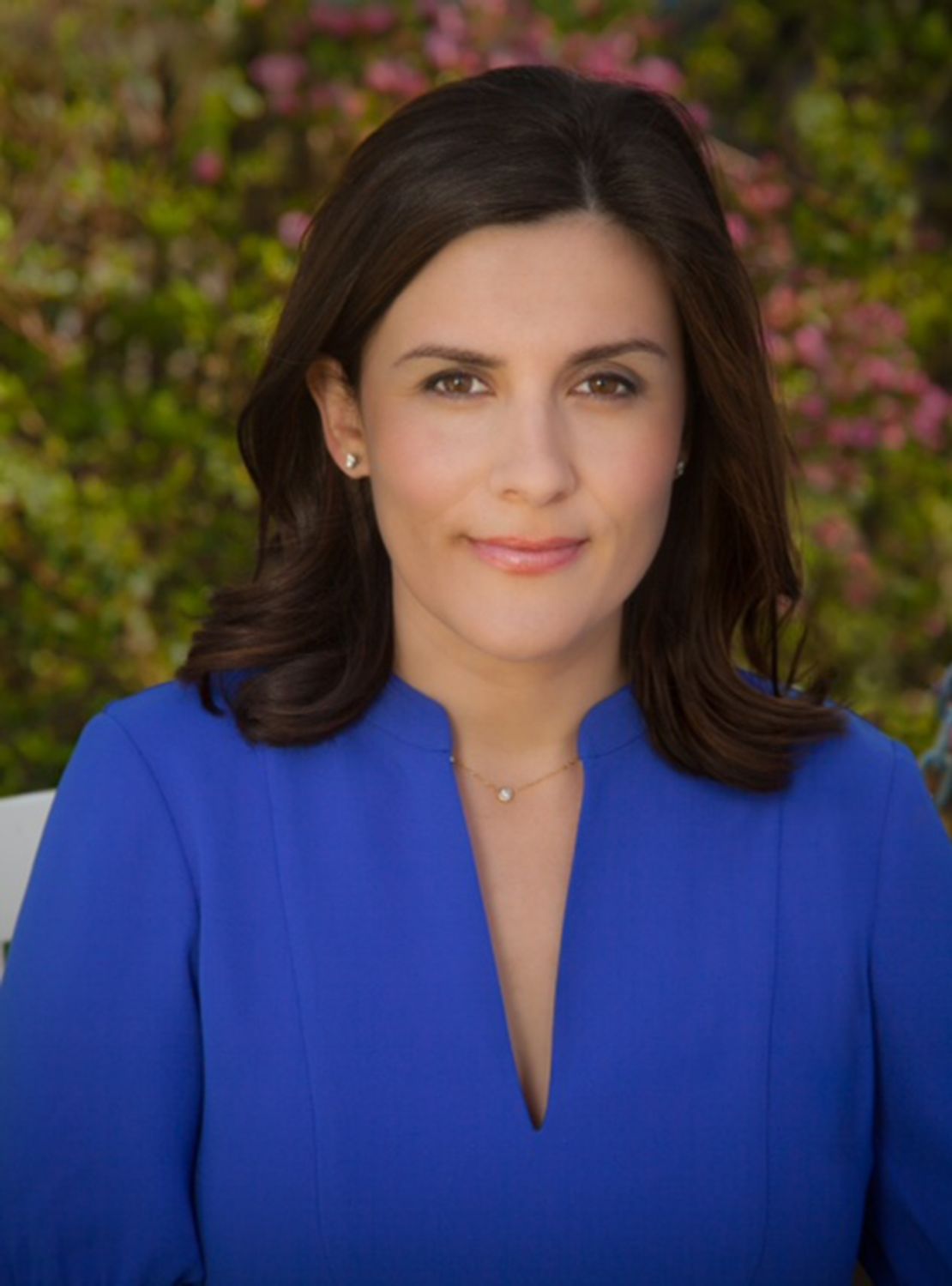 As with so many things, Rosalynn — a true equal in all things over the course of the Carters' 77-year marriage — took the reins in matters great and small, including seeing out their illustrious guests so that her husband could enjoy his regularly scheduled swim. It also allowed the famously media-averse former president to avoid the scrum of reporters waiting outside to hear how the visit had gone.
Rosalynn Carter was a paragon of strength and resilience in a marriage that was in all ways a true partnership. Her death was announced by the Carter Center on Sunday, which said she had passed away with loved ones at her bedside.
Carter once referred to his marriage to Rosalynn as "the pinnacle of my life." On Sunday, the former president eulogized his late wife as a consummate companion and unwavering support.
"Rosalynn was my equal partner in everything I ever accomplished," Carter said. "She gave me wise guidance and encouragement when I needed it. As long as Rosalynn was in the world, I always knew somebody loved and supported me."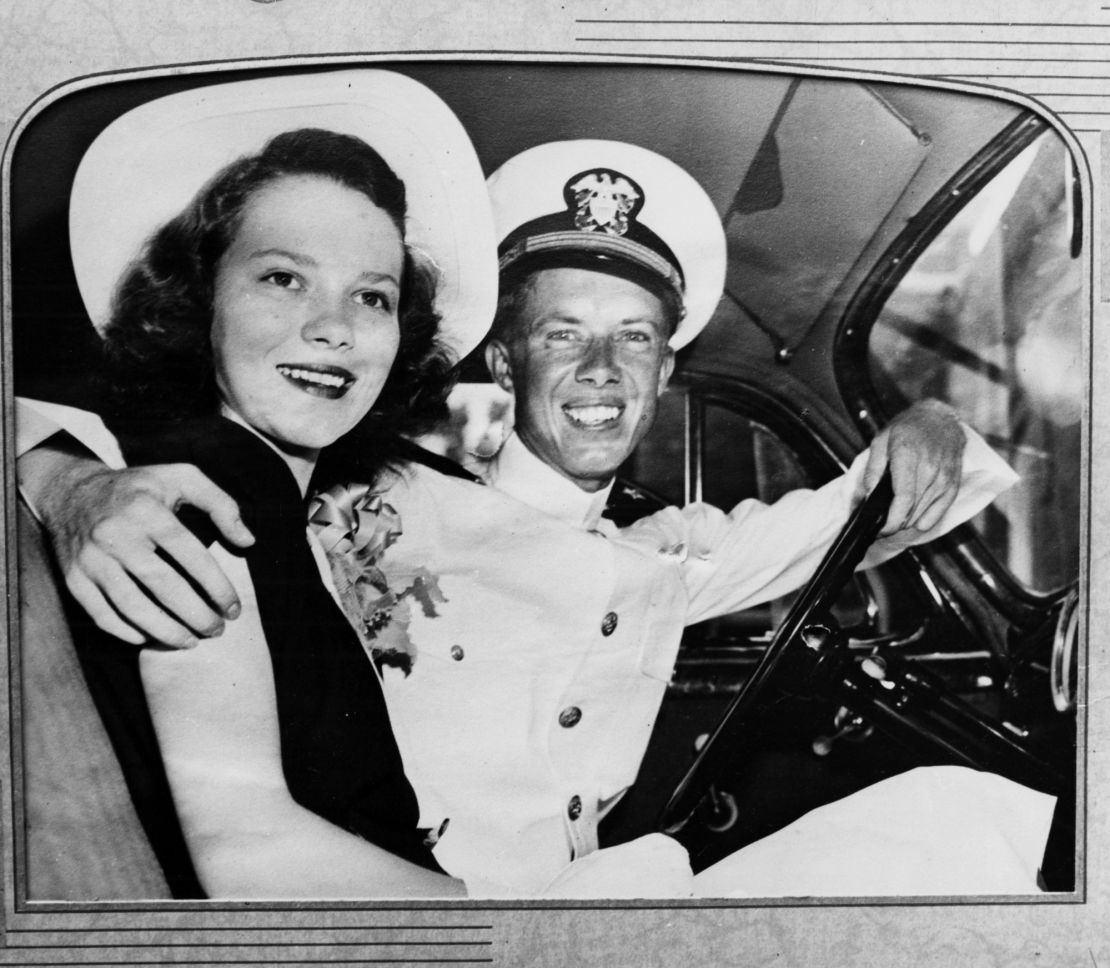 Rosalynn Carter's death at the age of 96 came two days after the Carter Center announced that the former first lady had entered hospice care. She was diagnosed with dementia in May. Former President Carter began home hospice care in February, following a series of hospital stays.
Jimmy and Rosalynn Carter were married for more than 77 years — longer than any president and first lady in US history. They were wed at a Methodist church in their tiny town of Plains, Georgia, on July 7, 1946, when she was 18 and he was 21. At the time of her death, the former first couple had lived as husband and wife for about the same amount of time as the average American's life expectancy.
Jimmy Carter was the son of a peanut farmer with little name recognition outside of Georgia before he ran for president, and Rosalynn was his most ardent supporter. Ahead of the 1976 Democratic nomination a group of Georgia volunteers, known as the Peanut Brigade, campaigned door-to-door for him, while Rosalynn traveled to television and radio stations around the country, surprising them by offering herself up for interviews so that she could slowly, town by town, state by state, introduce voters to her husband.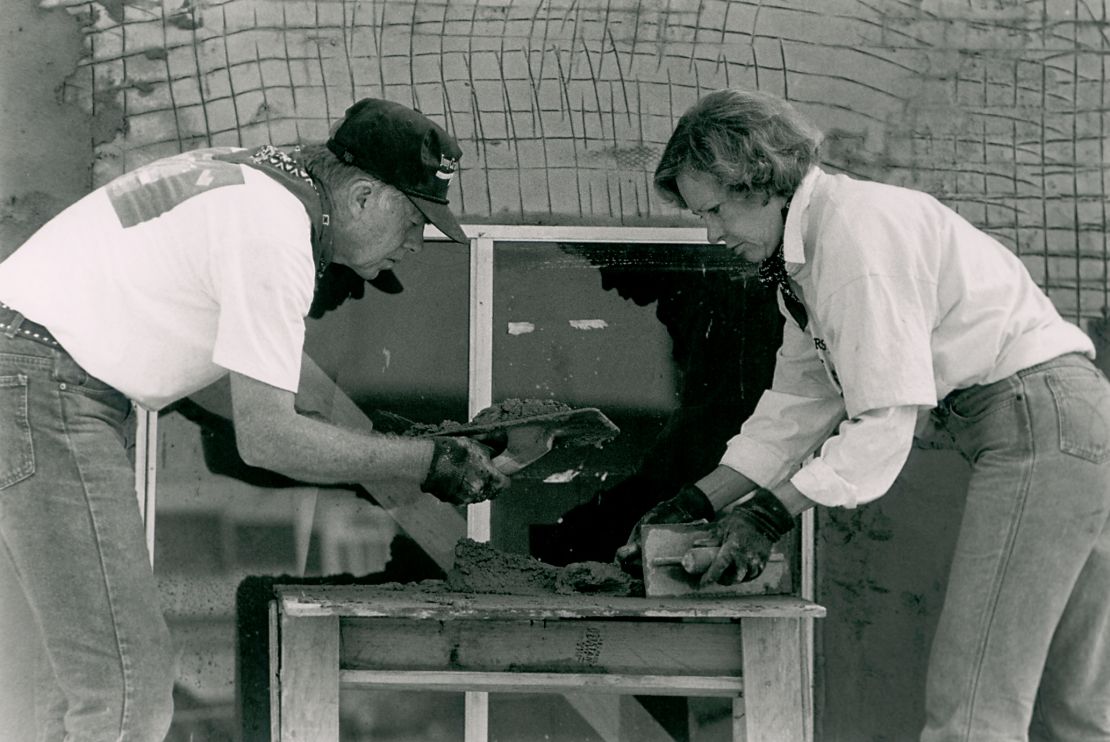 Growing up, boys never interested Rosalynn much. "I didn't know how to talk to them, I didn't want to go out with them," she once said, adding  that she used to urge her mother to tell prospective suitors who called on the telephone that she wasn't around.
It was different however, when she visited her neighbor's house and saw a photo of Jimmy Carter on the bedroom wall. Ruth — Carter's sister -— happened to be Rosalynn's best friend. "[A]long came Jimmy Carter and my life has been an adventure ever since," she said, sitting by her husband's side at their large anniversary celebration a couple of years ago.
Rosalynn always felt that her most important job as first lady was to convey people's biggest concerns to her husband. And once they got to the White House, the first couple had weekly lunches together so that they could have uninterrupted private time to discuss what was happening in the country.
"Whatever secrets there were," Carter's late Vice President Walter Mondale once told me, "she knew about all of them." That kind of intimacy could be unnerving, even for longtime aides. "They used to read the Bible in Spanish," said Carter's communications director Gerald Rafshoon, in awe but somewhat rueful of their close relationship.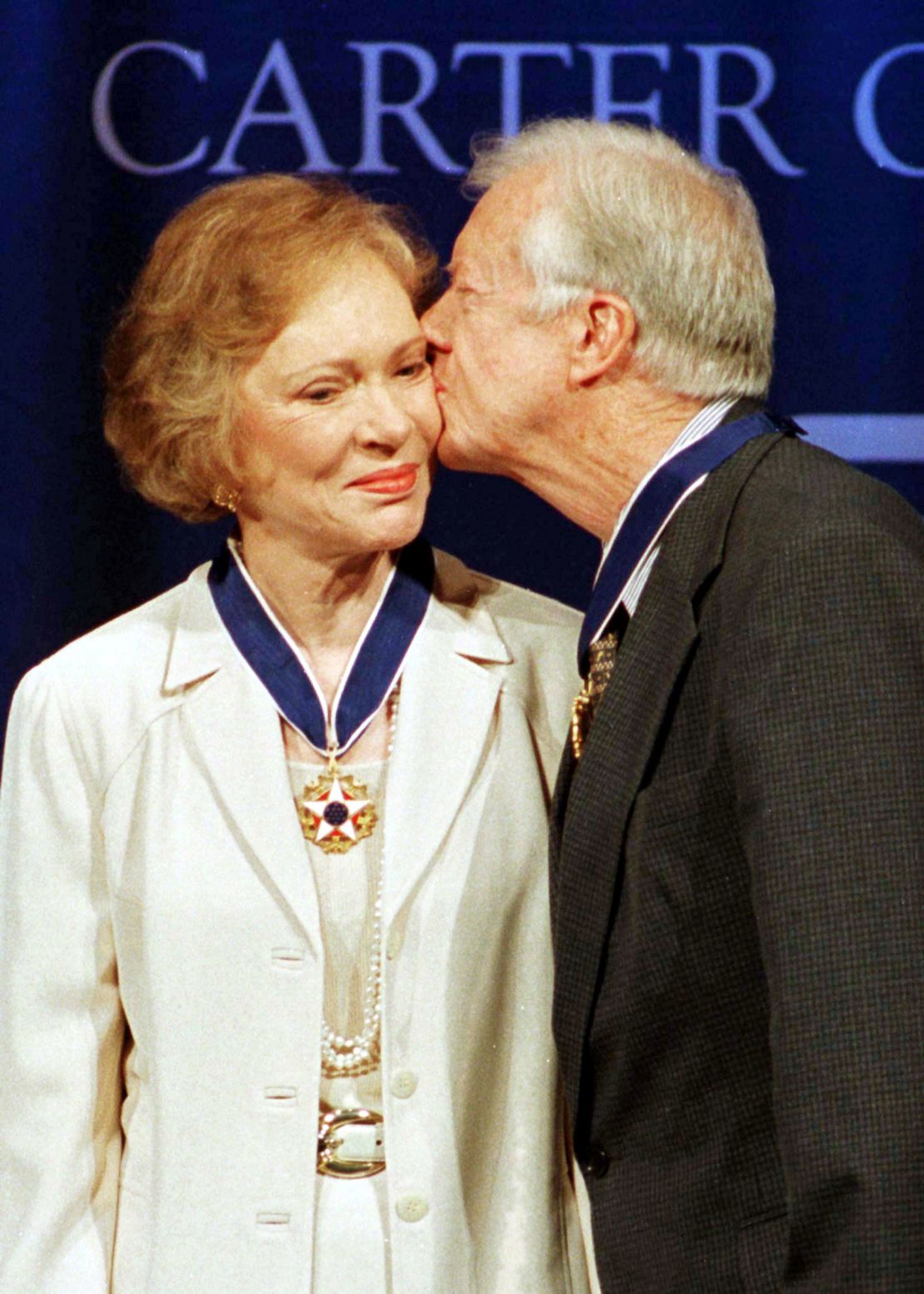 "Hamilton [Hamilton Jordan, Carter's chief of staff] and I would really get worried when we'd be in a meeting with the Carters and if the subject was a little bit touchy, if we were advocating something — all of a sudden they'd start speaking to each other in Spanish," Rafshoon said, noting that neither he nor Jordan spoke the language.
She was always his tireless champion. When her husband lost his reelection bid to Republican challenger Ronald Reagan in 1980, Rosalynn said that she was "bitter enough for both of us." Even years later, in a 1999 interview with the New York Times, she said that the "biggest regret in life was that Jimmy was defeated." And when I interviewed her in 2018, she said she still thought the American people had made a mistake.
After the Carters left the White House in January 1981, they made the unusual decision to return to their hometown, where they embarked on the longest, most ambitious, and most successful post-presidency in American history.
Jimmy Carter was not interested in following the playbook of other former presidents who make enormous amounts of money through paid speeches and sitting on corporate boards. "How much money I make a year is not important to me," he said after leaving the White House as he tried to decide on next steps. The low-profile but deeply impactful life that they ultimately chose for Carter's post presidency was also very much in keeping with Rosalynn's understated style.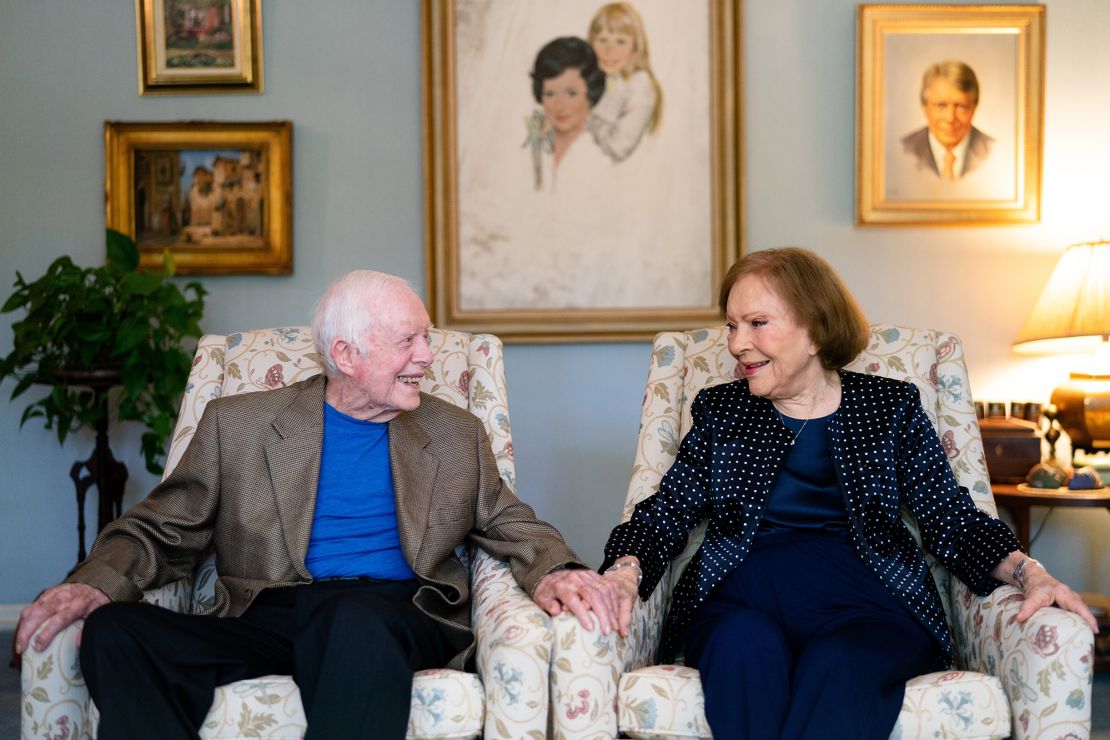 The former president came up with the idea for the Carter Center and based the organization in Atlanta, about two-and-a-half hours from Plains. The Center's mission is far-reaching; it works to "wage peace, fight disease and build hope."
Throughout the decades, the couple could be found many Sundays at the Maranatha Baptist Church, where the former president always drew large crowds for his Bible study class. "Most of us in the church would jump in front of a bullet to protect either of them," said longtime friend Jill Stuckey.
Through everything, they were always unflinchingly honest about the challenges of their unique and enduring partnership. But that's not to say it was always easy for them.
In a 1987 interview with the Los Angeles Times, the couple joked that the closest they ever came to getting a divorce was when they worked together on the self-help book "Everything to Gain: Making the Most of the Rest of Your Life."
Rosalynn was a slow and methodical writer, while husband wrote at a quick clip. Neither could appreciate the other's methods and writing style. Things got so bad that the two barely spoke while they were working on the book. Passages in the manuscript were labeled "Jimmy" and "Rosalynn" to indicate who was responsible for which paragraph. Somehow, though, their fabled partnership survived that trial.
Get Our Free Weekly Newsletter
In Jimmy Carter's post-presidency, the Carters have championed democracy and political stability, traveling to hot spots including Cuba, Sudan and North Korea. They arranged peace talks between Ethiopian leaders and Eritrean rebels, and they denounced rigged elections in countries around the world.
They've also made incalculable contributions to global public health. The Carter Center has helped fight several preventable diseases, including guinea worm. In 1986, the disease afflicted an estimated 3.5 million people a year in 21 countries in Africa and Asia. Since the Carter Center and its partners have been involved, guinea worm has been nearly eradicated.
The former president won the Nobel Peace Prize in 2002 for "for his decades of untiring effort to find peaceful solutions to international conflicts, to advance democracy and human rights, and to promote economic and social development."
But those who know the couple best say that it's an honor that Rosalynn should have shared. They were always — and in all ways — a team.
"The Carter Center is a shared legacy," Stuckey told me. Throughout it all, Rosalynn has "been there digging latrines right next to him."