There are lots of electric scooters available today in a huge range of styles and prices. But none of them look like the new Honda Motocompacto.
Honda seemingly took design inspiration from Ikea furniture while it's still in the box. The Motocompacto's seat, back wheel and handle bars fold neatly into its body, a flat off-white rectangle designed to slide easily into the cargo compartment of a small SUV like, say, a Honda HR-V. It will fit into other vehicles, as well, but the Motocompacto will be sold by Honda dealers.
Honda's original micro-bike
The real inspiration was the Honda Motocompo, a tiny motorcycle Honda offered for a few years in the early 1980s. The gas-powered Motocompo folded up into a small red rectangle that fit easily into the back of a Honda City, a teeny hatchback car that, like the Motocompo, was never sold in the United States. It was intended as sort of an offshoot of the car. Once you parked your City, you could slide out the Motocompo and buzz along to your final destination.
The Motocompo tied together Honda's two worlds of cars and motorcycles. Honda prides itself on having been a wide-ranging "transportation provider" long before that became trendy industry-speak. Honda started as a motorcycle company, and still makes those, plus scooters, sedans, SUVs, a midsize pickup, riding mowers, and a jet airplane.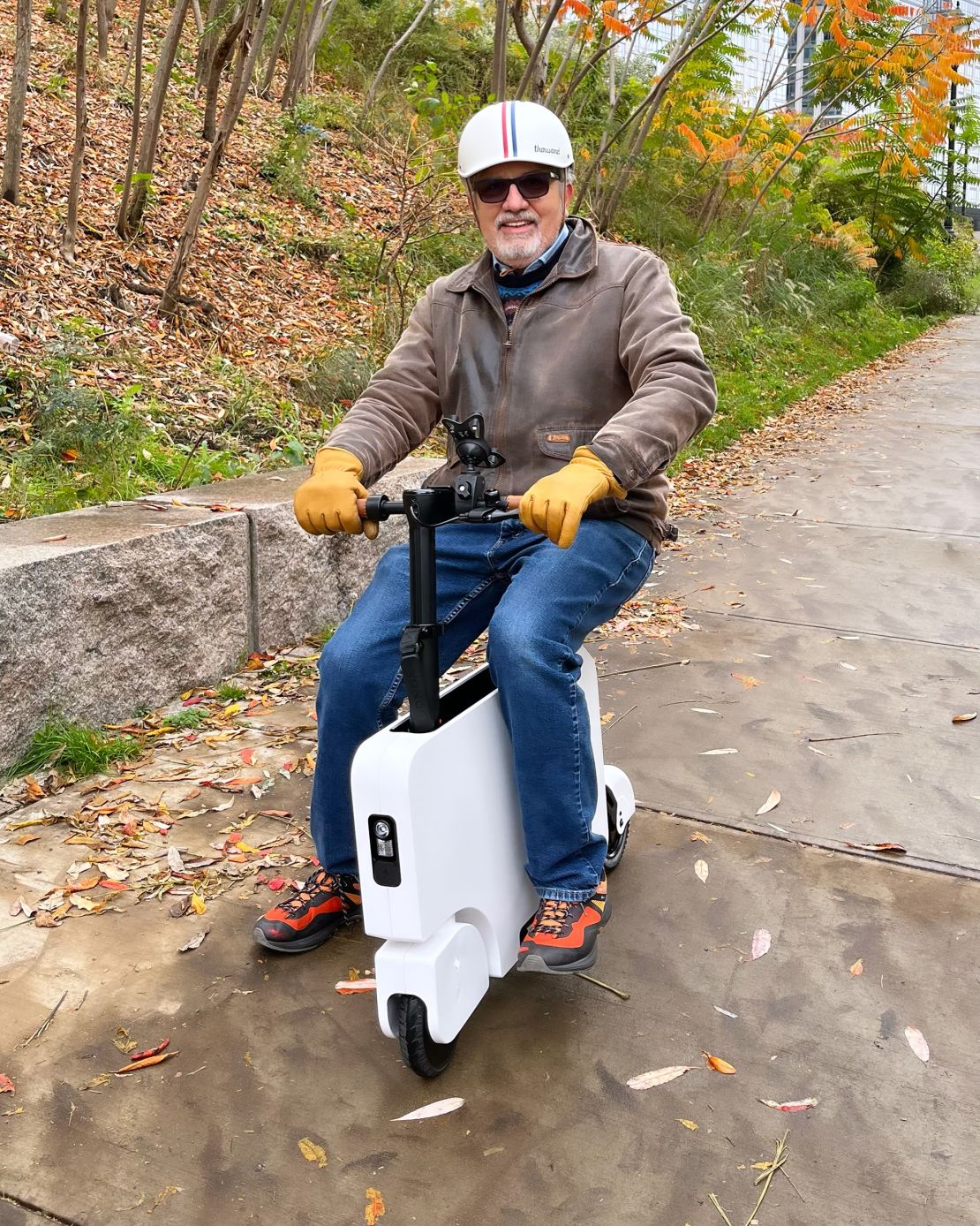 Despite selling relatively few Motocompo bikes for a few years and never bringing them to the US, the Motocompo has become a trendy collectible here, selling for as much as $10,000 today. Its memory inspired someone in Honda's California design studio –- someone Honda won't name because he's left the company –- to sketch out a modern version.
In the age of lithium ion batteries, making a compact foldable bike is much easier than it was in 1981. In fact, it's so easy and it's been done so often it raises the question of "Why bother?" Why does the world need another compact foldable electric bike?
Why now for Motocompacto?
You could just as well ask "Why does the world need another cute, fuzzy kitten?" Because it's adorable, that's why. The Motocompacto also has certain advantages. There's the fact that, when folded up, its slab of a body keeps most of the metal parts and cables that could catch on things neatly stored as if in, yes, a box. Only a portion of the wheels remains exposed, just enough so you can roll it toward an outlet for charging. (At just over 41 pounds, it's liftable but not exactly light.)