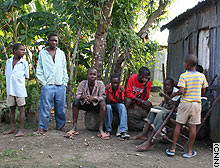 Haitian children in a sugarcane worker settlement in the Dominican Republic.
Is the sugar you eat a product of slave labor? That's the accusation leveled by one of the readers of this blog, who pointed us to the Dominican Republic, where, she said, Haitian migrant workers are kept in slave camps, forced to work in the fields under armed guard, for a pittance.
It was a powerful charge, and some human rights groups say the accusation has merit. With the United States slowly increasing the amount of Dominican sugar sold here, we thought we'd check it out. What we found there was not slavery by any definition, but working conditions that were not acceptable by U.S. standards.
One of the nation's most powerful sugar families, the Vicinis, had decided to open its doors to a U.S. congressional delegation heading there on a fact-finding mission. We suspected the company would put its best face forward, but we tagged along anyway.
Sugar cane workers live in what are called bateys, small settlements of a few hundred people dotted among the cane fields. The Vicinis showed us one of the bateys. It appeared to have plumbing and electricity; the people seemed happy, and there was a shop, and a school.
But just down the road, we came across another batey, where other Vicini workers lived, that was not on the official tour. No running water, no electricity, too little food. The old or infirm looked like they were starving. One old man told us he hadn't eaten in four days. Children told us they planted cane in Vicini fields for three pesos a row. It takes a half day to plant a row.
The company says it doesn't hire children, but that it can't always control what unscrupulous subcontractors do. And it said it is trying to improve the lives of the workers, with an ambitious plan to build hundreds of new houses.
Along a roadside near the batey, we found people in some desperate straits: One man in his 50s was working on a Sunday, all day, to earn the equivalent of about $5, some of which he sent home to his children in Haiti, who he said were starving. And that's the problem: the reason these people work for so little is that there's even less where they came from. They're out of options, and without the legal rights of Dominican citizens, they're effectively voiceless.
Under terms of the Central American Free Trade Agreement, the U.S. government is slowly increasing the amount of sugar that can be imported from the Dominican Republic. The members of Congress told the Dominican government that they would need to improve conditions for the workers. According to a Reuters report, the Dominican government told them to stop interfering.