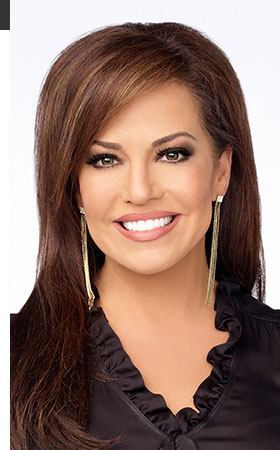 Robin Meade
Robin Meade is the anchor of HLN's morning show, "Morning Express with Robin Meade." Among other stories, Meade anchored the network's coverage of the wars in Afghanistan and Iraq, both inaugurations of President Barack Obama, and the July 2009 coverage of Michael Jackson's memorial event. In July of 2008, she scored the exclusive first interview with freed American hostages – at their request – after their release from Fuerzas Armadas Revolucionarias de Colombia (FARC) captors. In June of 2009, Meade performed a tandem skydive with President George Herbert Walker Bush in Kennebunkport, Maine, to commemorate President Bush's 85th birthday. Meade is also the face of HLN's "Salute to Troops" segment, a daily message to U.S. troops using photos and videos sent in by their loved ones.
Meade also serves as co-host with Dr. Sanjay Gupta for Turner Private Network's "AccentHealth," a program offered in physician waiting rooms focused on consumer-related health stories.
Meade's debut country album, "Brand New Day," was released in June 2011 to strong reviews. The album features original songs, many of which were co-written by Meade, as well as a cover of Don Henley's "Dirty Laundry." Meade collaborated with industry heavy-hitters like John Rich, American Idol's Bo Bice, and producer/song writer Victoria Shaw (Lady Antebellum). "Brand New Day" reached #24 on the Billboard Heatseekers chart.
Her second country album, "Count on Me," was released in June 2013 to strong reviews. She wrote 7 of the 10 songs on the album and also covered Garth Brooks' iconic country hit, "The Dance."
Before joining HLN, Meade worked at NBC Chicago affiliate WMAQ-TV where she co-anchored the weekend newscasts and also served as a general assignment correspondent for the station. Before that, she anchored the morning newscasts. During her tenure with the NBC affiliate, she covered the 1996 Olympics, which included special reporting on the Centennial Olympic Park bombing.
Meade won a regional Emmy Award for her efforts covering the 1995 collision between a school bus and a train in Fox River Grove, Illinois, that killed seven and injured more than 24 teenagers. Additionally, she was nominated for a regional Emmy for her report on how to decrease chances of injury in survivable plane crashes. In October 2005, Meade was inducted into the Ohio Broadcasters Hall of Fame.
Before joining WMAQ, Meade was the morning news anchor of WSVN-TV's "Today in Florida" in Miami. She also served as the station's noon anchor and health reporter. She was also an anchor and reporter at WCMH-TV in Columbus, Ohio, and at WJW-TV in Cleveland. Meade began her career in broadcasting at WMFD-TV in Mansfield, Ohio, where she worked as a reporter.
In 2002, Meade was recognized by Lycos as one of the top 20 most popular television news personalities in the broadcast news industry. In 2010, the AWRT (American Women in Radio & Television) bestowed upon Meade the prestigious Gracie Award for Outstanding Anchor, News or News Magazine.
Meade graduated from Ashland University where she majored in radio/television production, programming and performance and minored in political science. She won Ashland University's Young Alumnus Award for her acievements in broadcasting and served as the commencement speaker for the university's 2005 graduation ceremonies.
Meade's first book, "Morning Sunshine! How to Radiate Confidence and Feel It, Too," was released in September 2009 and instantly became a New York Times bestseller.