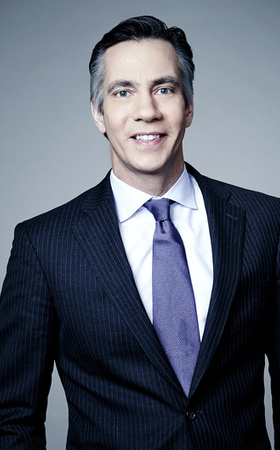 Jim Sciutto
Jim Sciutto is CNN's chief national security correspondent. He reports and provides analysis across the network's programs and platforms on all aspects of U.S. national security, including foreign policy, the military and the intelligence community. This year, he traveled to Ukraine to cover the country's violent election, to China with U.S. Secretary of Defense Chuck Hagel and to Tehran as Iran started to implement the U.S. nuclear agreement. He twice interviewed Iranian Foreign Minister Mohammad Javad Zarif, including getting Iran's first reaction to President Barack Obama's 2014 State of the Union remarks.
Sciutto was ABC News' senior foreign correspondent, based in primarily in London and later, from Washington. In that role, he traveled to and reported from more than 50 countries in Europe, Asia, Latin America, Africa and the Middle East. His extensive reporting included dozens of assignments from inside Iraq, Afghanistan and Iran. He is the author of a book based on his own experiences in the Middle East, "Against Us: The New Face of America's Enemies in the Muslim World."
Sciutto's work in Iran during the 2009 election protests earned him an Edward R. Murrow award. He was also given the George Polk Award and a citation for Excellence from the Overseas Press Club for his undercover reporting from Myanmar, where he bucked government restrictions to tell the stories of that country's repressive regime. His reporting for the series "Iraq: Where Things Stand" was recognized with an Emmy Award for two consecutive years.
Most recently, Sciutto served as chief of staff and senior advisor to the U.S. Ambassador to China, Gary Locke. Prior to ABC News, he served as the Hong Kong-based correspondent for Asia Business News. Sciutto began his career as the moderator and producer of a weekly public affairs talk show on PBS. He graduated from Yale University with a bachelor's degree in Chinese history. Jim is married to Gloria Riviera-Sciutto, who is Asia Correspondent for ABC News.