GROUND WAR



• Baghdad fighting: As the war reached a three-week mark, coalition forces were moving "at will" within and around Baghdad, Pentagon officials said, describing the capital city as isolated. Pockets of military resistance from Saddam Hussein's regime remain, they said. Full Story
• Basra: In southern Iraq, British troops are in control of 80 percent of Basra, the country's second-largest city, a UK military spokesman at Central Command said early Wednesday. Small pockets of resistance remain, said the spokesman, who acknowledged reports of looting in Basra.
• Hillah firefight: Units with the U.S. Army's 101st Airborne Division battled Iraqi forces in a fierce firefight Tuesday in Hillah, 50 miles south of Baghdad. The battle involved tanks, attack helicopters and air support from F/A-18 Hornets and A-10 Thunderbolts, CNN Correspondent Ryan Chilcote reported. Full Story
• Northern Iraq: U.S. Special Forces are fighting to seize a strategic highway linking the northern Iraqi cities of Mosul and Kirkuk. The strategy is to cut off and isolate the cities, rather than going into them, CNN Correspondent Ben Wedeman reported. Full Story
Gallery: War photos | Map: Troop movements

AIR WAR



• Airmen missing: The U.S. Air Force is searching for two airmen who are missing after their F-15E Strike Eagle went down over Iraq, U.S. military officials announced Tuesday. The plane went down Sunday in the vicinity of Tikrit, in hostile territory, officials said, where the coalition does not have many forces at this time. Full Story
• Control of the skies: Following a day of coalition aircraft crisscrossing the skies over Baghdad, Pentagon officials announced that coalition forces controlled the skies over the capital city, as well as the rest of the country. Full Story
• Targets: Army sources told CNN Tuesday that U.S. airstrikes used satellite-guided bombs to hit the Baath Party headquarters, the Iraqi Information Ministry, Republican Guard headquarters and Special Republican Guard headquarters in Baghdad.
• A-10 goes down: A U.S. A-10 Thunderbolt aircraft Tuesday went down near Baghdad's international airport, U.S. Central Command said. The pilot ejected safely, was picked up by ground forces and is reported to be in good condition.

CASUALTIES



• Coalition: 122 coalition deaths reported.
List of coalition fatalities
• Iraqi: Iraq has not released details of military casualties. Abu Dhabi TV, quoting official Iraqi sources, reported that 1,252 civilians have been killed and 5,103 wounded. CNN cannot independently verify those figures.
• Journalists killed: U.S. military fire killed three journalists in two incidents Tuesday near central Baghdad. A Reuters cameraman and a Spanish TV cameraman were killed when a tank round hit the Palestine Hotel and an Al-Jazeera reporter died when planes and tanks hit the network's Baghdad headquarters near Iraq's Ministry of Information. Full Story
• War Stories Ali's plight touches millions


POWs/MIAs



• Missing or captured: Seven U.S. troops are being held as POWs, and eight are listed as missing in action.
Coalition POWs/MIAs
• Iraqi POWs: About 6,500 Iraqi soldiers are in coalition custody, according to U.S. Central Command.







COALITION SORTIES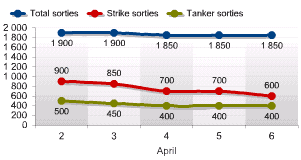 Source: U.S. defense officials. Numbers are estimates

ON THE SCENE



Brahimi: Hotel known as base for reporters
Rodgers: Encounters with civilians
Savidge: Marines hit weapons dump
More On the Scene reports

HUMANITARIAN RELIEF


• Health concerns: Aid agencies warned Tuesday that overwhelmed Baghdad hospitals were running low of life-saving medicines and that civilian casualties were mounting in Iraq's besieged capital. Full Story
Audio Slide Show: Wounded civilians in Nasiriya

STRATEGY



Explore U.S. war plans and tactics
with CNN's military analysts

Clark: Ground commanders 'juggling priorities'
Clark: 'Still plenty of venom' in Baghdad
Grange: Destroying bunkers a challenge
Clark: 'Boots on the ground' win wars
Turner: 'Learning as we go'
Shepperd: Iraqi resistance faltering
Shepperd: Heat can make gear 'miserable'
Grange: POW recoveries 'high priority'
Shepperd: 'Terrible' situations at checkpoints
Animation: Battle scenarios | More battle scenarios

LAST SEVEN DAYS


April 7: Airstrike targets senior Iraqi officials
April 6: Baghdad surrounded
April 5: U.S. forces enter Baghdad
April 4: Republican Guard moving toward airport
April 3: Ground troops clash over Baghdad airport
April 2: Helicopter down in Iraq
April 1: Coalition takes on Republican Guard
Archive »