GROUND WAR



• Moving into Kirkuk: Elements of the Army's 173rd Airborne Brigade moved into Kirkuk in recent hours, U.S. military sources said. Officials would not say how many troops were sent to Kirkuk. The move came after the Kurdish population overtook the city. Full Story
• Looting rampant: As in other liberated areas, looting was rampant in Kirkuk, with residents smashing windows at government buildings and loading their vehicles with everything from chairs to rugs to refrigerators. Much of their anger was turned on a soda factory owned by Saddam Hussein's son, Uday.
• Iraqis surrender: The Iraqi army's 5th Corps agreed to surrender to U.S. and Kurdish forces outside Mosul, U.S. military officers told CNN. But coalition troops still face organized resistance from Iraqi forces near Mosul and Tikrit, the Pentagon said Thursday. Iraqi Army | U.S. Special Forces
• Suicide attack: A suicide bomber with explosives strapped to his body blew himself up at a Marine checkpoint in Baghdad late Thursday, wounding four Marines, U.S. military officials said. U.S. Capt. Joe Plenzler, with the 1st Marine Division, said the four Marines have been evacuated, but their conditions were not immediately known. Full Story
• Baghdad mosque: One Marine was killed and 22 others were wounded in fighting Thursday after Marines went to the Imam Mosque in north-central Baghdad where senior Iraqi leaders were believed to be meeting. U.S. Air Force Maj. Gen. Victor Renuart said there was a "fairly heavy firefight" in which all the Iraqi forces were either killed or captured. Full Story
• Cleric killed: A prominent Iraqi Shiite Muslim leader was shot and stabbed to death Thursday in an attack that began inside the Imam Ali Mosque in Najaf, a family friend told CNN. Full Story
• Hillah fighting: Units with the 101st Airborne attacked remaining pockets of resistance in Hillah overnight, encountering ambushes by Iraqi fighters armed with rocket-propelled grenades. The units overcame the Iraqi resistance and found artillery and air defense systems as well as a warehouse full of food.
Infantry weapons: Coalition | Iraq
• Special operations: Coalition special operations forces are conducting "direct action" missions against regime forces in Qa'im in western Iraq along the Syrian border, U.S. Central Command said. U.S. Air Force Maj. Gen. Victor Renuart said the largest number of surface-to-surface missiles was fired from Qa'im during the 1991 Persian Gulf War. Special Operation Forces
• Syria on Saddam: The United States, not Syria, is responsible for making sure Saddam Hussein and leaders of his regime don't escape Iraq by crossing the border into Syria, a top Syrian diplomat said Thursday. Full Story | Audio Slide Show: Fall of Saddam
• Gallery: War photos | Map: Troop movements

AIR WAR



• Brother targeted: Coalition warplanes bombarded a building in Ramadi where Saddam Hussein's half-brother was believed to staying, U.S. Central Command said Thursday. The coalition struck the building with six precision-guided bombs. Saddam's half-brother, Barzan Ibrahim Hasan al-Tikriti, is a presidential adviser.
• Airbases: U.S. Special Operation Forces control five airbases in Iraq, said U.S. Brig. Gen. Vincent Brooks.
• Bombing in the north: Bombing by coalition forces continued in northern Iraq, CNN's Brent Sadler said.

CASUALTIES



• Coalition: 136 coalition deaths reported.
List of coalition fatalities
• Wounded: Officials say at least 399 U.S. service members have been wounded. No numbers are available for British forces.
• Iraq: Iraq has not released details of military casualties. Abu Dhabi TV, quoting official Iraqi sources, reported that 1,252 civilians have been killed and 5,103 wounded. CNN cannot independently verify those figures.

POWs/MIAs



• Missing or captured: Seven U.S. troops are being held as POWs, and eight are listed as missing in action.
Coalition POWs/MIAs
• Iraqi POWs: More than 7,300 Iraqi soldiers are in coalition custody, according to U.S. Central Command.







COALITION SORTIES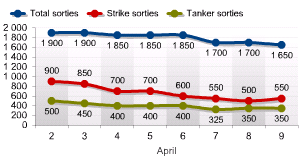 Source: U.S. defense officials. Numbers are estimates


ON THE SCENE


Sadler: 'Administrative vacuum' in north
Sites: Iraqi soldiers fleeing
Wedeman: 'Little resistance' in Kirkuk
Savidge: Opulence amid destruction
Rodgers: Uncertainty in Baghdad
More On the Scene reports

HUMANITARIAN RELIEF



• Aid resumes: The International Committee of the Red Cross resumed operations in Baghdad Thursday, one day after they briefly suspended work due to "chaos" in the Iraqi capital. Full Story
• Garner: Retired U.S. Army Lt. Gen. Jay Garner, set to become the "interim transitional civil administrator" of Iraq, will face the daunting task of providing relief in Iraq while trying to rebuild the country. Profile
• Medical supplies shortage: Hospitals in Baghdad and other Iraqi cities fear warfare and looting will keep frightened workers and sick patients home and block the delivery of urgent medical supplies. Full Story
• Audio Slide Show: Wounded civilians in Nasiriya

STRATEGY


Explore U.S. war plans and tactics
with CNN's military analysts

Shepperd: Focus may shift to Tikrit
Clark: More urban fighting possible
Clark: Ground commanders 'juggling priorities'
Clark: 'Still plenty of venom' in Baghdad
Grange: Destroying bunkers a challenge
Clark: 'Boots on the ground' win wars
Turner: 'Learning as we go'
Shepperd: Iraqi resistance faltering
Shepperd: Heat can make gear 'miserable'
Animation: Battle scenarios | More battle scenarios

LAST SEVEN DAYS


April 9: Saddam regime loses grip on Baghdad
April 8: Coalition tightens grip on Baghdad
April 7: Airstrike targets senior Iraqi officials
April 6: Baghdad surrounded
April 5: U.S. forces enter Baghdad
April 4: Republican Guard moving toward airport
April 3: Ground troops clash over Baghdad airport
Archive »