GROUND WAR



• Untidy freedom: Defense Secretary Donald Rumsfeld said Friday the looting in Baghdad was a result of "pent-up feelings" of oppression and that it would subside as Iraqis adjusted to life without Saddam Hussein. Full Story
• Bringing order: U.S. military forces began trying to restore order in the Iraqi capital Friday. U.S. Marines were trying to persuade civilian police and firefighters to return to their posts, but they showed little inclination to do so, reported CNN's Christiane Amanpour. Full Story
• Saddam's fate: The United States has intercepted conversations from Iraqi officials suggesting that Saddam Hussein has been killed, U.S. officials said Friday. U.S. officials caution that the individuals monitored are not top-echelon officials, and they might not be in a position to know Saddam's status.
• Tikrit chaos: Saddam Hussein's hometown of Tikrit is surrounded by a "sea of lawlessness," Time correspondent Michael Ware told CNN. As the Iraqi front line pulled back from the outskirts of Kirkuk to Tikrit, the resulting power vacuum was filled Friday with looters and assailants, Ware said. Full Story
• Bus intercepted: Australian Special Forces intercepted a bus on a road heading west out of Iraq carrying a large group of males attempting to leave the country, according to Gen. Peter Cosgrove of the Australian Defense Forces. There were 59 men on the bus along with roughly $600,000 and documents that included a letter which advised more money would be paid if Americans were killed, Cosgrove said.
• Last stronghold: Tikrit could be the last stronghold of Hussein's regime, a U.S. military official told CNN. The Republican Guard's Adnan Mechanized Division was charged with defending Tikrit, but that division has been worn down by coalition air power. Iraqi army
• Qaim fight: Coalition forces battled serious Iraqi resistance Friday at a town near the Syrian border that at one time may have been a key site for Saddam Hussein's nuclear program. Full Story
• Suicide bombs: Coalition forces discovered two sites Friday in which explosives were being packed into leather motorcycle jackets and children's dolls for use in suicide attacks, U.S. officials said. U.S. Marines thwarted an attempted suicide bombing in Baghdad on Friday, U.S. military officials said. Full Story
• Mosul surrender: An cease-fire was signed by the commander of the Iraqi army's 5th Corps in Mosul with U.S. Special Forces, U.S. Central Command said Friday. Full Story | U.S. Special Forces
Audio Slide Show: War in the north
• Radiation detected: U.S. military personnel have detected radiation at Iraq's Tuwaitha nuclear complex with a "high" Geiger counter reading recorded there, sources told CNN on Friday.
• Tikrit airplanes: Brooks also said Friday that coalition special operations forces fought a firefight north of Tikrit on Thursday and destroyed five airplanes "covered in camouflage." The airplanes could have been used by the regime to escape from Iraq or to deliver weapons of mass destruction, Brooks said.
• Kirkuk soldiers: More U.S. Army soldiers with the 173rd Airborne Brigade moved into Kirkuk Friday in a possible move to ease Turkish nervousness over the large Kurdish presence here, CNN's Ben Wedeman reported. Oil facilities and some oil wells near the city have been secured, according to U.S. Central Command. Full Story | 173rd Airborne Brigade
• Gallery: War photos | Map: Troop movements | War Stories: Marine wants big picture

AIR WAR


• Tikrit pounded: Deposed Iraqi leader Saddam Hussein's birthplace of Tikrit is "taking a pounding" from coalition airstrikes, U.S. Central Command said.

CASUALTIES



• Coalition: 138 coalition deaths reported.
List of coalition fatalities
• Wounded: At least 399 U.S. service members have been wounded. No numbers are available for British forces.
• Iraq: Iraq has not released details of military casualties. Abu Dhabi TV, quoting official Iraqi sources, reported that 1,252 civilians have been killed and 5,103 wounded. CNN cannot independently verify those figures.

POWs/MIAs



• Missing or captured: Seven U.S. troops are being held as POWs, and eight are listed as missing in action.
Coalition POWs/MIAs
• Iraqi POWs: More than 7,300 Iraqi soldiers are in coalition custody, according to U.S. Central Command.







COALITION SORTIES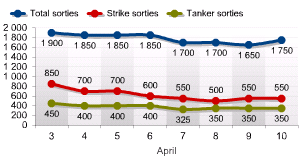 Source: U.S. defense officials. Numbers are estimates


ON THE SCENE



Sadler: Our CNN team was targeted
Sites: 'They told us we were spies'
Vinci: Marines do grueling mop-up
Savidge: Getting Baghdad back on its feet
Sadler: 'Administrative vacuum' in north
More On the Scene reports

HUMANITARIAN RELIEF



• Looting hinders aid: Looting and warfare in Baghdad has been deterring people from seeking medical aid and impeding the supply of humanitarian goods, international health agencies say. Full Story
• Postwar help: The U.S. Agency for International Development (USAID) Friday announced a $7.9 million contract to a North Carolina-based nonprofit organization to foster social and political stability in postwar Iraq. RTI International will "provide technical assistance to strengthen local administrations, civic institutions and civil society" in Iraq, USAID said.
• Audio Slide Show: Wounded civilians in Nasiriya

STRATEGY


Explore U.S. war plans and tactics
with CNN's military analysts

Shepperd: Coalition in transition
Shepperd: Focus may shift to Tikrit
Clark: More urban fighting possible
Clark: Ground commanders 'juggling priorities'
Clark: 'Still plenty of venom' in Baghdad
Grange: Destroying bunkers a challenge
Clark: 'Boots on the ground' win wars
Turner: 'Learning as we go'
Shepperd: Iraqi resistance faltering
Shepperd: Heat can make gear 'miserable'
Animation: Battle scenarios | More battle scenarios

LAST SEVEN DAYS


April 10: Coalition advances on cities in northern Iraq
April 9: Saddam regime loses grip on Baghdad
April 8: Coalition tightens grip on Baghdad
April 7: Airstrike targets senior Iraqi officials
April 6: Baghdad surrounded
April 5: U.S. forces enter Baghdad
April 4: Republican Guard moving toward airport
Archive »