GROUND WAR


• Rolling toward Tikrit: Elements of the U.S. 1st Marine Expeditionary Unit left Baghdad Saturday for Saddam Hussein's hometown of Tikrit, one of the only Iraqi cities not under coalition control. Full Story | Iraqi army
• Possible WMD: Weapons experts were called Saturday to a northern Iraqi air base in Kirkuk to determine if a warhead discovered there is laden with a chemical agent. Full story | Chemical weapons
• Coalition takes Kut: Residents of Kut, about 40 miles southeast of Baghdad, peacefully welcomed U.S. Marines as the city came under coalition control Saturday after talks between civic leaders and U.S. officials, Marine sources said. Full story
• Cleanup in Baghdad: Stores reopened and more Iraqis returned to the streets Saturday in Baghdad. Fires raged in several buildings, and U.S. forces patrolled the streets to curb looting. The 101st Airborne Division searched a mosque, home of a Baath party leader and other residential buildings, finding 13 surface-to-air missiles. Audio Slide Show: Looting in Iraq | 101st Airborne
• Al-Saadi surrender: Pentagon officials confirmed the arrest of Lt. Gen. Amir al-Saadi, the regime's top scientist, which was taped at the general's request by German television network ZDF. Al-Saadi, Iraq's key liaison with U.N. weapons inspectors, said no one in the Iraqi regime ever ordered him to lie. Full Story
• War funding: The House of Representatives Saturday gave final approval to a nearly $80 billion bill to fund the war in Iraq and meet other needs that are mostly related to the war or homeland security.
• Neighborhood watch: Mosul citizens have set up a neighborhood watch program to curb crime in the northern Iraqi city. Brooks called the program Saturday a good example of Iraqis "setting standards for themselves." Audio Slide Show: War in the north
• Gallery: War photos | Map: Troop movements

AIR WAR


• Fleet reduction: The U.S. military plans to reduce in the coming days the number of aircraft carriers now within striking distance of Iraq, a Navy official said. The carriers have served as bases for thousands of sorties over Iraq in recent weeks. Full Story
• Tikrit pounded: Deposed Iraqi leader Saddam Hussein's birthplace of Tikrit is "taking a pounding" from coalition airstrikes, U.S. Central Command said.


CASUALTIES



• Coalition: 141 coalition deaths reported.
List of coalition fatalities
• Marine killed: A U.S. Marine died Saturday after two gunmen opened fire at a U.S. military checkpoint in Baghdad, sources said. Marines returned fire, killing one of the attackers while the other escaped.
• Wounded: At least 399 U.S. service members have been wounded. No numbers are available for British forces.
• Iraq: Iraq has not released details of military casualties. Abu Dhabi TV, quoting official Iraqi sources, reported that 1,252 civilians have been killed and 5,103 wounded. CNN cannot verify those figures.

POWs/MIAs



• Missing or captured: Seven U.S. troops are being held as POWs, and seven are listed as missing in action.
Coalition POWs/MIAs
• Back in the U.S.: Rescued POW Jessica Lynch returned to the United States Saturday, nearly three weeks after she was taken prisoner in Iraq. A C-17 transport plane carried Lynch and 49 other wounded troops to Andrews Air Force Base in Maryland, where they arrived at 5:12 p.m. EDT. Full Story
• Iraqi POWs: More than 7,300 Iraqi soldiers are in coalition custody, according to U.S. Central Command.







COALITION SORTIES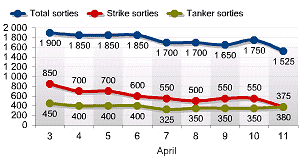 Source: U.S. defense officials. Numbers are estimates


ON THE SCENE



MacVicar: Did Saddam go to Syria?
Savidge: Public may not trust ex-police
Sadler: CNN team targeted
More On the Scene reports

HUMANITARIAN RELIEF



• Help pledged: Finance officials from the world's seven wealthiest industrial countries met Saturday to discuss how to help Iraq, and called for passage of a new U.N. Security Council resolution to bless the effort.
• Relief on way: United Nations representatives were headed Saturday to Badrah, where they say some 30,000-60,000 internally displaced Iraqis were taking shelter. Full Story
• Audio Slide Show: Wounded civilians in Nasiriya

STRATEGY


Explore U.S. war plans and tactics
with CNN's military analysts

Shepperd: Cleanup and one last battle
Shepperd: Coalition in transition
Shepperd: Focus may shift to Tikrit
Clark: More urban fighting possible
Clark: Ground commanders 'juggling priorities'
Grange: Destroying bunkers a challenge
Animation: Battle scenarios | More battle scenarios

LAST SEVEN DAYS


April 11: Bush: Saddam 'no longer in power'
April 10: Coalition advances on cities in northern Iraq
April 9: Saddam regime loses grip on Baghdad
April 8: Coalition tightens grip on Baghdad
April 7: Airstrike targets senior Iraqi officials
April 6: Baghdad surrounded
April 5: U.S. forces enter Baghdad
Archive »