GROUND WAR


• Last stand: U.S. Marines attacked about 2,500 Iraqi fighters loyal to deposed Iraqi leader Saddam Hussen in sporadic fighting Sunday inside Tikrit, the last major Iraqi city not under coalition control. Full Story | 1st Marine Expeditionary Force
• Saddam's brother: One of Saddam Hussein's half brothers is in U.S. custody after attempting to escape to Syria, a U.S. official told CNN Sunday.
• Baghdad firefight: U.S. Marines fought a brief firefight on Sunday with gunmen holed up in a building near the Palestine Hotel in Baghdad, witnesses and Marines said. The Marines said they took three men into custody. Full Story
• Kut cleanup: Blasts resonated through Kut Sunday, the same day U.S. Marines peacefully took control of the city, as U.S. forces exploded thousands of mortar rounds, water-propelled grenades and long-range artillery shells left behind by Iraqi soldiers. Full story
• 'Ex-regime': Gen. Tommy Franks said Sunday the Saddam Hussein government in Iraq is now an "ex-regime," but stopped short of declaring victory. Iraq's army has been "destroyed" and "there is no regime command and control," but resistance from militia and foreign fighters remain, he said. Full Story | Iraqi army
• Civil administration: About 1,500 Baghdad civil servants, including many ranking police officers, gathered Sunday to discuss returning to their jobs. Many said they wanted to show they could build a democracy in the ruins of Saddam's regime. Full story
• Protecting culture: A U.N. agency urged coalition forces to "take immediate measures" to protect archaeological sites and cultural institutions in Iraq following days of looting. Full Story
• Terror camp takeover: U.S. Marines control a camp formerly used by al-Quds, a virulent anti-American and anti-Israel group, in Numaniya, near Kut.
• Gallery: War photos | Map: Troop movements

AIR WAR


• Support in Tikrit Cobra attack helicopters and F-18 fighter jets flew in and around southern Tikrit on Sunday, providing close air support for U.S. Marines battling fighters loyal to Saddam Hussein, an embedded reporter from Canada's National Post told CNN. Full Story
• Fleet reduction: The U.S. military plans to reduce in the coming days the number of aircraft carriers now within striking distance of Iraq, a Navy official said. The carriers have served as bases for thousands of sorties over Iraq in recent weeks. Full Story


CASUALTIES



• Coalition: 148 coalition deaths reported.
List of coalition fatalities
• Marine killed: Two gunmen posing as landscape workers opened fire on a U.S. checkpoint in Baghdad on Saturday, killing one Marine. U.S. forces shot and killed one of the assailants, who was carrying a Syrian identification card, while the other escaped, U.S. Central Command said Sunday.
• Wounded: At least 399 U.S. service members have been wounded. No numbers are available for British forces.
• Iraq: Iraq has not released details of military casualties. Abu Dhabi TV, quoting official Iraqi sources, reported that 1,252 civilians have been killed and 5,103 wounded. CNN cannot verify those figures.

POWs/MIAs



• Missing or captured: Iraqi forces handed over seven American troops, two with gunshot wounds, to U.S. Marines Sunday near Samarra, U.S. officials said. Seven U.S. service members had been held as POWs, and six were listed as missing in action.
Coalition POWs/MIAs
• Back in the U.S.: Rescued POW Jessica Lynch and 49 other wounded American troops returned to the United States on Saturday. Full Story
• Iraqi POWs: More than 7,300 Iraqi soldiers are in coalition custody, according to U.S. Central Command.







COALITION SORTIES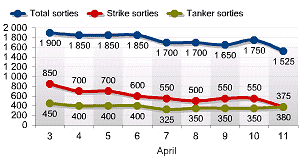 Source: U.S. defense officials. Numbers are estimates


ON THE SCENE



Franken: Dramatic return for ex-captives
Holmes: Iraqi capital still tense
Sadler: Shots fired at CNN crew
MacVicar: Did Saddam go to Syria?
More On the Scene reports

HUMANITARIAN RELIEF



• Russia pushes coalition: A Russian official said Sunday that coalition forces bear full responsibility for the humanitarian situation in Iraq, as well as the safety of historical, cultural and religious artifacts, monuments and institutions.
• Relief on way: U.N. representatives headed to Badrah, in Iraq near the Iranian border, where they say some 30,000-60,000 internally displaced Iraqis were taking shelter. Full Story
• Audio Slide Show: Wounded civilians in Nasiriya

STRATEGY


Explore U.S. war plans and tactics
with CNN's military analysts

Shepperd: Freed POWs need help
Shepperd: Cleanup and one last battle
Shepperd: Coalition in transition
Shepperd: Focus may shift to Tikrit
Clark: More urban fighting possible
Clark: Ground commanders 'juggling priorities'
Grange: Destroying bunkers a challenge
Animation: Battle scenarios | More battle scenarios

LAST SEVEN DAYS


April 12: Tikrit next target
April 11: Bush: Saddam 'no longer in power'
April 10: Coalition advances on cities in northern Iraq
April 9: Saddam regime loses grip on Baghdad
April 8: Coalition tightens grip on Baghdad
April 7: Airstrike targets senior Iraqi officials
April 6: Baghdad surrounded
Archive »