GROUND WAR



• 'Major operations' over: While some fighting in Iraq continues, the major battles appear to be over, a Pentagon spokesman said Monday, just over a month after the start of the military campaign to topple the regime of Saddam Hussein. Full Story
• Syria warned: With most of Iraq under control of U.S.-led military forces, the Bush administration cranked up pressure on Syria Monday to stop supporting terror groups, keep Iraqi leaders from seeking safe harbor and stop developing chemical weapons.
• Tikrit taken: U.S. Marines attacked Saddam Hussein's hometown of Tikrit Monday in what the U.S. Central Command called the "only significant combat action" in the past 24 hours. Opposition in the city proved "lighter than we expected," Brig. Gen. Vincent Brooks said. By day's end, many Marines had switched to cleanup mode, setting up checkpoints and patrolling the city and its suburbs, said Time magazine reporter Michael Ware. Full Story | 1st Marine Expeditionary Force
• Stolen treasures: The United States will work to track down objects looted from Iraq's museums and help restore damaged pieces, Secretary of State Colin Powell said Monday.
• Chem-bio laboratories: U.N. weapons inspectors in February "found nothing untoward" at an ammunition filling plant close to where the United States now says troops have found 11 possible mobile chemical and biological labs, a U.N. inspection team spokesman said Monday. Full Story
• Oil fields: All oil fields in Iraq have been secured by coalition forces or coalition Special Operations Forces, Brooks said Monday.
• Iraqi most wanted: U.S. Central Command spokesman Capt. Frank Thorp confirmed Monday that the two of the 55 most wanted Iraqi leaders in U.S. military custody.
• Deployments held: About 20,000 soldiers from the Army's 1st Cavalry Division now may not be deployed anytime soon, Pentagon sources told CNN. Another 20,000 troops from the 1st Armored Division may have their deployment orders changed as well.
1st Cavalry Division | 1st Armored Division
• Gallery: War photos | Map: Troop movements

AIR WAR


• Heading home: With the U.S. declaring all major combat in Iraq was over, the U.S. Central Command has started releasing Air Force planes from duty in the region, Pentagon officials say. Full Story
Cobra crash: A Marine AH-1 Cobra crashed Monday while conducting combat operations in Iraq, U.S. Central Command said. The pilot and the co-pilot suffered minor injuries and were recovered. The incident was not the result of hostile fire, Central Command said.
• Friendly fire: A U.S. military official said Monday, "indications are" that a Patriot missile shot down an F/A-18C Hornet fighter over Iraq on April 2, killing the pilot. The Pentagon identified the Navy pilot as Lt. Nathan D. White, 30, of Mesa, Arizona, assigned to Strike Fighter Squadron 195 deployed with Carrier Wing Five aboard the USS Kitty Hawk.
F/A-18C Hornet | 3D model
• Support in Tikrit: Cobra attack helicopters and F/A-18 Hornet fighter jets flew in and around southern Tikrit, providing close air support for U.S. Marines battling fighters loyal to Saddam Hussein, an embedded reporter from Canada's National Post told CNN. Full Story | AH-1 Super Cobra

CASUALTIES



• Coalition: 149 coalition deaths reported.
List of coalition fatalities
• Wounded: At least 495 U.S. service members have been wounded. No numbers are available for British forces.
• Iraq: Iraq has not released details of military casualties. U.S. military officials have reported thousands of Iraqi military deaths. Abu Dhabi TV, quoting official Iraqi sources, reported that 1,252 Iraqi civilians have been killed and 5,103 wounded. CNN cannot verify those figures.
• Grenade explodes: Two soldiers from the U.S. Army's V Corps were killed and two were injured Monday when a grenade exploded, apparently accidentally, while they were working on a vehicle at a checkpoint south of Baghdad, U.S. Central Command said.


POWs/MIAs



• Missing or captured: Four U.S. service members remain listed as missing in action. Report: POWs feared death
Coalition POWs/MIAs
• Iraqi POWs: More than 7,300 Iraqi soldiers are in coalition custody, according to U.S. Central Command.






COALITION SORTIES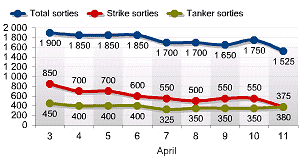 Source: U.S. defense officials. Numbers are estimates


ON THE SCENE



Chilcote: Probe into labs continues
MacVicar: 'War of words' with Syria
Clancy: Baghdad protesters decry chaos
Franken: Dramatic return for ex-captives
Holmes: Iraqi capital still tense
Sadler: Shots fired at CNN crew
More On the Scene reports

HUMANITARIAN RELIEF


• Kirkuk damage: In its first comprehensive survey of the situation in the northern Iraqi city of Kirkuk, a World Health Organization team found that the city's water and electricity system is "severely disrupted" and looters have "seriously damaged and disrupted" health facilities.
• Cultural protection: A U.N. agency is urging the United States and Great Britain to take "immediate measures" to protect archaeological sites and cultural institutions in Iraq, which boasts some of the earliest civilizations on Earth. The plea came after looters ransacked the National Archaeological Museum of Baghdad soon after U.S.-led military forces toppled the regime of Saddam Hussein. Full Story
• Audio Slide Show: Wounded civilians in Nasiriya

STRATEGY


Explore U.S. war plans and tactics
with CNN's military analysts

Shepperd: Efforts imposing order
Shepperd: Freed POWs need help
Shepperd: Cleanup and one last battle
Shepperd: Coalition in transition
Shepperd: Focus may shift to Tikrit
Clark: More urban fighting possible
Clark: Ground commanders 'juggling priorities'
Grange: Destroying bunkers a challenge
Animation: Battle scenarios | More battle scenarios

LAST SEVEN DAYS


April 13: Battle for Tikrit
April 12: Tikrit next target
April 11: Bush: Saddam 'no longer in power'
April 10: Coalition advances on cities in northern Iraq
April 9: Saddam regime loses grip on Baghdad
April 8: Coalition tightens grip on Baghdad
April 7: Airstrike targets senior Iraqi officials
Archive »