GROUND WAR



• Hussein relative captured: Coalition special operations forces overnight captured Barzan Ibrahim Hasan al-Tikriti, a half-brother of deposed Iraqi leader Saddam Hussein, early Thursday, said Army Brig. Gen. Vincent Brooks of U.S. Central Command. Hasan, who is on Central Command's 55 "most wanted" former regime members, was captured alone in Baghdad, based on information from Iraqis, Brooks said. Details: Special Operations Forces
• WMD hunt: The U.S. is sending a 1,000-person "Iraq Survey Group" into Iraq to begin the next phase of looking for weapons of mass destruction, and conduct other intelligence tasks, Pentagon officials said Thursday. The group, likely led by a U.S. general, will be made of up civilian scientists, government intelligence analysts, military personnel and private contractors. It will be based in Iraq.
• Mosul unrest: Additional U.S. troops were arriving Thursday to help control the northern city of Mosul, a CNN reporter in the area said. At least 10 people have died in two days of clashes with U.S. troops, who have taken over the governor's office and infuriated residents, officials said. About 200 to 250 U.S. troops were in the city Thursday, but hundreds more are being brought into an air base on the city's outskirts. At U.S. Central Command, Brooks said stability in Mosul remains "uncertain" because there are still pockets of violence and lawlessness. Full Story
• Baghdad power: Plunged into darkness two weeks ago during coalition airstrikes, electrical power returned to Baghdad Thursday, if only for short periods of time and in scattered areas, a senior U.S. Marine source told CNN. CNN Correspondent Michael Holmes reported that six small substations were being brought online Thursday. Full Story | Audio Slide Show: Ghost of Saddam
• Baghdad firefight: Elements of the 4th Infantry Division fought a brief firefight near Taji Airfield north of Baghdad on Wedneday, killing some Iraqi fighters and destroying several T-72 tanks. More than 100 Iraqi fighters also were captured.
• Australian troops: Most of the 2,000 Australian troops involved in the war in Iraq are scheduled to begin withdrawing from the Persian Gulf region next month, Australian Defense Minister Robert Hill said Thursday. The remaining units will fill special needs like air traffic control and a team of specialists to deal with weapons of mass destruction, Hill said. Details: Australian air, ground and naval forces
• Saddam's fate: While United States officials say they have no definitive proof of Saddam Hussein's whereabouts, White House Chief of Staff Andrew Card speculated, "I think he is dead" in an online discussion Wednesday. White House spokesman Adam Levine said Card was only offering an opinion.
• Gallery: War photos | Map: Troop movements


CASUALTIES



• Coalition: 157 coalition deaths reported, including 126 U.S. troops and 31 British soldiers and marines.
List of coalition fatalities
• Arlington burials: Services were held Thursday at Arlington National Cemetery for two men killed in the war on Iraq -- one of them the victim of a grenade attack by an Army soldier. Full Story
• Wounded: At least 495 U.S. service members have been wounded. No numbers are available for British forces.
• Iraq: Iraq has not released details of military casualties. U.S. military officials have reported thousands of Iraqi military deaths. Abu Dhabi TV, quoting official Iraqi sources, reported that 1,252 Iraqi civilians have been killed and 5,103 wounded. CNN cannot verify those figures.

POWs/MIAs



• Missing or captured: Three U.S. service members remain listed as missing in action.
Coalition POWs/MIAs
• Former POWs: Seven U.S. soldiers held as prisoners of war in Iraq arrived in Germany for treatment at the Landstuhl Regional Medical Center, U.S. officials said. Army Spc. Shoshana Johnson, who was shot in both feet, is expected to require further surgery, Landstuhl officials said. Full Story |

Video
• Iraqi POWs: More than 7,300 Iraqi soldiers are in coalition custody, according to U.S. Central Command.






CAUSE OF U.S. WAR DEATHS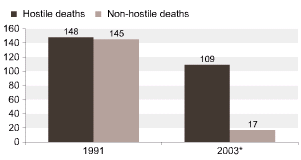 Source: CNN, Pentagon. * Number as of April 17, 2003


ON THE SCENE



Robertson: Iraqis not thinking of Abu Abbas
Amin: Iraqis not thinking of Abu Abbas
Bellini: Iraqi boy faces long recovery
Vause: Divisions over new government
Clancy: Museum 'shattered' by looters
Chilcote: Probe into labs continues
MacVicar: 'War of words' with Syria
More On the Scene reports

HUMANITARIAN RELIEF



• Baghdad zoo: The Baghdad zoo was not spared from the war as deserted animals were forced to fend for themselves, likely terrified from the sound of gunfire. When U.S. forces came through, one soldier said it was hard to believe what they had found. Full Story |

Video
• Iraqi boy in Kuwait: A 12-year-old Iraqi boy who lost his arms and most of his family in a coalition bombing raid near Baghdad arrived in Kuwait early Wednesday for treatment. Full Story
Audio Slide Show: Looting in Iraq
Gallery: A visit to Kifri

STRATEGY


Explore U.S. war plans and tactics
with CNN's military analysts

Kennedy: Patience in weapons hunt
Kennedy: Gathering intelligence
Shepperd: Efforts imposing order
Shepperd: Freed POWs need help
Shepperd: Cleanup and one last battle
Shepperd: Coalition in transition
Shepperd: Focus may shift to Tikrit
Clark: More urban fighting possible
Animation: Urban combat | More battle scenarios

LAST SEVEN DAYS


April 16: Tension in Mosul
April 15: Powell: No plans for war beyond Iraq
April 14: U.S.: 'Major combat' over
April 13: Battle for Tikrit
April 12: Tikrit next target
April 11: Bush: Saddam 'no longer in power'
April 10: Coalition advances on cities in northern Iraq
Archive »