GROUND WAR



• Two more top Iraqis captured: The U.S. military announced it has taken another leader of Saddam Hussein's regime into custody. Humam Abd al-Khaliq Abd Al-Gafar, who served as minister of higher education and scientific research, was taken into custody Saturday, U.S. Central Command said Sunday. He was No. 54 on the U.S. list of most-wanted Iraqis. Saddam Hussein's son-in-law, Jamal Mustafa Abdallah Sultan al Tikriti, also was handed over to U.S. officials, according to a spokesman for the Iraqi National Congress, which arranged for the surrender. Full Story
• Future bases: The Bush administration wants ongoing access to military bases in Iraq, a U.S. senior military official told CNN Sunday, but also acknowledged that any access agreement would have to be negotiated with a whatever government emerges there. The story, first reported in The New York Times, is part of a larger expected administration and Pentagon review of future U.S. military presence in the region, the official said.
• Marines leave Baghdad: U.S. Marines pulled out of Baghdad Sunday, leaving it in the hands of the U.S. Army which is working with Iraqi police to try to bring order to the still chaotic capital. Full Story
• Fewer casualties: As the fighting winds down, U.S.-led coalition deaths so far in this war with Iraq are far fewer than those killed in the 1991 Persian Gulf War. At least 159 U.S. and British troops have died in the war, less than half the 358 coalition deaths in Desert Storm. Full Story | List of coalition fatalities
• Gallery: War photos | Map: Troop movements

AIR WAR



• Stealth pilots: The pilots of the two U.S. Air Force F-117 Nighthawk stealth fighters who flew the first strike mission of the war in Iraq, targeting a leadership compound in Baghdad, each had to overcome on-board malfunctions, the Air Force revealed Sunday. The information came to light in a press release announcing the pilots had been awarded the Distinguished Flying Cross for performing the mission. The strike on the night of March 19 (the morning of March 20 in Iraq) had been described as hitting a "target of opportunity" -- a leadership compound where the United States had intelligence that Saddam Hussein might be hiding. 3D model: F-117

CASUALTIES



• Coalition: 159 coalition deaths reported, including 128 U.S. troops and 31 British soldiers and marines.
List of coalition fatalities
• Wounded: At least 495 U.S. service members have been wounded. No numbers are available for British forces.
• Iraq: Iraq has not released details of military casualties. U.S. military officials have reported thousands of Iraqi military deaths. Abu Dhabi TV, quoting official Iraqi sources, reported that 1,252 Iraqi civilians have been killed and 5,103 wounded. CNN cannot verify those figures.

POWs/MIAs



• Missing or captured: Two U.S. service members remain listed as missing in action.
Coalition POWs/MIAs
• Former POWS: Seven U.S. soldiers waved and smiled Friday from a balcony at Landstuhl Regional Medical Center in Germany, their first official appearance since U.S. Marines rescued them from Iraqi guards who held them as prisoners of war for three weeks.
• Iraqi POWs: U.S. and British forces have released 887 prisoners of war since the beginning of the war because they were determined to be non-combatants, Pentagon officials said Friday. Roughly 6,800 Iraqi soldiers remain in coalition custody, according to U.S. Central Command.






CAUSE OF U.S. WAR DEATHS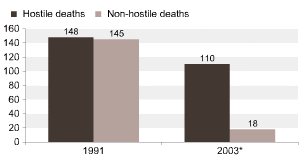 Source: CNN, Pentagon. * Number as of April 20, 2003


ON THE SCENE


MacVicar: 'U.S. talk puzzles Syrians
Robertson: Saddam's last hideout
Amin: Iraqis not thinking of Abu Abbas
Bellini: Iraqi boy faces long recovery
More On the Scene reports

HUMANITARIAN RELIEF



• Mixed assessment: The humanitarian situation in Baghdad is "getting better day by day," but hospitals still face staffing and security problems and improvements need to be made to the water supply, said Morten Rostrup of Doctors Without Borders. Full Story |

Video
Audio Slide Show:
Looting in Iraq
Gallery:
A visit to Kifri

STRATEGY


Explore U.S. war plans and tactics
with CNN's military analysts

Kennedy: Gathering intelligence
Shepperd: Efforts imposing order
Shepperd: Freed POWs need help
Shepperd: Cleanup and one last battle
Animation: Urban combat | More battle scenarios

LAST SEVEN DAYS


April 19: Ex-finance minister caught
April 18: New purported Saddam tapes aired
April 17: U.S. steps up WMD hunt in Iraq
April 16: Tension in Mosul
April 15: Powell: No plans for war beyond Iraq
April 14: U.S.: 'Major combat' over
April 13: Battle for Tikrit
Archive »