GROUND WAR



• Most-wanted capture: Muhammad Hazmaq al-Zubaydi, No. 18 on U.S. Central Command's list of the 55 most-wanted members of the Hussein regime, has been taken into custody in Iraq, according to Central Command. He is the "queen of spades" in Central Command's deck of cards listing the most-wanted regime members; a former prime minister and Saddam's central Euphrates regional commander.
• Mosul firefight: Marines with the 26th Marine Expeditionary Unit engaged in a firefight at Mosul airfield in northern Iraq after been attacked by unknown fighters. One Marine was wounded before the attackers escaped, said Gen. Richard Myers, chairman of the U.S. Joint Chiefs of Staff.
• Weapons cache: Myers also said that U.S. special forces discovered a very large weapons cache south of Kirkuk containing a variety of munitions, including multiple-rocket launch rockets, artillery rounds and 50 SA-7 hand-held surface-to-air missiles.
• Textbook case: The war in Iraq that toppled Saddam Hussein's regime has been widely praised by military analysts, who say it could offer a blueprint for future operations. Full Story
• Chemical weapons destroyed?: An Iraqi scientist who claims to have worked in Saddam Hussein's chemical weapons program told a U.S. military team that Iraq destroyed and buried chemical weapons and biological warfare equipment only days before the war began, according to The New York Times.
• Future bases: The Bush administration wants ongoing access to military bases in Iraq, a U.S. senior military official told CNN Sunday, but also acknowledged that any access agreement would have to be negotiated with a whatever government emerges there. Defense Secretary Donald Rumsfeld said Monday he and other senior administration officials have had "zero discussion" about the Pentagon maintaining access to Iraqi military bases and strongly disputed a story in The New York Times on Sunday that said the Pentagon wants to use four bases in Iraq well into the future. Full Story
• Marines leave Baghdad: U.S. Marines pulled out of Baghdad Sunday, leaving it in the hands of the U.S. Army which is working with Iraqi police to try to bring order to the still chaotic capital. Full Story
• Fewer casualties: As the fighting winds down, U.S.-led coalition deaths so far in this war with Iraq are far fewer than those killed in the 1991 Persian Gulf War. As of Monday, 159 U.S. and British troops have died in the war, less than half the 358 coalition deaths in Desert Storm. Full Story | List of coalition fatalities
• Gallery: War photos | Map: Troop movements

AIR WAR



• Stealth pilots: The pilots of the two U.S. Air Force F-117 Nighthawk stealth fighters who flew the first strike mission of the war in Iraq, targeting a leadership compound in Baghdad, each had to overcome on-board malfunctions, the Air Force revealed Sunday. 3D model: F-117

CASUALTIES



• Coalition: 159 coalition deaths reported, including 128 U.S. troops and 31 British soldiers and marines.
List of coalition fatalities
• British bodies: Two British soldiers whose bodies are believed to have been shown on Arab television last month have been found in shallow graves in southern Iraq, the British Ministry of Defence said Monday. Full Story
• Wounded: At least 495 U.S. service members have been wounded. No numbers are available for British forces.
• Iraq: Iraq has not released details of military casualties. U.S. military officials have reported thousands of Iraqi military deaths. Abu Dhabi TV, quoting official Iraqi sources, reported that 1,252 Iraqi civilians have been killed and 5,103 wounded. CNN cannot verify those figures.

POWs/MIAs



• Missing or captured: Two U.S. service members remain listed as missing in action.
Coalition POWs/MIAs
• Iraqi POWs: Roughly 6,800 Iraqi soldiers remain in coalition custody, according to U.S. Central Command.






CAUSE OF U.S. WAR DEATHS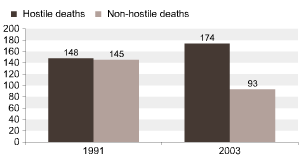 Source: CNN, Pentagon. * Number as of April 21, 2003


ON THE SCENE


MacVicar: 'U.S. talk puzzles Syrians
Robertson: Saddam's last hideout
Amin: Iraqis not thinking of Abu Abbas
Bellini: Iraqi boy faces long recovery
More On the Scene reports

HUMANITARIAN RELIEF



• Garner in Iraq: U.S. retired Army Lt. Gen. Jay Garner arrived in Iraq Monday to oversee its civil administration while a new government is created.

Video | Profile
• Medical supplies: An Iraqi health official Monday led U.S. forces to three warehouses in Baghdad which contained enough medical supplies to keep all of Baghdad's hospitals stocked for the next six to 12 months, according to the Pentagon. Coalition forces will provide security for Iraqi health officials to distribute the supplies to Baghdad hospitals.
Audio Slide Show: Looting in Iraq
Gallery: A visit to Kifri

STRATEGY


Explore U.S. war plans and tactics
with CNN's military analysts

Kennedy: Gathering intelligence
Shepperd: Efforts imposing order
Shepperd: Freed POWs need help
Shepperd: Cleanup and one last battle
Animation: Urban combat | More battle scenarios

LAST SEVEN DAYS


April 20: Two more Iraqis captured
April 19: Ex-finance minister caught
April 18: New purported Saddam tapes aired
April 17: U.S. steps up WMD hunt in Iraq
April 16: Tension in Mosul
April 15: Powell: No plans for war beyond Iraq
April 14: U.S.: 'Major combat' over
Archive »