GROUND WAR



• Most-wanted capture: Muhammad Hazmaq al-Zubaydi, No. 18 on U.S. Central Command's list of the 55 most-wanted members of the Hussein regime, has been taken into custody in Iraq, according to Central Command. A former prime minister and Saddam's central Euphrates regional commander, he is the "queen of spades" in Central Command's deck of cards listing the most-wanted regime members. Full Story
• Baghdad security: U.S. soldiers have secured the eastern section of Baghdad and about 25 percent of the area west of the Tigris River, said Maj. Gen. Buford Blount, the U.S. Army's 3rd Infantry Division commander, on Tuesday. Power should be restored in 80 percent of the city on Wednesday and the rest of Iraqi capital within four or five days, he said.
• Ceasefire: Coalition forces are under a ceasefire in Iraq with a group of pro-Saddam armed Iranian dissidents known as the People's Mujahedeen, Army Brig. Gen. Vincent Brooks said at Tuesday's U.S. Central Command briefing. The group has been operating inside Iraq, engaging in numerous firefights with coalition forces, and is labeled a terrorist organization by the U.S. government. Full Story
• Mosul firefight: Marines with the 26th Marine Expeditionary Unit engaged in a firefight Monday at Mosul airfield in northern Iraq after been attacked by unknown fighters. One Marine was wounded before the attackers escaped, said Gen. Richard Myers, chairman of the U.S. Joint Chiefs of Staff.
• Weapons cache: Myers also said that U.S. special forces discovered a very large weapons cache south of Kirkuk containing a variety of munitions, including multiple-rocket launch rockets, artillery rounds and 50 SA-7 hand-held surface-to-air missiles.
• Textbook case: The war in Iraq that toppled Saddam Hussein's regime has been widely praised by military analysts, who say it could offer a blueprint for future operations. Full Story
• Iraqi antiquities: Artwork possibly stolen from at least one Iraqi museum was seized at Washington Dulles International Airport and Boston's Logan Airport during the past week, government officials told CNN on Tuesday. Full Story
• Fewer casualties: As the fighting winds down, U.S.-led coalition deaths so far in this war with Iraq are far fewer than those killed in the 1991 Persian Gulf War. As of Monday, 159 U.S. and British troops have died in the war, less than half the 358 coalition deaths in Desert Storm. Full Story | List of coalition fatalities

AIR WAR



• Stealth pilots: The pilots of the two U.S. Air Force F-117 Nighthawk stealth fighters who flew the first strike mission of the war in Iraq, targeting a leadership compound in Baghdad, each had to overcome on-board malfunctions, the Air Force revealed Sunday. 3D model: F-117

CASUALTIES



• Coalition: 159 coalition deaths reported, including 128 U.S. troops and 31 British soldiers and marines.
List of coalition fatalities
• Wounded: At least 495 U.S. service members have been wounded. No numbers are available for British forces.
• Iraq: Iraq has not released details of military casualties. U.S. military officials have reported thousands of Iraqi military deaths. Abu Dhabi TV, quoting official Iraqi sources, reported that 1,252 Iraqi civilians have been killed and 5,103 wounded. CNN cannot verify those figures.

POWs/MIAs



• Missing or captured: Two U.S. service members remain listed as missing in action.
Coalition POWs/MIAs
Back home: Former POW Ronald Young returned to his family's Georgia home Tuesday after being held captive in Iraq and said he wanted to see his ailing grandparents. Young, whose Apache helicopter was shot down, was rescued last week along with six other U.S. soldiers being held in Iraq.
• Iraqi POWs: Roughly 6,800 Iraqi soldiers remain in coalition custody, according to U.S. Central Command.






CAUSE OF U.S. WAR DEATHS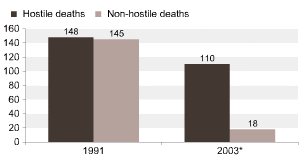 Source: CNN, Pentagon. * Number as of April 22, 2003


ON THE SCENE


Penhaul: Pilgrimage revives Shiite tradition
MacVicar: 'U.S. talk puzzles Syrians
Robertson: Saddam's last hideout
Amin: Iraqis not thinking of Abu Abbas
Bellini: Iraqi boy faces long recovery
More On the Scene reports

HUMANITARIAN RELIEF


• Warm welcome: Touring Iraq to assess its post-war needs, Jay Garner, the retired U.S. general who will run Iraq until a new government is established, received warm welcomes for a second day in the Kurdish north. Garner, who heads the Pentagon's Office of Reconstruction and Humanitarian Assistance, was greeted Wednesday by Kurdistan Democratic Party leader Massoud Barzani.

Video | Profile
• Shiite pilgrimage: Crowds of Shia Muslims Wednesday chanted and danced in the streets of Karbala on the final day of a pilgrimage long suppressed under Saddam Hussein's rule. Many expressed gratitude to the United States for their newfound freedom but, in the same breath, they warned their liberators to leave Iraq and not divide their country. Full Story |

Video
Audio Slide Show:
Looting in Iraq
Gallery:
A visit to Kifri

STRATEGY


Explore U.S. war plans and tactics
with CNN's military analysts

Kennedy: Gathering intelligence
Shepperd: Efforts imposing order
Shepperd: Freed POWs need help
Shepperd: Cleanup and one last battle

LAST SEVEN DAYS


April 21: No. 18 most-wanted captured
April 20: Two more Iraqis captured
April 19: Marines leave Baghdad
April 18: New purported Saddam tapes aired
April 17: U.S. steps up WMD hunt in Iraq
April 16: Tension in Mosul
April 15: Powell: No plans for war beyond Iraq
Archive »