GROUND WAR



• Marines killed: Three U.S. Marines were killed and seven others injured when a rocket-propelled grenade launcher malfunctioned during a practice exercise, Central Command said Wednesday. The Marines killed and injured in the incident, which occurred Tuesday night local time, were from the 1st Marine Expeditionary Force, Central Command said. No other details of the incident were given.
• Where's Saddam?: Britain's defense minister said Wednesday he believed Iraq's former president Saddam Hussein was probably still alive and hiding in Iraq, two weeks after Baghdad fell to U.S.-led forces. In an interview with British Forces Broadcast Services, Geoff Hoon said there were no conclusive reports about the fate of Iraq's dictator. Full Story
• Iranian agents: A Pentagon officials told CNN Wednesday that intelligence reports received in the last few days indicate an unknown number of Iranian backed agents have moved into southern Iraq to promote Shiite and Iranian interests within the Shi'a community. The reports indicate the Iranians are operating around Najaf, Karbala and Basra. Some of them may be members of the Badr Brigade, an Iranian-backed militia group based in Iran, this official said. Full Story
Unexpected fighting: The fierce fighting between coalition forces and Iraqi irregulars was not what U.S. ground commanders fully expected during the U.S.-led war with Iraq, according to the U.S. commander in charge of all coalition land forces. Paramilitary forces that attacked U.S. troops in urban areas in southern Iraq were not the most likely option that the U.S. war-gamed against, according to Lt. Gen David McKiernan, the commander of coalition land forces under U.S. Central Command.
• Most-wanted capture: Muhammad Hazmaq al-Zubaydi, No. 18 on U.S. Central Command's list of the 55 most-wanted members of the Hussein regime, has been taken into custody in Iraq, according to Central Command. A former prime minister and Saddam's central Euphrates regional commander, he is the "queen of spades" in Central Command's deck of cards listing the most-wanted regime members. Full Story
• Baghdad security: U.S. soldiers have secured the eastern section of Baghdad and about 25 percent of the area west of the Tigris River, said Maj. Gen. Buford Blount, the U.S. Army's 3rd Infantry Division commander, on Tuesday. Power should be restored in 80 percent of the city on Wednesday and the rest of Iraqi capital within four or five days, he said.
• Ceasefire: Coalition forces are under a ceasefire in Iraq with a group of pro-Saddam armed Iranian dissidents known as the People's Mujahedeen, Army Brig. Gen. Vincent Brooks said at Tuesday's U.S. Central Command briefing. The group has been operating inside Iraq, engaging in numerous firefights with coalition forces, and is labeled a terrorist organization by the U.S. government. Full Story
• Textbook case: The war in Iraq that toppled Saddam Hussein's regime has been widely praised by military analysts, who say it could offer a blueprint for future operations. Full Story
• Fewer casualties: As the fighting winds down, U.S.-led coalition deaths so far in this war with Iraq are far fewer than those killed in the 1991 Persian Gulf War. As of Wednesday, 162 U.S. and British troops have died in the war, less than half the 358 coalition deaths in Desert Storm. Full Story | List of coalition fatalities

AIR WAR



• Speicher clue: After an initial search of several sites in Iraq, U.S. investigators have found a clue indicating a U.S. Navy pilot who was shot down in the first Gulf war may have been alive years after the fact, Pentagon officials told CNN Wednesday. A team of U.S. specialists looking for Capt. Michael Scott Speicher found what appears to be the initials "M.S.S." scratched into a wall of a cell in the Hakmiyah prison in Baghdad, an official tells CNN. Full Story

CASUALTIES



• Coalition: 163 coalition deaths reported, including 132 U.S. troops and 32 British soldiers and marines.
List of coalition fatalities | Coalition deaths fewer than in 1991
• Wounded: At least 495 U.S. service members have been wounded. No numbers are available for British forces.
• Iraq: Iraq has not released details of military casualties. U.S. military officials have reported thousands of Iraqi military deaths. Abu Dhabi TV, quoting official Iraqi sources, reported that 1,252 Iraqi civilians have been killed and 5,103 wounded. CNN cannot verify those figures.

POWs/MIAs



• Missing or captured: One U.S. soldier remains listed as missing in action.
Coalition POWs/MIAs
• POW rest: U.S. military health officials declared the five former prisoners of war from the 507th Maintenance Company "in excellent health" Wednesday and gave them 30 days to spend time at home. Full Story
• Iraqi POWs: Roughly 6,800 Iraqi soldiers remain in coalition custody, according to U.S. Central Command.






CAUSE OF U.S. WAR DEATHS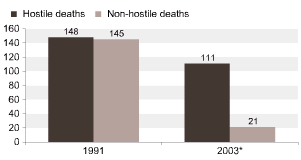 Source: CNN, Pentagon. * Number as of April 23, 2003


ON THE SCENE


Penhaul: Pilgrimage revives Shiite tradition
MacVicar: 'U.S. talk puzzles Syrians
Robertson: Saddam's last hideout
Amin: Iraqis not thinking of Abu Abbas
Bellini: Iraqi boy faces long recovery
More On the Scene reports

HUMANITARIAN RELIEF


• Warm welcome: Touring Iraq to assess its post-war needs, Jay Garner, the retired U.S. general who will run Iraq until a new government is established, received warm welcomes for a second day in the Kurdish north. Garner, who heads the Pentagon's Office of Reconstruction and Humanitarian Assistance, was greeted Wednesday by Kurdistan Democratic Party leader Massoud Barzani.

Video | Profile
• Shiite pilgrimage: Crowds of Shia Muslims Wednesday chanted and danced in the streets of Karbala on the final day of a pilgrimage long suppressed under Saddam Hussein's rule. Many expressed gratitude to the United States for their newfound freedom but, in the same breath, they warned their liberators to leave Iraq and not divide their country. Full Story |

Video
Audio Slide Show:
Looting in Iraq
Gallery:
A visit to Kifri

STRATEGY


Explore U.S. war plans and tactics
with CNN's military analysts

Kennedy: Gathering intelligence
Shepperd: Efforts imposing order
Shepperd: Freed POWs need help
Shepperd: Cleanup and one last battle

LAST SEVEN DAYS


April 22: Ceasefire with Iranian dissidents
April 21: No. 18 most-wanted captured
April 20: Two more Iraqis captured
April 19: Marines leave Baghdad
April 18: New purported Saddam tapes aired
April 17: U.S. steps up WMD hunt in Iraq
April 16: Tension in Mosul
Archive »