GROUND WAR



• WMD search: U.S. experts are testing drums found in northern Iraq after initial tests on the contents of one drum indicated the presence of two different chemical agents, an Army officer told CNN Sunday. Ten to 14 55-gallon drums were found in a field near a former Iraqi military position at Bai'ji, about 130 miles (208 km) north of Baghdad. Preliminary tests of chemicals from one drum indicated the presence of two weapons -- the nerve agent cyclosarin and an unspecified blister agent, said Lt. Col. Ted Martin of the 1st Squadron, 10th Cavalry Regiment. Full Story
•Officials in custody: The official once responsible for managing Iraq's cooperation with U.N. weapons inspectors and Baghdad's self-proclaimed mayor were in U.S. custody Sunday as U.S. authorities worked to restore order and services in the Iraqi capital. Hossam Amin, the former chief of Iraq's National Monitoring Directorate, may be able to provide information on the whereabouts of Iraq's suspected stocks of chemical and biological weapons or of ousted leader Saddam Hussein. Full Story
• Baghdad ambush: Four U.S. soldiers were wounded, one of them seriously, in an ambush Sunday morning in downtown Baghdad, U.S. Central Command said. U.S. Army Civil Affairs soldiers were traveling in two vehicles on a "public health-related mission," when they were "engaged with small-arms fire from an assailant who approached them while the vehicles were stopped in traffic," Central Command said.
• U.S. soldier killed: Responding to Iraqi gunfire, a U.S. soldier was killed and another was wounded Saturday when their Bradley fighting vehicle rolled over in the northern Iraqi city of Tikrit, U.S. Central Command reported Sunday. The wounded soldier is being treated in a hospital, according to Central Command.
• Mosul firefight: A 20- to 30-man Iraqi paramilitary force attacked a coalition patrol northwest of Mosul on Friday, said Gen. Richard Myers, chairman of the Joint Chiefs of Staff. Coalition forces killed several of the attackers and destroyed two technical vehicles, which are trucks with machine guns mounted on them. Myers also said U.S. troops killed an Iraqi paramilitary and captured another fighter south of Baghdad.
• Marines head home: Elements of the 24th Marine Expeditionary Unit have begun returning to Camp Patriot in the northern Kuwaiti desert in preparation to return home, said Marine spokesman Capt. Dan McSweeney. The unit's 2,300 Marines will pack up their equipment and gear for the trip back to Camp Lejeune, North Carolina, aboard the USS Nassau, USS Austin and USS Tortuga, McSweeney said. Details: 24th Marine Expeditionary Unit

AIR WAR



• Speicher clue: After an initial search of several sites in Iraq, U.S. investigators have found a clue indicating a U.S. Navy pilot who was shot down in the first Gulf war may have been alive years after the fact, Pentagon officials told CNN Wednesday. A team of U.S. specialists looking for Capt. Michael Scott Speicher found what appears to be the initials "M.S.S." scratched into a wall of a cell in the Hakmiyah prison in Baghdad, an official tells CNN. Full Story

CASUALTIES



• Coalition: 164 coalition deaths reported, including 132 U.S. troops and 32 British soldiers and marines.
List of coalition fatalities | Coalition deaths fewer than in 1991
• Wounded: At least 495 U.S. service members have been wounded. No numbers are available for British forces.
• Iraq: Iraq has not released details of military casualties. U.S. military officials have reported thousands of Iraqi military deaths. Abu Dhabi TV, quoting official Iraqi sources, reported that 1,252 Iraqi civilians have been killed and 5,103 wounded. CNN cannot verify those figures.

POWs/MIAs



• Missing or captured: One U.S. soldier remains listed as missing in action.
Coalition POWs/MIAs
• Iraqi POWs: Roughly 6,800 Iraqi soldiers remain in coalition custody, according to U.S. Central Command.






CAUSE OF U.S. WAR DEATHS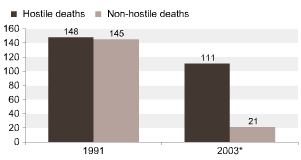 Source: CNN, Pentagon. * Number as of April 27, 2003


ON THE SCENE



Brahimi: 'Big catches' in custody
Robertson: Aziz played gatekeeper role
Amin: Garner faces big challenges
Penhaul: Pilgrimage revives Shiite tradition
MacVicar: 'U.S. talk puzzles Syrians
More On the Scene reports

HUMANITARIAN RELIEF



• Returning refugees: The U.N. refugee agency has prepared a plan for hundreds of thousands of Iraqis to return to their war-torn country. Full Story
• Shiite pilgrimage: Crowds of Shia Muslims Wednesday chanted and danced in the streets of Karbala on the final day of a pilgrimage long suppressed under Saddam Hussein's rule. Many expressed gratitude to the United States for their newfound freedom but, in the same breath, they warned their liberators to leave Iraq and not divide their country. Full Story |

Video
Audio Slide Show:
Looting in Iraq
Gallery:
A visit to Kifri

STRATEGY


Explore U.S. war plans and tactics
with CNN's military analysts

Kennedy: Gathering intelligence
Shepperd: Efforts imposing order
Shepperd: Freed POWs need help
Shepperd: Cleanup and one last battle

LAST SEVEN DAYS


April 26: U.S. soldier killed
April 25: Marines head home
April 24: Aziz surrenders
April 23: Iranian agents in Iraq
April 22: Ceasefire with Iranian dissidents
April 21: No. 18 most-wanted captured
April 20: Two more Iraqis captured
Archive »