GROUND WAR



• Fallujah violence: Two more Iraqi civilians were killed Wednesday in a clash with U.S. troops, bringing the total in such clashes to 17 in three days of conflict in this town west of Baghdad. More than 60 Iraqis have been wounded, hospital and Red Cross officials said, and U.S. military officials said one soldier was hurt by a rock thrown through the windshield of his vehicle. Full Story | 82nd Airborne Division
• End of combat: President Bush will announce the end of "major combat operations" in the Iraqi war in a televised speech Thursday night aboard a returning U.S. aircraft carrier, the White House said Wednesday. Full Story
• Suspected terrorist: Senior Bush administration officials Tuesday said a member of an al Qaeda-affiliated terror group operating in Iraq has been captured by U.S. forces. Sources said the individual is a member of a group operating in western Baghdad under the leadership of Abu Musab al Zarqawi, a Jordanian believed by the United States to have been the mastermind behind the assassination of American diplomat Lawrence Foley in Amman last October. Full Story |

Video
• Rumfeld visits Iraq: U.S. Defense Secretary Donald Rumsfeld visited Baghdad Wednesday, the highest-ranking U.S. official to travel to Iraq following the collapse of Saddam Hussein's regime. He urged Iraqis to help the U.S.-led coalition capture members of Saddam Hussein's regime. Full Story
• Baghdad snipers: A number of snipers have fired upon U.S. troops in Baghdad and that most of the attackers were either killed or arrested, said Maj. Gen. Buford Blount, commander of the 3rd Army Infantry Division. Blount also said the No. 1 priority of his troops now is maintaining security in Baghdad.
• WMD search: Substances found at a remote northern Iraq site were undergoing additional tests Monday for the presence of chemical weapons and there is a chance that results could be in late in the day, a U.S. military official said. Mobile Exploitation Team Bravo took samples Sunday, which have been taken away for additional analysis in the United States and in Iraq, First Lt. Valerie Phipps of the 1st Squadron, 10th Cavalry Regiment. Full Story

AIR WAR


• Command center to move: U.S. Central Command will move its Combined Air Operations Center from Saudi Arabia to Qatar. The CAOC has been operating from Prince Sultan Air Base in Saudi Arabia since 1997, monitoring air space operations across the region and conducting patrol missions over southern Iraq. The CAOC will now be located at Al Udeid Air Base in Qatar. Full Story | Prince Sultan Air Base | Al Udeid Air Base

CASUALTIES



• Coalition: 170 coalition deaths reported, including 138 U.S. troops and 32 British soldiers and marines.
List of coalition fatalities | Coalition deaths fewer than in 1991
• Wounded: At least 495 U.S. service members have been wounded. No numbers are available for British forces.
• Iraq: Iraq has not released details of military casualties. U.S. military officials have reported thousands of Iraqi military deaths. Abu Dhabi TV, quoting official Iraqi sources, reported that 1,252 Iraqi civilians have been killed and 5,103 wounded. CNN cannot verify those figures.

POWs/MIAs



• Missing or captured: The remains of the final U.S. soldier listed as missing in action, Spc. Edward J. Anguiano, 24, of Brownsville, Texas, were recovered on April 24.
Coalition POWs/MIAs
• Iraqi POWs: Roughly 6,800 Iraqi soldiers remain in coalition custody, according to U.S. Central Command.






CAUSE OF U.S. WAR DEATHS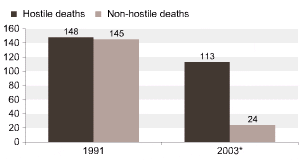 Source: CNN, Pentagon. * Number as of April 30, 2003. Cause of one U.S. death remains undetermined.


ON THE SCENE


Penhaul: Conflicting stories from Fallujah Starr: U.S. military presence in Gulf
Brahimi: 'Big catches' in custody
Robertson: Aziz played gatekeeper role
Amin: Garner faces big challenges
Penhaul: Pilgrimage revives Shiite tradition
MacVicar: 'U.S. talk puzzles Syrians
More On the Scene reports

HUMANITARIAN RELIEF



• Returning refugees: The U.N. refugee agency has prepared a plan for hundreds of thousands of Iraqis to return to their war-torn country. Full Story
• Shiite pilgrimage: Crowds of Shia Muslims Wednesday chanted and danced in the streets of Karbala on the final day of a pilgrimage long suppressed under Saddam Hussein's rule. Many expressed gratitude to the United States for their newfound freedom but, in the same breath, they warned their liberators to leave Iraq and not divide their country. Full Story |

Video
Audio Slide Show:
Looting in Iraq
Gallery:
A visit to Kifri

STRATEGY


Explore U.S. war plans and tactics
with CNN's military analysts

Kennedy: Gathering intelligence
Shepperd: Efforts imposing order
Shepperd: Freed POWs need help
Shepperd: Cleanup and one last battle

LAST SEVEN DAYS


April 29: 15 killed during protest
April 28: Weapons search
April 27: Baghdad ambush
April 26: U.S. soldier killed
April 25: Marines head home
April 24: Aziz surrenders
April 23: Iranian agents in Iraq
Archive »