Depths of the disaster
The Gulf Coast oil disaster is made up of many facets: the lives, the numbers, the science, the economy, the wildlife and more. The worst U.S. spill began April 20, and the consequences could last decades. Explore some of the threads of this unfolding story.
HERE'S HOW MUCH OIL
HAS FLOWED INTO
THE GULF OF MEXICO:

154 days after the disaster began, officials declared the leak sealed September 19.
4,900,000
How does this compare to US daily oil production?
Find out now
Based on Aug. 2 government estimate of 4.9 million barrels with +/-10% uncertainty
$22.7 billion:
Potential loss to Gulf Coast travel economy over three years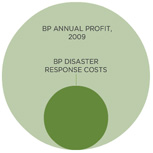 The cost to BP of responding to the Gulf oil disaster is a fraction of the company's annual profits.

Policy and politics of oil in America

CONTINUE THE CONVERSATION ON
TWITTER