Sudan's Omar al-Bashir forced out in coup
8:19 a.m. ET, April 11, 2019
Sudan military declares state of emergency
Here's more from the statement by Sudan's Minister of Defense, Awad Mohamed Ahmed Ibn Auf. He confirmed that President Omar al-Bashir had been forced from power and his government dissolved after months of demonstrations calling for his ouster.
A two-year military council has been established to oversee a transition of power, ending Bashir's three decades of rule. The defense minister said that Bashir had been forcibly removed and was now being "kept at a safe place."
A three-month state of emergency has been declared, and a curfew from 10 p.m. to 4 a.m. imposed. Ports and medical facilities will be secured.
Sudan's cabinet, its National Assembly and municipal bodies have been dissolved, and the country's constitution suspended, Ibn Auf said. The judiciary, public prosecution, embassies and diplomatic entities will continue to function as normal.
All political prisoners, detained by the country's security services since a wave of anti-government demonstrations first gripped the nation in December will be released, the defense minister added.
7:58 a.m. ET, April 11, 2019
Sudan's government has been dissolved
The Sudanese military has removed President Omar al-Bashir from power and set up a transitional military council to rule the country for two years, Sudan's Minister of Defense, Awad Mohamed Ahmed Ibn Auf, said in a televised statement on Thursday.
7:57 a.m. ET, April 11, 2019
Happening now: Sudan Armed Forces statement
Sudan's Minister of Defense Awad Mohamed Ahmed Ibn Auf is now addressing the nation in a televised statement, following reports that President Omar al-Bashir has been forced out.
8:07 a.m. ET, April 11, 2019
Bashir was forced out in pre-dawn meeting
More details have been emerging about how Bashir was forced from power. Before dawn on Thursday, the heads of Sudan's four main security apparatuses arrived at President Omar al-Bashir's residence to deliver the message that he must go.
At 3:30 a.m., the leaders of the security agencies, which have so far been loyal to Bashir, told Sudan's longtime leader that "there was no alternative" but for him to step down, two senior military sources with direct knowledge of the conversation told CNN.
According to the sources, Bashir resigned himself to the reality, saying "with the blessings of God," an expression of acquiescence in Islamic tradition.
7:32 a.m. ET, April 11, 2019
Sudanese prime minister, ruling party chairman arrested, military official says
Sudan's Prime Minister Mohamed Taher Ayala and the head of the ruling National Congress Party, Ahmed Haroun, are among dozens of officials to be arrested in Sudan on Thursday, a top military official with direct knowledge of the situation told CNN.
Haroun, an aide to President Omar al-Bashir, has an ICC warrant for him.
Former defense minister Abdel Rehim Mohamed Hussein, former government minister and leading member of the National Congress Awad Al-Jaz and former vice presidents Berri Hassan Saleh and Ali Othman Taha, have also been arrested, the official said.
CNN witnessed military troops in the capital Khartoum storming the Islamic Movement headquarters, part of the ruling party, on Thursday.
6:35 a.m. ET, April 11, 2019
Sudan to release all political detainees: state media
The Sudanese Intelligence Agency said it has ordered the release of all political detainees, official news agency (SUNA) reported.
6:10 a.m. ET, April 11, 2019
Sudan's key location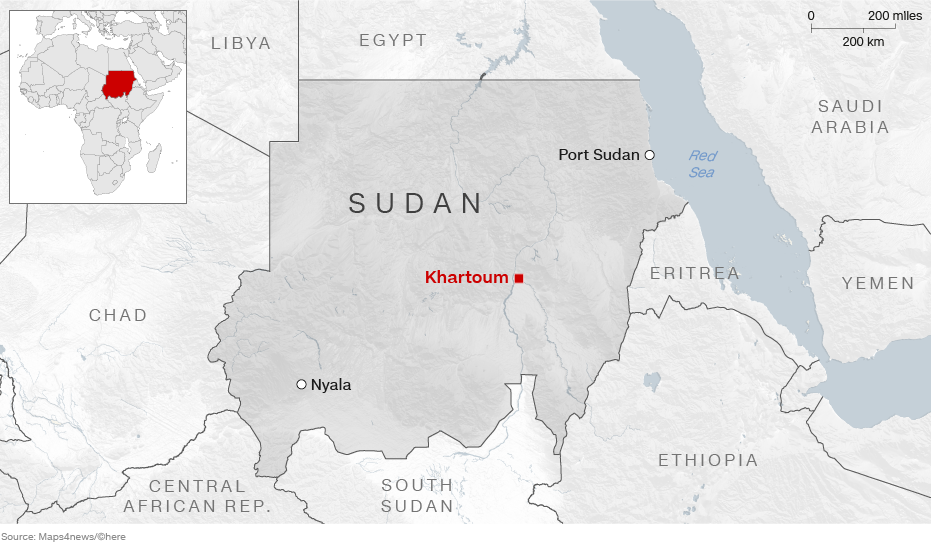 Strategically located where sub-Saharan Africa meets the Middle East, Sudan is bordered by seven countries, Egypt, Eritrea, Ethiopia, South Sudan, the Central African Republic, Chad, and Libya.
The country also straddles the 10th parallel, where mostly Muslim northern Africa meets the primarily Christian south.
Sudan gained its independence from joint British and Egyptian rule in 1956, but was quickly wracked by decades of civil war, which heightened following the discovery of oil in the country's southwest.
While President Omar al-Bashir's tough rule brought a level of comparative stability following a coup in 1989, tensions remained over the state of south Sudan that were not resolved until 2005, when a peace agreement was signed promising the southern regions of the country independence within six years.
In 2011, South Sudan voted overwhelmingly for independence, going on to become the world's newest country.
The two Sudans continued to fight over the oil-rich Southern Kordofan state, however. Conflict in Darfur has also dogged the country since 2003, driven by tensions between black Africans and the country's Arab elite.
Bashir's alleged war crimes in Darfur made him a pariah in much of the world, but under US President Donald Trump, Washington had warmed to the Sudanese leader.
US attempts to re-engage with the Sudanese government have been widely viewed as a bid by the Trump administration to improve regional counter-terror cooperation and boost its diplomatic clout in Africa.
6:01 a.m. ET, April 11, 2019
Activists demand military hand over power to civilian government
The Sudanese Professionals Association (SPA) said it wants the military to hand over power to a civilian transitional government, SPA spokesman Elmuntasir Ahmed told CNN Thursday.
"We don't accept the regime to reproduce itself or for the army to be solo in power," he said.
The SPA, an umbrella organization of doctors, lawyers and journalists that has led many of the demonstrations, said in a statement that the ongoing crisis will not be solved by another military coup.
"The Sudanese crisis is chronic and cannot be solved from the top-down," the statement said.
The SPA called on protesters to maintain the sit-in until a civilian government is in place.
5:20 a.m. ET, April 11, 2019
Who is Omar al-Bashir?
Omar al-Bashir came to power in Sudan in 1989, when he lead a coup against then Prime Minister Sadiq al-Mahdi. Bashir dissolved the government, political parties and trade unions, and declared himself chairman of the Revolutionary Command Council.
He survived a coup attempt the following year. He later ordered the execution of more than 30 army and police officers implicated in the failed takeover.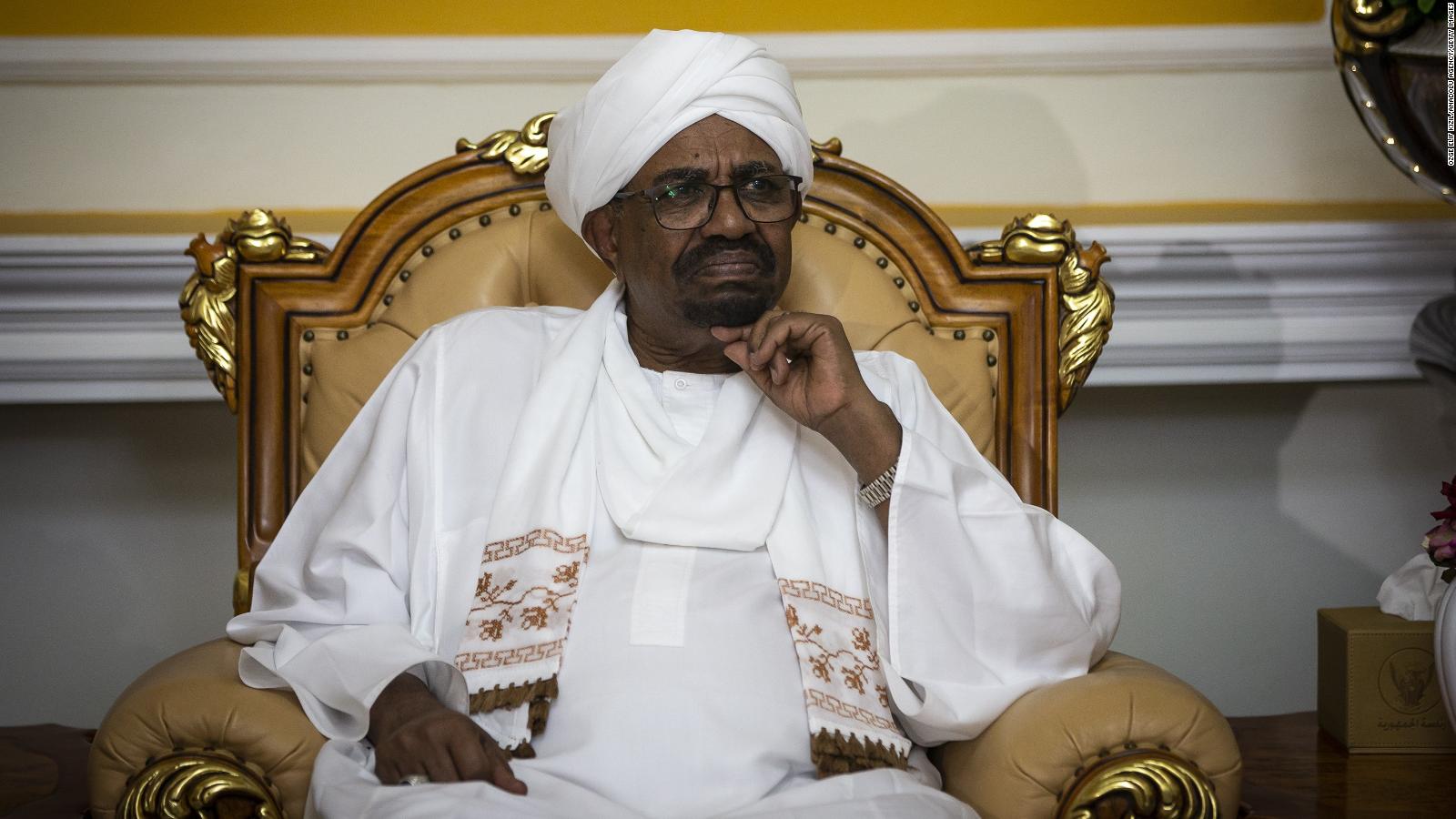 In 1993, Bashir dissolved the Revolutionary Command Council and restored Sudan to nominal civilian rule, with himself as president. At an election in 1996, he was returned with more than 75% of the vote. That margin would increase to 85% in 2000.
Violence broke out in the Darfur region of Sudan in 2003, and Bashir was criticized for not cracking down on the Janjaweed militia, a pro-government militia accused of murdering and raping people in Darfur.
In 2008, the International Criminal Court filed charges against Bashir for genocide and war crimes in Darfur. Repeated attempts to bring him to justice were unsuccessful, however.
At the country's most recent election in 2015, officials said Bashir had been re-elected president with more than 94% of the vote. Many major opposition groups boycotted the election.
Late last year, anti-government protests broke out in many cities in Sudan, demanding Bashir's removal. He declared a year-long state of emergency in February 2019, as his forces attempted to crack down on demonstrations.
Those efforts appear to have been ultimately unsuccessful. On Thursday, the 75-year-old Bashir stepped down as president after 30 years in power.