2:13 p.m. ET, April 30, 2019
Video shows military vehicles plowing into protesters
Military vehicles appeared to plow into opposition protesters in Caracas, as seen on live agency video from the ground. 
The opposition protesters appeared to be throwing objects at the vehicles immediately before they drove toward them.
The video shows the vehicles knocking down the protesters.
Warning: The video below contains graphic content. Viewer discretion is advised.
2:06 p.m. ET, April 30, 2019
These are some of the countries standing with the Venezuelan opposition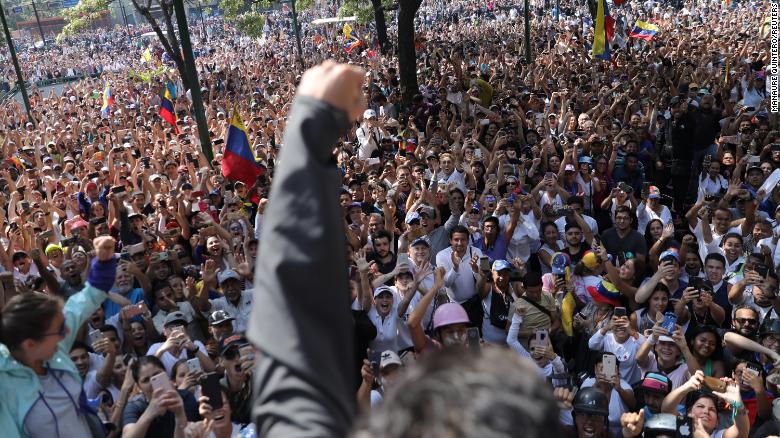 Protesters took to the streets today after the leader of Venezuela's opposition declared he was "beginning the final phase of Operation Freedom," promising to bring an end to the government of Nicolás Maduro.
Opposition leader Juan Guaido — who declared himself interim president in January — has been recognized as Venezuela's leader by dozens of other countries.
Here's a look at some of the countries that support Guaido and the opposition:
Brazil: The country's far-right President, Jair Bolsonaro, tweeted his support for Guaidó and "the freedom of Venezuelans."
Colombia President Ivan Duque tweeted Tuesday: "We call on the military and the people of Venezuela to be on the right side of history, rejecting dictatorship and usurpation of Maduro; joining together in search of freedom, democracy and institutional reconstruction headed by @AsambleaVE and the President @jguaido."
Ecuador: The country's Foreign Minister José Valencia tweeted: "The Government of Ecuador renews its strong support to President Juan Guaidó in the difficult times that Venezuela is going through. We wish for a peaceful transition without bloodshed. We will support all international efforts in that regard."
The US: President Trump and his administration have recognized Guaido as the legitimate president of Venezuela since January.
Meanwhile, Cuban and Russian officials have rejected the opposition. And Mexican President Andrés Manuel López Obrador said he retains his neutral position on Venezuela.
1:54 p.m. ET, April 30, 2019
Opposition leader Juan Guaido is on the move
Venezuelan opposition leader Juan Guaido and a group of opposition protestors, including Nicolás Maduro opponent Leopold Lopez, have left the Plaza Altamira in Caracas and are headed west towards the State of Miranda, his spokesperson tells CNN.
Their final destination is unclear.
For the time being, Miraflores, the presidential palace, is not the objective, he said.
"The objective is to advance," Guaido's spokesperson said.
1:54 p.m. ET, April 30, 2019
Venezuelan opposition is not in talks with Maduro, Guaido rep says
Opposition leader Juan Guaido has the support of the "middle and lower ranks" of the military, his US representative told CNN's Christiane Amanpour today.
"What you have seen is only a statement from the privileged elite of the army force. We have the support of the middle and lower ranks," diplomat Carlos Vecchio said.
He confirmed that Guaido's side has not had any negotiations with Maduro. 
"The only negotiation that we could have is just the exit of Maduro. The day and he hour and how," Vecchio said.
Vecchio denied that Guaido was leading a coup in Caracas, saying that he is "trying to do is restore democracy and the constitution."
"The coup has been implemented by Maduro, who is holding the power," he said.
Regarding Russia's presence in the country, he said: "Well, we have been very clear with Russians. This is a problem that has to be resolved by Venezuelans. And they cannot be part of this conflict. And they should remove all the military officers that they have in Venezuela." 
1:44 p.m. ET, April 30, 2019
These are the two men at the center of this uprising
A violent uprising is underway in Venezuela, and it could determine the country's future.
At the center of the chaos is opposition leader Juan Guaido and President Nicolás Maduro — both claim they are the country's true leader.
Here's what we know about Maduro and Guaido: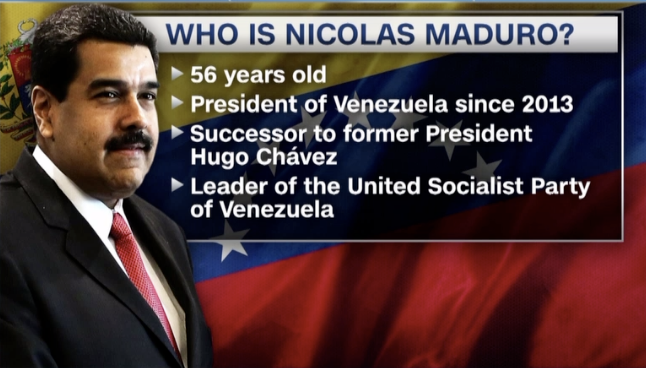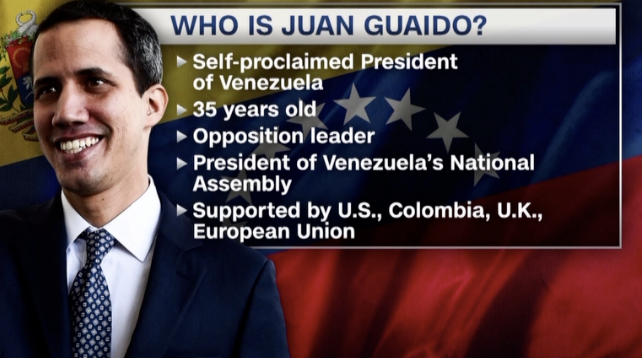 1:45 p.m. ET, April 30, 2019
Military colonel shot during clashes with opposition, minister of defense says
A military colonel was reportedly shot during clashes with the opposition on the Francisco Fajardo highway, Venezuela's Minister of Defense Vladimir Padrino tweeted.
"At the moment entering the operating room. I hold the opposition political leadership responsible," Padrino tweeted in Spanish at 12:35 p.m. ET.  
1:38 p.m. ET, April 30, 2019
Protesters chant "What do we want? Democracy!" outside Venezuelan embassy in Washington
Demonstrators gathered today outside of the Venezuelan embassy in Georgetown in Washington, DC.
Dozens of demonstrators held Venezuelan flags and posters and shouted "Venezuelans want democracy, not another Cuba." They chanted "What do we want? Democracy! When do we want it? Now!" as well as opposition leader Juan Guaido's name.
They also called on activist group Code Pink to leave the embassy, which it has occupied. The group opposes Guaido.
Some Code Pink activists stood outside and held signs saying "US hands off Venezuela." They also sang "We shall not be moved."
1:18 p.m. ET, April 30, 2019
Turkey and Cuba condemn violent uprising
Turkey and Cuba's foreign ministry leaders condemned Tuesday's attempted coup to remove Venezuelan President Nicolás Maduro.
Turkey's Foreign Minister Mevlut Cavusoglu expressed his concerns about the uprising.
"Concerned about news that there are some attempts against the constitutional order in Venezuela. Oppose attempts to change legitimate governments via non-democratic means," Cavusoglu tweeted.
He called on people to "stand in favor of settling problems in the country through dialogue. Always with the people of Venezuela."
Cuban Foreign Minister Bruno Rodriguez Parrilla tweeted that the country was standing in solidarity with Maduro.
12:59 p.m. ET, April 30, 2019
UN Secretary General urges restraint and asks all to refrain from violence
UN Secretary-General António Guterres is watching developments in Venezuela "closely and with concern," spokesperson Stephane Dujarric said.
The UN is also reaching out to the parties, Dujarric said at the noon briefing Tuesday.
Dujarric said the Secretary General urges all sides to use maximum restraint and asks all stakeholders to refrain from violence and to restore calm.
"Contacts are being had at various levels with the United Nations," concerning Venezuela, Dujarric said.