January 27 coronavirus news
2:47 a.m. ET, January 27, 2020
China's unprecedented reaction to the Wuhan virus probably couldn't be pulled off in any other country
As the world watches the developing crisis around the deadly Wuhan coronavirus, it's difficult to know how worried to be. One thing is clear, however: China is treating the matter extremely seriously.
Almost 60 million on lockdown: With the number of confirmed cases in the country approaching three thousand, and at least 80 deaths, China has placed almost 60 million people on lockdown, with full or partial travel restrictions on 15 cities across Hubei, the central Chinese province of which Wuhan is the capital.
Never been done in China before: The unprecedented scale of the response speaks in part to the sheer size of China -- 60 million people is greater than the entire population of South Korea, and Hubei spans the equivalent area as Syria. Such a lockdown has never been carried out in China before, not even during the 2003 SARS outbreak. The cost of it is staggering, not just in terms of manpower or funds, but also the economic hit Hubei will take and the knock on effect this will have on the wider Chinese economy during a sensitive period.
Powerful leadership: That China is able to pull something like this off is thanks to the ability of a centralized, powerful leadership to react in a crisis. It's also a sign of just how vital it is for that leadership not to screw up. 
Writing on Sunday, analysts Adam Ni and Yun Jiang said that the Chinese Communist Party's "prestige and legitimacy are both on the line" in how they handle the crisis. 
"Xi's prestige is likely to take a hit, putting pressure towards collective leadership instead of the paramount leader model. Centralization of power under Xi means that inevitably Xi will take the blame if things go wrong, as would he be showered with glory when things go right. This is high risk, high reward for him."
Read the full story here.
2:37 a.m. ET, January 27, 2020
US evacuation flight out of Wuhan may no longer head to San Francisco
A United States government-chartered plane is set to evacuate about three dozen US diplomats and their families from Wuhan, the epicenter of the coronavirus, on Tuesday.
But the plane may not fly to San Francisco as previously announced by the State Department, a US official with knowledge to the matter told CNN.
The flight, operated by a private charter company using a Boeing 767 with 240 seats, will land somewhere in California, the official said.
It's unclear how many non-diplomat US citizens will be aboard the flight, which will be staffed with medical personnel.
The US consulate in Wuhan, which is now closed, reached out to Americans who had registered with them and offered seats on the plane. Non-diplomat US citizens will be billed for the flight, the official said.
The city is normally a transport hub for central China, but Chinese authorities have placed Wuhan under a travel lockdown, barring all departures from the city's airport and rail stations.
A Chinese foreign ministry spokeswoman said on Sunday that after the US proposed to evacuate its citizens from the city, Beijing made arrangements, "that are consistent with our epidemic control measures" and provided "necessary assistance and convenience."
Other nations, such as Australia and India, are working on ways to repatriate their citizens from Wuhan.
2:21 a.m. ET, January 27, 2020
Here's a rundown of all the coronavirus cases in mainland China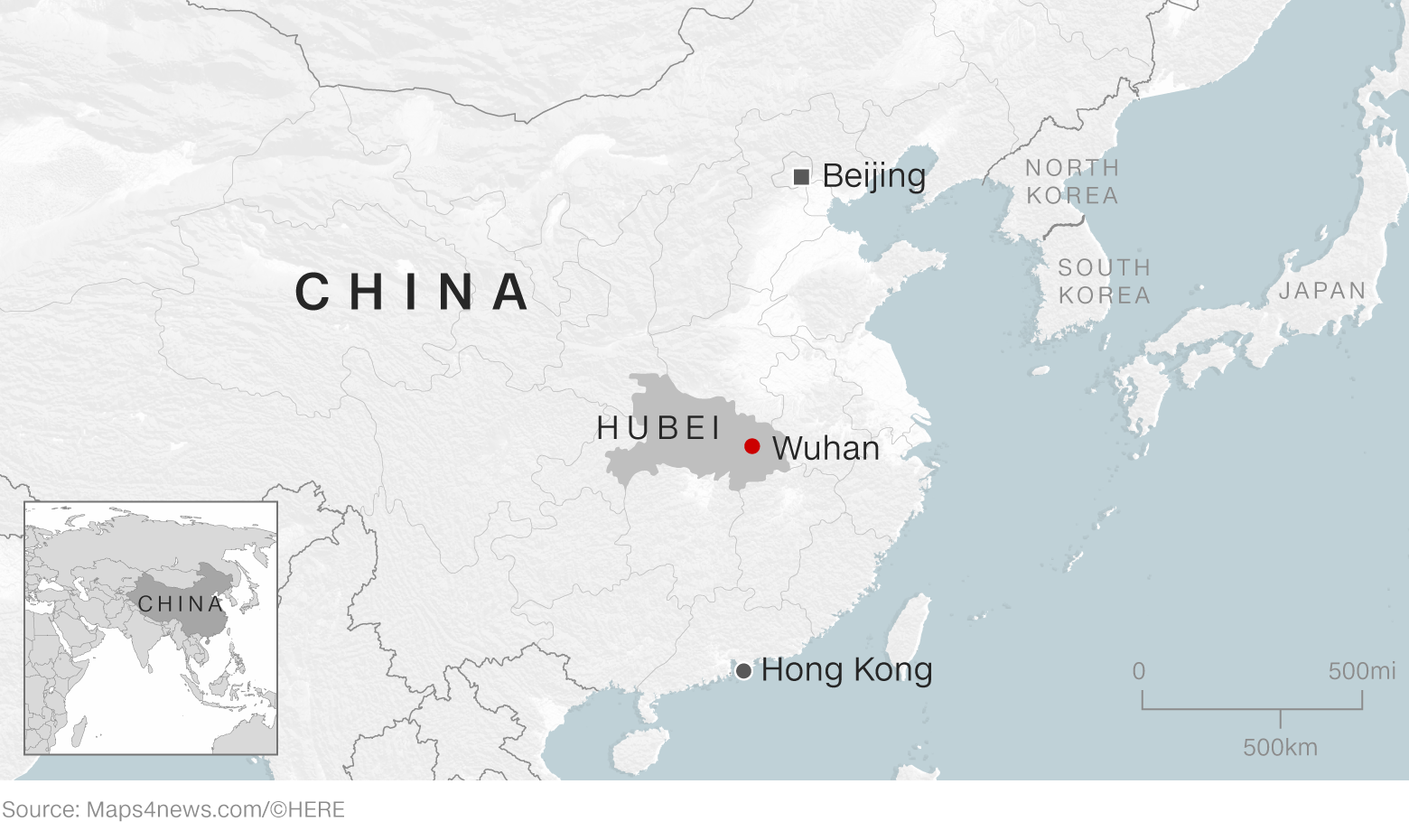 There are more than 2,700 confirmed cases of the coronavirus and 80 deaths in China.
Across China, 15 cities with a combined population of over 57 million people have been placed under full or partial lockdown.
Worldwide concern is mounting about the rate of transmission, with Chinese health officials saying the virus can be spread before any symptoms appear.
Here's a rundown of how many cases are in each Chinese province:
Hubei (includes Wuhan): 1,423, including 76 deaths
Guangdong: 146
Zhejiang: 128
Henan: 128, including 1 death
Chongqing: 110
Hunan: 100
Beijing: 68
Anhui: 70
Shandong: 63
Sichuan: 69
Shanghai: 53, including 1 death
Guangxi: 46
Jiangxi: 48
Fujian: 35
Jiangsu: 47
Hainan: 22
Shaanxi: 22
Liaoning: 22
Yunnan: 19
Heilongjiang: 21, including 1 death
Tianjin: 14
Hebei: 18, including 1 death
Shanxi: 22
Gansu: 14
Inner Mongolia: 11
Guizhou: 7
Jilin: 6
Ningxia: 4
Xinjiang: 5
Qinghai: 4
2:04 a.m. ET, January 27, 2020
How the Wuhan coronavirus affects the body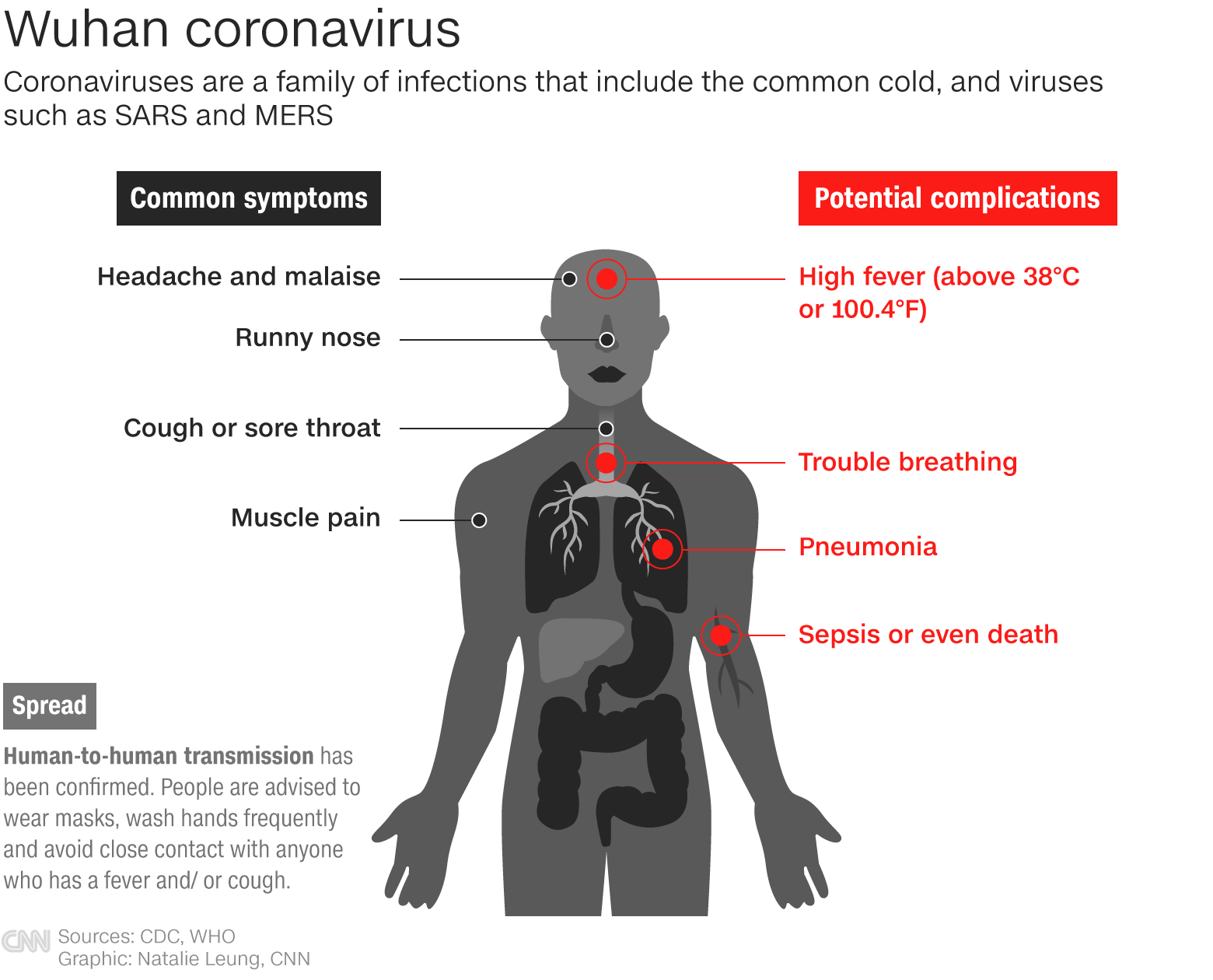 1:44 a.m. ET, January 27, 2020
Mongolia shuts schools as it goes on high alert for coronavirus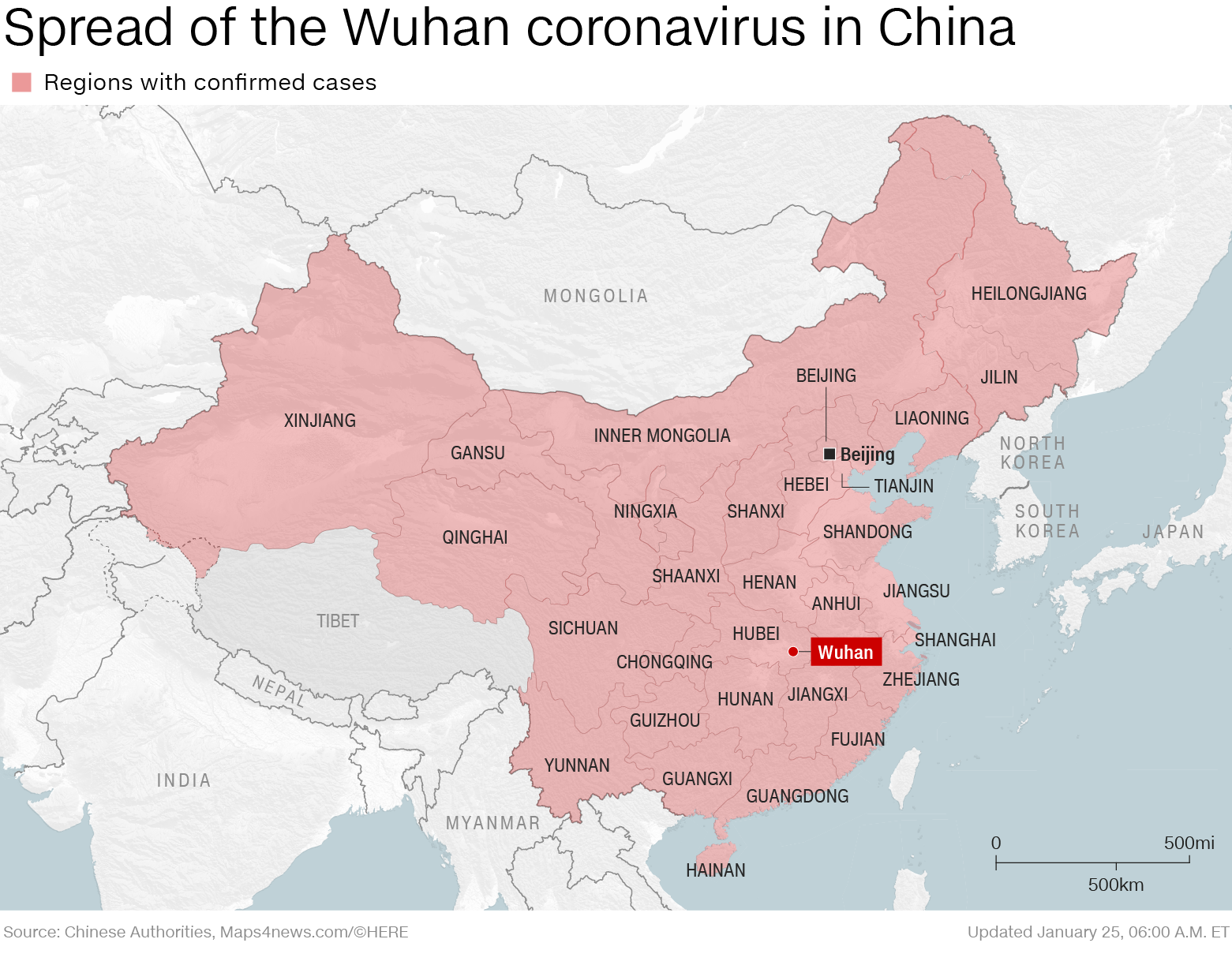 Mongolia will close its schools from January 27 until March 2 as a preventative measure against the Wuhan coronavirus, state news agency Montsame reported
There are no reported cases in Mongolia, but the country is considered to be at high risk of the virus spreading there as it borders China, where the coronavirus originated.
Mongolian officials are on high alert in case the virus spreads.
The Chinese autonomous region of Inner Mongolia, which runs along Mongolia's southern border, reported its first confirmed case of coronavirus last week.
There are now confirmed cases in every Chinese province, except the remote autonomous region of Tibet.
The ruling in Mongolia followed a cabinet meeting on Sunday to discuss preventative safety measures. 
The cabinet also ordered public gatherings be cancelled and that border crossings for "auto vehicles and pedestrian traffic" be cancelled starting Monday.
The agency also reports that 31 Mongolia students in Wuhan will be repatriated on Monday.
1:28 a.m. ET, January 27, 2020
Australia confirms fifth case of coronavirus
Five people in Australia have now been confirmed to have the Wuhan coronavirus, the Department of Health said in a statement Monday.
The latest patient to be infected with the respiratory virus in the country is a 21-year-old woman who flew into Sydney on the last flight from Wuhan last week, CNN affiliate Nine News reports.
The deadly virus was first identified in Hubei province's Wuhan in December and since then it has infected at least 2,700 people and killed 80 in mainland China.
The woman in Australia developed symptoms 24 hours after arriving back into Sydney on Thursday, health officials said. When they worsened, she went to the emergency department.
"We were alerted the testing was done, the patient was immediately put into isolation in a home isolation setting, and then once the diagnosis was confirmed, the patient has just been transported to Westmead Hospital," New South Wales Chief Health Officer, Dr. Kerry Chant said, according to Nine News.
On Monday, Australia's Health Minister said the country was working on ways to repatriate its citizens from Wuhan, including 100 "young Australians."
1:11 a.m. ET, January 27, 2020
Video game company urges players to avoid Plague Inc. game for information on coronavirus
The popularity of a video game that teaches players about how diseases spread has grown sharply amid concerns about the spread of coronavirus. Now, the company is warning people to seek information on the disease from official sources, rather than relying on its game, Plague Inc. 
"The current coronavirus outbreak is a very real situation which is impacting a huge number of people," Ndemic Creations, the maker of the game, said in a statement last week. "We would always recommend that players get their information directly from local and global health authorities."
The company said it often sees a surge in new users amid new disease outbreaks, as people try to better understand how diseases operate and spread. 
Plague Inc. is an app and online video game developed by Ndemic Creations where players become a disease and aim to infect the world by developing new means of transmission and symptoms — countering countries closing their borders, news reports about the disease and scientists trying to develop cures.
The company said in its statement that the game was designed to be "realistic and informative, while not sensationalizing serious real-world issues." However, it pointed out that the game is not a "scientific model" and should not be relied upon for information about coronavirus.
Read more on that here.
12:59 a.m. ET, January 27, 2020
Shanghai manufacturer of coronavirus test kits says it has enough supplies
A Shanghai manufacturer says it is fully equipped to ensure sufficient supply of Wuhan coronavirus test kits to meet nationwide demand, according to state media CCTV.
The factory, belonging to Shanghai ZJ Bio Tech, is capable of producing 8,000 boxes per day and has raw materials in stock to make tests kits for two million people, CCTV reports.
Chinese state media is also reporting that there are more than 1,000 hospitals nationwide that have laboratories capable of preforming tests to identify the Wuhan coronavirus.
12:46 a.m. ET, January 27, 2020
Nurse from Wuhan hospital tells CNN at least a dozen medical staff infected with virus
A nurse from the Central Hospital of Wuhan tells CNN at least a dozen medical staff from the facility are infected with the Wuhan coronavirus.
"Some are being given emergency treatment. Those who have milder symptoms have been sent home with medication," the nurse, who spoke on the condition of anonymity told CNN Sunday.
The nurse said she has also contracted the virus and that her symptoms were relatively mild. She was discharged and told to isolate herself while recuperating at home. The nurse said she is more than happy to be out of the hospital where she believes the virus is endemic.  
"The concentration of the virus in the hospital is so great," the nurse said via the Chinese instant messaging app WeChat.
Her account comes as Beijing said it would deploy another 1,600 medical professionals to Wuhan to help the city cope with the growing number of coronavirus patients, Chinese Health Minister Ma Xiaowei said in a rare Sunday news conference. 
Another 1,000 workers are on standby, Ma said.
Authorities acknowledged that Wuhan, a city 11 million people and ground zero of the outbreak, and much of Hubei province are facing manpower and medical supply shortages. 
Healthcare workers in Wuhan, including four who spoke to CNN on the phone, have complained of being overstretched and lacking resources to combat the crisis. 
"In terms of resources, the whole of Wuhan is lacking," one Wuhan-based healthcare worker told CNN by phone. The person said they were looking for more protective clothing, protective goggles and masks.  
At the news conference Sunday, Wang Jiangping, the vice minister of of industry and information technology, said Hubei needs about 100,000 protective medical suits per day -- but the 40 factories across the country making them only produce 30,000 daily.
Wang said authorities are now trying to get factories to resume production -- most would have closed for the Lunar New Year holiday -- and requisition factories that make the suits for export.