January 27 coronavirus news
2:04 a.m. ET, January 27, 2020
How the Wuhan coronavirus affects the body
From CNN's Natalie Leung in Hong Kong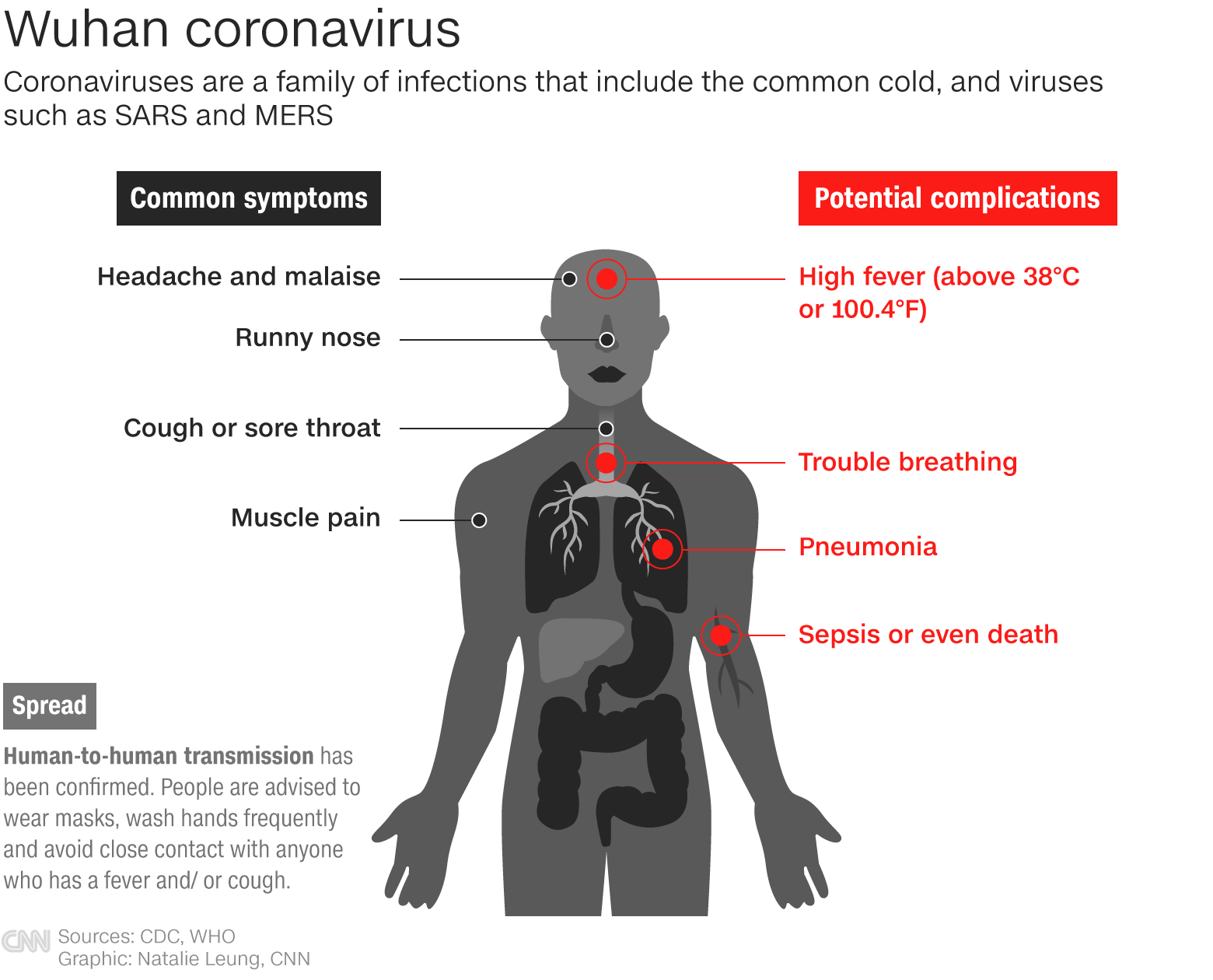 1:44 a.m. ET, January 27, 2020
Mongolia shuts schools as it goes on high alert for coronavirus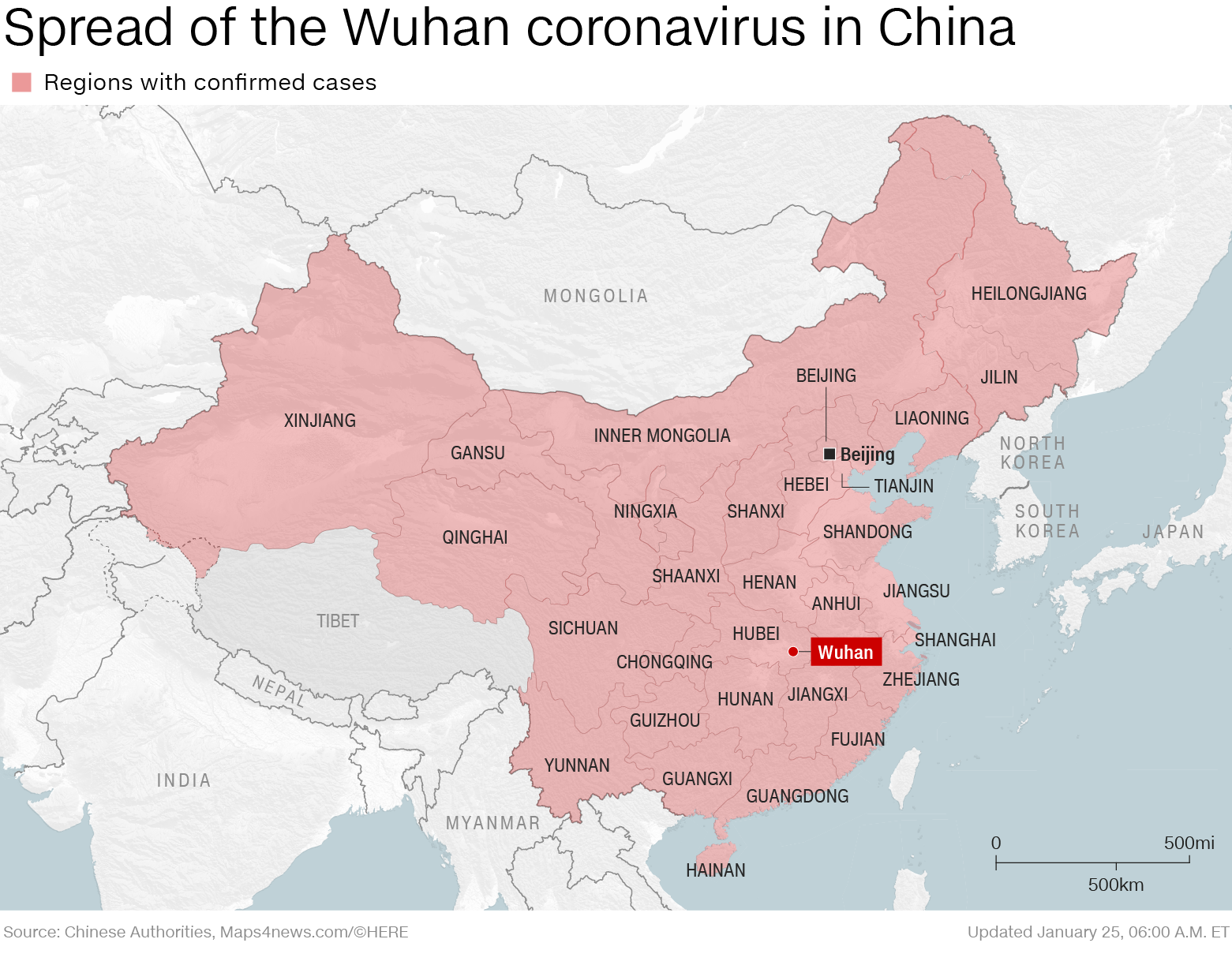 Mongolia will close its schools from January 27 until March 2 as a preventative measure against the Wuhan coronavirus, state news agency Montsame reported
There are no reported cases in Mongolia, but the country is considered to be at high risk of the virus spreading there as it borders China, where the coronavirus originated.
Mongolian officials are on high alert in case the virus spreads.
The Chinese autonomous region of Inner Mongolia, which runs along Mongolia's southern border, reported its first confirmed case of coronavirus last week.
There are now confirmed cases in every Chinese province, except the remote autonomous region of Tibet.
The ruling in Mongolia followed a cabinet meeting on Sunday to discuss preventative safety measures. 
The cabinet also ordered public gatherings be cancelled and that border crossings for "auto vehicles and pedestrian traffic" be cancelled starting Monday.
The agency also reports that 31 Mongolia students in Wuhan will be repatriated on Monday.
1:28 a.m. ET, January 27, 2020
Australia confirms fifth case of coronavirus
Five people in Australia have now been confirmed to have the Wuhan coronavirus, the Department of Health said in a statement Monday.
The latest patient to be infected with the respiratory virus in the country is a 21-year-old woman who flew into Sydney on the last flight from Wuhan last week, CNN affiliate Nine News reports.
The deadly virus was first identified in Hubei province's Wuhan in December and since then it has infected at least 2,700 people and killed 80 in mainland China.
The woman in Australia developed symptoms 24 hours after arriving back into Sydney on Thursday, health officials said. When they worsened, she went to the emergency department.
"We were alerted the testing was done, the patient was immediately put into isolation in a home isolation setting, and then once the diagnosis was confirmed, the patient has just been transported to Westmead Hospital," New South Wales Chief Health Officer, Dr. Kerry Chant said, according to Nine News.
On Monday, Australia's Health Minister said the country was working on ways to repatriate its citizens from Wuhan, including 100 "young Australians."
1:11 a.m. ET, January 27, 2020
Video game company urges players to avoid Plague Inc. game for information on coronavirus
From CNN's Clare Duffy
The popularity of a video game that teaches players about how diseases spread has grown sharply amid concerns about the spread of coronavirus. Now, the company is warning people to seek information on the disease from official sources, rather than relying on its game, Plague Inc. 
"The current coronavirus outbreak is a very real situation which is impacting a huge number of people," Ndemic Creations, the maker of the game, said in a statement last week. "We would always recommend that players get their information directly from local and global health authorities."
The company said it often sees a surge in new users amid new disease outbreaks, as people try to better understand how diseases operate and spread. 
Plague Inc. is an app and online video game developed by Ndemic Creations where players become a disease and aim to infect the world by developing new means of transmission and symptoms — countering countries closing their borders, news reports about the disease and scientists trying to develop cures.
The company said in its statement that the game was designed to be "realistic and informative, while not sensationalizing serious real-world issues." However, it pointed out that the game is not a "scientific model" and should not be relied upon for information about coronavirus.
Read more on that here.
12:59 a.m. ET, January 27, 2020
Shanghai manufacturer of coronavirus test kits says it has enough supplies
From journalist Alex Lin in Hong Kong
A Shanghai manufacturer says it is fully equipped to ensure sufficient supply of Wuhan coronavirus test kits to meet nationwide demand, according to state media CCTV.
The factory, belonging to Shanghai ZJ Bio Tech, is capable of producing 8,000 boxes per day and has raw materials in stock to make tests kits for two million people, CCTV reports.
Chinese state media is also reporting that there are more than 1,000 hospitals nationwide that have laboratories capable of preforming tests to identify the Wuhan coronavirus.
12:46 a.m. ET, January 27, 2020
Nurse from Wuhan hospital tells CNN at least a dozen medical staff infected with virus
From CNN's Natalie Thomas in Beijing
A nurse from the Central Hospital of Wuhan tells CNN at least a dozen medical staff from the facility are infected with the Wuhan coronavirus.
"Some are being given emergency treatment. Those who have milder symptoms have been sent home with medication," the nurse, who spoke on the condition of anonymity told CNN Sunday.
The nurse said she has also contracted the virus and that her symptoms were relatively mild. She was discharged and told to isolate herself while recuperating at home. The nurse said she is more than happy to be out of the hospital where she believes the virus is endemic.  
"The concentration of the virus in the hospital is so great," the nurse said via the Chinese instant messaging app WeChat.
Her account comes as Beijing said it would deploy another 1,600 medical professionals to Wuhan to help the city cope with the growing number of coronavirus patients, Chinese Health Minister Ma Xiaowei said in a rare Sunday news conference. 
Another 1,000 workers are on standby, Ma said.
Authorities acknowledged that Wuhan, a city 11 million people and ground zero of the outbreak, and much of Hubei province are facing manpower and medical supply shortages. 
Healthcare workers in Wuhan, including four who spoke to CNN on the phone, have complained of being overstretched and lacking resources to combat the crisis. 
"In terms of resources, the whole of Wuhan is lacking," one Wuhan-based healthcare worker told CNN by phone. The person said they were looking for more protective clothing, protective goggles and masks.  
At the news conference Sunday, Wang Jiangping, the vice minister of of industry and information technology, said Hubei needs about 100,000 protective medical suits per day -- but the 40 factories across the country making them only produce 30,000 daily.
Wang said authorities are now trying to get factories to resume production -- most would have closed for the Lunar New Year holiday -- and requisition factories that make the suits for export.
12:33 a.m. ET, January 27, 2020
Dow futures tumble on fifth US case of coronavirus
From CNN Business's Rob McLean
US stock futures dropped sharply Sunday night as fears of the coronavirus grew.
Dow futures fell by as much as 300 points, and were last down about 200 points. S&P 500 (INX) futures were down about 0.8% and Nasdaq futures were lower by about 1.1%.
In Tokyo, the Nikkei 225 was last down 1.7%. It is the only major stock market in Asia open Monday due to the Lunar New Year.
The Dow closed down 0.6% on Friday —its worst day of the year. Also Friday, the S&P 500 had its worst day since early October, while the Nasdaq had its lowest close since early December.
Read more on that here.
12:26 a.m. ET, January 27, 2020
Most Wuhan coronavirus transmissions from "close range droplet transmission." Here's how to protect yourself
From CNN's Alexandra Lin and Holly Yan
The major transmission mode of the Wuhan coronavirus is through "close range droplet transmission," Feng Luzhao, researcher from the Chinese Disease Prevention and Control Center, said at Monday's press conference by the National Health Commission.
His comments suggest that most people have contracted the virus by being in close contact with an infected person.
Droplet transmission is when a virus is passed on due to an infected person sneezing or coughing, and another comes into contact with those infected particles.
Feng said that, "people should avoid going out, especially going to crowded areas."  
According to a how-to guide published by Chinese Disease Prevention and Control Center, the public is advised to reduce visiting families during Lunar New Year, stay home and rest, and avoid going to crowded public areas, especially those with less air flow such as theaters, internet cafes, KTV (karaoke), and shopping centers.
With more cases of the Wuhan coronavirus confirmed outside mainland China, here's how can you minimize your risk of getting infected.
Avoid close contact with anyone showing symptoms of respiratory illness, such as coughing and sneezing, the World Health Organization says. Other symptoms of this coronavirus include fever and shortness of breath. Severe cases can lead to pneumonia, kidney failure and even death.
Cook food thoroughly: Scientists believe this coronavirus started in another animal and then spread to humans. So health officials recommend cooking meat and eggs thoroughly.
Avoid live animal markets: Anyone with underlying medical conditions should avoid live animal markets and raw meats altogether, since those people are "considered at higher risk of severe disease," the World Health Organization says.
Wash hands: Wash your hands often with soap and water for at least 20 seconds.
Cover mouth and nose: If you're the one feeling sick, cover your mouth and nose when you cough or sneeze, and disinfect the objects and surfaces you touch.
Wear a mask: If you or your doctor suspect you might have the Wuhan coronavirus, the CDC advises wearing a surgical mask.
Common sense: In general, the public should do "what you do every cold and flu season," said Dr. John Wiesman, the health secretary in Washington state -- where the first US case of Wuhan coronavirus was confirmed.
12:16 a.m. ET, January 27, 2020
Chinese officials call for those who were in Wuhan to self-quarantine and report to "community leaders"
Chinese officials have called on anyone who was in Wuhan in the last 14 days to self-quarantine and report to community leaders in order to prevent the spread of the coronavirus, according to an expert speaking at the Chinese National Health Commission press conference on Monday.
There are no official figures on the number of people who have visited, or passed through the city since the outbreak was first identified in mid-December.
However, the number is likely to be large. Wuhan, which is home to an estimated 11 million people, is one of China's most important cities.
Located on the confluence of the Yangtze River and its largest tributary, the Han River, it is considered the political and economic capital of central China.
It's also a major travel hub.
In addition to conventional railway networks, Wuhan is one of the stops on two of the main long-haul high-speed railway lines: Beijing-Guangzhou (from north to south) and Shanghai-Chengdu high-speed railway (from east to west).
It's also home to one of just four major train maintenance centers in the country.
The city's international airport is the only airport in the mid-China region to have direct flights to five different continents.
According to data from aviation website Flightconnections.com, Wuhan Airport services non-stop scheduled passenger flights to 109 destinations in 20 countries. These include major cities like London, Moscow, Paris, Rome, New York, San Francisco, Bangkok, Tokyo and Seoul.
The airport's passenger throughput in 2018 exceeded 24 million and was expected to hit 29 million in 2019.