January 28 coronavirus news
5:01 a.m. ET, January 28, 2020
Countries are sending planes to Wuhan to evacuate their citizens
As coronavirus cases continue to rise in Wuhan and wider Hubei province, several countries are taking action to repatriate their citizens in the affected areas.
Here are the countries planning or preparing to evacuate citizens:
The US: About 240 Americans being evacuated from Wuhan Wednesday morning local time will arrive in Anchorage, Alaska, before arriving in Ontario, California. About three dozen Wuhan-based US diplomats and their families are also expected to be on board, a US official with knowledge of the matter told CNN.
Japan: Japan is sending a charter flight to Wuhan tonight to retrieve about 200 citizens on Tuesday night local. It will leave Wuhan Wednesday morning and will arrive in Tokyo by midday local time. Roughly 650 Japanese citizens have requested to return to Japan, and the government will send more flights from Wednesday onwards.
Australia: Australia's health minister said yesterday he was working with the Chinese Foreign Minister to repatriate Australian citizens in Wuhan, including 100 "young Australians."
India: The Indian government is looking for "possible travel options out of Hubei province" for citizens in Wuhan, said a government spokesperson on Sunday. This comes after reports of 56 Indian students at the Wuhan University School Of Medicine who had been trapped in Wuhan since the lockdown.
South Korea: Four charter planes will evacuate South Korean citizens from Wuhan, said a government spokesperson today. Almost 700 South Korean citizens have applied to take the flight out.
France: A plane will fly French citizens back from Wuhan to France sometime this week, said the French Health Minister on said Sunday. There are around 800 French citizens in Wuhan.
United Kingdom: The UK is "looking at all the options" to help Britons trapped in Wuhan, said the UK Home Secretary after being asked about the possibility of evacuation flights.
4:52 a.m. ET, January 28, 2020
Wuhan coronavirus: View from the street
At a bus station near the border between Hong Kong and Shenzhen, in mainland China, some residents tell CNN they are concerned about the spread of the Wuhan coronavirus.
"I'm worried. If they close (the border) now it's too late. If they have (the virus) it is already in Hong Kong," said Chan Moon, 38, a property agent.
"Hong Kong is small and congested, if the virus breaks out -- I'm worried that it will be like SARS."
SARS, or severe acute respiratory syndrome, was a coronavirus identified in southern China that infected 8,000 people and killed more than 700 between 2002 and 2003.
Ms Chow, 55, who was traveling from the border at Lo Wu to her home in Sheung Shui, in Hong Kong's New Territories, said that she had to go through automatic checks at the border and had filled in a health declaration form.
Later on Tuesday, Hong Kong Chief Executive Carrie Lam said the government will "temporarily" close some of its borders with mainland China, cut flights from the mainland and suspend cross-border ferry services, in an effort to curb the spread of the virus.
4:42 a.m. ET, January 28, 2020
Last year Carrie Lam banned face masks. Now, she's wearing one in a press conference
Hong Kong Chief Executive Carrie Lam arrived at press conference today wearing a surgical face mask, alongside several other members of her senior team.
Just a few months ago, the sight of government officials wearing masks would have been unthinkable -- for a very different reason.
Today's press conference, and the officials' decision to wear masks, come as the Hong Kong government look to step up efforts to enforce better public health measures.
As of today, there are eight confirmed cases of the coronavirus in Hong Kong. At the press conference, Lam announced additional measures including restricted travel across the Chinese border.
Masks in a different context: But a little over three months ago, in early October, Lam had invoked colonial-era emergency powers to ban people from wearing face masks in public assemblies as anti-government, pro-democracy protests rocked the city.
Protesters often wore face masks, as well as helmets and goggles, to obscure their identity and protect against tear gas when battling riot police on the streets.
For the entire second half of 2019, face masks were a symbol of the city's political crisis, and a statement on where you stood. When Lam announced the face mask ban, she said it would help "stop violence and restore calm to society," and act as a deterrent for protesters.
5:11 a.m. ET, January 28, 2020
Hong Kong to temporarily close some of its borders with mainland China
Hong Kong's Chief Executive Carrie Lam said Tuesday that the government will "temporarily" close some of its borders with mainland China and travel permits to mainland Chinese tourists will stop being issued.
Border crossings: Four land border will close from midnight local time on Thursday January 30 "until further notice," Lam said.
That means people will not be able to travel between Hong Kong and the mainland using the West Kowloon Station, Hung Hom, Sha Tau Kok and Man Kam To.
Two water borders -- the Tuen Mun Ferry Terminal and the China Ferry Terminal -- will also be shut.
Planes: Flights from mainland China will decrease by 50%.
Trains: Lam said that cross border train services from West Kowloon -- which operates the high speed rail to the mainland -- and Hung Hom station will be temporarily stopped.
Ferries: All cross-border ferry services will be stopped, apart from ferries to Macao.
Buses and coaches: Bus and coach services coming from the mainland will also be decreased, Lam said.
Cross-boundary coach services at the Hong Kong-Zuhai-Macau Bridge will be suspended.
Visas: Lam said that after consulting with Chinese authorities, individual travel permits for mainland tourists will be stopped.
4:19 a.m. ET, January 28, 2020
The US Centers for Disease Control is monitoring for Wuhan coronavirus at 20 US airports
The US Centers for Disease Control is monitoring for symptoms of the Wuhan coronavirus at 20 US airports, the agency said on its website Monday.
The CDC had previously announced enhanced screening of passengers from Wuhan, China, at five airports:
John F. Kennedy International Airport in New York
San Francisco International Airport
Los Angeles International Airport
Chicago's O'Hare International Airport
Hartsfield-Jackson Atlanta International Airport
The move to monitor more airports comes as the coronavirus continues to spread and the State Department prepares to evacuate US government personnel and private American citizens from Wuhan, the epicenter of the outbreak.
The US State Department on Monday ordered personnel working at the US Consulate General in Wuhan to depart for the United States, a State Department official told CNN in a statement.
Read the full story here.
4:12 a.m. ET, January 28, 2020
Here's how to protect yourself from the Wuhan coronavirus
With more cases of the Wuhan coronavirus confirmed outside mainland China, here's how can you minimize your risk of getting infected.
Avoid close contact with anyone showing symptoms of respiratory illness, such as coughing and sneezing, the World Health Organization says. Other symptoms of this coronavirus include fever and shortness of breath. Severe cases can lead to pneumonia, kidney failure and even death.
Cook food thoroughly: Scientists believe this coronavirus started in another animal and then spread to humans. So health officials recommend cooking meat and eggs thoroughly.
Avoid live animal markets: Anyone with underlying medical conditions should avoid live animal markets and raw meats altogether, since those people are "considered at higher risk of severe disease," the World Health Organization says.
Wash hands: Wash your hands often with soap and water for at least 20 seconds.
Cover mouth and nose: If you're the one feeling sick, cover your mouth and nose when you cough or sneeze, and disinfect the objects and surfaces you touch.
Wear a mask: If you or your doctor suspect you might have the Wuhan coronavirus, the CDC advises wearing a surgical mask.
Common sense: In general, the public should do "what you do every cold and flu season," said Dr. John Wiesman, the health secretary in Washington state -- where the first US case of Wuhan coronavirus was confirmed.
4:03 a.m. ET, January 28, 2020
Australian students returning from China asked to stay away from school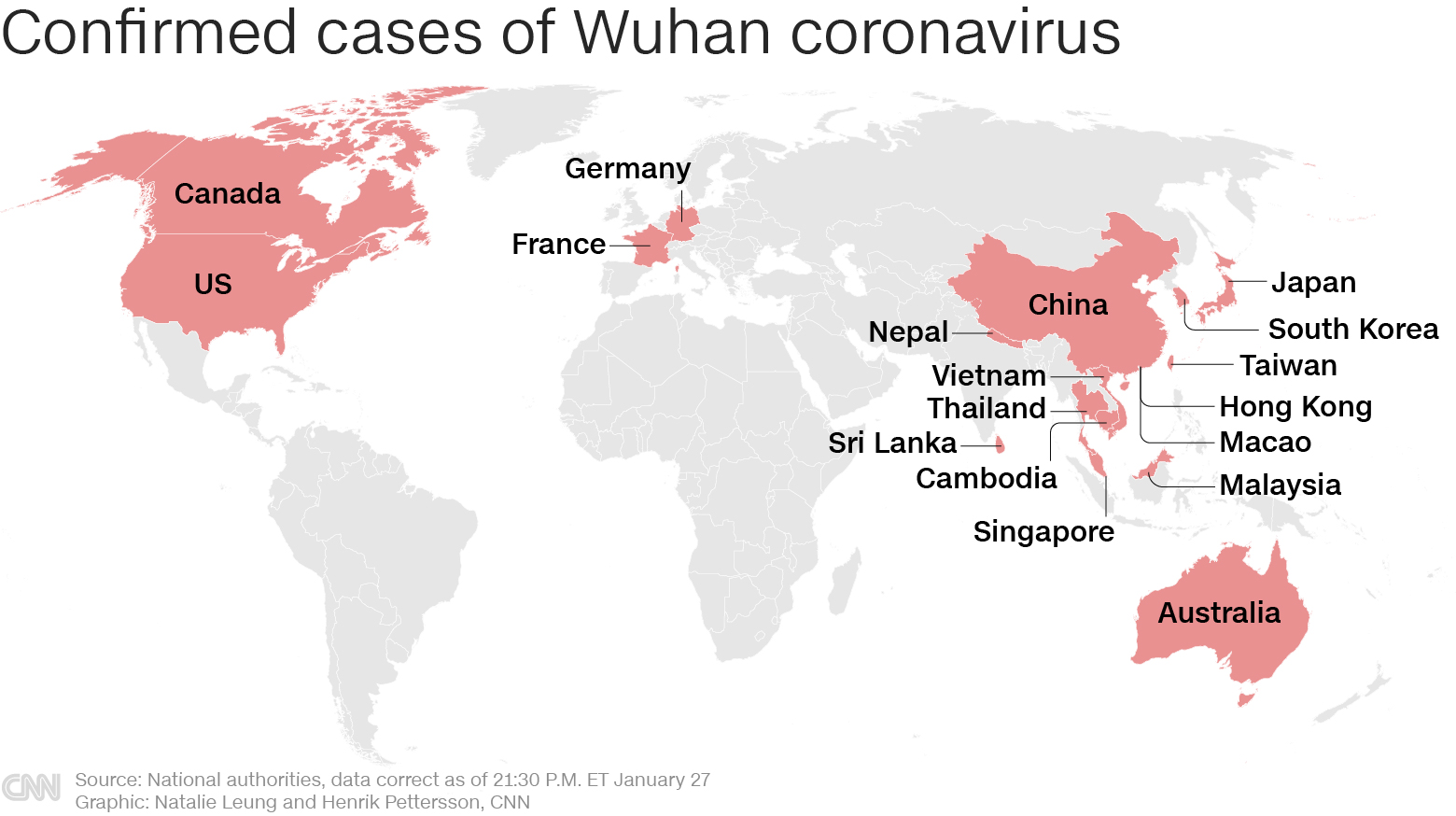 An Australian state government is asking students who have recently returned from China not to come back to school for 14 days amid concerns over the spread of the Wuhan coronavirus.
Australia has five confirmed cases of the virus.
The guidance from the New South Wales health department comes as most students in the state -- which includes the city of Sydney -- are due to return to school tomorrow after their summer holiday, according to CNN affiliate Nine News.
"We will be asking parents who may have holidayed with their children… if they have not yet been out of China for 14 days, then we're going to ask those parents, I stress 'ask those parents', to do what everybody else has been doing so well in this difficult time, and that is to support the community by holding back your children from going to each one of those facilities," NSW Health Minister, Brad Hazzard said, according to Nine News.
It is understood that the incubation period for the Wuhan coronavirus is 14 days.
"It is impossible to rule out the disease in the incubation period. So we urge people without symptoms, there is no use in going to your doctor or going to an emergency department for somehow a clearance. We cannot reassure you," NSW Chief Health Officer Dr. Kerry Chant said, Nine News reported.
3:59 a.m. ET, January 28, 2020
How the Wuhan coronavirus affects the body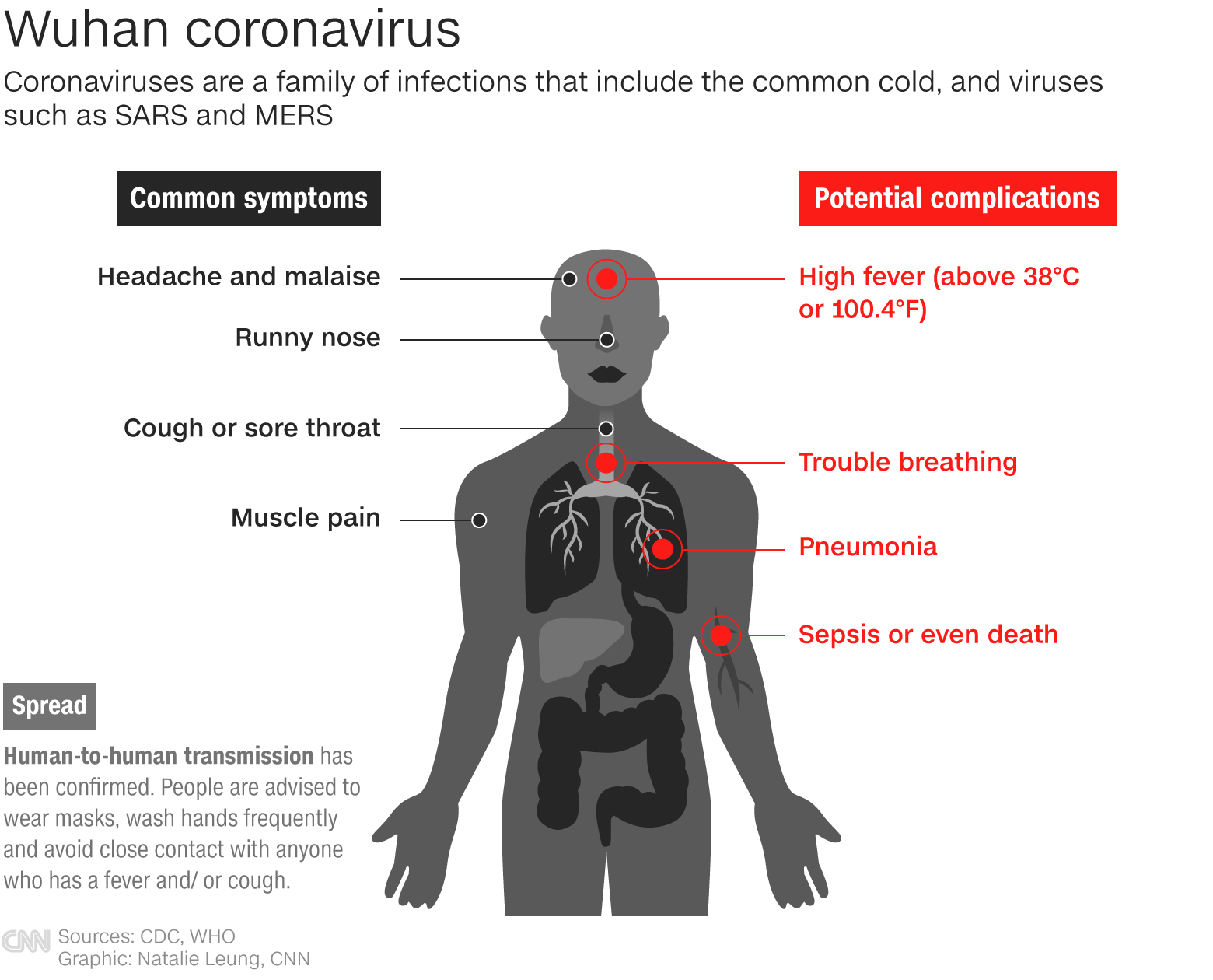 3:54 a.m. ET, January 28, 2020
About 240 Americans to be evacuated from Wuhan on Wednesday
A California-bound flight chartered by the US State Department is scheduled to depart Wuhan Tianhe International Airport on Wednesday morning local time, a State Department official told CNN.
Stopping to refuel: The plane will stop to refuel at Ted Stevens International Airport in Anchorage, Alaska, before arriving in Ontario, California, about 35 miles east of downtown Los Angeles.
Who's on board: About 240 Americans are expected to arrive in Anchorage, Alaska Department of Health and Social Services spokesman Clinton Bennett said. About three dozen US diplomats and their families are also expected to be on board, a US official with knowledge of the matter told CNN Saturday.
Priority has also been given to US citizens who are "most at risk for contracting coronavirus" if they stay in city, the State Department official said. There are about 1,000 Americans living in Wuhan. 
"All passengers will be subject to CDC screening, health observation, and monitoring requirements," the State Department said in a statement. 
How Ontario is preparing: Ontario Airport said in a statement Monday it has been working closely with federal, state, county and city partners to prepare for the arrival of the Wuhan flight. The airport has "conducted extensive training in managing situations such as this" and health, safety and security preparations are underway ahead of the flight's planned arrival, the statement read. 
Ontario Airport will operate under normal operations during the flight's arrival, and the facility is taking steps to minimize risk to other travelers, staff, and the community, the statement read.
Read the full story here.