January 28 coronavirus news
8:29 a.m. ET, January 28, 2020
Coronavirus outbreak is a "demon" -- Xi Jinping
Chinese President Xi Jinping said the coronavirus epidemic is a "demon" that will not be allowed to hide, according to remarks carried by state-run television network CCTV.
Xi met World Health Organization Director General Tedros Adhanom in Beijing on Tuesday. China's president insisted his government has been releasing epidemic information in a "transparent and responsible manner."
"The Chinese people are engaging in a serious battle against the outbreak of the new coronavirus pneumonia. People's lives and health are always the first priority for the Chinese government, and the prevention and control of the epidemic is the most important task at present, so I have been directing and deploying the works myself," Xi said in the televised remarks.
"I believe as long as we can strengthen our confidence, stand together, scientifically prevent and control the epidemic, and adopt precise measures, we will definitely defeat this epidemic," he added.
8:04 a.m. ET, January 28, 2020
France will begin repatriation from Wuhan on Thursday
France will send a plane to evacuate French citizens back from Wuhan, French Health Minister Agnès Buzyn said Tuesday.
The aircraft will land in the Chinese city Thursday and will return either Friday or early Saturday, Buzyn said.
Deputy transport minister Jean-Baptiste Djebbari told French television channel CNews the first flight is expected to take passengers who do not have symptoms of the virus, and a second flight carrying French nationals who may be carrying the virus is also being planned.
On Friday, France was the first European country to confirm cases of the Wuhan coronavirus with one patient hospitalized in Paris and another in Bordeaux.
All three contracted the virus in China, according to the head of France's health department, Jerome Salomon.
7:15 a.m. ET, January 28, 2020
What you need to know about the coronavirus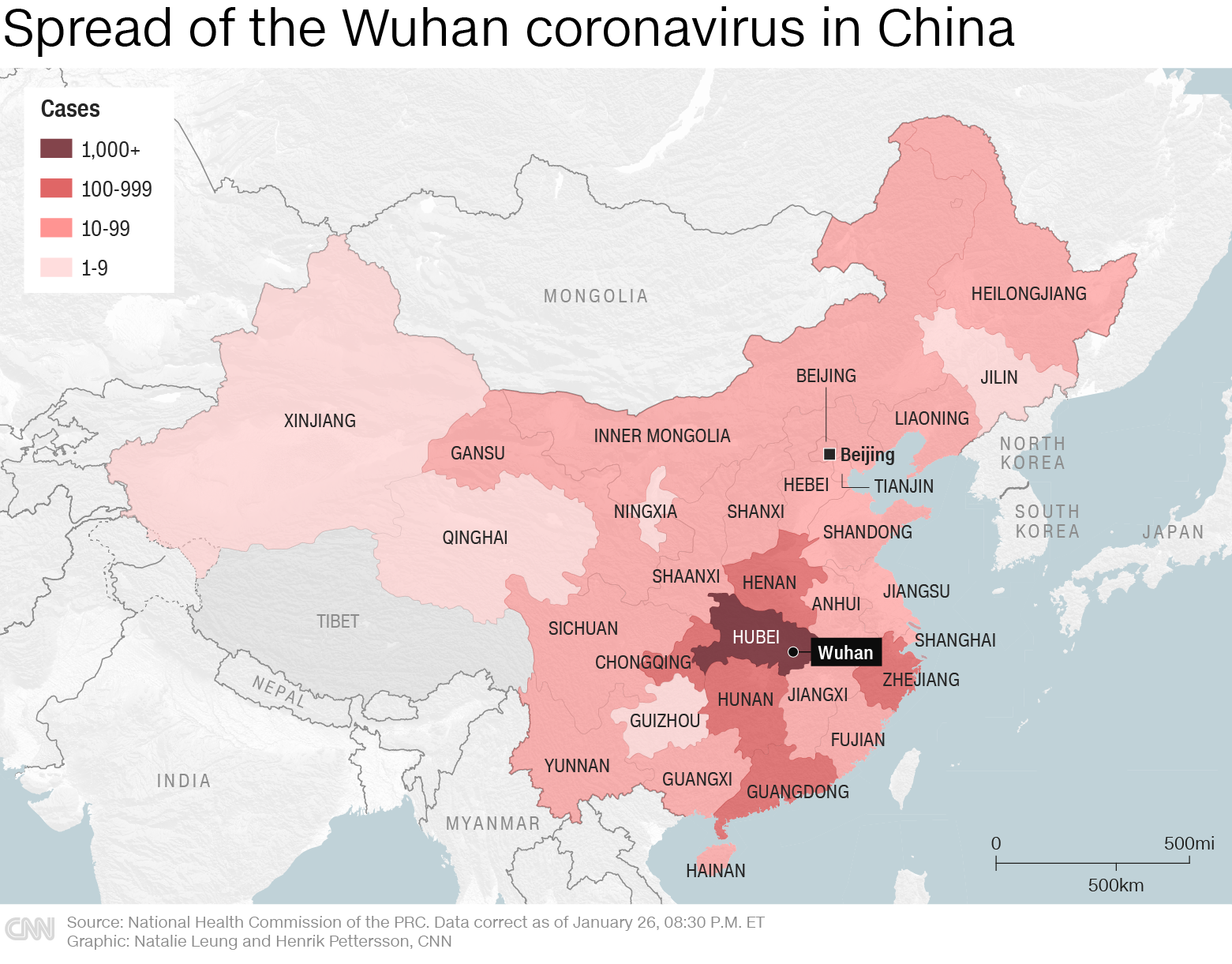 The death toll from the Wuhan coronavirus has topped 100, and authorities in China and across the world are working to contain the disease.
If you're just joining us, here's the latest:
The casualties: 106 people have died, all in mainland China. There are more than 4,515 confirmed cases across the country, and 70 confirmed cases outside China, including the US, Australia, France and Germany.
Accelerating spread: The virus appears to be spreading rapidly -- there was a 65% jump in reported cases in mainland China in just one day. Germany and Japan have both confirmed cases of patients who tested positive for coronavirus, but who did not visit Wuhan themselves. 
China's response: Some 60 million people are under travel restrictions in Hubei province. The provincial capital, Wuhan, is under almost complete lockdown, with no movement in or out. In several cities, businesses and schools have been closed for the next few weeks.
Hospitals under strain: Hospital staff in Hubei province are struggling to cope with the number of patients, and supplies are running low. China has deployed 1,800 more medical personnel to the province to help.
Global response: Numerous countries, including the US, have stepped up airport screenings and warned their citizens not to travel to China. Some countries, including Indonesia and the Philippines, have restricted Chinese tourists. Others have begun to plan for the evacuation of their citizens from Wuhan. Hong Kong is to stop issuing individual travel permits for travelers from mainland China.
Race to contain virus: Chinese and international scientists are studying the virus, tracking its origin and working on a vaccine -- but it could take months for clinical trials to begin and more than a year before any such drug becomes available.
6:44 a.m. ET, January 28, 2020
Hong Kong to stop issuing individual travel permits for mainland China travelers
The Hong Kong government will stop issuing individual travel permits for travelers from mainland China, Hong Kong Chief Executive Carrie Lam announced at a press conference on Tuesday.
Individual travel permits allow residents of 49 cities on the mainland to "visit Hong Kong in their individual capacity."  
The latest announcement comes as part of Hong Kong's efforts to curb the spread of the virus.
On Saturday, the China Association of Travel Services reported that all tours, including international ones, would be suspended starting Monday. China also stopped domestic group and packaged tours last Friday.
5:55 a.m. ET, January 28, 2020
Wuhan coronavirus has a rising death toll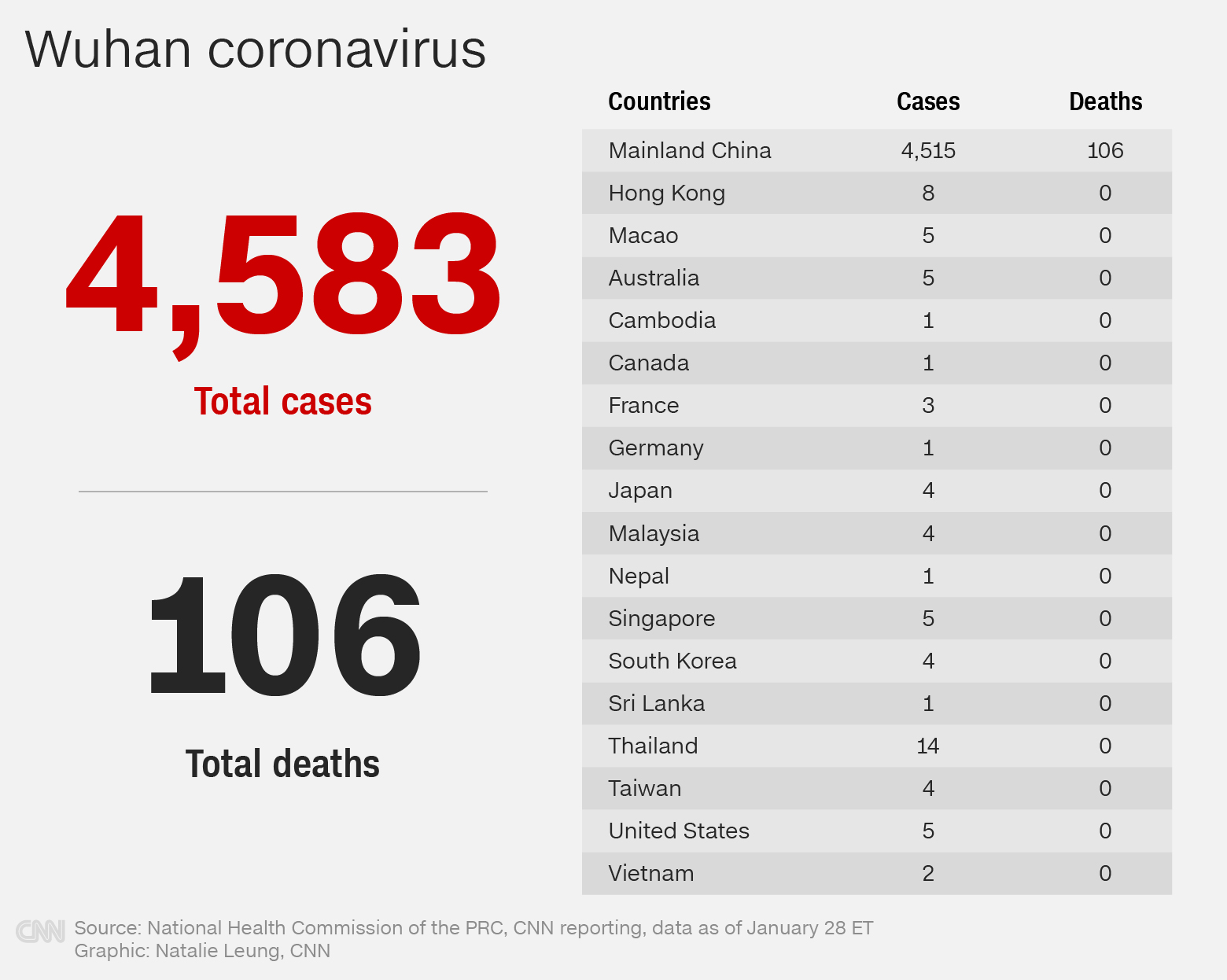 The death toll from the outbreak has now topped 100, with more than 4,500 cases in mainland China.
Authorities in Hubei, the Chinese province at the center of the outbreak, earlier said an additional 1,300 cases had been confirmed, bringing the total in the region to over 2,700.
The majority of those are still in hospital, with more than 125 in critical condition. Between Sunday and Monday, there was a 65% jump in the number of reported cases in mainland China, from around 2,700 to over 4,500.
On Monday, the US Centers for Disease Control (CDC) issued a level 3 alert warning against "all nonessential travel to China" -- its highest alert on a scale of 1 to 3.
6:10 a.m. ET, January 28, 2020
First suspected case of human-to-human transmission of novel coronavirus in Japan
Japan's health ministry confirmed two additional cases of the novel coronavirus on Tuesday, bringing the total number of confirmed cases in the country to six. 
The sixth patient -- a man in his 60s in western Japan -- has no history of visiting Wuhan, but is a bus driver who drove tour groups from the central Chinese city for nine days, according to the health ministry.
This is the first case of suspected human-to-human transmission in Japan from someone who did not travel to Wuhan.  
On Sunday, China announced a ban on outbound group travel as part of measures to stop the spread of the Wuhan coronavirus.
5:38 a.m. ET, January 28, 2020
Why Hong Kong's border closures are a big deal
Hong Kong's Chief Executive Carrie Lam said Tuesday that the government will "temporarily" close some of its borders with mainland China and travel permits to mainland Chinese tourists will stop being issued.
Here's why that's a big deal.
Legacy of SARS: Memories of the severe acute respiratory syndrome (SARS) outbreak of 2002 and 2003 run deep in Hong Kong, where 1,750 people were infected and more than 280 died of the disease.
Hong Kong is one of the most densely populated cities in the world, with ideal conditions for diseases to spread -- in tightly packed subway train carriages and people living cheek by jowl in the city's notoriously tiny apartments.
Initial suppression of information about the SARS outbreak after it was discovered in southern China heightened mistrust of the central Chinese government among many in Hong Kong.
So it should therefore come as no surprise that the outbreak of a novel coronavirus in Wuhan in December raised suspicions -- and fears -- in Hong Kong.
Politically sensitive time: Hong Kong's move to close some of its borders comes amid eight months of ongoing anti-government protests that began against a now-scrapped China extradition bill, which have expanded to include demands for greater autonomy in the semi-autonomous city.
So it's a particularly sensitive time for Hong Kong's beleaguered leader, Carrie Lam, with recent polls showing her popularity at an all-time low in a divided city. However, calls to limit travel from mainland China came from lawmakers on both sides of Hong Kong's political divide.
5:46 a.m. ET, January 28, 2020
Coronavirus patient in Germany is a 33-year-old German citizen
The coronavirus patient in Germany has been identified as a 33-year-old German man who works in Starnberg, south of Munich. He had not been to China but was in a meeting with a Chinese national last week, who has since been identified with the coronavirus, Dr. Andreas Zapf, the head of the Bavarian State Office for Health and Food safety said Tuesday.
Zapf said at a news conference that the patient had attended a company meeting in Starnberg last week, where the training manager -- a female Chinese citizen -- was leading the meeting. The Chinese staff member is originally from Shanghai, but her parents had visited her there a few days prior to the meeting in Germany, Zapf said.
The Chinese citizen has since flown back to China. She felt ill on the flight back and tested positive for the coronavirus after her return to Shanghai. She notified the German office upon this discovery, Zapf said. 
The first three European cases of Wuhan coronavirus were identified in France on Friday.
5:10 a.m. ET, January 28, 2020
Chinese broadcasters cutting down entertainment programming to air reports on outbreak
Television stations across China will cut down entertainment programming, including popular variety show, to air more reports on the outbreak, according to a statement posted Tuesday by the National Radio and Television Administration.
The move comes as the country steps up efforts to contain the spread of the virus. Speaking at a meeting with United Nations Secretary General Antonio Guterres on Monday, China's ambassador to the UN said the country has "full capability and confidence in winning the battle against the epidemic."
"Putting the interests of the people first, China has taken rapid and strong measures, putting in place a nationwide prevention and control mechanism," Ambassador Zhang Jun said.
"China has been working with the international community in the spirit of openness, transparency and scientific coordination. With a great sense of responsibility, China is sparing no effort in curbing the spread of disease and saving lives. Now is a crucial moment, and China has full capability and confidence in winning the battle against the epidemic."
Some 60 million people have been placed under travel restrictions in Hubei, the epicenter of the outbreak, with almost all movement in and out of Wuhan itself stopped and much of the city on lockdown.
Officials have also cracked down on the trade of wild animals, after the Wuhan coronavirus was linked to a seafood market selling exotic live mammals, including bats and civet cats, which have previously been linked to the 2003 SARS outbreak.