January 29 coronavirus news
12:30 a.m. ET, January 29, 2020
Foreign citizens are being evacuated out of Wuhan
As coronavirus cases continue to rise in Wuhan and wider Hubei province, several countries are taking action to repatriate their citizens in the affected areas.
Countries that have launched evacuations:
The US: A plane carrying about 240 Americans, including diplomats and their families, has departed Wuhan and is en route to Alaska, where it will refuel before arriving early Wednesday in Ontario, California.
Japan: 206 Japanese citizens were evacuated from Wuhan and arrived in Tokyo Wednesday morning local time. All those on board have been quarantined, and those with symptoms will be taken to a medical center for treatment. About 450 more Japanese citizens have not yet left Wuhan.
Countries planning for evacuations:
Australia: Prime Minister Scott Morrison said the government would evacuate "all Australians out of the Hubei province ... focusing on the young, especially infants and the elderly." There are more than 600 Australian citizens in the Hubei, according to CNN affiliate Nine News.
New Zealand: The New Zealand and Australian governments have discussed a "joint ANZAC (Australia and New Zealand Army Corps) assisted departure" of their citizens from Wuhan, though specific evacuation details are still being worked out.
India: The Indian government has begun the process of "preparing to evacuate" Indian nationals affected by situation in Hubei Province, a spokesman confirmed Wednesday.
South Korea: Four charter planes will evacuate South Korean citizens from Wuhan, said a government spokesperson today. Almost 700 South Korean citizens have applied to take the flight out.
France: A plane will fly French citizens back from Wuhan to France sometime this week, said the French Health Minister on said Sunday. There are around 800 French citizens in Wuhan.
United Kingdom: The UK is "looking at all the options" to help Britons trapped in Wuhan, said the UK Home Secretary after being asked about the possibility of evacuation flights.
12:19 a.m. ET, January 29, 2020
How to protect yourself as Wuhan coronavirus spreads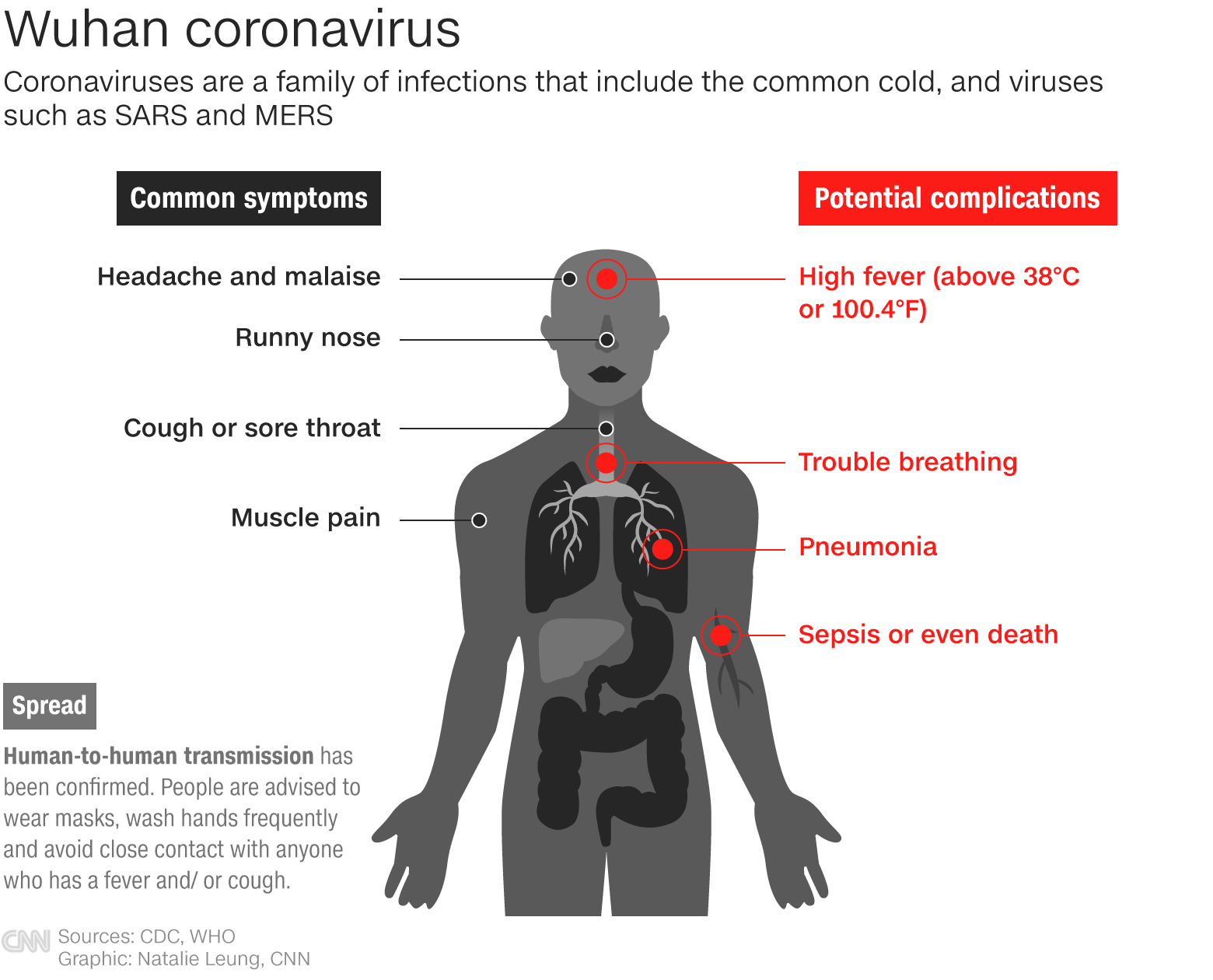 Nearly all of the confirmed cases of Wuhan coronavirus are in China, but the virus has spread across Asia and the rest of the world.
If you're worried, here are some tips for protecting yourself:
Know the symptoms: Other symptoms of this coronavirus include fever and shortness of breath. Severe cases can lead to pneumonia, kidney failure and even death.
About meat and animals: Scientists believe this coronavirus started in another animal and then spread to humans. So health officials recommend cooking meat and eggs thoroughly. Anyone with underlying medical conditions should avoid live animal markets and raw meats altogether, since those people are "considered at higher risk of severe disease," the World Health Organization says.
Take normal flu season precautions: In general, the public should do "what you do every cold and flu season," said Dr. John Wiesman, the health secretary in Washington state — where the first US case of Wuhan coronavirus was confirmed. That includes washing your hands often with soap and water for at least 20 seconds.
If you feel sick: If you're the one feeling sick, cover your mouth and nose when you cough or sneeze, and disinfect the objects and surfaces you touch. If you or your doctor suspect you might have the Wuhan coronavirus, the US Center for Disease Control advises wearing a surgical mask.
12:07 a.m. ET, January 29, 2020
New Zealand to evacuate citizens from Wuhan in joint operation with Australia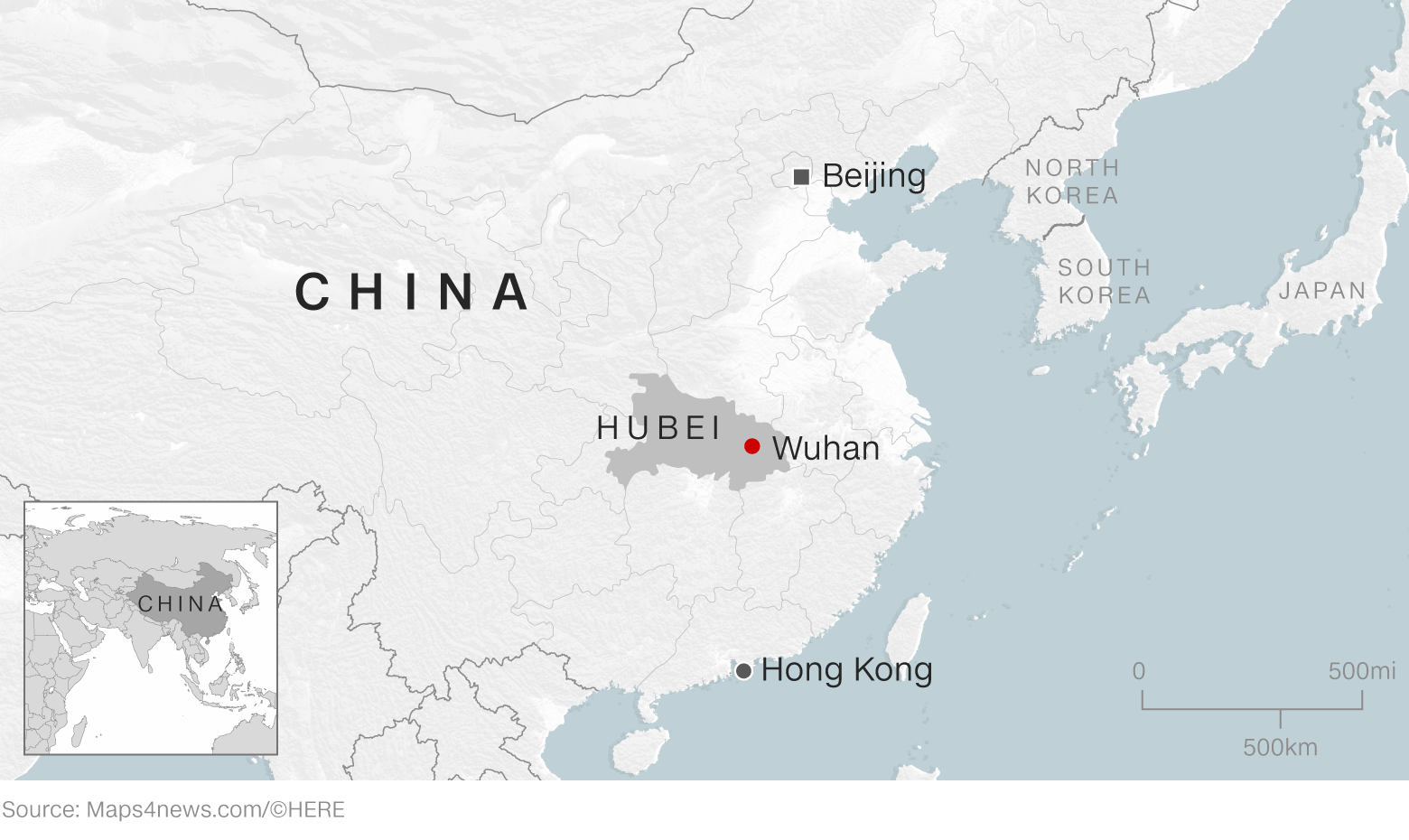 Australia's Prime Minister Scott Morrison and New Zealand's Prime Minister Jacinda Ardern have discussed a "joint ANZAC (Australia and New Zealand Army Corps) assisted departure" of their citizens from Wuhan, according to a press release shared by the New Zealand government on Wednesday.
Ardern said that "specific details of the evacuation plan, including the medical protocols that will be applied to returning New Zealanders and access arrangements on the ground in China are being worked through by officials." 
Earlier in the week, New Zealand's Health Minister said that the government had been "working closely with international partners and the government's Interagency Pandemic Group has also been convened to ensure New Zealand is prepared."
11:58 p.m. ET, January 28, 2020
US evacuation flight is now headed to a military base, not to a civilian airport
Around 240 Americans evacuated from Wuhan, China, will be flown to a military base near Riverside County, California, instead of a nearby civilian airport as first planned.
The flight departed Wuhan about six hours ago, and will land late Tuesday night local time in Anchorage, Alaska, to refuel.
Passengers will undergo health screenings there to ensure they are not experiencing novel coronavirus symptoms before traveling on to California, Alaska officials said.
The plane will land at March Air Reserve Base instead of its original destination of California's Ontario International Airport, said San Bernardino County Commissioner Curt Hagman.
In a video statement, Hagman said he was informed of the change in plans on Tuesday night. No reason was immediately given for the change in itinerary.
3:24 a.m. ET, January 29, 2020
Tibet reports suspected case of coronavirus
Authorities in China reported the first suspected case of the Wuhan coronavirus in Tibet, the only region to have avoided the virus so far.
The potential spread to Tibet will renew concerns about how easily the virus is transmitted, particularly when people are asymptomatic.
On Tuesday, Tibet announced the indefinite closure of all tourist attractions, state-run newspaper People's Daily reported, citing the regional Communist Party committee.
All travelers, including tourists, entering Tibet are now required to register with authorities and be quarantined for 14 days.
Tibet is a remote and mountainous autonomous region of mainland China that is often referred to as the "the roof of the world."
Read the full story here.
This post has been amended to clarify it is a suspected case in Tibet.
11:18 p.m. ET, January 28, 2020
Hong Kong suspends trains to China as borders close
The semi-autonomous city of Hong Kong, which borders mainland China on the country's south coast, is just one of several places around Asia placing restrictions on travel in an attempt to contain the spread of the coronavirus.
In a press conference yesterday, the government announced that it will "temporarily" close some of its borders with China and stop issuing travel permits to Chinese tourists.
Trains to China suspended: Today, the MTR -- Hong Kong's subway operator -- announced it would also be suspending services for the high speed rail that connects the city with the mainland, as well as trains to Guangzhou, Shanghai, and Beijing.
"The MTR Corporation has been closely monitoring the latest situation regarding pneumonia cases from the novel coronavirus infection," said the company in a statement, and apologized for inconvenience caused.
1:31 a.m. ET, January 29, 2020
Australia lab grows Wuhan coronavirus from patient sample
A laboratory in Australia has grown the Wuhan coronavirus from a patient sample.
The development "will provide expert international laboratories with crucial information to help combat the virus," Mike Catton, director of the Victorian infectious diseases reference laboratory said.
"We are proud to have grown the virus in such a short space of time," Catton said, adding that they will "share this with international colleagues" to help with the developments of vaccines and medicines.
The successful growth will help scientists to "understand the epidemiology of the outbreak," Catton said.
A clinical professor at Hong Kong University, John Nicholls, told CNN that his team in Hong Kong has also been able to grow the virus a few days ago during Chinese New Year.
Since the first case was identified in early December in the Chinese city of Wuhan, more than 6,000 people have become infected worldwide.
This post has been amended to include the Hong Kong University team.
10:49 p.m. ET, January 28, 2020
Number of Wuhan coronavirus cases exceeds SARS inside of China
The number of confirmed cases of the Wuhan coronavirus in China has now officially exceeded that of the severe acute respiratory syndrome (SARS) outbreak in 2002 and 2003.
At least 5,974 cases of the coronavirus have been reported in mainland China to date, whereas there were 5,327 confirmed cases of SARS on August 16, 2003, the last time the Chinese health ministry reported such data.
The government stopped reporting SARS cases after that date, saying there were no more new cases nationwide.
In total, there were 8,098 confirmed cases of SARS worldwide from November 2002 to July 2003, with 774 deaths.
While the current coronavirus outbreak does not appear to be as deadly as SARS, it may be spreading more rapidly. That could be due to being more contagious, or the increased interconnectedness of both China and the world than in 2003.
10:39 p.m. ET, January 28, 2020
Cases of coronavirus in China jump by 30% overnight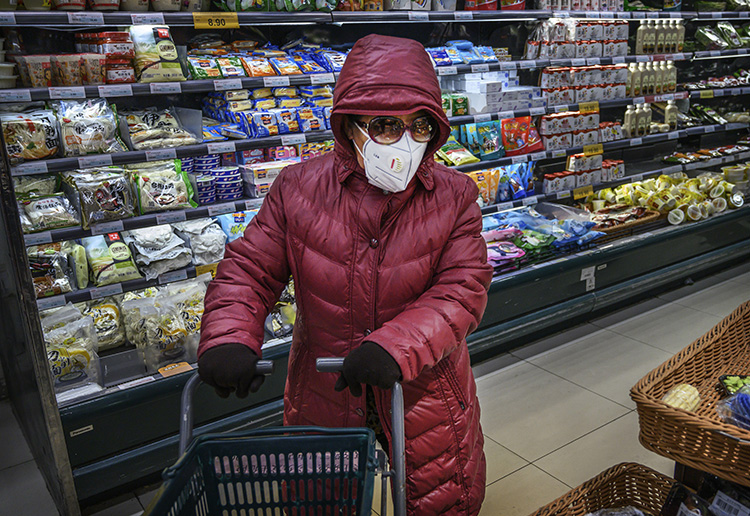 As of Wednesday, there were 5,974 confirmed cases of the virus in China, including 132 deaths, according to the National Health Commission (NHC).
The number of cases grew by almost 1,500 from Tuesday, a more than 30% increase.
From Sunday to Monday the number of cases confirmed in China had jumped by 65%.
With the number of confirmed cases increasing day by day, concern is growing over the global spread of the virus. Numerous countries, including the US, have stepped up airport screenings and warned their citizens not to travel to China. Some countries, including Indonesia and the Philippines, have restricted Chinese tourists.
Chinese authorities say they are throwing everything they have into containing the infection within its borders.
Wuhan's Communist Party chief Ma Guoqiang said in a press conference that the sudden increase in confirmed cases is down to more efficient testing measures.
Before January 14, all the testing for the Wuhan coronavirus was done by the Chinese Center for Disease Control and Prevention, which as a "very long process," Ma said.
"To confirm a case in Wuhan, (we) needed to send his sample to the national CDC," he said.
To speed up that process, from January 16 the Chinese central government allowed the Hubei provincial CDC to conduct the tests.
"So our samples are no longer required to be sent to Beijing, and can be tested at the provincial CDC, with a capacity of testing about 300 cases (per day)," Ma said.
The rate of testing also increased from January 24, as nine hospitals could test the samples, "which drastically increased our testing capacity and efficiency."
This does not mean the speed of the disease has increased drastically," Ma said.