January 30 coronavirus news
6:17 p.m. ET, January 30, 2020
Death toll rises to 213
The death toll from the Wuhan coronavirus has risen in mainland China after more deaths were reported in the central province of Hubei.
Hubei's health authority said that 42 additional deaths were reported Thursday, bringing the death toll in the epicenter of the Wuhan coronavirus to 204.
This brings the total number of deaths in mainland China to 213.
6:07 p.m. ET, January 30, 2020
Trinidad and Tobago will not be accepting travelers from China for 14 days
Trinidad and Tobago is imposing a 14-day travel restriction on travelers from China, the country's health minister said Thursday.
"Persons who are presently living in China or visiting China regardless of your nationality, will not be allowed entry into Trinidad and Tobago for fourteen (14) days after leaving China," said Health Minister Terrence Deyalsingh, according to a post on his Facebook profile.
The coronavirus has an incubation period of up to 14 days.
The travel restriction will take effect immediately, he said.
6:18 p.m. ET, January 30, 2020
Canada's top doctor condemns racism against Chinese communities
Canada's Chief Public Health Officer Theresa Tam is urging people to stop acts of racism against people of Chinese and Asian descent due to the coronavirus outbreak.
"It is understandable that our fears increase during times like this. However, we need to remember that cohesion in our collective efforts is important," Tam said. "We need to learn from our experience with SARS, where South East Asians faced significant racism and discrimination."
"Racism, discrimination and stigmatizing language are unacceptable and very hurtful. These actions create a divide of Us Vs. Them. Canada is a country built on the deep-rooted values of respect, diversity and inclusion," she added.
Authorities said Wednesday that Chinese Canadians in Toronto have been reporting incidents where people suggest they should be quarantined or avoid Chinese businesses.
5:55 p.m. ET, January 30, 2020
Italy is stopping air traffic with China
Italy's Prime Minister Giuseppe Conte announced Thursday that all air traffic to and from China has been stopped in an effort to halt the spread of the coronavirus.
"As far as we know, we are the first country in the European Union to adopt such a precautionary measure," Conte told reporters in Rome.
The decision comes after Italian authorities confirmed Thursday that two Chinese tourists in Italy were diagnosed with coronavirus. The two patients were in isolation at Rome hospital, health officials said.
5:28 p.m. ET, January 30, 2020
Wuhan coronavirus and SARS by the numbers
The Wuhan coronavirus has brought up memories of the severe acute respiratory syndrome (SARS) outbreak in Asia back in the early 2000s.
In China, the number of confirmed cases of the Wuhan coronavirus has already exceeded the number infected by SARS in 2002 and 2003. But so far, the SARS outbreak had a considerably greater fatality rate.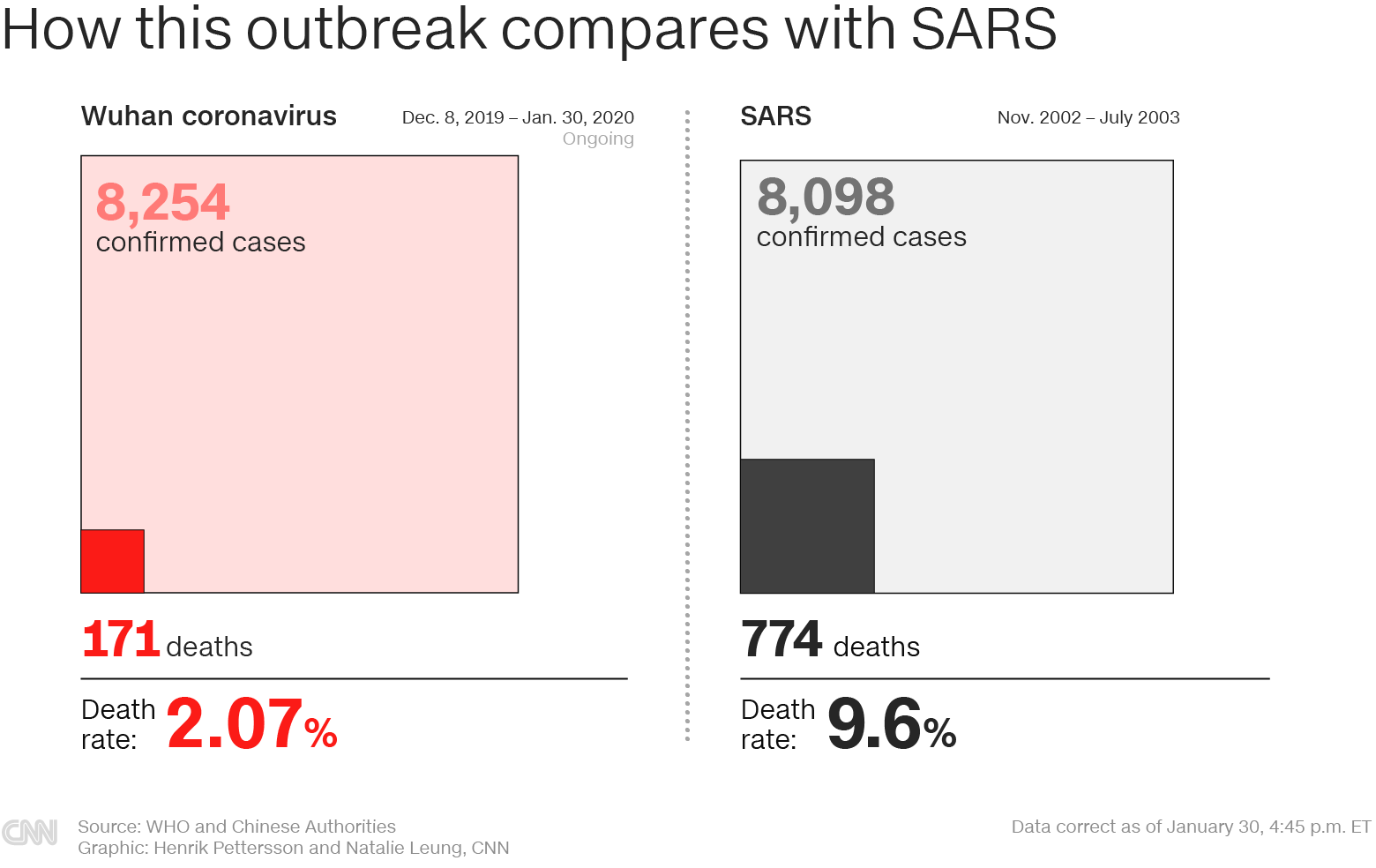 5:26 p.m. ET, January 30, 2020
American evacuated from China is under quarantine after trying to leave military base
An American who flew out of China on a chartered flight tried to leave the Southern California military base where authorities have been monitoring nearly 200 people for coronavirus symptoms, health officials said.
The person, who was not identified, has been ordered to stay in quarantine at the March Air Reserve Base near Riverside, California, until the "entire incubation period or until otherwise cleared," Riverside County Public Health said. The incubation period will be 14 days.
"This action was taken as a result of the unknown risk to the public should someone leave MARB early without undergoing a full health evaluation," the agency said Thursday.
Nearly 200 Americans arrived Wednesday at the military base from Wuhan, the epicenter of the deadly coronavirus outbreak in China, and were asked to stay for at least three days so they can be monitored for coronavirus symptoms.
5:11 p.m. ET, January 30, 2020
Italy confirms two cases of coronavirus
Italy has confirmed two cases of coronavirus on its territory, Italian Prime Minister Giuseppe Conte said in a press conference in Rome on Thursday evening.
The individuals affected are two Chinese tourists who arrived in Rome a couple of days ago, Conte said. 
"We have already prepared all the precautionary measures to isolate these two cases," Conte said, adding that he will convene the Council of Ministers on Friday to take "further measures."  
"There is no reason to create social alarm or panic," Conte concluded.
Italy's Health Minister Roberto Speranza said: "We will try to trace the path of these two people in our country. The situation is serious, but absolutely under control."
The patients were placed in isolation as soon as they displayed symptoms of the virus, said Professor Giuseppe Ippolito, director the National Institute of Infectious Diseases Spallanzani in Rome. 
He added the patients are currently in "good condition".
4:48 p.m. ET, January 30, 2020
American Airlines pilots sue to halt US-China flights amid coronavirus epidemic 
The Allied Pilots Association, a union representing 15,000 American Airlines pilots, has sued the company to halt the carrier's US-China service, citing "serious, and in many ways still unknown, health threats posed by the coronavirus."
The union asked the court for a temporary and immediate restraining order halting the flights as the virus spreads.
"The safety and well-being of our crews and passengers must always be our highest priority, first, last, and always," said APA President Capt. Eric Ferguson. "Numerous other major carriers that serve China, including British Airways, Air Canada, and Lufthansa, have chosen to suspend service to that country out of an abundance of caution."
4:42 p.m. ET, January 30, 2020
Here are the countries with reported cases so far
The World Health Organization declared the novel coronavirus outbreak a public health emergency of international concern, after an emergency committee reconvened Thursday in Geneva.
Here is the current tally of cases -- and deaths -- reported from around the world.