January 30 coronavirus news
4:42 p.m. ET, January 30, 2020
Here are the countries with reported cases so far
The World Health Organization declared the novel coronavirus outbreak a public health emergency of international concern, after an emergency committee reconvened Thursday in Geneva.
Here is the current tally of cases -- and deaths -- reported from around the world.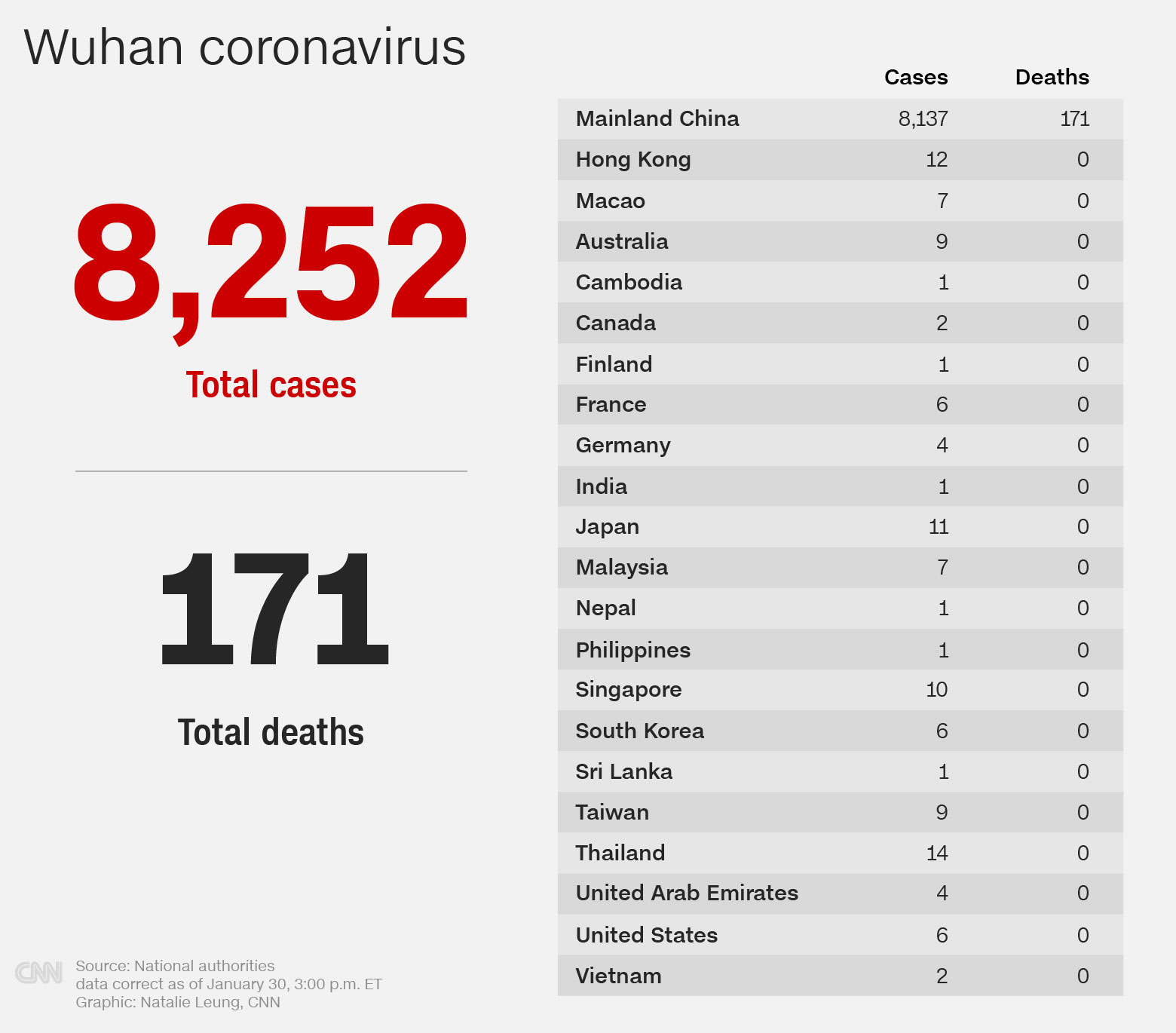 4:41 p.m. ET, January 30, 2020
UK raises risk level to "moderate"
UK's health authorities have increased the risk level for coronavirus in the country from low to moderate, the four Chief Medical Officers for England, Wales, Scotland and Northern Ireland said in a statement on Thursday. 
The statement said:
In light of the increasing number of cases in China and using existing and widely tested models, the four UK Chief Medical Officers consider it prudent for our governments to escalate planning and preparation in case of a more widespread outbreak.
The statement added that the decision did not mean the health authorities think that the risk to individuals in the UK has changed at this stage but that the government should "plan for all eventualities."
3:42 p.m. ET, January 30, 2020
World Health Organization declares coronavirus a public health emergency of international concern
The World Health Organization has declared the novel coronavirus outbreak a public health emergency of international concern, after an emergency committee reconvened Thursday in Geneva.
Last week, the organization said the virus did not yet constitute the emergency declaration. But with rising numbers and evidence of person-to-person transmission in a handful of cases outside of China, WHO leadership called the committee back together due to the "potential for a much larger outbreak," WHO Director-General Tedros Adhanom Ghebreyesus told reporters earlier this week.
WHO defines a public health emergency of international concern as "an extraordinary event" that constitutes a "public health risk to other States through the international spread of disease" and "to potentially require a coordinated international response." Previous emergencies have included Ebola, Zika and H1N1.
3:32 p.m. ET, January 30, 2020
Cruise ship coronavirus test comes back negative
Two cruise ship passengers suspected of having coronavirus do not have the virus, the Italian Ministry of Health said Thursday night.
The 6,000 passenger ship had been forced into quarantine near Rome because of fears the passengers might have the virus.
The ministry said the patients instead had the H1N2 virus.
It is not clear when the ship will be allowed to depart.
3:04 p.m. ET, January 30, 2020
Number of coronavirus cases in China have exceeded the number of SARS infections worldwide
The total number of people infected with the Wuhan coronavirus in mainland China alone has surpassed those infected with SARS worldwide during the 2002-2003 epidemic. 
SARS, or severe acute respiratory syndrome, infected 8,098 people worldwide with approximately 774 official SARS-related deaths.
As of Thursday, there have been 8,137 confirmed cases of Wuhan coronavirus in mainland China, including 171 deaths.
3:06 p.m. ET, January 30, 2020
Cruise companies feel the pain after a ship gets stranded over virus fears
The impact of the new coronavirus outbreak on stock markets is spreading. The latest sector to be hit: cruise companies.
Shares of Norwegian Cruise Line Holdings, Royal Caribbean Cruises and Carnival Corporation tumbled in morning trading in New York amid revelations that 7,000 people had been held on a cruise ship in Italy after a passenger showed symptoms of a fever.
2:35 p.m. ET, January 30, 2020
Canada school district warns of racism against Chinese community
A school district in Ontario, Canada is asking parents to not stoke fear and anxiety over the Coronavirus that could lead to racism and xenophobia. 
The district wrote the message to their community after becoming aware of a petition -- which thousands of parents signed -- asking the school district to keep students home from school for 17 days if they had family who visited China, according to CNN partner CBC.
The York Region District School board chair Juanita Nathan and education director Louise Sirisko said: "individuals who make assumptions, even with positive intentions of safety, about the risk of others, request or demand quarantine can be seen as demonstrating bias and racism." 
The board told CNN that the statement was "not written in reaction to any one source of misinformation," but rather because they want to ensure all students feel safe and welcome at school.
1:53 p.m. ET, January 30, 2020
Virus outbreak pushes China's stretched health care workers to breaking point
All Shi Muying wanted was to spend one last Lunar New Year holiday with her terminally ill mother. She flew back from the United Kingdom, where she lives and works, to spend the festive season in her hometown, Wuhan, a sprawling metropolis in central China.
For 24 hours a day, Shi -- who is in her mid-30s -- sat by her mother's bedside in hospital, taking care of her. Around her, more and more people were getting sick from a newly identified coronavirus. But Shi wasn't too worried.
After all, Chinese authorities were saying that the outbreak was "preventable and controllable."
Now, three weeks after Shi arrived in China, it's clear the outbreak is not under control. The virus has spread to every Chinese province and region, across Asia and as far away as Europe and the United States. It has infected more than 7,700 people and killed at least 170. Wuhan has been placed on an effective lockdown, almost entirely sealed off from the outside world.
On Monday, preliminary results showed Shi could also be infected with the virus.
A suspected patient of coronavirus at a community health station in Wuhan, China.
But she is more worried for her family -- for her 67-year-old father who also appears to have the virus too, and for her mother who has been uprooted to what she describes as an older, inferior hospital building, to make way for the rush of coronavirus patients.
Shi, and others like her, have become victims of a public health care crisis. Over the past few days, CNN has spoken to patients, medical staff and experts who have told of delays in testing for the virus, in telling the public the true nature of the virus' spread, and of an already overburdened health system creaking under the enormous weight of a rapidly expanding outbreak.
Read the full story here.
1:41 p.m. ET, January 30, 2020
US case not believed to be first person-to-person transmission outside of China
As Americans digest the news that the first US case of person-to-person transmission of the Wuhan virus has been confirmed, a reminder that authorities believe there was a case of person-to-person transmission in Germany several days ago.
Health experts believe the first such case in Europe happened last week, when a 33-year-old German man contracted the virus in a business meeting with a Chinese national.
The Chinese staff member is originally from Shanghai and has since flown back to China. She felt ill on the flight back and tested positive for the coronavirus after her return to Shanghai.
The case was significant because most people diagnosed with the virus outside of China have recently travelled to the country. However, the German man who fell ill did not.