January 30 coronavirus news
3:55 a.m. ET, January 30, 2020
The Wuhan virus is on track to overtake SARS, and shows no signs of slowing down
The number of confirmed cases of the Wuhan coronavirus continues to rise around the world, with the Philippines and India only the latest countries to confirm the spread of the infection.
With the number of cases of the Wuhan virus at almost 8,000 worldwide, and over 170 deaths, the outbreak is on pace to overtake the 2003 SARS epidemic within hours. The number of confirmed cases in China is already greater than during SARS, which infected 5,327 people in the country and killed 349.
Worldwide, 8,098 cases of SARS were confirmed in 2003, with 774 deaths, a fatality rate of 9.6%. Thankfully, the Wuhan virus does not appear to be anywhere near as deadly, but the greater levels of infection, which experts don't expect to peak for weeks if not months, could see the death toll creep up to SARS levels as well.
Researchers at Imperial College London who have modeled the spread of the Wuhan virus based on available data from the first month of the outbreak have given a low estimate of 20,000 infections in China alone by the end of the month, with high estimates of over 100,000. With a fatality rate of around 2%, which experts agree appears to be the current level for the virus, that would translate to between 400 and 2,000 deaths.
SARS was a key test of the Chinese government at the time, and officials were widely blamed for failing to address the outbreak in time, censoring news of its spread and downplaying the severity. Several officials were sacked in the wake of the epidemic and China even publicly apologized to the World Health Organization.
While Beijing's reaction was infinitely faster this time, it was hampered by what appears to have been poor crisis handling at the local level, perhaps even a deliberate coverup. Failure to protect the country from another devastating disease outbreak -- combined with what is likely to be severe economic pain from the ongoing transport shutdowns and quarantines -- could blow back on Chinese President Xi Jinping, who has taken personal control of the response.
Wuhan is also a lesson to the world of what scientists have been warning about for decades. We are overdue a deadly pandemic and yet few governments are sufficiently prepared -- even Hong Kong, which learned the lessons of SARS the hard way, has run out of face masks and dithered for days over whether to shut its border. The Wuhan virus is not as deadly as SARS, and nowhere near as deadly as a true pandemic like the Spanish Flu, and yet may end up killing more people than the former.
In an increasingly connected, global world, a delay of days in tackling a disease can have major ramifications, as Wuhan shows.
3:28 a.m. ET, January 30, 2020
This map tracks the coronavirus in real time
The number of novel coronavirus cases is changing quickly. A real-time tracking map shows us just how quickly.
The map from Johns Hopkins University's Center for Systems Science and Engineering follows coronavirus cases across the world.
The dashboard collects data from the US Centers for Disease Control and Prevention, the World Health Organization, the European Centre for Disease Prevention and Control, the Chinese Center for Disease Control and Prevention and the Chinese website DXY, which aggregates data from China's National Health Commission and the CCDC. The results populate a worldwide view of coronavirus cases in real time. 
The clickable map pinpoints regions where patients have been diagnosed with coronavirus -- the more cases in a region, the larger its dot on the map. 
The map tracks deaths, too, in total and by city.
Read the full story here.
3:21 a.m. ET, January 30, 2020
Australia's plan to evacuate citizens is so controversial that some would reportedly rather stay in Wuhan
With more than a dozen countries working to get citizens out of China amid the Wuhan virus outbreak, you'd be forgiven for being surprised that some want to stay put.
But that's what the ABC found when it asked some Australians living in Wuhan about the country's hugely controversial plan to fly evacuees to Christmas Island, site of a former immigration prison camp.
"We are not prisoners, how could they treat us in a detention centre rather than a proper medical facility?" one Chinese-Australian woman, who gave her surname as Liu, told the national broadcaster.
A Sydney woman, surnamed Wu, accused the government of racism.
"The Government wouldn't send its citizens to Christmas Island detention centre if those who are trapped in Wuhan were white Australians," she said. "As a mother, I feel so sorry to bring my daughters to a detention centre for the quarantine purpose."
Adding to the controversy, those Australians who are quarantined on Christmas Island may have to pay for the privilege. Both the ABC and the Sydney Morning Herald have reported that Australians in China have been asked to pay up to 1,000 AUD (around $700) a piece.
Speaking to CNN affiliate 9 News, Australian Home Affairs Minister Peter Dutton defended Christmas Island
"We want to make sure we are protecting Australians both offshore and here as well," he said. "There are medical facilities on Christmas Island. People will be isolated from the rest of the Christmas Island community."
"Hundreds of millions of dollars have been spent on immigration facilities around the country," Dutton said, adding that the facilities there may be nicer than people expect.
3:15 a.m. ET, January 30, 2020
Here's all the places where Wuhan coronavirus has spread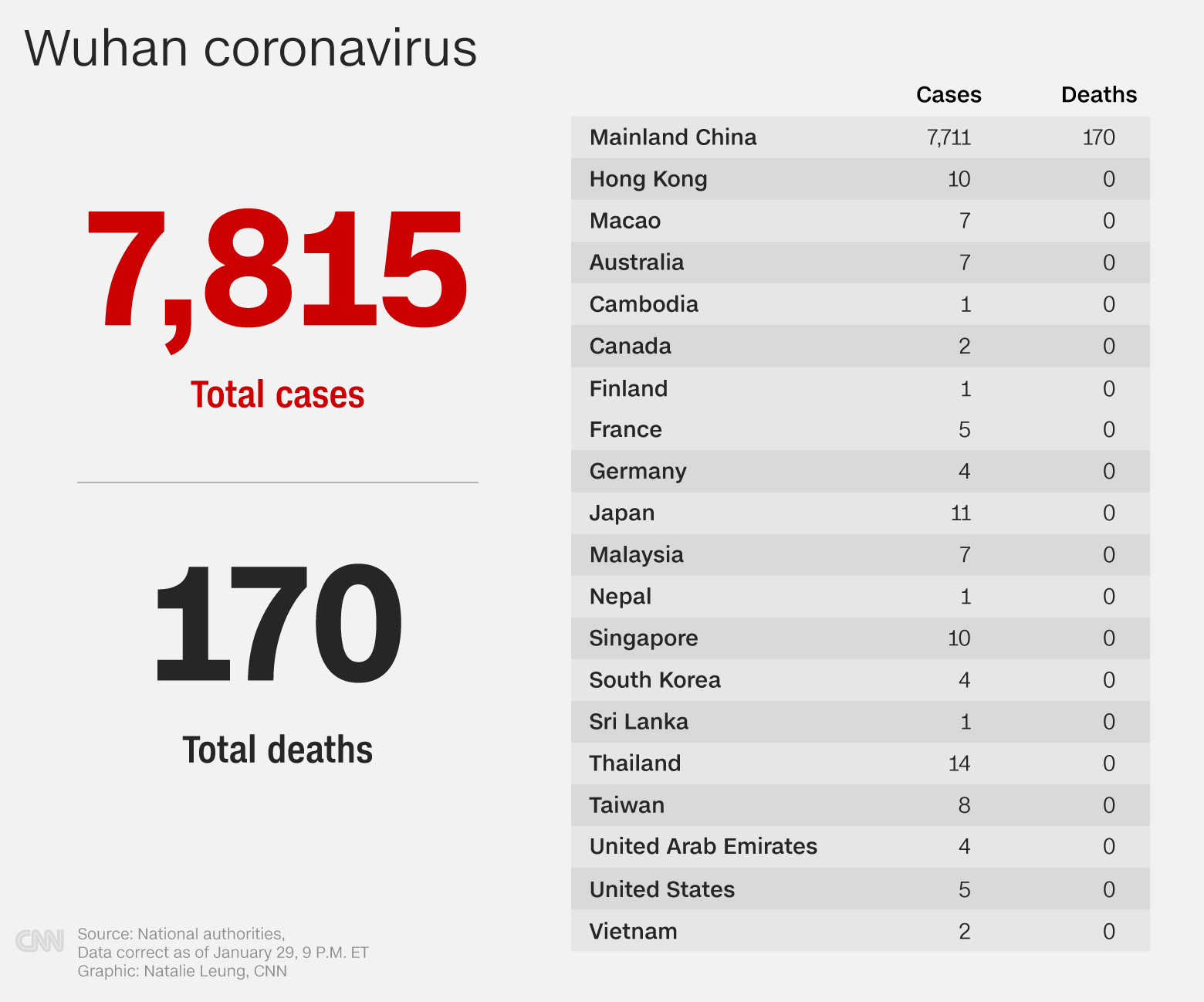 Since it was first discovered in December 2019, the Wuhan coronavirus has spread across the world.
Here's where the coronavirus has spread:
Mainland China - As of Thursday, there were 7,711 confirmed cases of the virus in mainland China, including 170 deaths, according to Chinese officials.
Australia - There are at least seven cases of the disease confirmed in Australia. On Wednesday, the Prime Minister Scott Morrison announced the government is working to evacuate Australian citizens from Huebi province.
Cambodia - One case of the virus was confirmed in Cambodia on Monday.
Canada - A Canadian couple has been confirmed to have the illness after visiting Wuhan.
Finland - Finland confirmed its first case on Wednesday, a 32-year-old woman who flew from Wuhan to Finland on Thursday.
France - The first European country to have confirmed cases of the virus, they now have five cases of the disease, one including a Chinese tourist.
Germany - The Bavarian state has reported four cases of the disease, all originating from the same workplace.
Hong Kong - The semi-autonomous city, boarding mainland China, has reported 10 cases of the virus and has temporarily closed some of its borders.
Japan - There are 11 cases of the disease in Japan, including three people who were evacuated from Wuhan on Wednesday.
Macao -  A semi-autonomous city in southern China, Macao confirmed at least seven cases of the Wuhan coronavirus.
Malaysia - They have reported seven cases of the illness, all of the patients are Chinese-nationals.
Nepal - There has been one confirmed case in Nepal, a PhD student who lives in Wuhan but flew to Nepal earlier this month.
Singapore - The country has confirmed 10 cases of the virus and is advising its citizens to avoid all non-essential travel to mainland China.
South Korea - Four cases of the disease have been confirmed in South Korea.
Sri Lanka - There's one case of the Wuhan coronavirus in Sri Lanka.
Taiwan - All residents of Hubei province are banned from entering the self-governing island, after eight cases of the coronavirus have been confirmed in Taiwan.
Thailand - The highest amount of confirmed cases outside of China, Thailand has reported 14 cases of the disease.
United Arab Emirates - The UAE confirmed four cases of the coronavirus, all from a single family.
United States - Five cases have been confirmed from across the country.
Vietnam - Two cases have been confirmed in Vietnam, they come from a father and son duo.
3:08 a.m. ET, January 30, 2020
South Korea to send $5 million worth of humanitarian aid to China
The South Korean government is sending $5 million worth of emergency humanitarian aid to China, the South Korean Foreign Affairs Ministry announced on Thursday.
Due to the urgent need of medical supplies in Wuhan to combat the outbreak of the coronavirus, the government is sending two million face masks, one million medical masks, and 100,000 hazmat suits and goggles in a plane, which will repatriate South Korean citizens from Wuhan.
South Korea will also send $300,000 worth of supply items to Chongqing city, near Wuhan, and is working with the Chinese authorities to organize the flights.
2:55 a.m. ET, January 30, 2020
Officials in Hong Kong are arguing about whether you can steam clean face masks amid a shortage
Hong Kong lawmaker Ann Chiang has clashed with her colleagues and a top medical official over whether you can clean and reuse face masks, as the semi-autonomous Chinese city faces shortages and long queues at the few shops still with masks in stock.
Speaking during a parliamentary session, Chiang, chair of the health services panel, asked Wong Ka-hing, controller of the government-run Center for Health Protection, "what if I can't buy any surgical masks?"
"The public do not have so many masks as you do," she told Wong, before asking if it "possible to sterilize them at home?"
"That doesn't work according to my understanding," Wong responded.
Chiang had earlier uploaded a video to Facebook showing how she steam cleans her own masks, and in a follow up post she defended the move as a possible last resort, pointing out that materials in the mask could withstand temperatures of over 140 degrees C, meaning 100C should not damage the masks itself.
According to public broadcaster RTHK, medical sector lawmaker Pierre Chan said the idea was "horrible," and "will destroy the structure of that surgical mask, it's very simple."
"(Masks are) one use only and please, do that," he said.
Whether surgical masks can be safely reused has been examined in the past. A report published in 2006 from the US Institute of Medicine said it could not find any means of cleaning disposable masks, including more sophisticated respirators, "without increasing the likelihood of infection."
2:45 a.m. ET, January 30, 2020
Bats, the source of so many viruses, could be the origin of Wuhan coronavirus, say experts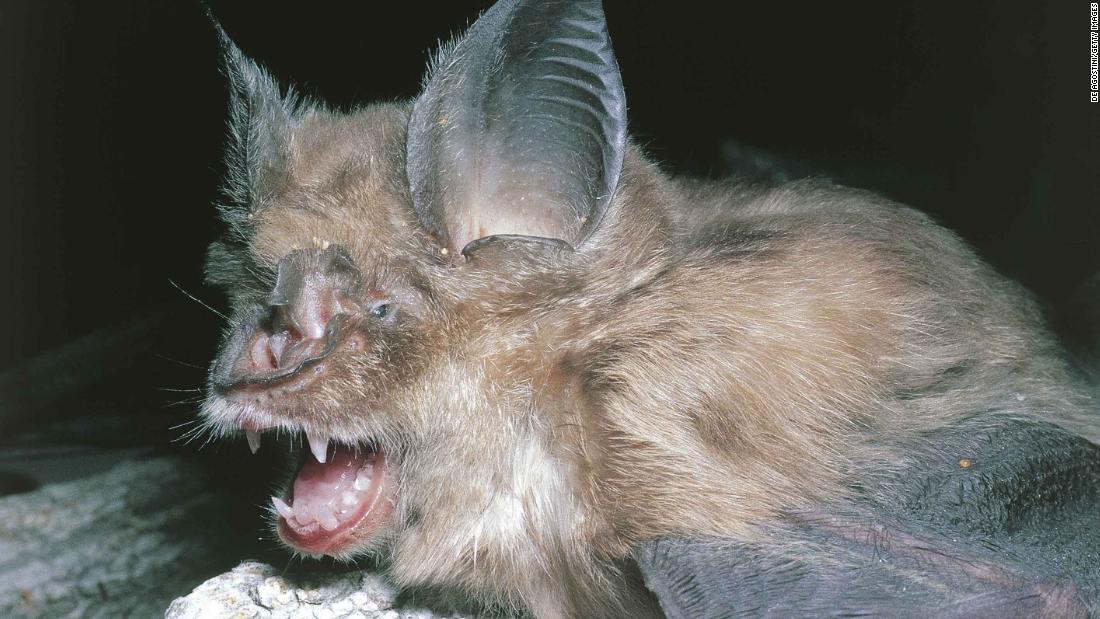 The bat has long been seen as a biological super villain. 
"When you look at the genetic sequence of the virus, and you match it up with every known coronavirus, the closest relatives are from bats," said Dr. Peter Daszak, president of EcoHealth Alliance, an environmental health non-profit.
Professor Guizhen Wu of the Chinese Center for Disease Control and Prevention said in a study released by the Lancet medical journal on Wednesday that the data they had so far was consistent with the virus being initially hosted by bats.
Why the bat? The winged mammal has been the reservoir for several different deadly viruses like Marburg, Nipah and Hendra, which have caused disease in humans and outbreaks in Uganda, Malaysia, Bangladesh and Australia. Bats are thought to be the natural host of the Ebola virus, rabies, SARS and MERS, with the latter two both coronaviruses similar to the one that's now emerged in Wuhan.
Often, there's an intermediary involved as was the case with SARS in 2003 — the civet cat — and MERS, which emerged later in the 2000s and was carried by camels. 
Flying could be why: One theory posits that flight, which is shared by all bats but no other mammals, has allowed bats to evolve mechanisms that protect them from viruses. Flying elevates the bat's metabolism and body temperature -- similar to a fever in humans and other mammals -- and scientists say this, on an evolutionary scale, could boost a bat's immune system and make it more tolerant of viruses.
Too early to really tell: It's too early to say for sure whether the Wuhan coronavirus originated in bats and whether an intermediary played a role. The outbreak was initially traced to a seafood market that sold live animals in Wuhan and scientists are working hard to trace the source both in the lab and in the field.
Read the full story here.
2:38 a.m. ET, January 30, 2020
Chinese health workers will receive a daily subsidy for fighting coronavirus outbreak
Chinese health workers fighting the Wuhan coronavirus will receive a subsidy of 300 yuan ($43) per day, according to China's Ministry of Finance and National Health Commission.
Those eligible for the subsidy include front line medical staff who are in direct contact with suspected or confirmed coronavirus cases.
Staff involved with the diagnosis, treatment and nursing of coronavirus patients, or who are involved in the collection and testing of pathological samples will all also receive 300 yuan.
Other healthcare workers involved in fighting the outbreak will receive a subsidy of 200 yuan ($29) per day.
Thousands of medical workers are putting their health and life at risk as they treat patients and work to stop the spread of the virus that has killed at least 170 people.
There was a mixed response on Chinese social media to the announcement, with many saying the amount is too little.
"It's not much to subsidize Wuhan health care workers 1,000 yuan ($144) per day," one user of China's microblogging site Weibo said.
Others noted that the money was ultimately coming from taxpayers.
Dangerous, exhausting work
Exhausted medical workers have described an incredibly intense environment, where they must balance dealing with the overload of patients and suspected patients while also keeping themselves safe.
Health care workers in Wuhan have said hospitals are running low on supplies as they treat an increasing number of patients.  
One hospital staff member said health care workers have resorted to wearing diapers to work so as to avoid having to remove their hazmat suits, which they say are in short supply. A doctor on her Chinese social media Weibo page described similar accounts at another Wuhan hospital.
"My family members are definitely worried about me, but I still have to work," another doctor told CNN.
2:25 a.m. ET, January 30, 2020
These countries are evacuating citizens from Wuhan because of the coronavirus
Countries are scrambling to evacuate their citizens from Wuhan, the epicenter of the novel coronavirus outbreak in Hubei province, as the number of cases overtake the 2003 SARS outbreak inside mainland China.
Flights have been chartered and various quarantine measures have been put in place.
Australia: There are more than 600 Australian citizens in Hubei, according to CNN affiliate Nine News, and Australian Prime Minister Scott Morrison said there will be a focus on repatriating "the young, especially infants, and the elderly." Returning Australians will be quarantined on Christmas Island -- more than 1,000 miles away from Australia in the Indian Ocean.
European Union: Two planes will be sent to Wuhan to help evacuate EU citizens, Janez Lenarcic, the EU commissioner for crisis management, said Tuesday. Around 250 French citizens will be transported in the first aircraft, while 100 people from other EU countries will take the second plane, which will leave later this week.
Germany: German evacuations are planned to start in the next few days, the country's Foreign Ministry said Wednesday.
France: A plane will be sent Thursday to repatriate French citizens, with a second flight is planned for those who may be carrying the virus. There are around 800 French citizens in Wuhan.
Italy: A flight is set to depart Italy on Thursday to repatriate its citizens from Wuhan.
Spain: Spain's government is working with China and the EU to repatriate its nationals from the Wuhan area. No flight has been planned yet.
India: The Indian government has begun the process of "preparing to evacuate" Indian nationals from Hubei, a spokesman confirmed Wednesday. No other details are known.
New Zealand: The New Zealand government has chartered an Air New Zealand aircraft to evacuate its nationals currently in Wuhan. A government press release says the aircraft will have capacity for 300 passengers.
Japan: Two flights carrying more than 400 Japanese citizens arrived back in the country from Wuhan on Wednesday and Thursday.
South Korea: Four charter flights were sent to Wuhan on Wednesday, where almost 700 South Korean citizens have applied to fly out. On Thursday the planned flights out of the city were delayed and officials are working to organize the flights as early as tonight.
Turkey: More than two dozen Turkish citizens in Wuhan will be evacuated in the next couple of days, the Turkish ambassador in China told Haberturk news channel. It is unclear whether the plane will land in the capital, Ankara, or Istanbul.
United Kingdom: Britain had planned to bring back 200 of its citizens in Wuhan on Thursday but had to delay the flight. It was understood the flight was delayed due to Chinese permissions that did not come through.
United States: A chartered plane carrying around 201 US citizens -- mostly diplomats and their families -- arrived in southern California on Wednesday. More Americans remain in Wuhan, hoping to be evacuated at a later date. The State Department said it was unable to accommodate everyone on the flight because of space limitations but is working to identify alternative routes.
Read more on this here.