January 31 coronavirus news
8:49 p.m. ET, January 31, 2020
Our live coverage of the coronavirus outbreak has moved here.
8:14 p.m. ET, January 31, 2020
There could be more than 75,000 cases of coronavirus in China, researchers say
From CNN Health's Michael Nedelman
An estimated 75,815 people in Wuhan, China could be infected with the novel coronavirus as of January 25, researchers in Hong Kong said.
Gabriel Leung, one of the authors of study published Friday in the medical journal The Lancet, said the estimates could be much higher than the number of confirmed cases because "not everyone who is infected would require or seek medical attention."
Leung, who is the chairman of public health medicine at the University of Hong Kong, and the other authors cautioned "that given the lack of a robust and detailed timeline of records of suspected, probable, and confirmed cases and close contacts, the true size of the epidemic and its pandemic potential remains unclear."
1:48 p.m. ET, February 4, 2020
Tracking the latest numbers on Wuhan coronavirus
There have been more than 9,800 cases of Wuhan coronavirus globally as of Friday afternoon.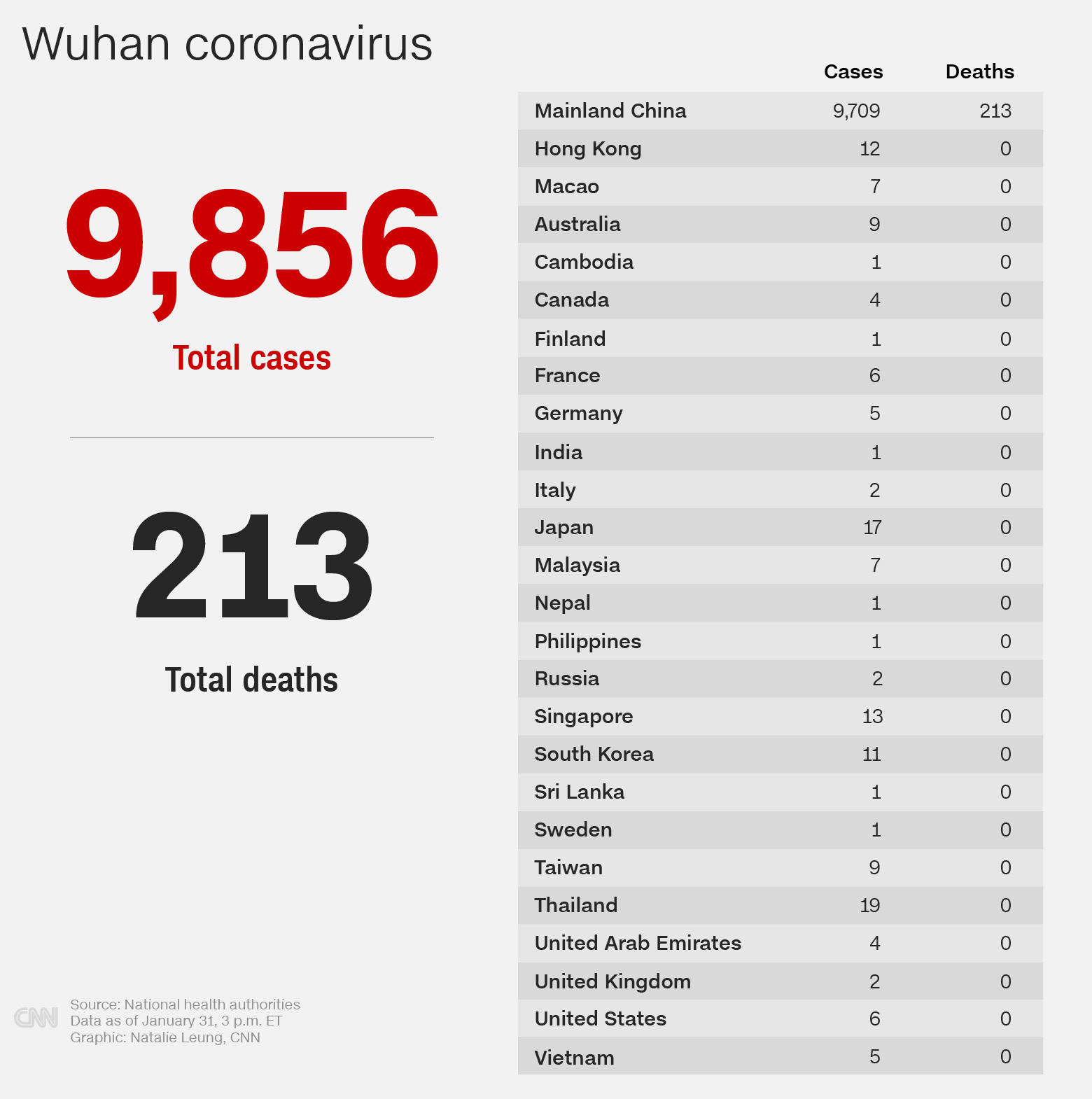 Most of those cases have been documented in mainland China.
Correction: A previous version of this post contained a map that misattributed the source of provincial coronavirus case totals. The data comes from each province's health authority, not China's National Health Commission. The sourcing for the graphic above it has also been clarified.
7:52 p.m. ET, January 31, 2020
Seventh confirmed case of coronavirus in US
From CNN's Braden Walker & Ben Tinker
The seventh confirmed case of the Wuhan coronavirus has been confirmed by the US Centers for Disease Control and Prevention.
An adult male in Santa Clara County, California, has tested positive, according to the Count of Santa Clara Public Health Department.
This latest case is the third confirmed case of the novel coronavirus in California. There is one other case in Washington state, one in Arizona and two in Illinois.
4:08 p.m. ET, January 31, 2020
JUST IN: US imposing travel ban on foreign nationals who have been in China
From CNN's Betsy Klein
The Trump administration announced a ban on foreign national travel for those who have been in China within the last 14 days, Health and Human Services Secretary Alex Azar announced Friday.
The United States, Azar said, is "temporarily suspending the entry into the United States of foreign nationals who pose a risk of transmitting the 2019 novel coronavirus."
Azar noted that any US citizen who has been in the Hubei Province in the last 14 days will be subject to up to 14 days of mandatory quarantine upon return to the United States. US citizens returning from the rest of mainland China who have been there in the last 14 days will undergo screening at US ports of entry and up to 14 days of self-monitoring.
 The ban will be in effect beginning at 5 p.m. ET Sunday.
 The basis for the temporary ban, Dr. Anthony Fauci told reporters, is "the unknown of the aspects of this particular outbreak."
4:02 p.m. ET, January 31, 2020
HHS declares coronavirus a public health emergency in the US
From CNN's Ben Tinker
The novel coronavirus is now a public health emergency in the United States, Alex Azar, secretary of the US Department of Health and Human Services, announced at a White House press briefing today.
The World Health Organization on Thursday declared coronavirus a public health emergency of international concern.
3:55 p.m. ET, January 31, 2020
Pentagon looking into additional facilities for coronavirus quarantine
From CNN's Barbara Starr
The Pentagon expects to receive a request from the Department of Health and Human Services as early as today for additional housing capacity for people arriving in the United States aboard charter planes arranged by the US government.
They're being placed into quarantine to ensure they do not have coronavirus, according to a US official directly familiar with the latest developments.
The housing would be for US government personnel, contractors and dependents arriving in the US under the State Department's order to not travel to China. Nearly 200 people are already being quarantined at March Air Reserve Base in Riverside County, California. But that facility is now considered at capacity.
The Trump Administration is quietly looking at other military bases and facilities that could be used to quarantine people expected to continue arriving in the US through the weekend.
At this point, the effort would not extend to Americans returning from China aboard commercial aircraft, only those returning on flights such as the one arranged by the State Department earlier this week that landed at March Air Reserve Base in California.
2:16 p.m. ET, January 31, 2020
CDC's coronavirus quarantine order is first in more than 50 years
From CNN Health's Jamie Gumbrecht, Michael Nedelman and Jen Christensen
The US Centers for Disease Control and Prevention's mandatory 14-day quarantine for nearly 200 Americans who returned from Wuhan, China, is the first such order in more than 50 years. 
"While we recognize this is an unprecedented action, we are facing an unprecedented public health threat, and this is one of the tools in our toolbox to mitigate the potential impact of this novel virus on the United States," said Dr. Nancy Messonnier, director of CDC's National Center for Immunization and Respiratory Diseases, referring to the coronavirus that has sickened thousands in China.
The 195 Americans, many of them diplomats and their families, flew from Wuhan to California on Wednesday. They've been staying at March Air Reserve Base since then under a three-day voluntary quarantine.  
"We believe that this approach of having a quarantine for the incubation period offers the greatest level of protection for the American public in preventing introduction and spread," Cetron said. "That is our primary concern."
CDC officials thanked quarantined individuals for their flexibility. Cetron said most of the passengers were "exuberant and elated to be out of harm's way" during their journey from Wuhan, and they understand the need for a longer quarantine. 
Cetron noted there are cons to quarantine – if they aren't done properly, if there's fear and stigma or if people aren't treated with respect.
"We're taking every measure possible to ensure these people are treated with dignity and respect," Cetron said.
One quarantined individual had previously tried to leave the base. CDC officials declined to offer more information about that person.
There are currently six confirmed cases of Wuhan coronavirus in the US – one in Arizona, two in California, two in Illinois and one in Washington.
Some historical context: A quarantine order like this was last used in the 1960s for smallpox evaluation, Dr. Marti Cetron, director of CDC's Division of Global Migration and Quarantine, said Friday during a telebriefing with reporters.
2:02 p.m. ET, January 31, 2020
Passenger says federal quarantine "is a very good thing"
From CNN's Paul P. Murphy
A passenger who was onboard the US State Department evacuation flight from Wuhan, China to California tells CNN the CDC mandated 14 day quarantine "is a very good thing."
The passenger requested anonymity because their family has received threats.
The passenger says officials sat them down in a sort of "town hall" meeting and read the official CDC statement.
"I think this is absolutely the best decision to keep us and the public safe," the passenger said. "I believe it is always a good idea to take every possible precaution, especially when it comes to health."
They say the first question was how the passengers would be able to watch the Super Bowl.
"Then we joked about having chicken wings," the passenger said.