February 6 coronavirus news
2:39 p.m. ET, February 6, 2020
Chinese doctor who sounded Wuhan virus alarm is critically ill, hospital says, after state media reported he had died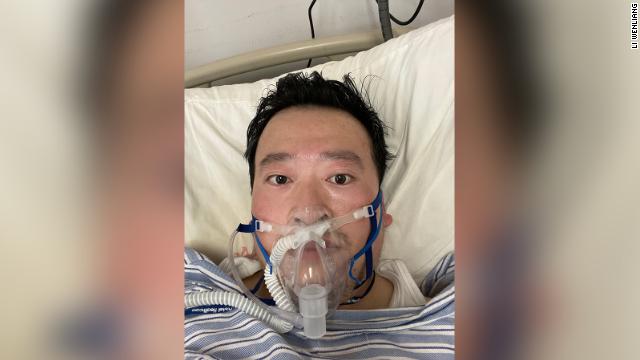 Editor's note:This story has been updated to reflect further reporting from Chinese state media and an official statement from the hospital.
The Chinese doctor who sounded early warnings about the Wuhan coronavirus is in a critical condition, according to the hospital treating him and several state media outlets. Hours earlier the same state media organizations reported that he had died.
Wuhan Central Hospital said on its official Weibo account that Li Wenliang, 34, had become seriously ill. "In the fight against the pneumonia epidemic of the new coronavirus infection, our hospital's ophthalmologist Li Wenliang was unfortunately infected. He is currently in critical condition and we are trying our best to resuscitate him," the statement read.
Multiple state media outlets including Global Times and People's Daily, the ruling Communist Party's official newspaper, had earlier said Li had died, but later deleted their reports.
Following the initial reports that stated he had died, Chinese social media erupted with a mix of a profound grief and anger.
Li raised the alarm about the novel coronavirus in December, posting in his medical school alumni group on the Chinese messaging app WeChat that seven patients from a local seafood market had been diagnosed with a SARS-like illness and were quarantined in his hospital in Wuhan. Soon after he posted the message, Li was accused of rumor-mongering by the Wuhan police.
He was one of several medics targeted by police for trying to blow the whistle on the deadly virus in the early weeks of the outbreak, which has sickened more than 28,000 people and killed more than 560. He later contracted the virus himself.
The Global Times announced Li had died in a tweet at around 10:40 p.m. local time Thursday, linking to a report that cited friends and doctors at Wuhan Central Hospital. It deleted the post several hours later. Other Chinese media outlets also deleted their reports of his death, without explanation. The World Health Organization released a message of condolence following the initial reports that Li was dead but later updated their statement to say they did not have any information about the doctor's status.
The death toll and number of people infected by the Wuhan coronavirus continues to grow, with no signs of slowing despite severe quarantine and population control methods put in place in central China.
The number of confirmed cases globally stood at 28,275 as of Thursday, with more than 28,000 of those in China. The number of cases in China grew by 3,694, or 15%, on the previous day. There have been 565 deaths so far, all but two of which were in China, with one in the Philippines and one in Hong Kong.
11:03 a.m. ET, February 6, 2020
What we know so far about the coronavirus outbreak
In late 2019, reports emerged of a mysterious illness in China. It was later identified as a new type of coronavirus — and now, weeks later, authorities are still trying to stop the virus from spreading further.
Here's where things stand this morning:
How many cases are there? There have been 28,275 cases and 565 deaths around the world. All but two of the deaths have been in mainland China (The Philippines and Hong Kong have each seen one death).
The youngest victims: Two newborn babies in Wuhan, China, have been infected with the coronavirus, according to China's state broadcaster CCTV. The youngest baby was diagnosed at just 30 hours old. The baby's mother was also infected with the virus, and CCTV suggested that "there may be mother-infant transmission," where the mother passes the virus on to the baby in utero. 
Evacuations to the US: Planeloads of Americans fleeing the outbreak in China are arriving at military bases across the United States this week on what could be the final chartered flights. In the US, there are now 12 confirmed cases — the latest one reported in Wisconsin yesterday.
Cruise ship lockdowns: More than 7,300 people are being quarantined on two cruise ships off Hong Kong and Japan after concerns passengers and crew were inadvertently exposed to the Wuhan coronavirus by infected passengers. 
10:50 a.m. ET, February 6, 2020
Vietnam confirms two new coronavirus cases, as all schools stay shut
Vietnam has confirmed two additional cases of the Wuhan coronavirus, bringing the country's total confirmed cases to 12.
According to Vietnamese state media, the two latest cases -- a 16-year-old and a 49-year-old -- are family members of a worker who recently tested positive for the virus after returning from Wuhan. Both patients are in a stable condition and in quarantine.
Three out of the 12 patients in Vietnam have been cleared and discharged from the hospital, according to state media. 
Local authorities across all 63 cities and provinces in Vietnam announced that schools will continue to stay shut to allow schools to have time to disinfect classrooms.
10:41 a.m. ET, February 6, 2020
US urges WHO to engage directly with Taiwan
The US ambassador to the UN in Geneva has urged the World Health Organization (WHO) to "engage directly with Taiwan public health authorities" in the fight against the coronavirus.
There are at least 13 confirmed cases of the virus in Taiwan, which is not a member of the UN or the WHO.
"For the rapidly evolving coronavirus, it is a technical imperative that WHO present visible public health data on Taiwan as an affected area and engage directly with Taiwan public health authorities on actions," Andrew Bremberg told the WHO's Executive Board on Thursday.
The WHO responded that it is "collaborating closely with Taiwanese authorities through the International Health Regulations mechanism in response to the 2019-nCoV outbreak."
A spokesperson for the organization told CNN that the WHO "has received vital information from Taiwanese authorities and will be reporting back through established channels."
9:02 a.m. ET, February 6, 2020
Formula One's Shanghai Grand Prix at risk amid coronavirus fears
The Chinese Grand Prix is in jeopardy amid growing fears over the spread of the coronavirus across China.
Race organizers are closely monitoring the situation and a final decision will be made by the Fédération Internationale de l'Automobile (FIA) and Shanghai Grand Prix organization.
A number of sporting events in China have already been postponed, canceled or under threat due to the threat of the coronavirus.
The Grand Prix is due to take place on April 19.
8:52 a.m. ET, February 6, 2020
Britain and Germany confirm more cases of coronavirus
A third person has tested positive for coronavirus in Britain, the UK's Department of Health and Social Care said on Twitter. The patient did not contract the virus in the UK, Chief Medical Officer, Professor Chris Witty, said in a statement.
Elsewhere in Europe, one more person has tested positive for coronavirus in the German state of Bavaria, the region's health ministry has said, bringing the total of cases in Germany to 13.
8:21 a.m. ET, February 6, 2020
No respite for passengers and crew held on cruise ship in Hong Kong
The 3,600 passengers and crew members currently on the cruise ship World Dream, docked at Hong Kong's Kai Tak Cruise Terminal will continue to be held on board, health officials said Thursday.
"Before we complete the quarantine work all staff and passengers will have to remain on board," Chuang Shuk-kwan of the Department of Health said.
Chaung said 33 crew members have shown symptoms of illness at varying degrees and three crew members had to be evacuated off the ship to receive treatment in hospital. All test results for crew members have so far come back negative for the novel coronavirus.
World Dream had docked at various different ports across China and Vietnam before arriving in Hong Kong. Dream Cruises has said it is attempting to contact passengers who had previously been on board the World Dream "to inform them of the situation and seek professional health assistance."
8:24 a.m. ET, February 6, 2020
3 Americans on quarantined cruise ship test positive for coronavirus
Three people from the United States are among 20 cases of the Wuhan coronavirus that have been confirmed in passengers on the Diamond Princess cruise ship quarantined off Japan, according to statements by the cruise company.
Their cases were identified through health screenings of all guests and crew by the Japanese Ministry of Health. They have been taken off the vessel and transported to local hospitals.
The Diamond Princess is anchored at Yokohama, near Tokyo, with 1,045 crew and 2,666 passengers on board -- including 428 Americans.
Officials are still waiting for the results of 171 tests.
7:26 a.m. ET, February 6, 2020
Chinese ambassador slams global reaction to coronavirus as a "panicked overreaction"
China's ambassador to the UK has called the global reaction to the coronavirus epidemic an "overreaction" and criticized the media for a "bias" against China. 
Speaking in London, Liu Xiaoming called for a "reasonable response" and accused people of "discrimination" in targeting the Chinese community.
He praised China's response to the epidemic which he said went above and beyond World Health Organization regulations. Liu called for respect for the country and its response to the epidemic.
Liu downplayed the outbreak by comparing it to the flu in the US, and said China is "fully confident" in beating the virus, dismissing its negative effects on the country's economy as "temporary."