February 6 coronavirus news
1:11 a.m. ET, February 6, 2020
A 30-hour-old newborn in Wuhan is the youngest patient infected with coronavirus
Two newborn babies in Wuhan, China, have been infected with the novel coronavirus, according to China's state broadcaster CCTV.
The youngest baby was diagnosed at just 30 hours old. The baby's mother was also infected with the virus, and CCTV suggested that "there may be mother-infant transmission," where the mother passes the virus on to the baby in utero.
Other possibilities: Without more details, it's impossible to know if the infants were infected in the womb. There are other ways they could have been exposed -- through handling by healthcare workers, mothers coughing, breastfeeding or even in the delivery process. 
"Was this just contact? Did baby get infected because, you know, mucous membranes were exposed to some virus that the mother was excreting or was it blood borne through the placenta? We have no idea," said Susan McLellan, a director at the University of Texas Medical Branch. 
Paul Hunter, a medical professor at Britain's University of East Anglia, said that a baby born vaginally is exposed to the mother's gut microbiome -- meaning "if a baby does get infected with coronavirus a few days after birth we currently cannot tell if the baby was infected in the womb or during birth."
Researchers still learning: Nancy Messonnier, a director at the US Centers for Disease Control and Prevention, warned that "there is a lot about the novel coronavirus that we don't know."
1:03 a.m. ET, February 6, 2020
Taiwan shuts ports to international cruise ships
Taiwan will prohibit international cruise ships from docking in its ports from today onward, according to a statement form the self-governing island's Ministry of Health.
This comes as two cruise ships remain docked and quarantined in Japan and Hong Kong, with thousands on board, after the virus was spread by infected former passengers.
The ship that is now in Hong Kong had docked and departed from Kaohsiung, Taiwan, on February 4.
It is unclear how long the ban will be in place.
12:41 a.m. ET, February 6, 2020
Disney could lose $280 million because of coronavirus and Hong Kong protests
Disney has warned that profits from its parks in China could drop by $280 million in the current quarter, due to shutdowns caused by the coronavirus and a loss of business related to recent mass protests in Hong Kong.
The company added during its earnings call Tuesday that the coronavirus will hurt its results for the quarter through March and the fiscal year as a whole.
Closed businesses: Disney suspended operations at some of its facilities in China last month as the outbreak spread.
For now, the properties in Hong Kong and Shanghai are closed indefinitely, and "the precise magnitude of the financial impact is highly dependent on the duration of the closures," chief financial officer Christine McCarthy said.
Operating income at the company's Shanghai park could drop by about $135 million this quarter if the park remains closed for two months, she added.
Read more about the hit to Disney here.
12:19 a.m. ET, February 6, 2020
This is where coronavirus cases have been confirmed worldwide
The Wuhan coronavirus has spread throughout the world since the first cases were detected in central China in December.
There are now at least 250 confirmed cases of the Wuhan coronavirus in more than 25 countries and territories outside mainland China:
Australia (at least 14 cases)
Belgium (at least 1 case)
Cambodia (at least 1 case)
Canada (at least 5 cases)
Finland (at least 1 case)
France (at least 6 cases)
Germany (at least 12 cases)
Hong Kong (at least 21 cases, 1 death)
India (at least 3 cases)
Italy (at least 2 cases)
Japan (at least 45 cases, including 20 in cruise ship quarantine)
Macao (at least 10 cases)
Malaysia (at least 12 cases)
Nepal (at least 1 case)
Philippines (at least 3 cases, 1 death)
Russia (at least 2 cases)
Singapore (at least 28 cases)
South Korea (at least 23 cases)
Spain (at least 1 case)
Sri Lanka (at least 1 case)
Sweden (at least 1 case)
Taiwan (at least 11 cases)
Thailand (at least 25 cases)
United Arab Emirates (at least 5 cases)
United Kingdom (at least 2 cases)
United States (at least 12 cases)
Vietnam (at least 10 cases)
Read more about the patients in each place.
12:02 a.m. ET, February 6, 2020
Virgin Australia withdraws all flights and services to Hong Kong
The airline Virgin Australia announced today that it was withdrawing all services between Australia and Hong Kong.
The combined effect of the coronavirus outbreak and 2019 anti-government protests have led to declining business and growing uncertainty, said the airline in a statement.
The airline had previously suspended flights between Melbourne and Hong Kong, announced in November 2019 and effective from February 11. Flights between Sydney and Hong Kong will also stop running from March 2.
"Hong Kong has continued to be a challenging market," said the airline's chief commercial officer, John MacLeod, in the statement.
"Current circumstances demonstrate that Hong Kong is no longer a commercially viable route for Virgin Australia to continue operating, however international tourism remains an important part of our strategy through our other international routes and partner airlines."
11:45 p.m. ET, February 5, 2020
There are 200 tons of live lobsters stuck in New Zealand after China canceled import orders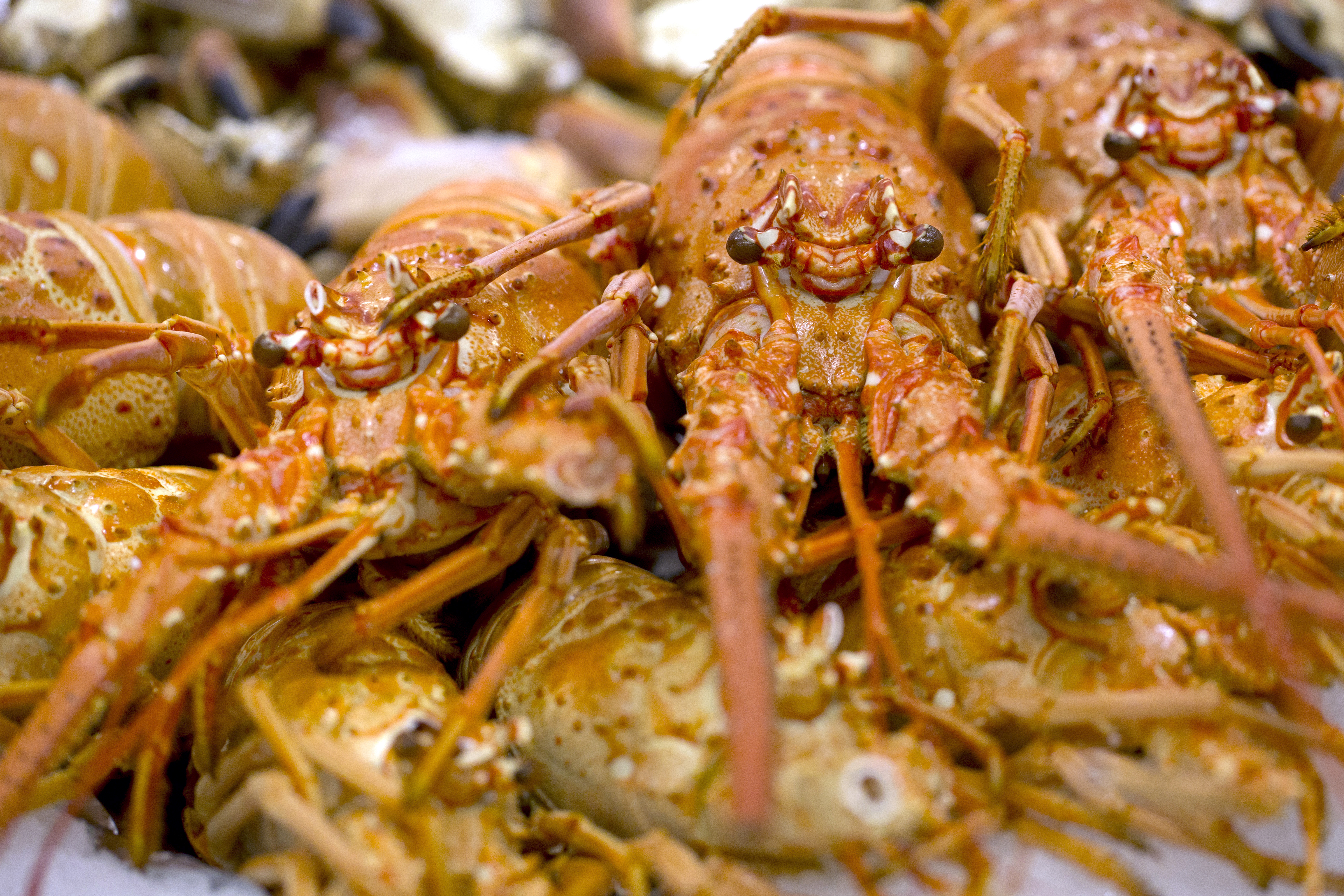 There haven't been any confirmed cases of the coronavirus in New Zealand so far, but one industry has been hit by the outbreak -- the crayfish industry.
With the Chinese government closing borders and imposing travel restrictions, Chinese distributors have canceled import orders of rock lobster -- leaving about 165-200 tons of live lobsters sitting "in pots and tanks, at sea and on land," said a statement from the New Zealand government.
Fisheries Minister Stuart Nash said some of the rock lobsters can be released into the wild -- but this might affect the sustainability and health of the industry, and present biosecurity issues for the marine environment.
Officials will have to find alternative, new markets in which to sell the remaining unreleased live lobsters.
"The Chinese New Year celebrations between 25 January and February 8 are particularly affected," Nash said.
"Exporters from New Zealand and other countries traditionally sell large numbers of rock lobster into China during this period, but most orders have been cancelled."
11:26 p.m. ET, February 5, 2020
Countries and charities are donating millions in aid to fight the coronavirus
Several countries and charitable organizations are sending supplies and funding to assist in the global fight against the coronavirus outbreak.
The Bill & Melinda Gates Foundation offered $100 million to support response efforts in vulnerable countries, said the director general of the World Health Organization yesterday.
The US government has sent supplies to Wuhan, the epicenter of the outbreak. Recent flights sent to evacuate US citizens out of Wuhan also brought medical supplies and other goods, donated by faith-based groups, said a government official.
The West African country of Equatorial Guinea also pledged $2 million to China in a show of "solidarity," according to local media reports.
WHO request: The World Health Organization is requesting $675 million to fund a new response plan for the next three months.
"$675 million is a lot of money, but it is much less than the bill we will face if we do not invest in preparedness now," said the director general yesterday. "Once again, we cannot defeat this outbreak without solidarity – political solidarity, technical solidarity and financial solidarity."
11:09 p.m. ET, February 5, 2020
Chinese runners are doing marathons ... in their apartments
With businesses closed in mainland China and residents staying home in fear of catching the coronavirus, some are finding unique ways to exercise.
Runners cooped up in their apartments are training indoors by running "home marathons," Chinese state news agency Xinhua reported yesterday.
One man in Hangzhou, southwest of Shanghai, spent five hours running 6,450 circles around two beds at home, Xinhua reported. Another runner in Xi'an, in central China, ran 100 kilometers (about 62 miles) in his living room.
An online home-running community has even sprung up, with runners posting their hourly records on social media and sharing training tips.
10:56 p.m. ET, February 5, 2020
The coronavirus outbreak has hit global shipping. Now goods are getting stranded at sea
Countries are taking emergency action to stop the coronavirus -- but these measures are also hitting shipping companies hard, and threaten to disrupt global supply chains.
China's role in shipping: About 80% of the world's goods trade by volume is carried by sea, and China is home to seven of the 10 busiest container ports.
These ports handle shipping for goods ranging from cars and machinery to clothes and other everyday items.
But with China keeping factories shut and workers at home, shipping companies are reducing the number of ships between China and the rest of the world.
What this means: Some vessels can't get into Chinese ports. Others are stuck in dock, waiting for workers to return to ports so that construction and repairs can be completed, experts say.
Other ships are idling in "floating quarantined zones," as countries like Australia and Singapore refuse to allow ships that have called at Chinese ports to enter until the crew has been declared virus-free.