February 9 coronavirus news
11:09 p.m. ET, February 8, 2020
Wuhan coronavirus gets a new official name
China's National Health Commission gave the Wuhan coronavirus a temporary name at a news conference on Saturday.
For weeks, the rapidly-spreading virus has only been known by the name of the city where it originated, something which locals in Wuhan have found frustrating and stigmatizing.
Chinese officials said that the virus would temporarily be named the Novel Coronavirus Pneumonia, or NCP.
There is no news on when an official final title for the virus will be designated.
10:50 p.m. ET, February 8, 2020
Malaysia now has 16 cases of the novel coronavirus
A total of 16 people have tested positive for Wuhan coronavirus in Malaysia, according to a report from state news agency Bernama today.
Out of those, 12 of the 16 cases are Chinese nationals, while the four others are Malaysians.
On Friday, Malaysia announced it would extend its temporary travel ban from only Hubei -- the epicenter of the outbreak -- to all provinces in China under lockdown due to the virus, according to state media. 
The government also said it would make arrangements to repatriate 212 Malaysian embassy and consulate staff in China, and 34 citizens currently in Wuhan.
10:32 p.m. ET, February 8, 2020
This is where coronavirus cases have been confirmed worldwide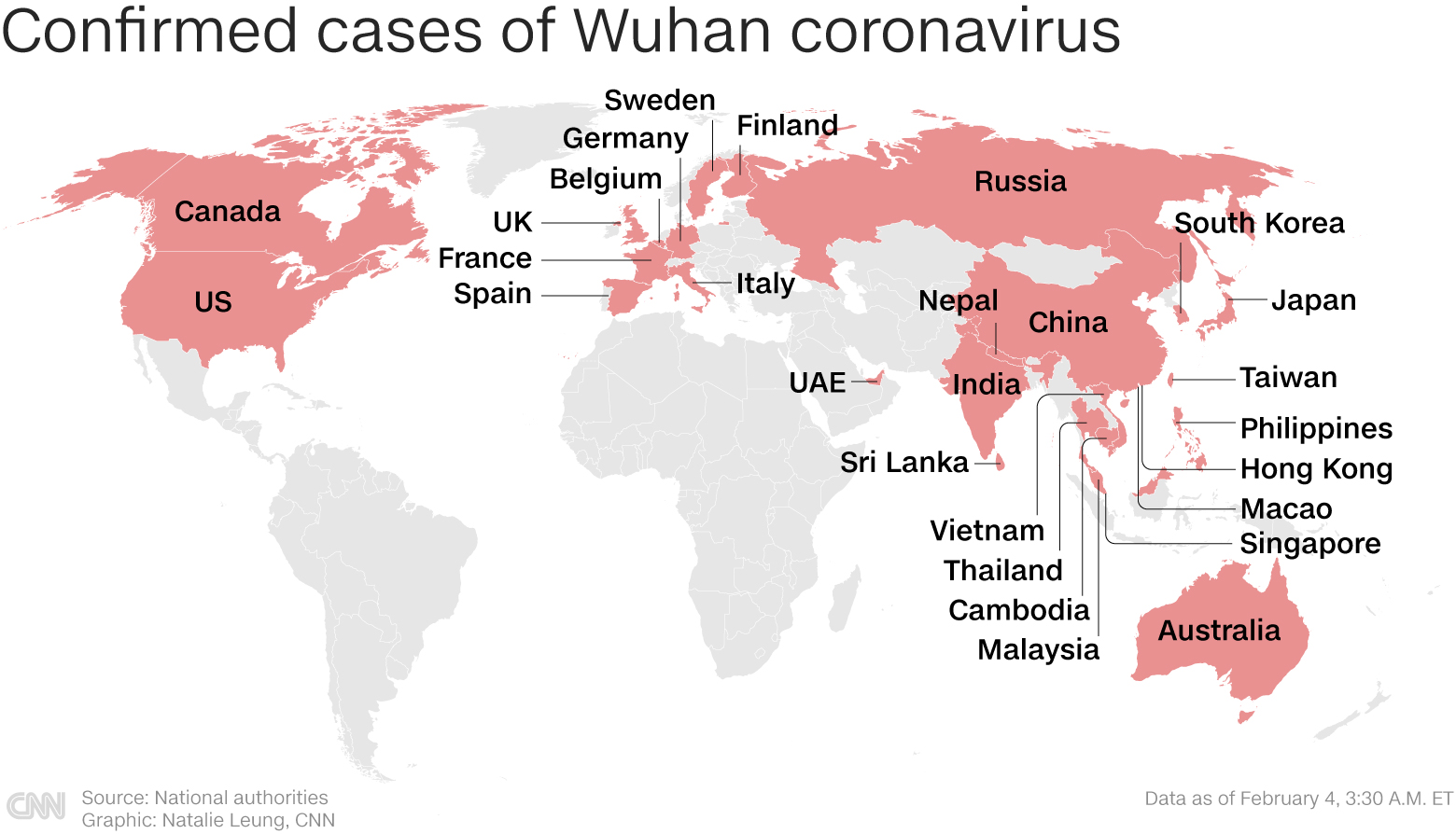 The new coronavirus has now spread to more than 25 countries and territories outside of mainland China, with over 350 people infected as of today.
In response, the World Health Organization (WHO) has declared the outbreak a public health emergency of international concern.
With Malaysia, South Korea and Singapore all announcing new cases today, here is where the numbers currently stand:
Australia (at least 15 cases)
Belgium (at least 1 case)
Cambodia (at least 1 case)
Canada (at least 7 cases)
Finland (at least 1 case)
France (at least 11 cases)
Germany (at least 13 cases)
Hong Kong (at least 26 cases, 1 death)
India (at least 3 cases)
Italy (at least 3 cases)
Japan (at least 90 cases, including 64 in cruise ship quarantine)
Macao (at least 10 cases)
Malaysia (at least 16 cases)
Nepal (at least 1 case)
Philippines (at least 3 cases, 1 death)
Russia (at least 2 cases)
Singapore (at least 40 cases)
South Korea (at least 25 cases)
Spain (at least 1 case)
Sri Lanka (at least 1 case)
Sweden (at least 1 case)
Taiwan (at least 17 cases)
Thailand (at least 32 cases)
United Arab Emirates (at least 7 cases)
United Kingdom (at least 3 cases)
United States (at least 12 cases)
Vietnam (at least 13 cases)
Read more about the patients in each place.
10:24 p.m. ET, February 8, 2020
Singapore announces seven more cases of novel coronavirus
There are now 40 cases of the Wuhan coronavirus in Singapore, the largest number of infections outside of mainland China.
Seven new cases were announced by the Singaporean Ministry of Health today, five of which were linked to previously known infections.
"Amongst the confirmed cases, two have been discharged. Of the remaining 38, most are stable or improving. Four are in critical condition in the intensive care unit, and one requires additional oxygen support," the ministry statement said.
The seven new infections range in age from 36 to 64 and none of them have any recent travel history to mainland China.
But the Singaporean government said in the statement that the risk of contracting the virus in public places is still low.
9:19 p.m. ET, February 8, 2020
Royal Caribbean bans all Chinese passport holders from boarding cruises
The Royal Caribbean cruise line announced Saturday that it would no longer allow any guest with a Chinese, Hong Kong or Macao passport to board its ships.
"We apologize for the inconvenience to any guests affected by these measures put in place to ensure the safety and well-being of all our guests and crew," the statement said.
It added that all itineraries for the next six months that involved stopovers in mainland China were under review.
It comes as Royal Caribbean's "Anthem of the Seas" cruise ship has been delayed during a stopover in the United States, over concerns that a number of passengers had previously traveled to mainland China.
Today the US Centers for Disease Control announced that four passengers with flu-like symptoms who had been taken off the ship had tested negative for the Wuhan coronavirus.
8:57 p.m. ET, February 8, 2020
South Korea confirms its 25th case of coronavirus
South Korea now has 25 cases of the Wuhan coronavirus across the country, according to the South Korean Centers for Disease Control and Prevention.
It is one of only a few nations that have seen more than 20 cases of the virus, including Japan, Thailand and Singapore.
The government announced Saturday that it would be reimbursing people who had been hospitalized or quarantined amid the Wuhan coronavirus outbreak.
The Welfare Ministry said in a press release that families who had been put out for more than 14 days could receive a government subsidy, of varying amounts.
A family of one will receive approximately $380 per month while a family of four will get approximately $1,030, according to the release.
10:47 p.m. ET, February 8, 2020
China's death toll jumps again as country sees its deadliest day yet
The spread of the coronavirus shows no sign of stopping in mainland China today, after the government announced thousands of new infections and the country's deadliest day from the virus.
If you're just joining us, here's what you need to know:
Deadliest day: The 89 deaths in mainland China on Saturday are the highest number in a single day since the crisis began in January.
Foreigners die in China: An American citizen and a Japanese man in his 60s died from the coronavirus on Saturday in Wuhan, the first fatality from either country.
Global spread: New cases are continuing to emerge in countries across the world, while two cruises ships remain locked in quarantine in Japan and Hong Kong.
In total, 64 people on board the Diamond Princess cruise ship off the coast of Yokohama have now tested positive for the coronavirus.
WHO heads to China: The World Health Organization has announced that it will be sending a team to China to investigate the virus, with the team leader expected to touch down on Monday.
In a news briefing on Saturday, WHO director general Dr Tedros Adhanom Ghebreyesus said that the rapid spread of misinformation was making controlling the virus harder.
"At WHO, we're not just battling the virus, we're also battling the trolls and conspiracy theorists that push misinformation and undermine the outbreak response," he said.
8:01 p.m. ET, February 8, 2020
China's coronavirus death toll rises to 813
Another 89 people have died of the Wuhan coronavirus, bringing the death toll globally to 813, China's National Health Commission confirmed today.
That includes 811 people who have died in mainland China and one person each in Hong Kong and the Philippines.
The new deaths push the Wuhan coronavirus death toll above that of the 2003 severe acute respiratory syndrome (SARS) outbreak, which killed 774 people.
The number of confirmed coronavirus cases in mainland China is at least 37,198, an increase of 2,656 from Saturday, according to the health authorities. 
7:52 p.m. ET, February 8, 2020
Wuhan residents trapped between anxiety and boredom in long quarantine
It has been more than two weeks since the city of Wuhan was put on strict lockdown by the Chinese government in an attempt to rein in the coronavirus.
Since then, resident Wu Chen says he has only gone out of his house only three times -- once when he ran out of cat food.
He said that he is confident the authorities will bring the virus under control but until then he can only wait for the all clear to go outside.
While he waits, he takes his temperature twice a day, practices his handwriting and plays hide-and-seek with his cat.
His story is typical of a city of millions of people, all trapped in their apartments.
Read more here