February 9 coronavirus news
9:47 p.m. ET, February 9, 2020
Our live coverage of the coronavirus outbreak has moved here.
7:36 p.m. ET, February 9, 2020
Coronavirus global death toll rises to 910
From CNN's Steven Jiang, Karen Smith and Larry Register
In the span of about two hours, six more people were reported to have died from coronavirus.
China's National Health Commission confirmed Sunday evening that the death toll in China is now 908. The global death toll is 910, with one death in Hong Kong and one in the Philippines.
The global number of confirmed coronavirus cases is more than 40,000, with the vast majority in mainland China.
7:32 p.m. ET, February 9, 2020
Royal Caribbean cruise ship docked in New Jersey to set sail Monday
CNN's Laura James
Royal Caribbean's Anthem of the Seas cruise ship, which has been docked in Bayonne, New Jersey, since returning on Friday, will be able to set sail Monday, according to CNN affiliate News 12 New Jersey. Bayonne is just south of Manhattan.
Officials from the US Centers for Disease Control and Prevention screened 27 passengers on the ship at the port, and four were taken to the hospital for further evaluation for coronavirus.
None of the four showed "any clinical signs or symptoms of coronavirus" on board, Royal Caribbean said in a statement. One tested positive for the flu.
Passengers began boarding the Anthem of the Seas on Sunday.
6:22 p.m. ET, February 9, 2020
Coronavirus global death toll rises to 904
From CNN's Steven Jiang and Larry Register
The Hubei Health Authority reported that 91 more people died of coronavirus in Hubei province on Sunday, raising the death toll in the epicenter since the beginning of the coronavirus outbreak to 871.
The total number of deaths in mainland China is now at least 902. The global toll is at least 904, with one death in Hong Kong and one in the Philippines.
Hubei authorities confirmed an additional 2,618 cases of the virus on Sunday, which brings the total number of cases in the epicenter of the outbreak to 29,631.
The global number of confirmed coronavirus cases now exceeds 40,000, with the vast majority in mainland China.
4:51 p.m. ET, February 9, 2020
Princess Cruises offers refund to passengers on quarantined ship
From CNN's Larry Register and Mitchell McCluskey
Princess Cruises will offer a full refund for passengers aboard the Diamond Princess cruise ship quarantined at Yokohama, Japan, a representative told CNN.
The ship has been quarantined at the port since February 4 after a former passenger tested positive for coronavirus. Since then, 70 news cases of the virus have been confirmed aboard the ship.
There are more than 3,700 people on board the cruise ship, including 2,600 passengers.
In a letter, Princess Cruises President Jan Swartz thanked passengers for their "perseverance and understanding."
"All monies paid to Princess Cruises including your cruise fare, round trip Princess Air, pre- or post-Cruise Plus hotels, transfers, prepaid shore excursions, gratuities and other items, and taxes, fees and port expenses will be refunded to the original form of payment," Swartz wrote.
Swartz said the company will "refund reasonable independent expenses," along with air travel, transfers or pre/post-cruise hotels. Each guest also will receive a 100% future cruise credit equal to the fare passengers paid for the quarantined voyage, Swartz wrote. That credit has to be applied by February 28, 2021.
"It is our sincere hope that the refund and credit will help ease at least a small bit of the stress you may be feeling right now," Swartz wrote.
4:20 p.m. ET, February 9, 2020
World Health Organization sends experts to China
From CNN's Mitchell McCluskey
A World Health Organization (WHO) team left for China on Sunday to assist with containing the novel coronavirus outbreak, WHO Director-General Tedros Adhanom Ghebreyesus said on Twitter.
"I've just been at the airport seeing off members of an advance team for the @WHO-led #2019nCoV international expert mission to #China, led by Dr. Bruce Aylward, veteran of past public health emergencies," Ghebreyesus said.
Aylward has also lead the WHO's response to Ebola, as well as initiatives for immunization, communicable diseases control and polio eradication.
1:45 p.m. ET, February 9, 2020
Global spread: More than 37,000 cases of coronavirus confirmed worldwide
World Health Organization figures show that the virus has affected at least 28 countries, many of them in Asia, and has reached as far as the US and Australia.
The vast majority of the cases and deaths are in mainland China.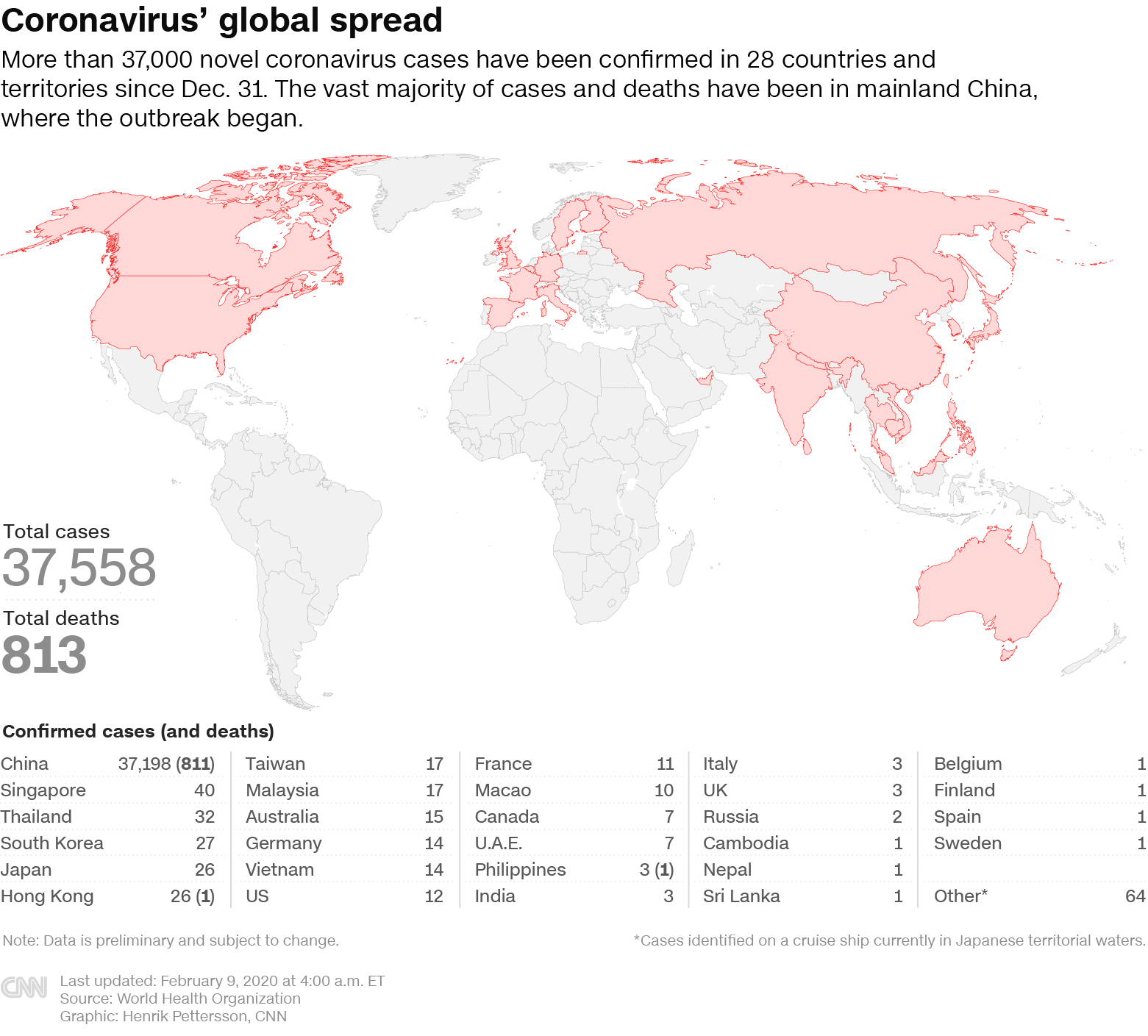 4:21 p.m. ET, February 9, 2020
More than 3,600 people will disembark the World Dream cruise ship in Hong Kong after quarantine
From CNN's Chermaine Lee
More than 3,600 people, which includes crew and passengers, can leave the World Dream cruise ship since being quarantined on February 5 after the health authorities announced that everyone on board had tested negative for coronavirus.
The ship has been docked in Hong Kong.
4:23 p.m. ET, February 9, 2020
3 more cases confirmed in Singapore
From Mohammed Tawfeeq in Atlanta 
Three new cases of the coronavirus were confirmed in Singapore on Sunday, bringing the total number of confirmed cases in Singapore to 43, according to a statement released by the Health Ministry. 
The Health Ministry said it will be working to identify anyone who has come in close contact with those infected. 
"As of 9 February 2020, 12pm, the Ministry of Health (MOH) has confirmed three additional cases of 2019-nCoV infection in Singapore. Contact tracing of the new cases is underway," the Health Ministry statement said.
The three new confirmed cases have "no recent travel history to China," the statement said.